2018 Elite Season
From Nastia Liukin To Simone Biles: The Top 10 All-Time Classics Routines
From Nastia Liukin To Simone Biles: The Top 10 All-Time Classics Routines
With the 2018 GK U.S. Classic right around the corner, we thought it would be fun to throw it back to previous Classics
Jul 26, 2018
by Justine Kelly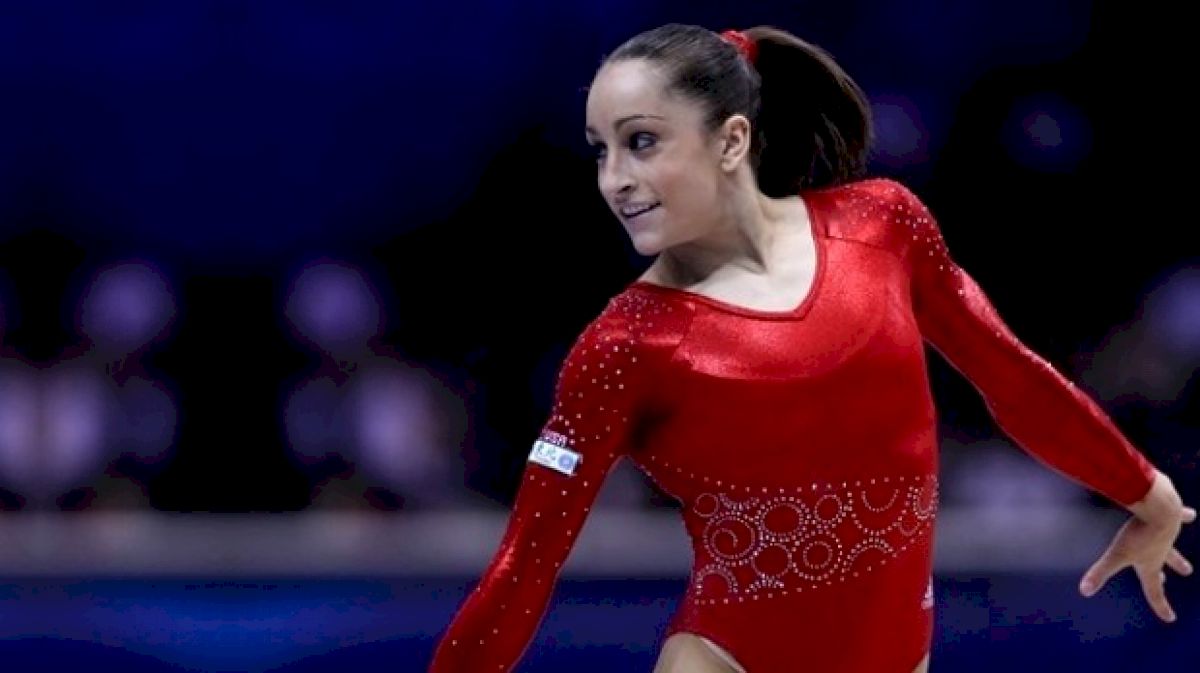 With the 2018 GK U.S. Classic right around the corner — this weekend in Columbus, Ohio — we thought it would be fun to throw it back to previous Classics and list some of our favorite routines.
Predictably, it's a pretty loaded list. Of course there are mainstays like Nastia Liukin, Simone Biles, and Jordyn Wiebers, but there are many more skilled gymnasts who made the cut.
The U.S. Classic is an annual competition that has taken place since 1983, and we've seen some amazing performances over the years. We have listed some of the most impressive routines below that we have video coverage of. Relive the insane difficulty and beautiful execution of these routines below.
1. 1991 | Kim Kelly On Uneven Bars
Kim Kelly, who (somewhat controversially) narrowly missed out on making the 1992 Olympic Team, was one of the best on uneven bars in the early '90s. Kelly won the all-around at the 1991 U.S. Classic, beating the likes of Shannon Miller and Dominique Dawes. Although not her highest scoring event that night, her bar routine was one of the more exciting to watch, mainly thanks to her unique mount. While many gymnasts start with the standard kip, Kelly competed a D-level mount — a round-off into back tuck over the low bar to hang.
Check out her bar routine below:
Video via Gymnasticsstuff
2. 1996 | Dominique Dawes On Balance Beam
In the year of the Magnificent Seven, Dominique Dawes chose to compete optionals on bars and beam only and scored incredibly high on both — a 9.85 on bars and a 9.7 on beam. Her beam routine is one of our favorites. Her series is incredible and something you don't see these days: a back handspring connected to three layout step-outs. On top of that, she competed a full twisting double back dismount.
Check out her routine below:
Video via Crushedvelvetleo
3. 2000 | Vanessa Atler On Floor Exercise
Vanessa Atler changed gyms a few times in the lead-up to the 2000 Olympics, ultimately ending up with Valeri Liukin at WOGA to prepare for the U.S. Classic and Nationals. Atler had a great competition at Classics, winning the all-around and securing high scores on bars, beam, and floor. Her floor routine is beautiful. She not only has impressive tumbling (such as her opening double layout to punch front) but she has excellent form and great leap combinations.
Check out her routine below:
Video via Maloneysnewtibiarod
4. 2002 | Annia Hatch On Vault
2004 Olympian Annia Hatch was a key contributor for the Olympic team on vault, and won the silver medal in the event final. Hatch had incredible power on the event, and you could see her skill right from the beginning during her career in the U.S. She started training in the U.S. in 2001, coached by her husband, and won the U.S. Classic in 2002.
Check out her impressive vaults below — a Yurchenko double and a Tsuk double:
Video via Gymkingdiesel
5. 2004 | Hollie Vise On Uneven Bars
Though she did not win the U.S. Classic in 2004, Hollie Vise was one of the top scorers on bars and beam at this competition and placed third in the all-around. Her bar routine includes beautiful pirouette work, and her opening combination is particularly difficult — a stalder to 1/2 pirouette to L grip to full pirouette to Ono/Bi to piked Jaeger. She scored a 9.6 on the routine to tie Courtney Kupets for the highest bars score of the competition.
Relive it below:
Video via Crushedvelvetleo
6. 2005 | Nastia Liukin On Uneven Bars
In 2005, Nastia Liukin was a first-year senior, and the announcer referred to her as "a name we're sure to be hearing for many years now." He predicted correctly, and Liukin won the all-around competition. She also put up a particularly impressive bar routine, where she hit every skill and finished it off with a stuck double layout dismount.
Check it out below:
Video via USA Gymnastics
7. 2007 | Shayla Worley On Balance Beam
Shayla Worley had a great year in 2007 and was a member of the gold-medal Worlds team later that year. She proved her worth at the U.S. Classic that year on beam, where she had the second highest score behind Alicia Sacramone. Her performance on beam at that competition was incredibly fluid, and although she had a lot of separate skills, they all flowed together seamlessly. Her difficulty included a standing Arabian, Onodi to sheep jump, and full twisting back handspring, in addition to her later named element, the "Worley."
Check it out below:
Video via Shaylaworleydotcom
8. 2010 | Mattie Larson On Floor Exercise
Mattie Larson was one of the top elite competitors on floor in 2010, and this is a major reason that she was named to the Worlds team that won the silver medal. Larson had tons of power, and her routine that she competed at Classics opened with a double layout followed by a triple twist. Larson deservedly won the all-around at this Classics.
Check out her floor routine below:
Video via USA Gymnastics
9. 2011 | Jordyn Wieber On Balance Beam
Jordyn Wieber, who would later go on to be crowned World Champion in 2011, showed off her skills on bars and beam at the 2011 Classic. She placed first on both events, but we like her beam in particular because of her crazy difficult connections.
The composition of the routine was such that it was not the easiest to keep all the connections, but Wieber showed off great confidence throughout this competition. Her routine included a front aerial to one-arm back handspring to layout step-out, and she even attempted a standing full to a back handspring (although she broke that connection).
Check out her routine below:
Video via USA Gymnastics
10. 2015 | Simone Biles On Floor Exercise
No list would be complete without a routine from Simone Biles, who won back-to-back Classics in 2014 and 2015 after having a less than stellar performance in 2013, her first year as a senior. One of our favorites is her floor routine from the 2015 Secret Classic, where she performed at her peak and hit a 6.9 D-score to score a total of 16.05.
Relive her routine below and get excited for her come back this weekend:
Video via USA Gymnastics