2018 Elite Season
5 Routines That Impressed Us At The 2018 American Classic
5 Routines That Impressed Us At The 2018 American Classic
There were many exciting gymnasts and routines, but below are five of the routines that most impressed us this year at the 2018 American Classic.
Jul 12, 2018
by Becca Reed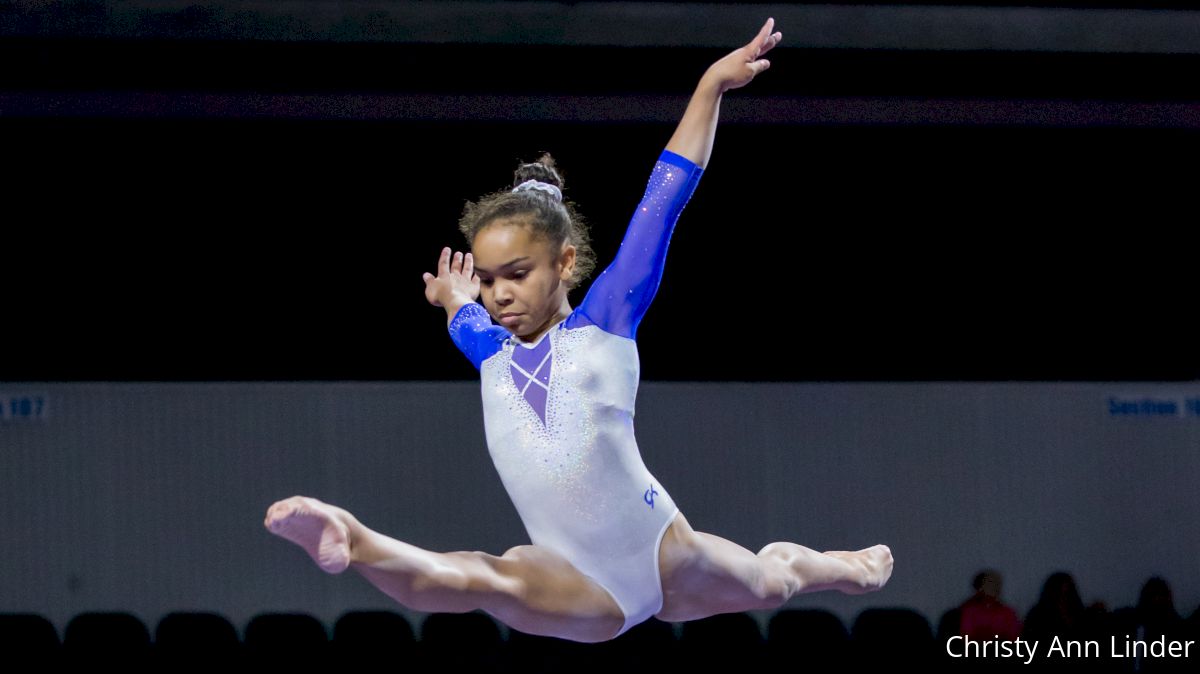 Last weekend, the American Classic in Salt Lake City gave us our first look at some new elites and new routines for the 2018 season. Usually held closed-door at the Karolyi Ranch, this year the American Classic was open to the public at the University of Utah campus and also live-streamed by USA Gymnastics on YouTube. Some gymnasts used the meet as a tune-up or event to get experience, while others were going all out looking to qualify to this year's U.S. Championships in August.
There were many exciting gymnasts and routines but below are five of the routines that most impressed us this year.
1. Madelyn Williams On Bars
Williams had a great balance between difficulty and execution in her first place bar routine. With a 5.7 D score and an 8.55 E score, she totaled a 14.25 for the highest score between both the juniors and seniors on bars. Her bar changes where done beautifully, especially her toe-on Shaposh half (Van Leeuwen) where her form was flawless. Her natural swing makes her skills look effortless; with her strong technique, we're excited to see what else she can add to her routine in the future.
2. Shilese Jones On Floor
First-year senior Jones has always been a powerful gymnast, and that power was on full display in her floor routine. She opened with her tuck double double and followed with her Arabian double front, both passes with incredible amplitude and easily completed. She added a tuck full in as her third pass and finished with a double tuck. Besides this first place floor routine, she also placed first all-around.
3. Olivia Greaves On Bars
Greaves is a beast on bars and attacks her skills with nearly flawless form and technique. She showed off impressive release moves that wowed us by their amplitude and execution. Greaves posted a 14.15 for her bar routine and had a huge 5.7 in difficulty, the biggest D score out of all the juniors on any event. She finished fourth all-around with a strong 53.3.
This routine ??? Olivia Greaves looked amazing at the #amclassic2018!
(?: @maggiemags26) pic.twitter.com/gV1giyUgJq

— FloGymnastics (@FloGymnastics) July 9, 2018
4. Konnor McClain On Beam
McClain boasted a 5.6 D score on beam and placed second on the event with a 13.5. Her standing tuck full is always impressive and the layout in her series was massive in this routine. But her leaps are not to be looked over either, and her simple wolf jump is particularly impressive with her straight leg far exceeding the required height. She missed a couple of connections so this exact routine composition has more difficulty potential than what she scored at this meet. After just missing out on qualifying for Championships last year, McClain totaled a 53.95 here, easily surpassing the 51 required to qualify this year.
5. Ui Soma On Floor
The 2017 Hopes Champion Ui Soma competed at her first American Classic posting a solid 52.5 all-around. She impressed us on floor, where she brought out a couple upgrades from 2017 including a piked full in to open her routine and a back 1.5 to front layout full as her second pass. Her upgrades were beautifully and easily done, and she clearly has room to add more. Besides her tumbling, her choreography brings out her unique style and delicate and dazzling dance.
A final gymnast who definitely deserves a mention is Kayla DiCello, who continuously impresses on every event. DiCello nailed all four events and executed her routines easily. On top of that, DiCello has been competing in both smaller club meets as well as huge international competitions since January. She started her year at the Hill's Classic and went on to compete at the Parkettes Invitational, WOGA Classic, International Gymnix, and Pacific Rim Championships. While many in her position would consider skipping this meet, she still showed up and showed out, winning the junior all-around by a landslide.
---
Related American Classic Coverage: