2018 Elite Season
Kayla DiCello Takes Junior AA Title At 2018 American Classic
Kayla DiCello Takes Junior AA Title At 2018 American Classic
Hill's Gymnastics' Kayla DiCello took the top spot today for the juniors at the 2018 American Classic, totaling a huge 55.400 in the all-around.
Jul 9, 2018
by Justine Kelly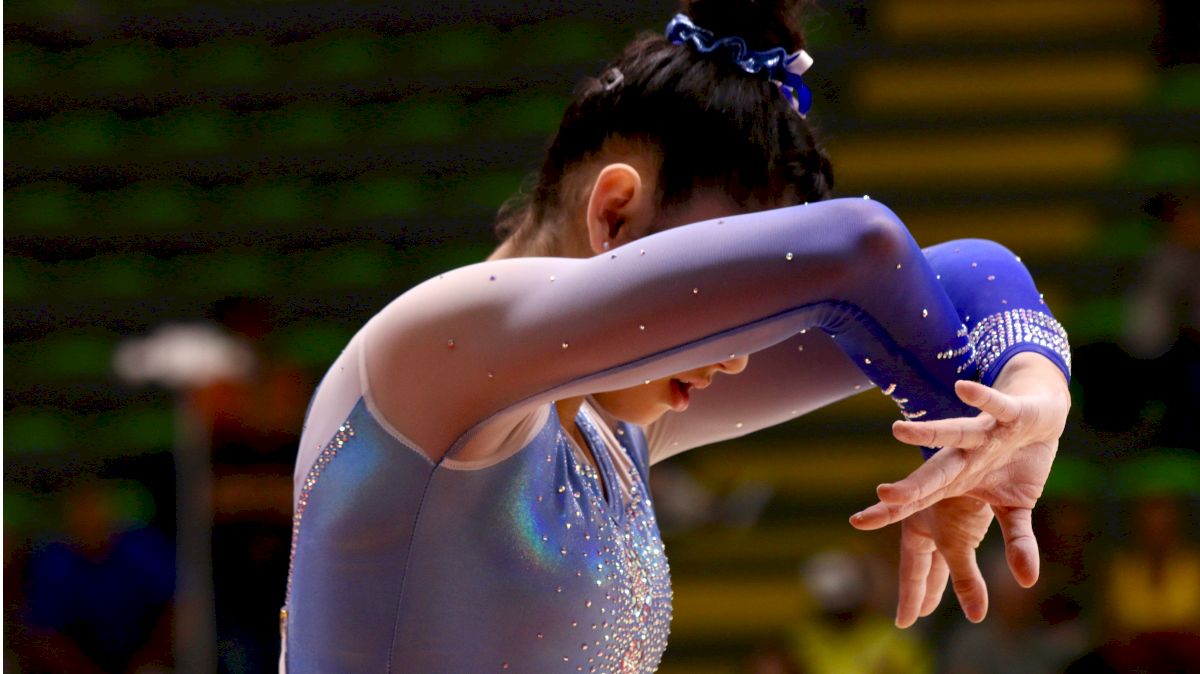 Hill's Gymnastics' Kayla DiCello took the top spot today for the juniors at the 2018 American Classic in Salt Lake City, totaling a huge 55.400 in the all-around, the highest score out of both the juniors and seniors.
Second place went to Revolution's Konnor McClain with a 53.900. McClain originally held the top spot following the first session of competition, and DiCello came in to pass her during the evening session. WOGA's Skye Blakely, who also competed in the evening session, took third with a 53.400.
All three gymnasts' scores qualify them through to the U.S. Championships, along with eight other juniors. The other juniors who qualified are MG Elite's Olivia Greaves and Zoe Gravier, San Mateo's Ui Soma, GAGE's Aleah Finnegan, Paramount Elite's Levi Jung-Ruivivar, First State's Sydney Morris, West Valley's Ciena Alipio, and World Champions Centre's Karis German.
DiCello, McClain, & Blakely Earn Top AA Spots
McClain had a strong competition throughout the first session, securing her top spot before the evening competition. She hit her vault, totaling a 13.55 to put her in third place after the first rotation. She quickly made her way to the top of the rankings after the second rotation, where she competed on bars, and stayed at the top until the end of the session.
McClain's beam is the highlight, on which she scored a 13.85. Her routine is packed with difficulty and includes two back handsprings to a high, floaty layout, and a solid standing full. She finished up with a clean routine on floor, needing only a 10.1 in order to clinch the all-around score she needed to qualify to Championships.
DiCello had a stellar day, beating out not only the other juniors but the senior competitors as well. One of the highlights was her vault — a Yurchenko double — which earned her the top vault score of the day with a 14.5. She also took the top score on beam for the juniors with a 13.55 and placed second on floor despite having a small stumble out of one of her leaps.
Blakely was solid across all four events, with the highlight being her bars routine, which she hit for a 13.95. She has great potential on beam as well, and although she had several wobbles throughout her routine, this will likely be one of her strong events going forward.
Top Vault Scores: DiCello, Selena Harris, Blakely
On vault, DiCello unsurprisingly took the top spot for her strong Yurchenko double. Selena Harris from Gymcats took the top score of the first session with a 14.25. She competed a Yurchenko 1.5 that was nearly stuck. Harris was followed by Blakely, who hit a 14.2 for her vault. For all three gymnasts, it was their highest scores of the competition.
Top Bars Scores: Greaves, Blakely, McClain & DiCello
MG Elite's Olivia Greaves had the highest bar score for the juniors, notching a 14.15 for a solid routine. Greaves showed off great swing to prove she's a natural bar worker, and her score was the second highest of the entire competition (including the seniors' scores). Greaves was followed by Blakely, who competed with her in the evening session, as did DiCello who tied for third.
Tying with DiCello was McClain, whose routine has some nice difficulty. She competed a Pak and Maloney and dismounted with a full twisting double back.
Other highlights from the first session include Gabrielle Gallentine, who had one of the most difficult bar routines. She has super strong combinations, including a toe-on full to Maloney to Pak. She also has some high difficulty skills as well, including a Van Leeuwen and full twisting double layout dismount. She hit her routine and scored a high 13.8.
Alonna Kratzer also showed off some impressive difficulty, with a 5.5 D-score routine. Her routine included a piked Jaeger, Church connected to Pak, and a Van Leeuwen. She stuck her dismount and scored a 13.75.
Top Beam Scores: DiCello, McClain, & Finnegan
Once again, DiCello and McClain prove to be two of the strongest junior competitors, and they took the No. 1 and 2 spots on beam. As mentioned previously, beam is arguably McClain's strongest event, and she showed off both great difficulty and execution on the apparatus today to score the highest, a 13.5.
Finnegan, who competed in the evening session, showed off some good difficulty and great confidence on beam, particularly since she had just come off of a stumble on bars.
A few other highlights from the first session include Paramount Elite's Levi Jung-Ruivivar, whose routine was gorgeous, mostly thanks to her incredible execution and unique combinations. One of our favorites is her front aerial to split jump to Korbut. Kaliya Lincoln is also going to be one to watch on beam. Like McClain, Lincoln competes a high layout as part of her series, and she dismounts with a strong two back handsprings to double pike.
Top Floor Scores: Lincoln, DiCello, Greaves & Soma
Lincoln, who competed in the first session, takes the top spot on floor. She competed floor in the first rotation to start her competition off on a great note, totaling a 13.6. Her routine has some impressive power in it, and she opens with a huge double Arabian followed by a full-in.
Floor was actually DiCello's lowest scoring event, yet she still managed to take second place for the juniors. She likely would have scored higher but had a slight stumble in the middle of her dance elements which was probably deducted. Otherwise, her tumbling was very strong and included a front double twist and 1.5 twist through to 2.5 twist.
Greaves tied for third with her gorgeous and unique floor routine. Her choreography was classic MG Elite style, and she hit all of her tumbling passes with ease.
Soma, who had the second highest all-around score of the first session, did well on floor and scored a 13.15 for the second highest score on floor in the first session. She earns a lot in execution on this event, and also shows off some impressive tumbling.