2018 Elite Season
Big Release Moves & Beam Connections Dominate USA Women's Verification Camp
Big Release Moves & Beam Connections Dominate USA Women's Verification Camp
USA Gymnastics recently gave fans a sneak peek into the verification process for major international elite competitions.
Mar 1, 2018
by Justine Kelly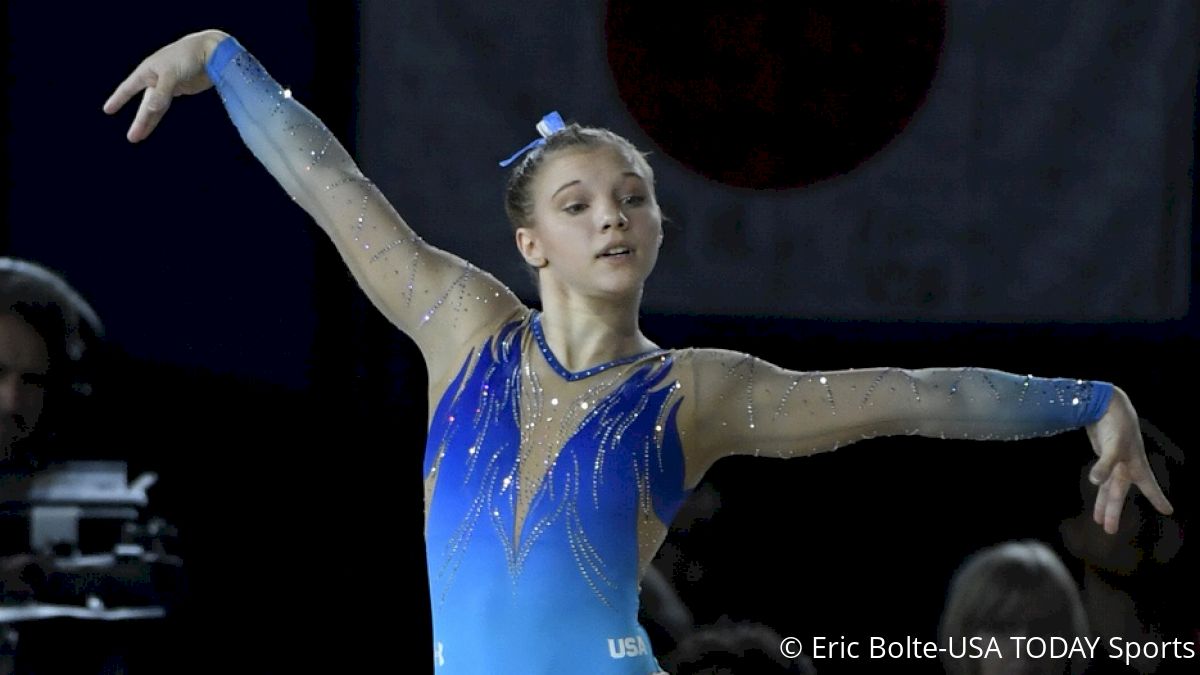 USA Gymnastics recently gave fans a sneak peek into the verification process for major international elite competitions by live-streaming the February verification camp. The camp was hosted at LSU's training facility in Baton Rouge, Louisiana, and served as an opportunity for gymnasts to verify routines, qualify for domestic competitions, and compete for a spot at the World Cup events in Stuttgart, Birmingham, and Tokyo, and the alternate spot at the American Cup.
At the end of the camp, USAG announced the Jordan Chiles will compete for the USA in Stuttgart from March 17-18, Margzetta Frazier will compete in Birmingham on March 21-22, and Trinity Thomas will compete in Tokyo on April 14. Frazier was also selected as the alternate for the 2018 American Cup this weekend. In addition to those selected for World Cup competitions, Kayla DiCello qualified for a spot to compete at the 2018 U.S. Championships in August.
Although we were not able to see every gymnast — since the gymnasts, coaches, and parents made the decision about whether to appear on the live stream — it was great to see a select few and the new additions they have made to their routines. We have provided a summary below of the exciting skills we saw from the camp.
Release To Release On Bars
On even bars, the current code rewards the most bonus when a gymnast connects D- and E-level flight elements, or a D flight element to a C skill on the high bar. A few of the gymnasts showed off connections of this nature during the verification camp, including Audrey Davis, who is training a Maloney to Ricna.
By far the most impressive routine we saw from the footage available on bars was Frazier's. The routine is packed with release moves — she performs a total of six throughout the routine, including three E skills (a Van Leeuwen, piked Jaeger, and Church). She also has some great connections, including connecting her Church to Pak salto, worth +0.20 in bonus.
Check out Frazier's full routine below.
Video via USA Gymnastics
Another gymnast who showed off beautiful release moves with a clean routine was DiCello. She performed a nice combo of a toe-on full to Maloney to Pak salto, and she includes tough E elements of a Van Leeuwen and piked Jaeger as well. She'll be one to watch on this event going forward.
Big Beam Connections
Many of the gymnasts at the verification camp showed off lovely work on beam, in particular some really impressive connections. Some took advantage of the dance element bonuses, while others are working on strong mixed connections throughout their routines, and yet others work to connect difficult acrobatic skills.
Davis, DiCello, and Adeline Kenlin all showed strong mixed connections. Both Davis and DiCello performed a front aerial to split ring jump connection. The two moves are D-level skills, giving the gymnasts +0.20 in bonus just from that one connection. Kenlin has a very difficult mixed series in the beginning of her routine, in which she is training a side aerial to switch leap to switch half to back tuck. The entire series gives her +0.30 in bonus.
Jordan Bowers is training a challenging and unique acrobatic sequence at the beginning of her routine, which she connects to a dance element for even more bonus. She showed off a front handspring to front tuck to split jump. Because the front handspring and front tuck are two forward elements — a B skill connected to a D skill — she gets +0.20 bonus just from that. She also gets an additional tenth from connecting the front tuck to a split jump.
Check out Bowers' training on beam below.
Video via USA Gymnastics
Jade Carey is another gymnast who has a difficult acrobatic series in the routine she showed. She performed a back handspring, layout step out to layout to two feet. The connection not only gets her a series bonus of +0.10, but also gets her +0.20 for connecting a C to an E acro element (the layout step out to layout to two feet).
The Split Jump Half Is The New Wolf Turn
There was a time (and we may still be in that time) when many gymnasts were competing some version of the wolf turn, thanks to the high value the skill held in the Code. There is a new popular skill on the block thanks to the 2017-2020 Code, and it's a split jump with half turn on beam, preferably from a side position. The skill used to be worth a B, but the new code has it bumped up to a C and even gives a tenth bonus for performing the skill from the side position.
The result? Everyone has now included this relatively simple skill in their beam routine. At the verification, we saw the skill from Carey, DiCello, Frazier, and Kenlin.
Jade Carey Bringing All The Power
Carey was, unsurprisingly, the highlight when it came to both floor exercise and vault. She showed off an incredibly high and well-executed Moors as her opening pass on floor, followed by a double double, front double full, and full-in. She also has new music which perfectly matches the power of her routine.
Check out her floor routine that she showed in verification below.
Video via USA Gymnastics
On vault, Carey is still training an Amanar, and we saw from the camp video that it's got just as much height and distance as we remember.