Lloimincia Hall was a fan favorite at LSU from 2012-2015. She was known for her powerful and energetic floor routines that brought big energy and scores each week for the Tigers. Throughout her career at LSU, she recorded seven perfect 10s on floor and earned four SEC floor tiles. Hall competed on all four events in her time at LSU, but became a floor specialist in her final seasons for the Tigers. She had a great impact on Tigers' program as she helped boost LSU to new heights.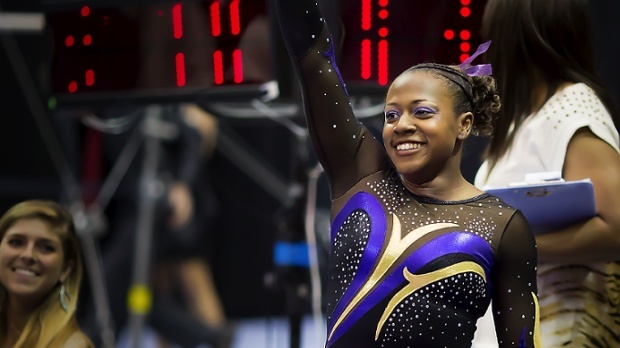 FloGymnastics recently caught up with Hall to talk about life after gymnastics:


FloGymnastics: What have you been up to since graduating in 2015?
Hall: I graduated in May 2015 and started in grad school at LSU in August of 2015 working toward higher education administration. I was a graduate assistant at LSU as an admission liaison officer for students who had transferred. In summer 2016 I did an internship at SMU with the compliance and life field. I went back to LSU after the internship and graduated in May 2017 with my masters.
I recently got hired at Abilene Christian University as the football academic coordinator. I am excited to be working at a place that believes in the same things that I do. I am in the process of moving to Abilene, Texas, and excited to be closer to home.


When you look back on your career at LSU, what moments stand out to you the most?
Senior night was so special to have all of my family there and that was a special moment I will never forget. But what also made senior night special was there was a young girl there named Jordan who was fighting a battle with cancer. Jordan's wish was to see me compete, and she was able to be there on senior night. I was able to give to someone else and I dedicated my senior night to her. That is something that I will never forget and was such a special moment to us both!
What are you most proud of as a LSU Tiger?
I am most proud that I was able to leave LSU better than when I found it. I left with two degrees and a lot of great memories. I am proud to say that my teammates and I were able to make LSU better in our time at LSU. We grew our fan base from 2,000 fans per meet to a sold out arena during my senior year.
You were a big part of the Tigers when LSU was on the rise to be a national contender each year. What was that like to be on the team during such an exciting time?
It was really great! We had a really great foundation to build on from those before us that we were able to build on.

What do you think it will take for LSU to win their first national championship?
Everyone on the team needs to be pulling in the same direction. Everyone needs to have the same goal and be fighting as a team. Anyone has a chance on that given day and the team that performs the best as a team will walk away with it.

What personal accomplishment are you most proud of?
That we were able to do so much as a team, including making two Super Six appearances. At the time I was on the team we earned our highest team finish in school history, and that was great to be a part of. I was also proud to be able to be a part of a team that all were motivated toward the same goal.

What is next for you personally? What are your future goals?
I am excited for my new position at Abilene Christian University. This is a new position there so I look forward to working with a blank canvas and to develop the position. I want to develop a strong foundation for the football program. I have goals to improve the graduation rates and to prepare the student athletes to excel past college. I start my new position on July 31.
You were known for your fun and outgoing floor routine. Are you doing choreography and still dancing?
Yes I am, let's get to dance! I am doing some choreography with an appointment, which is tough at times with my full time job schedule.

Anything else you would like to share with us?
I will never forget LSU and the learning that I gained in my time there. I am grateful to have many different connections and memories that I will cherish forever.
---
Stay tuned to FloGymnastics for more interviews with your favorite NCAA graduates.
Related:
Catching Up With Former Gator Mackenzie Caquatto
Catching Up With Former Auburn Tiger Megan Walker Thigpen
Catching Up with Former Michigan Wolverine Joanna Sampson Bodri
Catching Up With Former Oklahoma Sooner Maileana Kanewa
Catching Up With Former Georgia GymDog Kat Ding Llyod