USA Gymnastics
U.S. Rhythmic Group Finishes 11th In Qualifying At 2020 Tokyo Olympic Games
U.S. Rhythmic Group Finishes 11th In Qualifying At 2020 Tokyo Olympic Games
U.S. Rhythmic Group Finishes 11th In Qualifying At 2020 Tokyo Olympic Games
Aug 7, 2021
by FloGymnastics Staff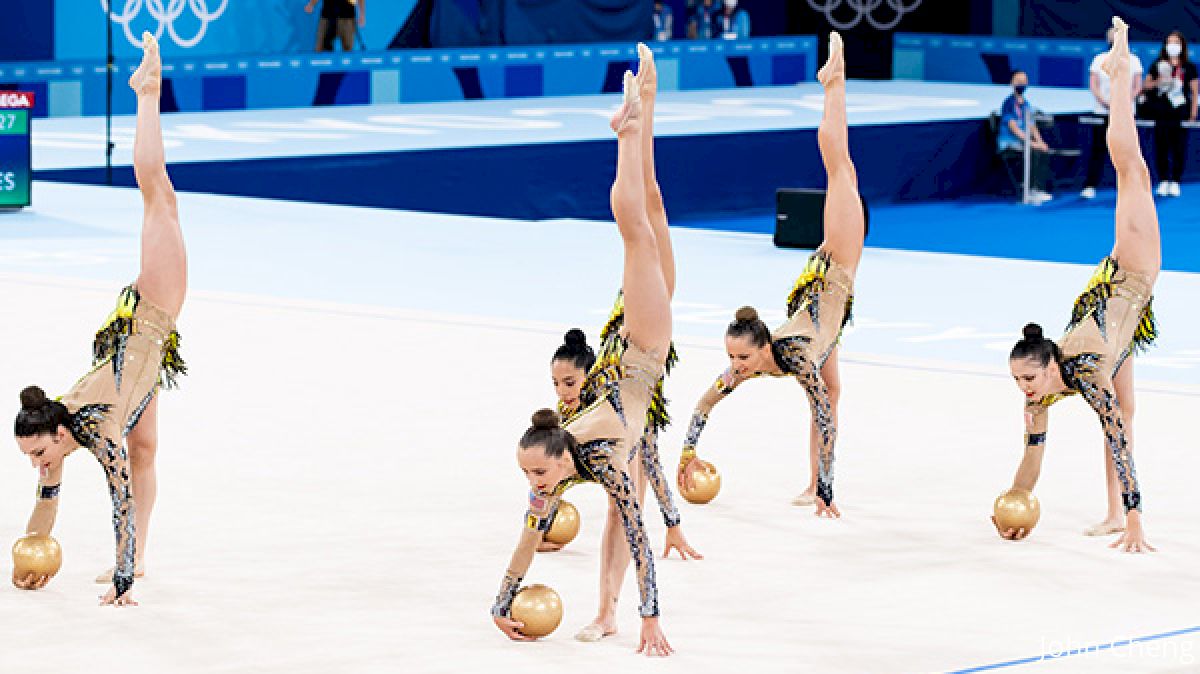 The U.S. rhythmic group, comprised of Isabelle Connor of Manhattan Beach, Calif., Camilla Feeley of Wheeling, Ill., Lili Mizuno of Northbrook, Ill., Elizaveta Pletneva of Wheeling, Ill., and Nicole Sladkov, Vernon Hills, Ill., finished 11th in the qualification round at the Tokyo Olympic Games Friday at the Ariake Gymnastics Centre. The group was just edged out of Saturday's final as the top eight teams advanced.
U.S. gymnasts notched a 37.850 in five balls and 35.825 in three hoops and two pairs of clubs for a total of 73.675. Bulgaria led the way with a combined 91.800, while the Russian Olympic Committee (89.050) and Italy (87.150) also qualified in the top three. The group final, which serves as the finale for gymnastics at the Tokyo Olympics, will kick off Saturday at 10 p.m. ET.
In the individual all-around final, Israel's Linoy Ashram took gold with a 107.800 across the hoop, ball, clubs and ribbon apparatus. Dina Averina of the Russian Olympic Committee earned the silver medal with a 107.650, and Alina Harnasko of Belarus claimed the bronze with a 102.700.
USA Gymnastics. Based in Indianapolis, USA Gymnastics is the national governing body for gymnastics in the United States, encompassing seven disciplines: women's gymnastics, men's gymnastics, trampoline and tumbling, rhythmic gymnastics, acrobatic gymnastics, gymnastics for all (a.k.a. group gymnastics) and, most recently, parkour. USA Gymnastics sets the rules and policies that govern the sport of gymnastics, including supporting the U.S. Gymnastics Teams for the Olympics and World Championships; promoting and developing gymnastics on the grassroots and national levels, as well as a safe, empowered and positive training environment; and serving as a resource and educational center for the more than 200,000 members, clubs, fans and gymnasts throughout the United States. The organization is deeply committed to creating a culture that encourages and supports its athletes and focuses on its highest priority: the safety and well-being of athletes and our community.