USA Gymnastics
Biles Leads Women's AA Standings After Day 1 Of U.S. Olympic Team Trials
Biles Leads Women's AA Standings After Day 1 Of U.S. Olympic Team Trials
Simone Biles will take a nearly three-point lead into Day 2 of the ongoing U.S. Olympic Team Trials.
Jun 26, 2021
by FloGymnastics Staff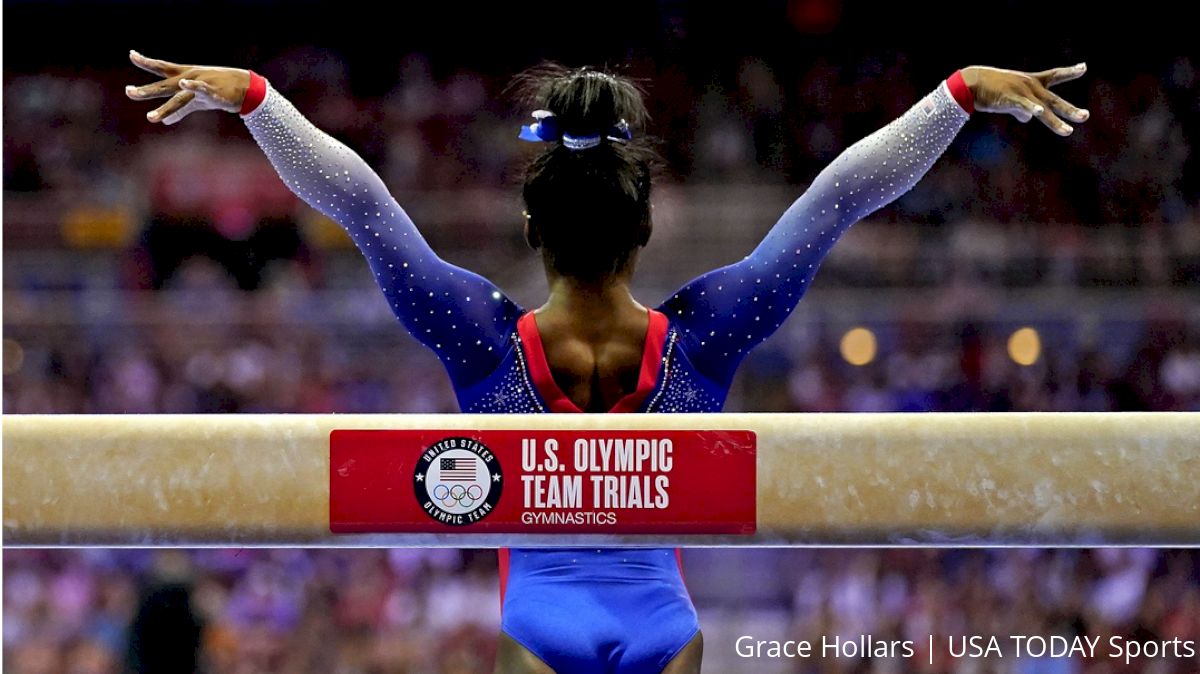 ST. LOUIS, June 25, 2021 – Seven-time national champion Simone Biles of Spring, Texas/World Champions Centre will take a nearly three-point lead into Day 2 of the ongoing U.S. Olympic Team Trials. Biles' 60.565 across four rotations Friday evening at The Dome in St. Louis has her poised to claim one of two automatic spots – awarded to the top-two all-around finishers – for the U.S. women's team at the upcoming Tokyo Olympics. Sunisa Lee of St. Paul, Minn./Midwest Gymnastics Center (57.666) and Biles' WCC teammate Jordan Chiles of Vancouver, Wash. (57.132) sit second and third at the midway point. MyKayla Skinner of Gilbert, Ariz./Desert Lights Gymnastics (56.598) and Grace McCallum of Isanti, Minn./Twin City Twisters (56.498) rounded out the top five.
Biles led the way on vault (15.466), balance beam (15.133) and floor exercise (15.366), while Lee posted the day's high score on uneven bars with a 15.300 and sits second behind Biles on beam with a 14.733. McCallum's 14.166 on floor exercise and Skinner's 15.183 on vault were also second only to reigning Olympic floor and vault champion Biles. Riley McCusker of Brielle, N.J./Arizona Sunrays notched a 14.800 on uneven bars in her lone appearance on the night to claim the second-highest score on that apparatus.
The women's competition continues Sunday at 8 p.m. ET on NBC, while the men's competition will wrap up Saturday beginning at 3 p.m. ET on The Olympic Channel and continuing on NBC at 4. The members of the men's Olympic team will be named at the event's conclusion, and the women will be named Sunday. Tickets for both remaining sessions are available for purchase here.
USA Gymnastics. Based in Indianapolis, USA Gymnastics is the national governing body for gymnastics in the United States, encompassing seven disciplines: women's gymnastics, men's gymnastics, trampoline and tumbling, rhythmic gymnastics, acrobatic gymnastics, gymnastics for all (a.k.a. group gymnastics) and, most recently, parkour. USA Gymnastics sets the rules and policies that govern the sport of gymnastics, including selecting and training the U.S. Gymnastics Teams for the Olympics and World Championships; promoting and developing gymnastics on the grassroots and national levels, as well as a safe, empowered and positive training environment; and serving as a resource and educational center for the more than 200,000 members, clubs, fans and gymnasts throughout the United States. The organization is deeply committed to creating a culture that encourages and supports its athletes and focuses on its highest priority: the safety and well-being of athletes and our community.