USA Gymnastics
U.S. Olympic Gymnastics Trials Media Day: Mikulak, Moldauer, Wiskus, & More
U.S. Olympic Gymnastics Trials Media Day: Mikulak, Moldauer, Wiskus, & More
Alan Bower, Sam Mikulak, Yul Moldauer, Shane Wiskus, Akash Modi, and Donnell Whittenburg address the media ahead of the 2021 Olympic Trials.
Jun 24, 2021
by Kelly Feng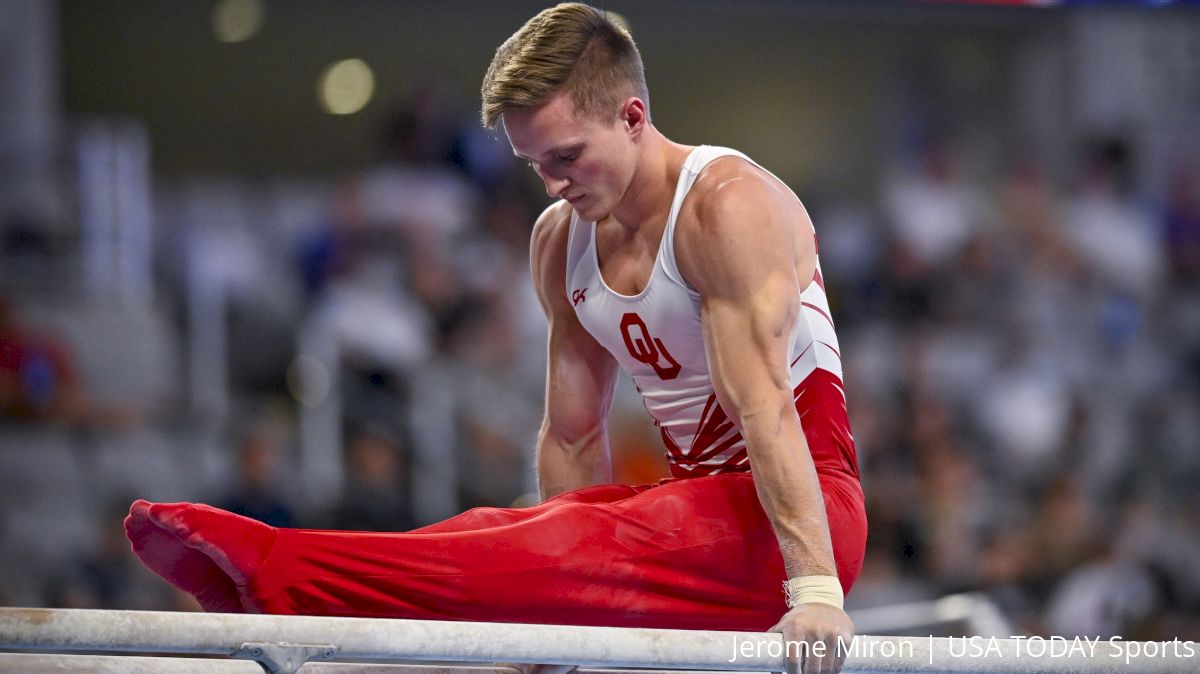 After Men's podium training Wednesday morning, Allan Bower said his training has been good. He is getting used to the equipment and the lighting. He can't be happier as to how his training is going.
"My mindset is to put myself back in the gym, back in my training facility, and to minimize the pressure as much as I can," Bower said.
He talked about the emotion of walking into the arena knowing that the Olympic Trials are finally here.
"It's super exciting that it's finally here after last year. I didn't know if I wanted to continue doing gymnastics for another year. I had some other things outside of gymnastics that I was focusing on. For [Olympic Trials] to finally be here, I am super excited and blessed for the opportunity," Bower said.
Known for his ongoing consistency, Bower shines on all events, especially the pommel horse.
Bower was joined by national teammates Sam Mikulak, Yul Moldauer, Shane Wiskus, Akash Modi and Donnell Whittenburg talking to the U.S. Olympic Trials Media Day press.
In the Now
Always an informative and entertaining interview, two-time Olympian Sam Mikulak shared his long-time perspective and philosophy. He was asked what he is most looking forward to seeing in competition if he makes it to Tokyo.
"A lot of people would expect me to say Kohei's high bar or Nikita's floor, but I want to see something that surprises and impresses me. I know what to expect with the big names, so I'll be looking for people to come out of the woodwork," Mikulak said.
What would competing in his third Olympics mean to Mikulak, joining that rare group of three-time Olympians?
"It wouldn't mean anything. The best part of doing this is being able to enjoy what is happening right now," Mikulak said. "Once I start thinking that I hope to be a three-time Olympian, the pressure starts weighing down on me, and I'm like, why? That doesn't matter, and five years from now, it won't matter," Mikulak said.
In the past, Mikulak has shared his psychological struggles with the sport, and these days he seems happier, confident and philosophical.
"What I am doing now is not looking in the past, and I'm not looking in the future. Anything I've done in the past is going to help me to get to where I am now, and now is what I'm focused on."
Finishing a Routine
As expected, Shane Wiskus was asked about his high bar routine at Championships earlier this month, where he fell three times.
While he demonstrated great mental grit and determination, he was asked why he chose to finish a routine when the scores were not counted.
"Being able to finish a routine in a team competition scenario, I wouldn't have the option to duck out, so I knew I had to finish the set."
Wiskus said he was dizzy after the routine but was tested twice and didn't have a concussion. Grateful for the support, he's working with a sports psychologist to move on.
While his high bar routine got much attention, Wiskus is a strong all-arounder, with his parallel bars standing out. He's satisfied with that routine and the rest of his events, "The game right now is to stay consistent. The 'if it ain't broke, don't fix it mentality," Wiskus said.
Wiskus said he's working on upgrades and optimizing start values under the new code next year.
Stepping Up to Bat
Yul Moldauer has been training for the trials by doing more sets and working on dismounts.
Moldauer says he was competing with a back spasm at Championships, which affected him on pommels, and his swing felt off there.
He didn't tell a lot of people because, on any day, anything can happen. He had to step up to bat and swing. Moldauer told himself to push through it.
With this being Moldauer's second Olympic Trials, he reflected on his first Trials in 2016.
"Trials fives years ago was one of the most exciting meets I've done. I think I was the youngest person there. To be on the floor with all these guys I used to look up to was incredible, and now that I'm in this spot where I can potentially make the team, it's unreal. I remember when I was there, I was just there to have fun."
For the Love of Taco Bell
For Akash Modi, Championships wasn't what he wanted it to be, and he said he made some errors, but no falls. However, he's confident about his performance this weekend.
"I think I can go up and solidify myself as a top-three guy on parallel bars," Modi siad.
He also thinks he can go up eight tenths on that event.
"High bar is one of my better events in training, and pommel horse, I was disappointed with the scores I ended up with at Championships, so I've been working on a lot of the details the judges gave me feedback on to make a statement there."
Modi added a little bit of fun to the news conference when he was asked about his Taco Bell cravings.
He admitted to craving the food, enjoying it since he was little. It's his favorite food to have right after a meet. However, since he is training at the highest level, he wisely chooses when or not to enjoy the menu.
Earlier, Mikulak jokingly mentioned that Taco Bell should sponsor Modi.
"I've given Taco Bell a shoutout the last four championships in a row, but nothing from them yet," Modi laughed.
He says he's already looked into whether there was a Taco Bell in Tokyo, but there are only two in all of Japan.
"It'll be a very expensive Uber Eats."
The Team Captain
While Whittenburg was an alternate at Pan Ams, his long-time experience made him a leader on the team. At Pan Ams, he felt a little bit like a team captain, and he was there to calm and support his teammates.
He wanted to use Pan Ams as his U.S. Championships. He did get to try out some routines during podium training, but he kept it safe. He liked not having to compete two days and keeping his body as healthy as possible for Trials.
Whittenburg said he would compete the Ri Se Gwang (a backward full-twisting double tucked Tsukahara vault) at Trials.
"Because I have to make a statement."