USA Gymnastics
5 Things We Learned In Simone vs Herself Episode 1
5 Things We Learned In Simone vs Herself Episode 1
The first episode of Simone vs Herself on Facebook Watch gave viewers an insight into Simone Biles' life as the Tokyo Olympics were postponed.
Jun 18, 2021
by Amanda Wijangco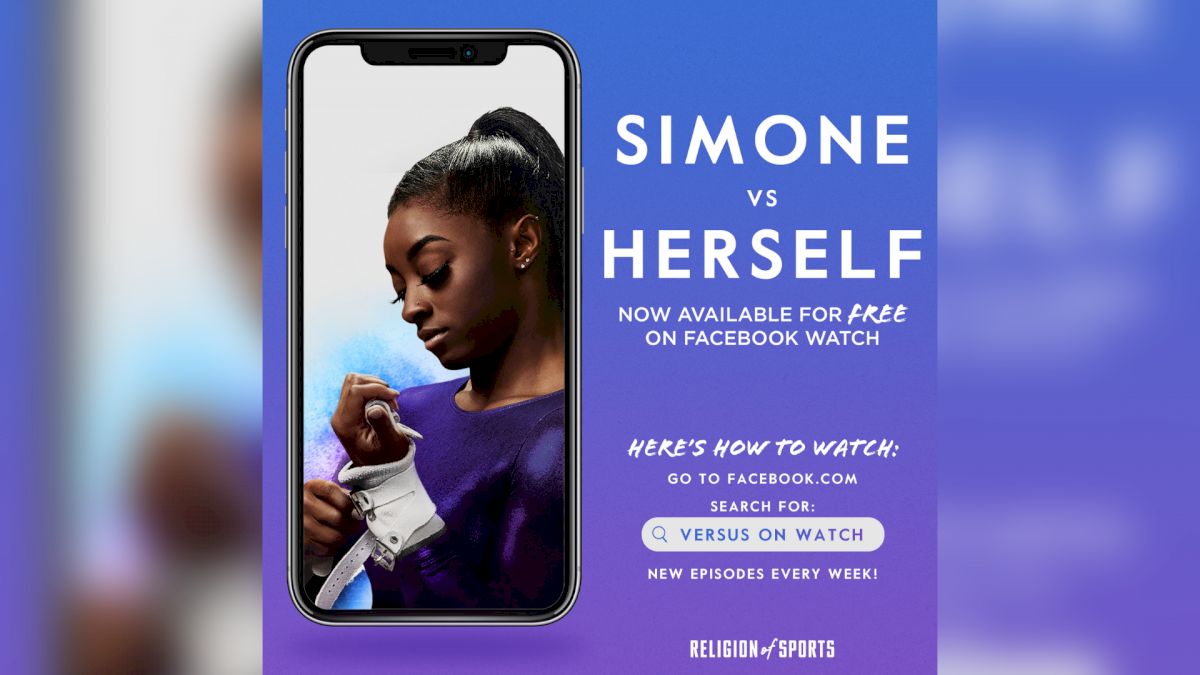 In the lead-up to the Tokyo Olympics, Facebook Watch is giving fans all over the world an inside look at the life of Simone Biles as she prepares for her second Games in a docuseries. Simone vs Herself premiered Tuesday, June 15. Episode one, "Can I Do It Again?" provided insight into the decorated gymnast's life shortly before and during quarantine.
Here are a few things we learned about the life of a once-in-a-lifetime gymnast during a once-in-a-lifetime pandemic.
Here's how to watch our new @Simone_Biles series on @FacebookWatch 🏅

It's ✨ free ✨ and there will be a 🆕 episode every week.

✅ Log in to Facebook
✅ Search for "Versus on Watch" in the search bar
✅ Click "Follow"
✅ You'll get notified when a new ep drops every week! pic.twitter.com/NOCeMhfkGM

— Religion of Sports (@religionofsport) June 15, 2021
The World Champions Centre elites were supposed to keep training for the Olympics while the rest of the gym closed.
A week before the 2020 Games were postponed, Biles' gym was to close to disinfect the building and all of the equipment. Training would be put on pause for all of its athletes except for the elites. They were going to continue training for the summer elite season in preparation for the Tokyo Games.
She thought she had COVID.
After the intro, the episode shows Biles at an event for SK-II in Times Square at the start of March, the same week Manhattan reported its first case of coronavirus.
Fast forward to the week before Tokyo was postponed, and she's struggling in the gym, saying, "I've been on the go so much, and I haven't had one day off. So that's probably just catching up to me." But then she continues.
Well, the corona outbreak is happening, so I feel like I have coronavirus. Everybody keeps reassuring me that I don't have it, but I've had basically every symptom except for a cough and a fever.
During practice, she gets a quick check-up and confirmation that she does not have COVID or the flu, but she does indeed have a virus. So she leaves practice early for the day.
Taking over-the-counter medicine isn't as simple for Simone.
The average person isn't an elite athlete and typically wouldn't need to think twice about taking medicine for a cold. But due to anti-doping and drug policies for USA Gymnastics, the U.S. Olympic Committee, and the FIG, Biles double-checked with someone over the phone before taking cold/flu medicine she bought from the convenience store.
Biles found out about the Olympic postponement via text.
When the IOC officially announced the 2020 Tokyo Olympics would be postponed, she was in the middle of practice. Therefore she didn't hear or see it firsthand from a news source on TV or online. Many texted her about the news when it broke, so Simone learned of the news when checking her phone at practice.
Quarantine was an important emotional journey.
Near the end of the episode, Simone discusses what quarantine was like for her and says "During that quarantine process, I really got to relish in my emotions for the first time in my life without any outside voices telling me that it was going to be okay or I can do it." The pandemic has been full of emotion and uncertainty for many, and there was no exception for the greatest gymnast in the world.
Facebook Watch will release new episodes of Simone vs Herself weekly with a total of seven episodes ahead of the Olympic Games.