NCAA
The Best Moments From The 2021 NCAA Division I Gymnastics Championship
The Best Moments From The 2021 NCAA Division I Gymnastics Championship
Michigan women's gymnastics capture their first NCAA National Championship title, Anastasia Webb all-around, and more. Here are the best moments.
Apr 19, 2021
by Sophia Scazzero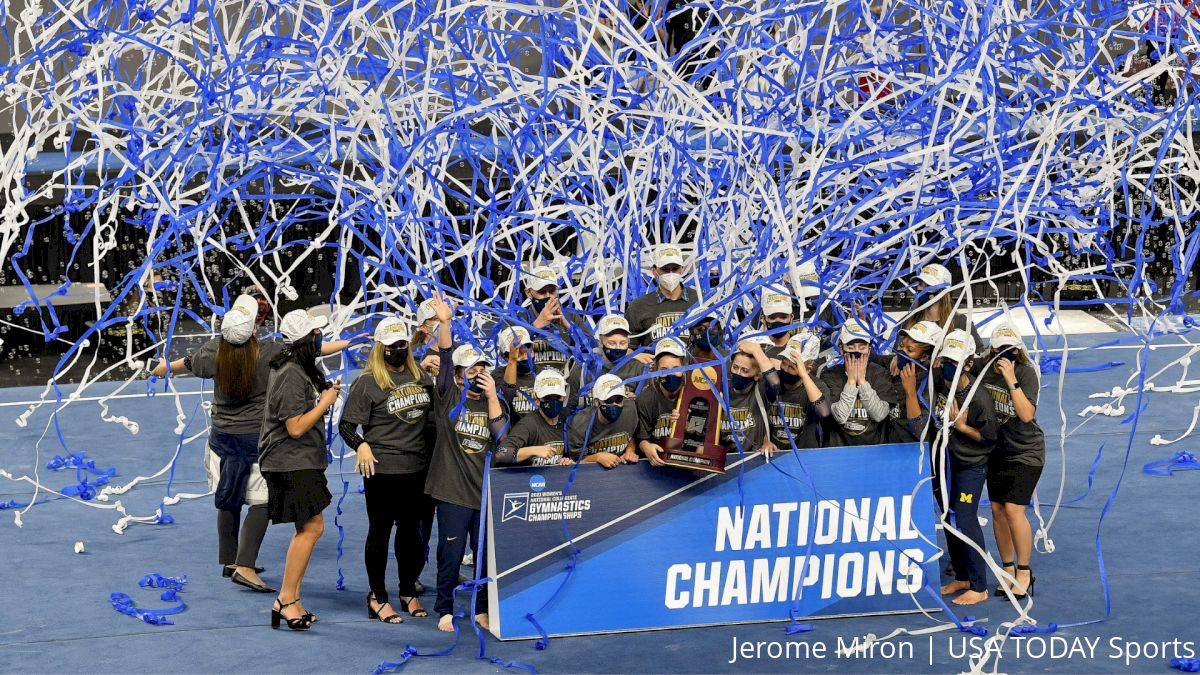 The NCAA Championship was an exciting event this year, not the least because it was a comeback season after the 2020 season was canceled. This year's competition field was incredibly tight, and to add on to the historic nature of this year's competition, it aired on ESPN live for the first time. Additionally, the winner of this year capped off the historic year, with Michigan winning its first title in school history.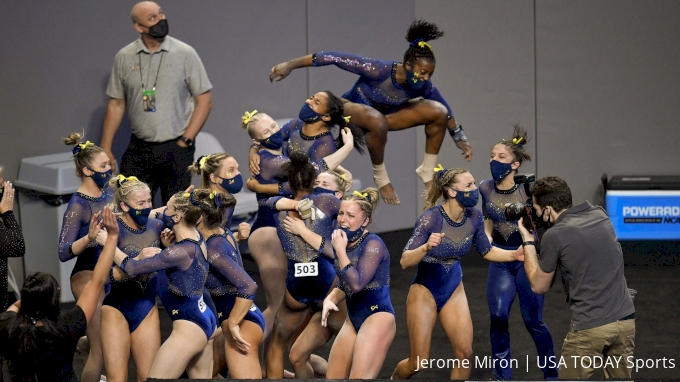 Oklahoma, Utah, California, LSU, Florida, Michigan, Minnesota, and Alabama competed in the semifinals on Friday, and OU, Utah, Florida, and Michigan advanced to the finals on Saturday for an afternoon of tight competition. Michigan won the meet with a season-high record of 198.2500, narrowly edging out OU who missed out on the title by 088. Utah came in third with a (197.9875), followed by Florida, who suffered having to count a fall on their first event beam and never able to catch up, with a (197.1375).
The University of Michigan Win Their First NCAA Championship
Michigan became part of an elite group this weekend, becoming one of only seven teams to win an NCAA Championship title. They dominated the competition the entire afternoon, leading after every rotation. Though they were ahead, it really came down to the wire at the very end of the meet.
2021 NATIONAL CHAMPIONS!!!!!!!

With a PROGRAM-BEST 198.2500, the Wolverines win their first-ever National Championship!!!!#FiredUp #GoBlue pic.twitter.com/kfAiV8l5FU

— Michigan Women's Gymnastics (@UMichWGym) April 17, 2021
In the final rotation, OU was making a big push on the floor to catch up to Michigan, and Michigan was fighting to maintain their lead on the beam. OU had an incredibly strong showing on floor, but ultimately, after an incredible beam performance, Michigan took the win. The last three gymnasts in the lineup pulled out huge scores, with the last three performers receiving a 9.9 or higher. The lynchpin to their win was Abby Heiskell's routine, the last competitor and anchor in their lineup. Both teams were glued to Heiskell's routine and then the scoreboard afterward. She only needed to score a 9.85 to seal the win, but the second she landed her dismount after a near-perfect routine, but she and the rest of the team had a feeling that with her routine they had just pulled off the win. Her score? 9.925.
These @UMichGym vaults 😍

The Wolverines are on 🔝 heading into the third rotation! pic.twitter.com/oWVQDGJutZ

— espnW (@espnW) April 17, 2021
Which brought Michigan's team total to 198.25, .008 ahead of OU. It was a real nail-biter moment and an exciting finale.
The entire Michigan lineup performed strongly that night with so much on the line. The top three all-arounders of the final on Saturday were all Michigan, with sophomore Sierra Brooks had an incredible weekend individually, scoring the highest individual all-around score Saturday with a 39.7750, Natalie Wojcik second, and Gabby Wilson third.
Cal's Amazing Performance In Their team's best NCAA performance
Cal Gymnastics thrived like never before in the past few years, making it all the way to the semifinals on Friday. The program was under threat of being cut from Cal's athletic program 10 years ago in 2011 and was saved by a scramble for philanthropic funding.
Since then they have been a strong presence in the NCAA. After a slightly dramatic start with the team being pulled for COVID-19 concerns, they had an excellent meet and finished only 0.075 tenths away from the runner-up, Florida.
Junior Maya bordas had a standout performance and was co-champion on bars with Utah's Maile O'Keefe. Kyana George tied for second on beam, Nevaeh DeSouza placed fourth on vault, and Alma Kuc fourth on bars to round out all the top 4 finishers in the semifinals.
The bars routine that'll go down in history 📝📚

We're so dang proud of you, @mayabordas. pic.twitter.com/IGQrKiZPkU

— Cal Gymnastics (@CalWGym) April 17, 2021
Some other standouts were [ Niva ] 9.9126 beam, and [ Kyana Cooper ] competing with a mask on and scoring a 9.925 Kyana George tied for second on beam, Nevaeh DeSouza placed fourth on vault, and Alma Kuc fourth on bars to round out all the top four finishers in the semifinals.
Anastasia Webb's Winning Weekend
Sooner Senior Anastasia Webb has been a dominant presence in NCAA gymnastics for the past four years and sealed her legacy by winning the All-Around Title during the semi-final round with a score of 39.7875. She was also co-champion on both floor and vault with LSU's Haleigh Bryant in the individual competition. Her massive vault was a highlight of the night, earning her an all-time high score of 9.9750, on top of her high on floor with a 9.9625.
The vault she'll remember for a 𝙡𝙞𝙛𝙚𝙩𝙞𝙢𝙚. pic.twitter.com/m9bSXT1NGc

— Oklahoma Women's Gym (@OU_WGymnastics) April 17, 2021
She cemented her place in NCAA gymnastics history, following in the footsteps of former teammate and 2018 and 2019 national champion Maggie Nichols. She's known for her confidence and high-difficulty skill on bars and floor, with an enormous pac, shapashinova half, and double Arabian half-out dismount, and a floor routine featuring a high front double full and beautiful straight arched jump after her final pass, a front 1 ½.
Maile O'Keefe's Delivers On Floor & Bars
The Utah Red Rocks finished strong this past weekend in third place behind Michigan and Oklahoma with a 197.9875, their best finish since 2015. Sophomore Maile O'Keefe gave a strong performance to earn two individual titles on floor and bars.
Maile O'Keefe posts the highest floor score of the day to this point in both sessions 🙌🙌 She scores a 9.9625!

📺 ESPN2
💻 https://t.co/TllGTXLqx1 pic.twitter.com/GHp6ho5lYY

— Utah Gymnastics (@UtahGymnastics) April 16, 2021
She scored a 9.9625 on floor to share the champion title with Oklahoma's Anastasia Webb and is co-champion with Cal's Maya Bordas with a 9.9500 on bars, where she finishes with a unique and impressive double-Arabian dismount. The team scored its highest final score in history, and their event score on beam of 49.700 was the highest event score of the meet and a new postseason record for the Red Rocks.
It was a huge moment for Minnesota to be in the semifinals and allowed two of their seniors Lexy Ramler and Ona Loper to really shine. Ona Loper capped off her senior year this weekend achieved a new career-high total of 39.6375 in the all-around, with a 9.9625 on vault, on which she was ranked No. 3 heading into the competition, and a 9.9250 on floor on which she was ranked No.4.
Ramler was ranked in the top five of three events and the all-around heading into the night, ranking No. 1 on beam, No. 5 on vault, No. 3 on bars, and No. 2 in the AA.
This was a banner year for NCAA women's gymnastics, and will hopefully increase widespread interest in the sport.