Gymnastics Canada
Ana Padurariu: The Benefits Of Remaining Poised & Patient
Ana Padurariu: The Benefits Of Remaining Poised & Patient
Canadian gymnast Ana Padurariu explains her process of making adjustments, staying poised, and remaining patient through training and competitions.
Mar 22, 2021
by Kelly Feng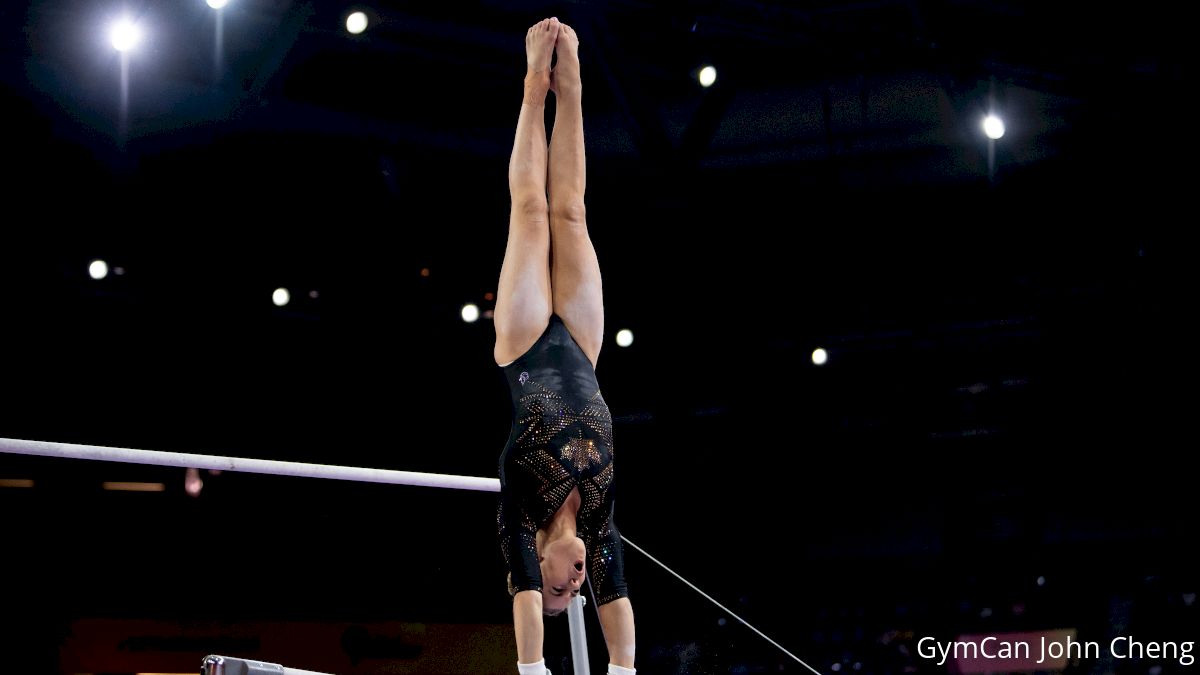 Who could forget the 2018 World Championship beam final? It was a competition where world-class gymnasts were either falling off or precariously hanging onto the apparatus. But Ana Padurariu, a first-year senior from Canada, sailed through every skill with crisp connections and confidence, including a difficult side aerial to two layout step-outs.
When Paduraiu finished her routine, she delightedly jumped off the podium and hugged her coaches and teammates. She won silver, behind Liu Tingting and ahead of Simone Biles.
And while it was a little over two years ago, it seems like just last week because the win is etched in so many fans' memories.
The last meet for the world silver medalist was 2020 Elite Canada, which she won for the second consecutive year. After the meet's success, Padurariu had reason to believe her gymnastics career was on the upswing.
Then COVID-19 spread and much of the world shut down, including the Canadian provinces. Padurariu, who trains at Gemini Gymnastics in Oshawa, Ontario, didn't have a gym to train at. The Canadian was disappointed but learned to adjust.
If there is one thing Padurariu expects these days, it's the unexpected, a philosophy she acquired even before the pandemic.
To keep her gymnast in peak physical condition, Padurariu's coach Elena Davydova created a fitness program that she practiced on Zoom with other national team members. In addition to her coach's custom program, Gymnastics Canada offered Zoom activities, including Pilates, mental performance, and ballet.
Padurariu also acquired a floor beam, which she placed on the road outside her home when the weather permitted, allowing her to keep up with her beam skills.
Since the world discovered her in 2018, a growth spurt and nagging injuries have followed Padurariu. Like many elites, she went through struggles and challenges in her Olympic journey, including its postponement.
Although she hasn't competed in nearly a year, her international experience is deep in her mindset and approach to her meets. Her first international meet goes back to 2015 when she was a junior in Italy at the City of Jesolo Trophy.
Some of the international meets Padurariu competed in include the 2018 and 2019 world championships and the 2019 Stuttgart World Cup, where she placed second in the all-around to Biles. She's had many standout meets, but also a couple of shaky ones.
However, even when a specific competition doesn't go as planned, Padurariu never seems rattled. She credits Davydova with helping her confidence.
"Patience has been a very big thing," Padurariu said. "My coach and I have been working very hard together to adjust my routines and accommodate them to the best of my abilities. We've been working hard throughout the years to hopefully make it seem like I'm poised."
Padurariu hopes her experience on the global stage will be to her advantage next year if she represents Canada in Tokyo.
"Every competition has brought me a learning experience—whether it was a good one or a bad one," she said. "It taught me how to go into each competition and how to compete for my best—learning from past mistakes instead of lingering on them."
She pauses, reflecting on her competitive experience.
"I learned what I needed to do to not make those mistakes again. It helped me a lot with my international competitions and the mindset that I have to be in and the way that I have to prepare to be at my best. All these factors will be to my advantage in the next year leading up to Tokyo."
Another thing she did during quarantine was hang out with her future UCLA teammates over weekly Zoom meetings, her favorite part of the week. She will join the Bruins this fall.
While the gymternet, the online community of gymnastic fans, can often be divisive in opinions, there is one thing all fans are in agreement on: the prestige and excitement Padurariu will bring to the UCLA program.
ANA PADURARIU TO UCLA THIS IS NOT A DRILL💙💛💙💛💙💛

— jazzi (@triplememmel) October 27, 2019
Padurariu didn't consider UCLA until head coach Chris Waller came to her gym to watch her train. She didn't watch NCAA meets that much, but she was looking at colleges that were strong academically.
Waller told her about everything the university had to offer, including academic resources to help look after their current and future needs. The support will be critical to Padurariu as she is hoping to become a biomedical engineer.
As a result, he was able to change Padurariu's perspective on the NCAA.
"UCLA has so much to offer—whether it's their prestigious academics or the amazing team bond between all the girls and coaches," Padurariu said. "My crazy personality is widely accepted there. There's such a diverse atmosphere, and each girl is so awesome in their own way."
Padurariu will be joining U.S. National Team members Jordan Chiles, Emily Lee and Emma Malabuyo and teammate and friend Brooklyn Moors. Moors is currently enrolled, but is taking virtual classes from Canada and has redshirted the season.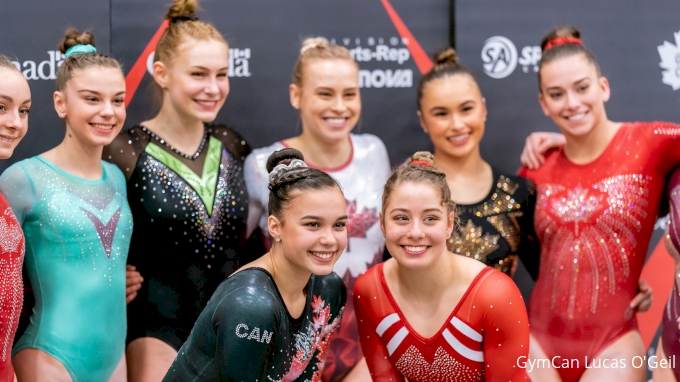 Waller can't contain his excitement for the newest Canadian member of his program.
"Ana comes with her own pedigree being a world medalist on the beam, so that's the first thing that all of her gymnastics fans are going to pay attention to," he said.
For Waller, it's not only about Padurariu's talent but also about her character.
"She's an incredibly wonderful human being, academically really smart and dedicated to school, wanting to learn every single day, super fun and outgoing, incredibly humble and kind and appreciative, yet she's very personable," Waller said. "She's gonna be a great addition on a multitude of levels. We're really excited to have her join the program. Fall can't come early enough. She is going to be great."