USA Gymnastics
Evita Griskenas Claims Senior All-Around At 2021 Rhythmic Challenge
Evita Griskenas Claims Senior All-Around At 2021 Rhythmic Challenge
Four-time Pan American gold medalist Evita Griskenas bested the field at the 2021 Rhythmic Challenge to claim the senior all-around title.
Feb 28, 2021
by FloGymnastics Staff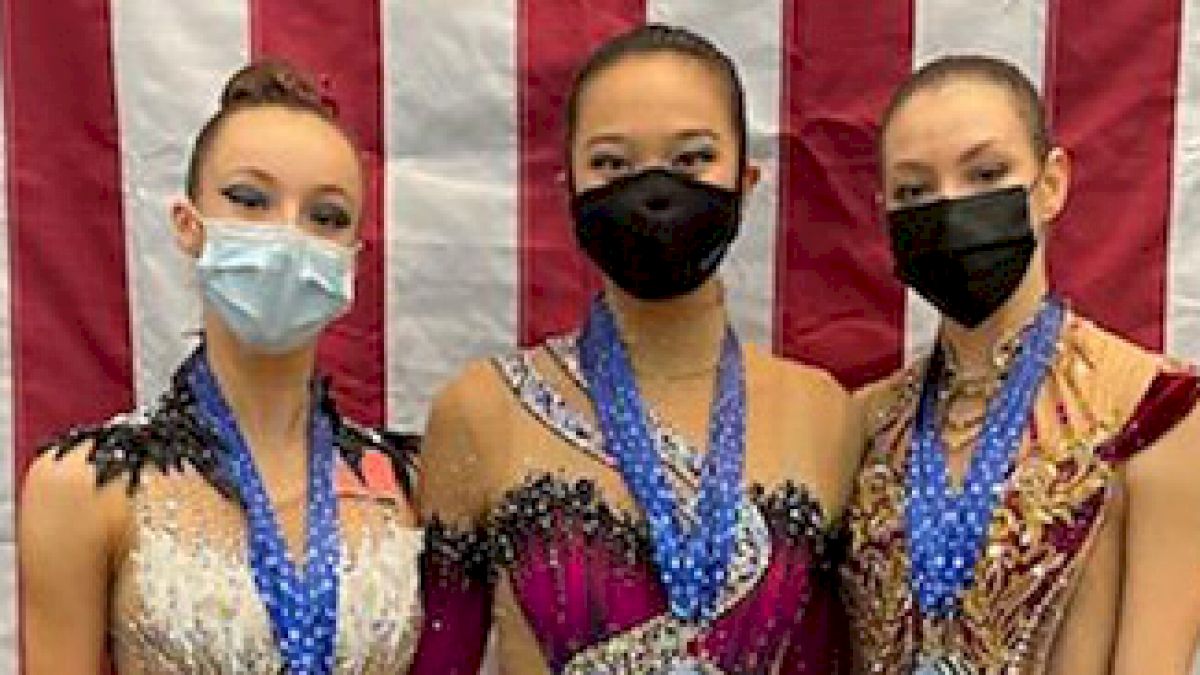 DES MOINES, Iowa, February 28, 2021 – Four-time Pan American gold medalist Evita Griskenas of Orland Park, Ill./North Shore Rhythmic Gymnastics Center bested the field at the 2021 Rhythmic Challenge to claim the senior all-around title, while 13-year-old Gemma Gow of Newton, Mass./Nelys School of Rhythmic Gymnastics took the top spot in the junior division. The event, held at the Iowa Events Center in Des Moines, Iowa, over the weekend, marked the return of elite national rhythmic gymnastics in the U.S. following the cancellation of USA Gymnastics' 2020 premier events season last year.
Griskenas posted a 94.800 to finish a full four points ahead of runner-up Laura Zeng of Libertyville, Ill./North Shore Rhythmic Gymnastics Center who earned the high score in hoop (25.600) en route to a 90.750. Griskenas notched the high score in ball (25.000), clubs (24.500) and ribbon (21.000). Lennox Hopkins-Wilkins of Puyallup, Wash./Evergreen Rhythmics rounded out the top three senior all-around finishers with an 81.100.
Gow led the junior division with a 76.950, followed by Rin Keys of Porter Ranch, Calif./Burlo Gymnastics in second with a 74.050 and Sarah Mariotti of San Diego, Calif./Emerald City Academy of Rhythmic Gymnastics in third with a 73.300. Gow notched the top scores in hoop (20.800), clubs (20.650) and ribbon (18.600). Mariotti took first in ball with a 20.250.
The U.S. Senior National Group and National Prep Group, both of which train at North Shore Rhythmics, took the top two spots in the senior group competition, scoring a 50.600 and 43.200, respectively. Senior National Group team members include Izzy Connor, Camilla Feeley, Liza Merenzon, Lili Mizuno, Elizaveta Pletneva, Nicole Sladkov, and Brigita Budginas. The National Prep Group, which debuted at the Rhythmic Challenge, includes Maria Bolkhovitinova, Ilana Finkelshtein, Patriciia Ivanauskaite, Isabella Ivanova, Nicole Khoma, Gergana Petkova, Isabelle Richardson, Hana Starkman, Emily Wilson, Karolina Saverino and Alyza Gurovich.
In the junior group competition, the IK School of Gymnastics Junior 2 team, comprised of Aleksandra Gendelman, Karina Georgieva, Alexis Kalashyan, Stefania Mishtal and Emily Tabak, won the five balls, five clubs division with a 29.600. The IK School of Gymnastics Junior 1 team, consisting of Lucia Borja, Sophia Miller, Angelina Mirer, Natalia Ortigosa and Alexandra Rykova, earned top honors in the five balls, five ribbons division with a 29.200.
The Rhythmic Challenge was accompanied by the 2021 Rhythmic Invitational, which featured the nation's top junior developmental athletes competing by age group. Irina Fesyun of Sunny Isles Beach, Fla./IK School of Gymnastics won the 2006 age group with a score of 64.25, earning the top score on ribbon (16.050). Jaelyn Chin of Aventura, Fla./ Bessonova's School took the all-around crown in the 2007 age group with a 69.100, earning top scores in clubs (18.500) and ribbon (17.500). Aurora Vitrychenko of Highland Park, Ill./Vitrychenko Academy won the 2008 age group with a 64.050, also taking the top spot in clubs (16.900) and ribbon (16.450). Sophia Zyman of Jenkintown, Pa./Iliana Rhythmic Gymnastics led the way in the 2009 age group with a 56.400, notching high scores in all four apparatus – hoop (14.700), ball (14.800), clubs (14.150) and ribbon (12.750).
Rhythmic gymnastics is characterized by grace, beauty, and elegance combined with dance and acrobatic elements while working with the apparatus in a choreographed routine to music. The five apparatus used in rhythmic gymnastics are rope, hoop, ball, clubs, and ribbon. Rhythmic gymnasts may compete individually or as a group. The choreography must cover the entire floor with intricate apparatus handling, dance combinations, jumps, leaps, rotations, and balance difficulties. Each movement involves a high degree of athletic skill. Physical abilities needed by a rhythmic gymnast include strength, power, flexibility, agility, dexterity, endurance, and hand-eye coordination.
USA Gymnastics. Based in Indianapolis, USA Gymnastics is the national governing body for gymnastics in the United States, encompassing seven disciplines: women's gymnastics, men's gymnastics, trampoline and tumbling, rhythmic gymnastics, acrobatic gymnastics, gymnastics for all (a.k.a. group gymnastics) and, most recently, parkour. USA Gymnastics sets the rules and policies that govern the sport of gymnastics, including selecting and training the U.S. Gymnastics Teams for the Olympics and World Championships; promoting and developing gymnastics on the grassroots and national levels, as well as a safe, empowered and positive training environment; and serving as a resource and educational center for the more than 200,000 members, clubs, fans and gymnasts throughout the United States. The organization is deeply committed to creating a culture that encourages and supports its athletes and focuses on its highest priority: the safety and well-being of athletes and our community.