Rookie Coaches Bring Fresh Ideas To NCAA Gymnastics
Rookie Coaches Bring Fresh Ideas To NCAA Gymnastics
This year, college gymnastics has many exciting rookie coaches. Hear directly from these newcomers.
Dec 10, 2019
by Olivia Karas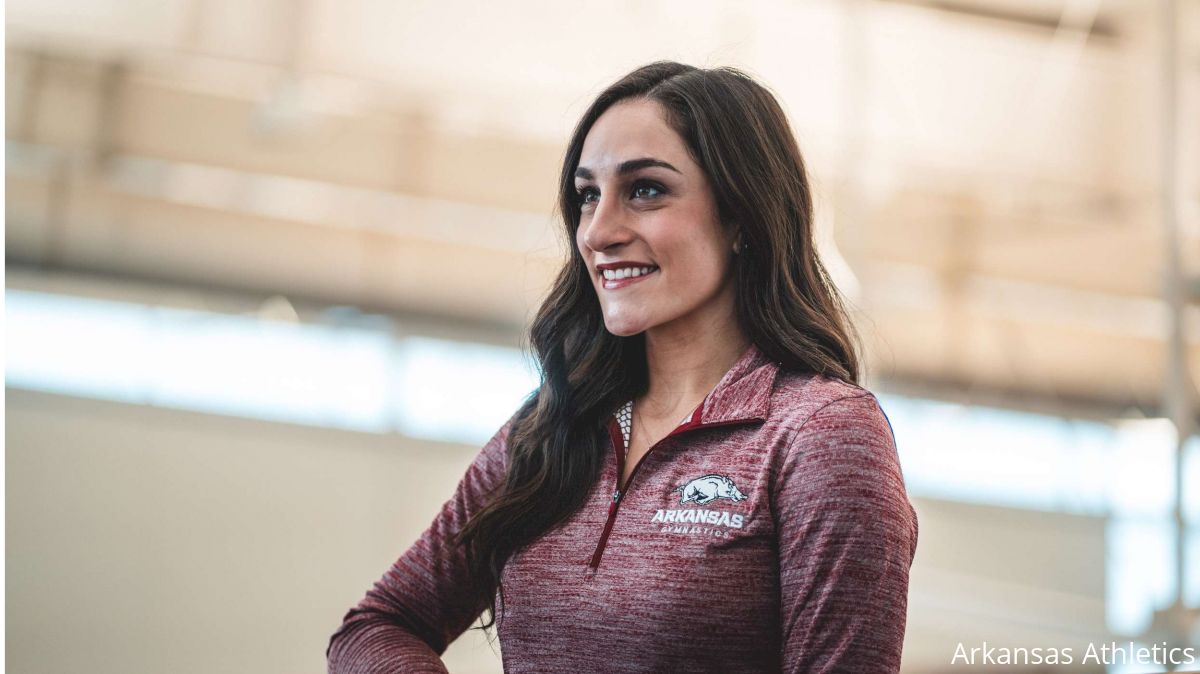 Last week, we brought you reflections from some of the most veteran coaches in NCAA gymnastics.
But those long-time members of the gymnastics community aren't the only coaching superstars of the NCAA. This year, college gymnastics has many exciting rookie coaches as well.
I got a chance to talk to three new coaches from three different conferences. Whether this is their first year or fourth year as a head coach or associate head coach, these newcomers are looking to help their programs shine in the 2020 season.
Keep reading to hear from Kristina Comforte (UCLA), Jordyn Wieber (Arkansas), and Sarah Shire Brown (Penn State).
What brought you to the school you are coaching at?
Kristina: I remained in close contact with Val (Kondos Field), Chris (Waller), and the program in general over the years. So, when Val was retiring and things unfolded, Chris and I started casually talking about what it would be like if he got the head coach job. My last year in school, I worked for his club team full time and he coached me while I was on the team, so we knew each other's coaching habits well. It seemed like a seamless transition. I already knew the culture of the program from my time on the team. Of course, there were no guarantees, but that is how it got in the works.
Jordyn: I was at UCLA volunteer coaching and when I finished school, I had a couple opportunities to apply to assistant coaching jobs. I wanted to learn as much as I could from Val for her last few years and prepare myself to take on a coaching role, so I stayed at UCLA as a volunteer. She mentored me really closely and taught me a lot of things along the way. Once she retired, I felt ready to leave the team and move on. I have seen every side of gymnastics; club, college, championships, and elite. When Arkansas popped up, I thought, let's see! I didn't know how I felt about Arkansas but once I saw it, I was so pleasantly surprised by the area and the magic of the SEC. The Pac-12 is competitive, but nothing like the SEC. I could feel the competitiveness. I love a challenge and wanted to take a program that has been consistently good and make it great. The area, the people, and the resources that the SEC has have all the pieces of a puzzle to build a championship-winning program.
Sarah: I was at an interesting point in my career when I came to Penn State. When I coached at Michigan, I felt fired up to be a part of a hugely successful conference. Once I moved into the Eastern Michigan head coach role, I was fired up as it was my first time being completely in charge. When the Penn State job came about, I knew it was a long shot as I had just accepted the role with Eastern nine months ago, but I went for it anyway and threw my hat in the ring. I also believe that any interview experience is a great experience. I did some research on the program and felt really confident about their ability to get back into the top 15. I was very happy when I got the call for the head coach position and was so excited that I started the very next day!
Who is your role model head coach in the NCAA—current or former?
Kristina: It may seem obvious, but of course it's Val. She was my coach at UCLA, and as many people have expressed in the past, she goes beyond gymnastics. She has become a friend and is still very much a mentor to me. During my time at school, she changed my life beyond gymnastics. Something unique about my experience was our open communication and how I always knew I could go to her for guidance. She became a life coach to me that I could go to for advice even when I wasn't coaching. Of course, when I started coaching again, I called her constantly for advice and guidance. Her wisdom was transformative for me.
Jordyn: Miss Val. She recruited me to UCLA as an athlete, but I think a lot of people from UCLA would say that a big reason they went there was her. I remember sitting with her and realizing that I loved everything she is about. When I started coaching for her, we shifted from athlete/coach to mentor/mentee and genuine friends. I would go over to her house all the time for dinner and pick her brain. I've felt like a complete sponge asking tons of questions. A lot of my coaching philosophy is from hers, as she coached whole beings and not just gymnasts. I strive to coach with that every day here at Arkansas. I still call her almost daily.
Sarah: Here's the thing. I feel like I have learned different things under every coach I have worked with. I have had a really unique experience. I did my freshman year at Utah, and despite the fact that I didn't finish there, Utah has this presence in gymnastics that inspires other programs. When I went to Missouri for my next three years, I was so fortunate to go to nationals for the first time. I saw the training that went into that and learned from the journey. There is a benefit working at smaller schools as I was able to have my hand in all parts of the program. At a small school, you are helping in so many ways to promote the program and by doing that, I learned a lot about college coaching during my time at Southeast Missouri. Then, Michigan refueled my fire for college coaching. I have so much admiration for Bev (Plocki), and I think Michigan is the epitome of what everyone wants their program to be like in college gymnastics. Finally, Eastern was my first experience taking the reigns as being a head coach. At the end of the day, I think we have to take something from everyone we work with and make it our own. I have figured out who I am as a coach and what my goals are, and I am very content with that through all of my mentors.
What team culture do you hope to implement this year as a head coach?
Kristina: Luckily, with being an alum of the program and experiencing it first-hand, the foundation has been laid. Val spent three decades doing that. UCLA has always been about developing champions at life. It is always been bigger than gymnastics. Being successful at life, school, and gymnastics was extremely important, and that isn't going to change whether Val is here or not. That is where the success comes. Even though it is a given that the dynamic of a team changes each year as freshmen come in and seniors leave, the foundation will remain the same. Sometimes you do have to rework the dynamic with changing personalities, but always stay true to the identity and foundation of UCLA. Being authentic is important. It is beneficial for me as I have experienced everything they are going through right now. I have walked Bruin walk, and done what they are doing. I can relate to them on that level, all of the highs of highs and lows of lows. That relationship is important in a transformative time. So much change happens in college as you are developing who you are as a person. To have a relatable person who has also been through it is really important.
Jordyn: With me being from UCLA and Chris (Brooks) from Oklahoma, we've both been part of two very different but successful programs. We talked about it a lot: what did we want to create here? We took all of the things we liked from UCLA and Oklahoma and brought it here. We want to create a culture where athletes work hard and play hard. As gymnasts, we grow up to be so conditioned and intense all the time. The thing I love about college gymnastics is that it proves you can have a lot of fun, dance, and enjoy your teammates while competing at a very high level. We know what it looks like and takes to be a championship-winning team. We want to show them what it is going to take while including fun activities and training styles so they can have fun.
Sarah: I want a continuation of the foundation we built our first two years. We have significantly improved communication and trust and have zoned in on self-love and confidence in our athletes. Being proud of the work they are doing every day as Penn State athletes and women is so important. As far as culture, we have only three girls on the team who were coached by the previous staff, so it seems much easier now to build a culture where everyone buys in. We just received the highest GPA in Big Ten this past year and are building depth in lineups to allow younger athletes to find their footing early on in their careers.
Talk about your support staff (associate head coaches, assistant coaches). Why did you choose to bring them on as part of your team?
Kristina: Besides Chris, even though he is in a new role, it is all new. There is a lot of new. Dom (Palange) was here in a volunteer role and is now in a new role and BJ (Das) is new as well. What is great, though, is that we complement each other really well. All of our strengths and weaknesses complement well. We spend a lot of time together and communicate successfully so we are all on the same page. We're very aware of everything going on as well. What has been remarkable this year is that everyone has taken into account how much has changed. The girls even have a new athletic trainer, so that changed too. This shows how resilient our team is as they have embraced everything so well. That has allowed us as a staff to do our jobs really well. BJ is a true professional and master of her craft. Her musicality, ability, and creativity is on a whole different level. I cannot wait for our first competition when people can see these routines. They are so amazing. On top of that, Dom brings a calmness to the gym and is such a great people person. He is great with the girls, personable, and just a phenomenal coach. We all work well. Chris is a great coach and technician. He is constantly trying to find new ways to improve every aspect of program. That is something special.
Jordyn: Chris Brooks is my assistant coach and has every bit of knowledge on the sport of gymnastics. Yes, he was a part of men's gymnastics, but he knows what it takes to make it to the top. Also, he has high energy and passion. As a head coach, you want to have support staff that complement you. He brings that energy and passion every day and you can see it in his coaching. Caitlyn Orel is our volunteer coach and has done our choreography. She is now stepping in a bigger role and coaching beam and doing some other things for us. She walks into the gym and exudes energy and positivity. Every athlete comes to beam with a quote and talks about that quote to start beam with a positive mindset. Beam is their happy place and that says a lot about who she is. Everyone is so dedicated to our student-athletes and is excited about the changes. Once a month, we meet as a staff to talk about how we can help these athletes to the best of our ability.
Sarah: Dallas (Becerra) and I have been together for four seasons. We coached together in Missouri, and I've known him since 2012. I am so happy we got the opportunity to work together early on. We just give each other "the look" nowadays and know what the other is thinking. He is always high energy and enthusiastic. Not to mention, he is very passionate about elite and college gymnastics, which makes him a great recruiter. This year, we brought in Ashleigh Gnat. She has taken over all of our floor music/choreography, and she serves as our primary floor coach. She has found her voice on floor and is working on finding her voice on the other events. She sees everyone in an optimistic light and sees the best in every athlete. She is working on growing into her role and finding herself as a coach. Sarah Thompson, our athletic trainer, was a gymnast at Pitt while I was at Missouri. It is such a perk having her background knowledge of the sport as her connection to the sport and team is beneficial to our training. She can speak gymnastics, which allows us to be efficient and take care of the athletes' bodies. We have a great support system with marketing, nutrition, and sports psychology. I feel very close to them which is amazing.
You've each been in your role for a very short amount of time. What has been your biggest challenge so far?
Kristina: I think the hardest part has been trying to find the balance. People will constantly ask if the program is different without Val. Trying to separate that expectation from the now and finding my own place and strengths is important for me. How I can use my experiences and wisdom and be that guide and mentor for the girls is unique to me. I don't want to place too much stress and expectation on myself as I feel so much passion for this program and UCLA. It'll be important for me to find balance and take it one day at a time and try not to find too much stress in any one situation.
Jordyn: There are a lot of things that I knew that I wasn't going to know having not been a head coach before. It is a constant learning process. From paperwork to just things that go into running a program, there is way more than just going into the gym and coaching. I have used the people around me for support, though. Not a lot has surprised me because I expected to not know stuff. It's a lot coaching a group of 18- to 22-year-old girls. Relationships, lives, and everything—it's a lot. The good surprise is that I love being able to guide the girls through the hard things they are going through with confidence and the tools they will need after college.
Sarah: Patience. Recognizing that this is a marathon, not a sprint. Changing a program doesn't happen in just a year. You as their head coach are investing so much time into the athletes' lives by looking at them as gymnasts and women after gymnastics. I feel very passionate about these women moving into the real world. It's hard for me because I wanted to dominate my first year here, but I got a little reality check. This is the first year we are starting to set athletic goals and become competitive in the arena.
As a new head coach, you will bring a new attitude and environment to your school and conference. What is the one thing you strive to bring to the 2020 season the most?
Kristina: When I was an athlete, I was very competitive and feisty. I always wanted to win and be as good as I could for the team. As a coach, I try to completely take myself out of the equation to make the team as good as they can. This is all about them, it isn't really about me. It is their team—I am just giving them the tools and resources to accomplish what they want. For me, it is all about being that guiding force and being there when they need it. I know gymnastics and can coach and guide gymnasts, but this is for them. I'm not going to pump up my chest and be the fiery athlete as I was myself as it needs to be channeled differently now. It has to be about the student-athletes and the process. The foundation is creating champions in gymnastics and in life. As long as I am authentic to myself, I will feel successful in teaching this foundation to these girls.
Jordyn: The No. 1 thing that I want to bring is new life into the Arkansas gymnastics program. I want to give a shout out to Mark Cook and the previous staff as they built this program completely. None of this would be possible if Mark and his staff didn't build the foundation. I strive to give the girls confidence to go out, have a great season, and have them breathe life into the season. I want to change the general culture of things here. If we can do that, the gymnastics will follow. Maybe not this year, but definitely in the coming years. Obviously, we have short-term and long-term goals, but this year, we want to create a strong foundation for what is the new Arkansas gymnastics.
Sarah: My passion and energy exude when I walk into a room. I don't try to put on happy faces, I am just an energetic and optimistic person. There are days that are hard, but for the most part, I wake up every day with a positive attitude. I preach authenticity. I am currently pregnant and will end up having a baby in the middle of season. This is a real thing. I want the girls to see this authenticity so they can realize that you can work, be a mom, and be awesome at what you do. You can have it all; family and a successful career. You can't do it alone, though. There are days that are hard, but you need your support staff. I am a very vulnerable person in front of my team to show them that they can do that with me too. Our three standards are: buy in, unity, and gratitude. These all encompass what we're doing this year. If I can encompass that and be authentic in the process, I think we will achieve great things.