Choreographer BJ Das Eager To Return To Gymnastics With UCLA
Choreographer BJ Das Eager To Return To Gymnastics With UCLA
Choreographer BJ Das is going back to her gymnastics roots as the choreographer and volunteer assistant coach for UCLA Gymnastics.
Jul 2, 2019
by Amanda Wijangco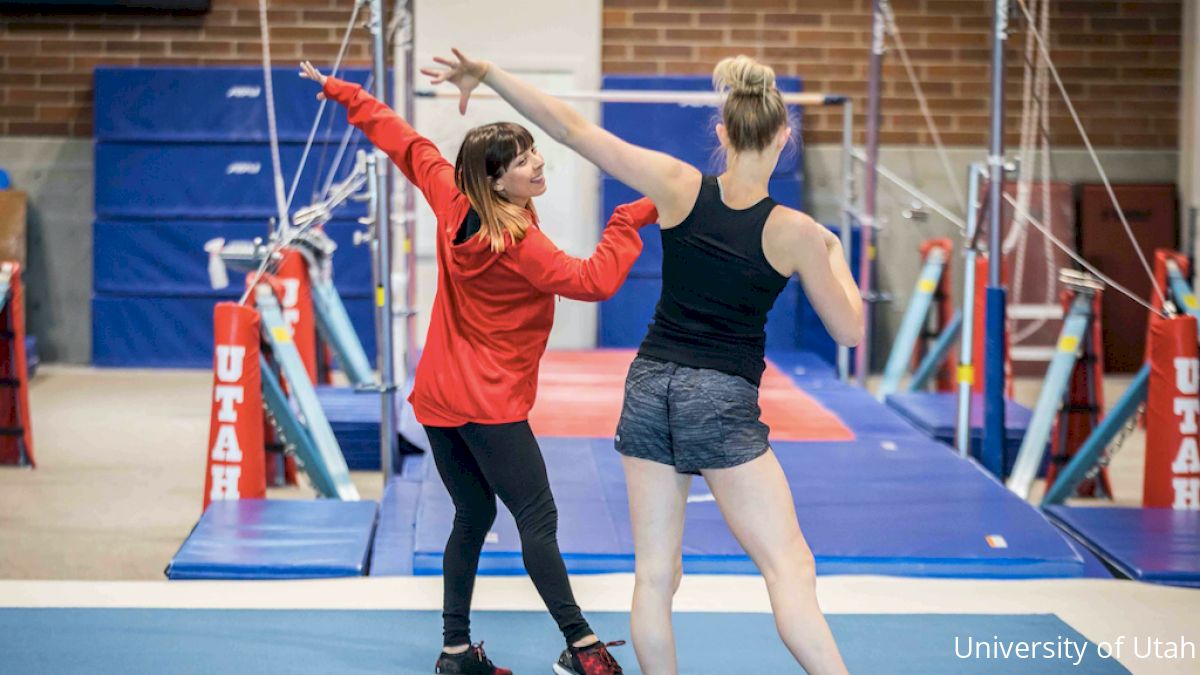 After an injury forced BJ Das to medically retire from the sport of gymnastics during her sophomore year at the University of Washington, the door to her future opened.
"I always said to myself 'If can't do gymnastics anymore, I want to try dancing,'" Das said.
Once she recovered from her injury, Das began taking dance lessons, mostly in hip-hop and jazz, and got involved with different performing groups in Seattle.
Even though Das wasn't able to pursue dance until her gymnastics career ended, it had always been a hobby of hers. She loved to dance growing up but simply didn't have the time for it because of her competitive gymnastics schedule.
"I was always kind of the choreographer on my team," the Seattle native said. "Even in club and college, I would always help girls with floor and beam routines. My coaches would send girls to go work with me just because I loved to do it. Or I would make up a dance for fun and teach my teammates."
Das was still close with her Washington teammates during her senior year of college but found it "really painful to go to meets."
"It's heartbreaking when you're done with gymnastics, and it's not really by choice," she said. "I had a hard time coming to that realization, so the best thing for me, the most healing was to just step away and try something else that I enjoyed."
She enjoyed dance so much that she decided to pursue it professionally. After graduating from Washington with a degree in psychology, she wanted to give herself one year in Los Angeles.
It's now been over a decade since Das first moved to LA to follow her dance dreams, and she has an impressive resume to show for it.
After beginning as a commercial dancer and performing on award shows like the MTV Video Music Awards, Billboard Music Awards, and the Nickelodeon Kids Choice Awards; dancing around the world with the likes of Avril Lavigne and One Direction; and shooting commercials and music videos for Shoe Carnival, T-Mobile, Ariana Grande, Justin Bieber, and Beyonce, she began working as a choreographer as well.
Das choreographed and performed at the Emmys with Andy Samberg, helped incorporate breakdance and wrestling on the Netflix show GLOW, and worked on the "Torn Apart" music video for the British alternative group Bastille.
Sprinkled here and there throughout her dance career were opportunities to choreograph gymnastics floor routines. Every once in a while, someone would ask her to choreograph a routine, and she would, but she didn't set out to make a name for herself as a gymnastics choreographer. The commercial dance world was still her focus.
Eleven years after she first moved to LA, gymnastics crept its way back into her life in a bigger way than a floor routine here and there. Last July, Das was named volunteer choreographer for Utah.
While she wasn't based in Salt Lake City and didn't get to work with the gymnasts every day, she considered her time with Utah "a huge learning experience." She didn't realize the scale of NCAA gymnastics until working with Utah's top-tier program.
"It was a great introduction back into college gymnastics in a big way, and to be part of a team that's so legendary and high-profile, it just made me fall in love with the sport and fall in love with being in a different, more creative role," Das said. "I really enjoyed it, and I think that's what made me want to keep going with college gymnastics. If I hadn't done that, I wouldn't have known I even wanted to be back in the gym world because I've just been so consumed with dance for so long."
An opportunity to do more gymnastics choreography has come her way as she was recently announced as UCLA's new volunteer assistant coach and choreographer. In addition to choreographing floor routines, she will also help choreograph and stylize the Bruins' beam routines.
UCLA has built a reputation for showcasing artistic, performance-based floor routines thanks to recently retired head coach Valorie Kondos Field, so Das has some big shoes to fill. But Miss Val herself has expressed support to UCLA's new choreographer.
"It's an honor to be a part of this team and for someone like [Miss Val] to encourage me to go after this," Das said. "It feels like a lot of pressure and a lot of excitement at the same time, but I think I have so much support from her and the team and the rest of the coaches that I feel really good about it now. I think I was more nervous before, but now that I see the culture of the team and how welcoming they've been, I'm beyond ready to get started. [Field has] been a great mentor and someone who's fully there to support me and the transition of all the coaches."
The team has been so welcoming that the gymnasts almost made Das cry the first day she met everyone. Das said she imagined that losing their beloved head coach to retirement couldn't have been an easy transition, but when she entered the gym for the first time, the UCLA gymnasts all yelled "Hi, BJ!" and ran across the floor to shower her with hugs.
The Bruins literally welcomed her with open arms, and Das said they've been "nothing but awesome so far."
Das is most thrilled about the gymnasts' excitement to dance. In the short time she's spent with the team so far, she said she has never seen a team that dances more in the gym. When they're at practice in between turns, Das sees them dancing and having a good time.
"They watch dance," she said. "They're influenced by dance. They are literally always dancing, so I can't think of a more fitting team for me, coming from the dance world back into gymnastics, to be a part of. And they're just really eager to learn. I think that's been really cool, that they're open, they're eager, they're willing to take risks, and they're not shy at all."
As a newcomer to the team herself, Das has noticed how the team interacts with anyone new to the team. She knows freshmen may be timid at first, especially in a new environment, so loosening up in a new floor routine, let alone around new teammates, can be difficult. But the Bruins know how to ease that situation.
"They are so close and so tight-knit that the newcomers get permission to be outgoing and to dance and move, and nobody's very self-conscious about it," Das said. "They've really created a culture based around dance and having fun and performing, and I'm just excited to be a part of that."
Although the official preseason for 2020 is still months away, Das said the UCLA gymnasts are all "very involved." It's not just about learning a routine but being part of the entire process.
"They want to help pick their music," she said. "They want to collaborate. If someone has a specific dance move, they want to collaborate with the choreographers on that. It's really cool to bounce ideas off of them and what they think or what they want to perform or what style they want to do."
Das hasn't even been with UCLA for a month, but she's been in LA for over a decade, so she's no stranger to the city, and the school and its gymnastics program have always been on her radar. She's even met and become friends with UCLA gymnastics alums and fellow dancers Ariana Berlin and Talia Kushynski since moving to LA.
"It feels like home to me already," Das said. "I can't help but smile when I get to campus in the morning, and when I walk back to my car at night, I just feel like this is where I belong. This was actually my first choice of where to go to college back when I was in high school, and I had always followed their gymnastics team growing up. So for me to be a part of the history and a program that I've followed since I was a little girl, it's pretty surreal actually."