Veteran NCAA Gymnastics Coaches Reflect On Past, Present & Future
Veteran NCAA Gymnastics Coaches Reflect On Past, Present & Future
Head coaching veterans bring a ton of experience and fresh insights into the 2020 season.
Dec 5, 2019
by Olivia Karas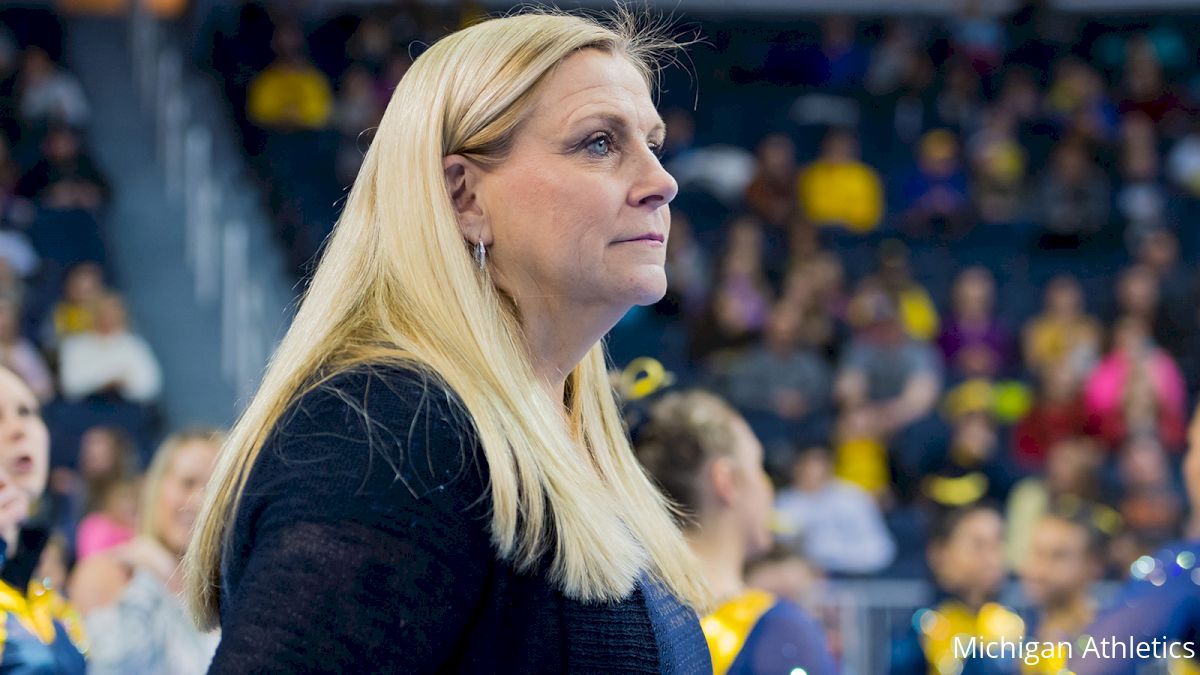 The 2020 NCAA gym season is stacked with talent, and not just from the athletes.
Our head coaching veterans bring a ton of experience and fresh insights into the 2020 season. This year, we're welcoming back many coaches who have built a legacy at their respective programs and are ready to continue their dynasty in 2020.
I got the chance to catch up with some of the legendary coaches in college gymnastics—Bev Plocki (Michigan), Jay Clark (LSU), and Melissa Kutcher-Reinhart (Denver)—and talk to them about their pasts, the present, and their futures with their 2020 teams.
What has kept you dialed in as a head coach for all these years?
Bev: My answer to this has definitely evolved. At first, my passion for coaching and developing a team was my why. I enjoyed the rush of working to build something from the ground up into something successful. However, as I have grown through my coaching years, I feel that my passion has shifted to watching the growth of the athletes I coach. Watching them grow developmentally, gymnastically, and personally is one of my biggest joys. This is very challenging but rewarding. It is so exciting to see the athletes' maturation as they come in as girls and leave as young women who aspire to do fantastic things.
Jay: I have just been promoted to associate head coach, so this is kind of my first year and a half stint as being a head coach. The new challenges every year keep me going, especially since each team has their own personality. We as coaches work on how to make each year work in a way that will facilitate the team to work together. This is always a challenge and coaches that don't look at it in that way fall into a rut. We look at each team for its own personality, credentials, and merit and not try to duplicate everything we have done in the past. We strive to stay fresh. I can't believe that I've done this for 30 years, but the new challenges keep me going.
Melissa: The challenge of accomplishing goals and setting goals. That is still a huge component for what keeps me invested and involved. Honestly, anything related to the student athletes keeps me dialed in. Instilling a growth mindset in them has been very important to me.
When you think about packing your arenas with fans for home meets, what has been your tactic to get people to buy into the NCAA gym world?
Bev: A lot of it has been trying to make sure that we are putting on a great event from start to finish and doing it in a way that helps fans find gymnastics relatable and exciting. This isn't just at Michigan, but across the NCAA. We have done a lot of work to make sure that the fans are kept in mind when we host a home meet. It is so important to make sure the fans understand what we're doing. In basketball, it is so easy to understand the scoring and why each team has the points they do. We've worked to continue advancing our scoring systems on video boards to give more instantaneous feedback. Gymnastics is fun to watch, but we needed to improve the instantaneous feedback. Fans eat up knowing the margins of errors within the meet so they can follow along with the excitement.
Jay: When I got to LSU seven years ago, D-D (Breaux) came into my office and asked for my thoughts and ideas on filling the PMAC (Pete Maravich Assembly Center). There were a few areas where she wasn't getting the support she needed in the past, and I partnered with her to put some things in motion. We started sitting down with our marketing team on a weekly basis to hold them accountable to the calendar we set. We began strategizing in August and all the way through our season in a methodical way so there was a steady diet of material fed to the public. Once we did that and got everyone on board with our vision, it took off. It took a while getting them hooked on gymnastics, but once they understood our vision to sell the PMAC out in a city with 800,000 people, there was no excuse for empty seats. Seven years ago, we had 500 season ticket holders and we have 7,000 this year. Once we started seeing progress, everyone got the fever to keep it going. The creative and marketing team have amazing ideas and social media campaigns. It has been a tremendous privilege to be part of that growth.
Melissa: I smile at that question; it makes me happy! I will start with saying that it is really important to appreciate the people who came before us. I want to be able to thank Dan Garcia, the coach who preceded me, who built a solid foundation for me to build off of. When I first came to Denver, I was a bit naïve at how long it would take to build up attendance. Thanks to Dan, there was a great core, but we wanted to expand on that. I look back on last year when they announced that we broke our attendance record at 6,100. For a split second, and as a head coach there isn't much time to reflect, I remember standing on the arena floor last year and feeling so much joy at our growth. Most of the rest of the meets fell at the 5,000 and 5,500 range as well. Of course, for our student athletes, giving them the opportunity to feel the crowd is so critical. Also, the community support is amazing. We are so lucky.
What is your greatest accomplishment as a head coach?
Bev: Championship banners hang in the gym and of course they're great, but the fact that when we have a big alumni event or when people come back to visit, they want to come into the gym and bring spouses and children. My greatest accomplishment is that so many alumni come back and say that these were the greatest years of their lives. A fist full of rings are only a small part of what made their experience here.
Jay: On the gymnastics side, there are two moments that stand out to me. First, here at LSU, would be winning the SEC championship in 2017. Not only standing at the top of the podium but being on the floor with D-D for her to get that title for the first time since 1981. This was a tremendous and emotional moment for both her and me. It was very validating for me to come back and wind up on top of the podium with a new team at a different place.
The other moment was the 2005 national championship while I was still at Georgia. The team was stacked with freshmen who learned how to compete together. These girls taught the coaches how important culture was to winning. We lost four meets in a row that season and everyone thought the sky was falling. Then, they came into the postseason as the 12 seed after having a terrible regional meet. However, they believed in what they were doing and in each other. To watch them win two days in a row taught me that love and investment in each other is huge.
Outside of gymnastics, the greatest joy I get is when gymnasts are done and grown up with kids. They come back and tell stories about the lessons they learned from hearing us say things they thought we were crazy for. The time we had together was a big part of their lives.
Melissa: That is a hard question as it is hard to find one thing! I would say student-athlete successes who may have never gotten the huge scores but came back from injuries and were huge parts of our team. Of course, the athletes who put up big numbers and fight for every tenth as well. But I would say I am so proud of my growth mindset to adapt and change in all of the years I have been coaching.
Succeeding as a head coach doesn't happen without your support staff. Talk a little about your assistant coaches/associate head coaches and their impact on you and your programs.
Bev: I have been very fortunate that my support staff has been loyal to me. Scott Sherman has been with me for ages and Lisa Hass, our athletic trainer, has been with me for all but two years of my entire career. Between the three of us, the core trio, we have been able to work together and complement each other's strengths. We essentially finish each other's sentences.
I have also been very fortunate to have a great turnover in the other assistant coach position. Many of my past assistant coaches have gone on to be head coaches in other amazing institutions and bring a lot of knowledge to my program. Any head coach will say this, but a head coach is only going to be as good as the people they surround themselves with. I am a big believer that no head coach/assistant coach can do anything alone. Working together with the same goals and mindset as other like-minded and brilliant individuals is the key to being a successful program.
Jay: The thing about a coaching staff is that you have to have something for everyone. You cannot have assistant coaches who are clones of the head coach. I want people around me that are ambitious and strive to move forward in their career. I want a group of people looking for new ways to succeed and climb the ladder. I have been fortunate enough to be around visionaries and D-D has been one of those. Certainly, Suzanne (Yoculan) was one of those. Stony Eaton, the former owner of Desert Devils, had a huge impact on my coaching style. My own wife coached with me for a while at Georgia. She taught me the value of keeping workouts fun and not too intense, mundane, or boring. D-D has taught me about loyalty and how to be unrelenting and competitive to the core. Suzanne taught me about innovation, particularly in the marketing area and being unafraid of people's perception of you. (Current Penn State assistant and former LSU gymnast and coach) Ashleigh Gnat was a huge and important person in my life—God do I miss her—and she has such a keen eye for the psyche of athletes, which is so impressive at a young age. We work in such a pressure-charged environment in NCAA gym that our jobs are on the line. Some coaches become paralyzed by fear and I have been fortunate to not be around that.
Melissa: I don't think the assistants and support staff get the recognition they deserve, so I love this question. I will start by saying that any assistant I have had at Denver has been instrumental in teaching me something along the way.
Linas Gaveika, our associate head coach, is fantastic. He is a great recruiting coordinator, detail-oriented coach, and an incredible technician. He has done such a phenomenal job. Jimmy Pratt is a new addition to our staff this year. He came from All American Gymnastics Club in Utah and brings such a sense of energy to our team. He is also very detail-oriented and a talented technician who has brought many drills and techniques to our team that are fresh in his mind. He is a big blessing.
Not to mention, we are blessed and lucky to have Jessica Lopez as a volunteer assistant coach who has been wonderfully helpful. We also have Julie Campbell, who is our senior associate athletic director for Pioneer health and performance, as well as our full-time gymnastics trainer. Brittany Evans is our publicist and I will give her a lot of credit for helping build our social media presence. We are so fortunate to have one of the best nutritionist, Bob Sebohar, and sports psychologists, Megan LeVoy and Annie Leibovitz, at hand. We have an amazing director of operations, Paige Tollefson, and an incredible sports performance coach, Nicole Fowler. We are lucky to have Sam Peck, our high-performance consultant, and Jeanie O'Kane, our sports program assistant.
Specific to Denver, the communication between all of these people and the coaching staff is amazing. We look at the student-athlete as a whole, athletically, physically, emotionally, everything. I am very clear that I would not be having this success without these individuals. I try to always surround myself with people who are better than I am, and these people are just that.
What advice would you give to newer coaches in the NCAA as they begin their journey as a head coach?
Bev: It's easy to get distracted by short-term goals, so always remember to keep your long-term goals in mind. Continue to think big picture. This is not easy to do when you are young and ambitious, as many head coaches are. Yes, short-term goals are important, but everything that you do and the first decision you make helps create the culture of the program in the coming years. Take those decisions seriously. Always think: is this going to be something that I want as a fundamental building block of my program? Am I still going to be about that same thing in 30 years?
Jay: There are things I learned from my first experience that I would not repeat and one of them is not to listen to too many voices. Listen to the people in your inner circle, the people you trust. So many people have opinions outside of your work. Sure, they may be experts, but most of the time, they have no idea what is going on inside. If you become a head coach, take time to enjoy that. Sit back and appreciate everyone who helped you get there. You have reached the pinnacle of your chosen profession, so enjoy it. There are always going to be negative people, but it is important to celebrate achieved success with family and friends around you. We are so busy and all-encompassed that we spend so much time doing work and not realizing how far we have come. It is important to sit back and enjoy a moment of achievement.
Melissa: Enjoy the journey. Whatever kind of coach you may be—assistant, head, volunteer—you have some kind of competitive personality. There is pressure to do well, perform, and represent your institution with integrity. There is also an expectation to produce young women who will graduate and go out in the world and be successful. There are lots of moving pieces all happening at the same time and sometimes it can be easy to get caught up in scores, results, and outcomes. I would say to enjoy the journey and be true to yourself. Act with a lot of authenticity and be authentic to yourself. There is no one right way to do things.
The 2020 season is knocking at the door. At this point, before we get rolling for season, what is one goal you have for your team this year?
Bev: I want us to maintain the same kind of unity and chemistry that we had through last season, and focus on ourselves. The big thing for us is to keep the focus within our team. And of course, enjoy the journey as we go through the season. This is a group of amazing women who make coming into the gym every day a joy. If we can do that, we will accomplish great things.
Jay: Our goals stay the same at LSU. They are stated in our team handbook. We have academic, team, and community goals. We want our team to compete for and win championships. We don't talk about it every day, but we put processes in place that push us in that direction. There are plenty of small goals we set every week and define what those are. We want to be the model of a student-athlete: excel in the classroom and give back to the community that is supporting them. We teach them to be accountable for their decisions. It is important to have a good, full, and amazing collegiate experience. This level of balance sets us apart.
Melissa: I don't necessarily know yet. We have four returning All-Americans and a very talented and experienced team. We are expected to be one of the top teams in the nation and I honestly think our job is to stay in the process and the journey. That will lead us to where we need to be.