2019 NCAA Gymnastics Championships
UCLA, LSU, Oklahoma & Denver Advance To 2019 NCAA Finals
UCLA, LSU, Oklahoma & Denver Advance To 2019 NCAA Finals
The reigning champion UCLA Bruins advanced to the 2019 NCAA Women's Gymnastics Championships finals along with LSU, Oklahoma, and Denver.
Apr 20, 2019
by Amanda Wijangco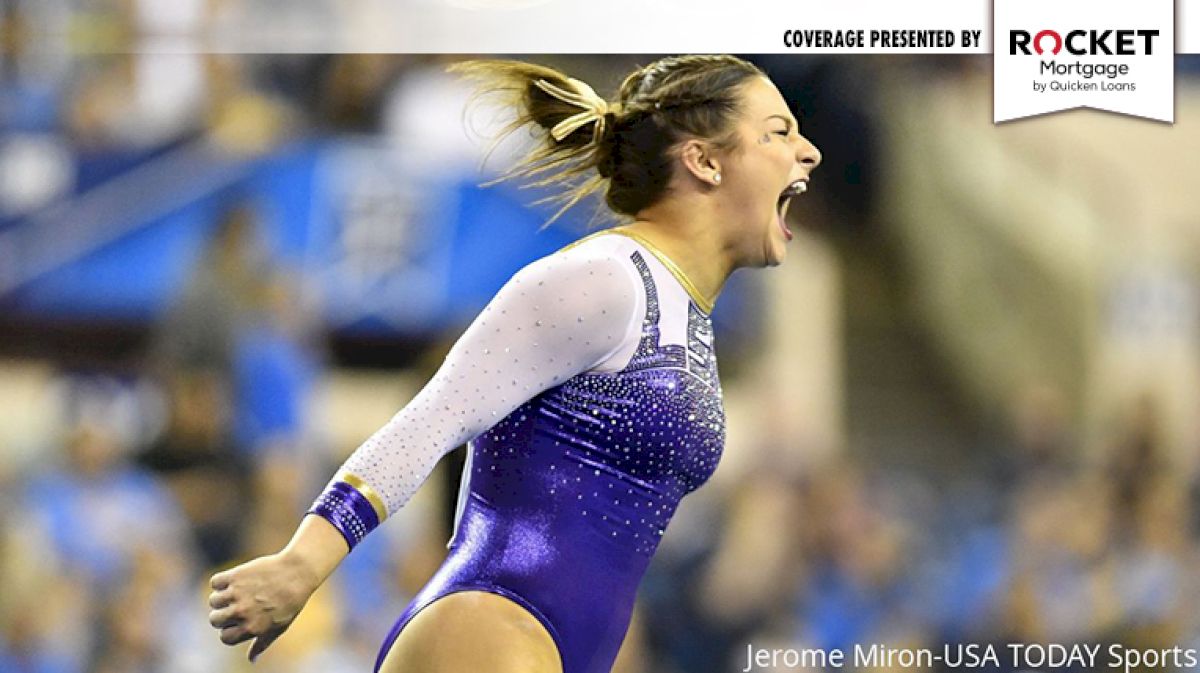 After placing in the top two in their respective semifinals, UCLA, LSU, Oklahoma, and Denver have qualified to the first Four on the Floor NCAA Women's Gymnastics Championship final. In semifinal I, UCLA finished in first with a 197.6750, and LSU finished in second with a 197.5125. In semifinal II, Oklahoma won with a 197.8500 while Denver came in second with a 197.0375.
Additionally, Oklahoma's Maggie Nichols defended her all-around crown, winning the title for the second consecutive season. On vault, there was a four-way tie for the title. LSU's Sarah Finnegan is the outright uneven bars champion, and Michigan's Natalie Wojcik is the lone balance beam champion. Floor also saw a four-way tie for the title.
UCLA and LSU Fight Through Close Meet
The first semifinal was a close fight to the finish as each team had a legitimate chance at finishing in the top two. Utah and Michigan were actually leading after the first rotation as the Utes and were stellar on floor and the Wolverines were clean and consistent on bars. UCLA was solid on vault as Ross set the bar for the entire meet with a 9.9500 for yet another stuck Yurchenko 1.5. LSU began the meet with a fall from Christina Desiderio and had to slowly build on its scores from there. After the first, Utah led with a 49.3125, followed by Michigan with a 49.300, UCLA with a 49.2875, and LSU with a 49.1875.
The Bruins picked things up in the second rotation after an excellent uneven bars rotation gave them a 49.4125 for a 98.7000 total. Madison Kocian, Margzetta Frazier, and Nia Dennis led the way for UCLA with team-high scores of 9.9000. Meanwhile, the Wolverines conquered beam with a 49.3375 to remain in contention with a 98.6375 total. Michigan's freshman phenom Wojcik dominated the event in the entire semifinal with a 9.9500. The Tigers picked things up on floor, led by McKenna Kelley's 9.9250 for an event total of 49.4375 and team total of 98.6250. The Utes weren't as strong as they normally are on vault and got only a 49.2250 for a 98.5375 total.
The competition got even closer in the third rotation after LSU put up a great vault rotation to earn a 49.4500 event total and take the lead with a 148.075. Junior Kennedi Edney nailed a Yurchenko 1.5 complete for semifinal-high 9.950. UCLA hit all of its beam routines and scored 9.8000 or higher on every routine for a 49.3625 event total and 148.0625 team total. Michigan wasn't perfect on floor and had to count a 9.650 from Madison Osman but still earned a respectable event total of 49.2750 to stay close behind UCLA with a 148.0125. Utah hit six for six on bars but its 49.3250 event total put it at the bottom of the field after three with a 147.8625.
With less than a tenth separating the top three teams, the final rotation was vital. UCLA did what it knows how to do and had a successful floor party to close out the meet. The Bruins scored a session-high 49.6125, led by Ross' 9.9500. LSU finished strong on bars despite a slow start to the meet and its final event, but Ruby Harrold, Edney, and Finnegan all scored a 9.9000+ so the team could earn a 49.4375 event total. Finnegan led the Tigers and the first semifinal with a 9.9500. Michigan was solid and consistent on vault, but the 49.1875 total just wasn't enough. Utah struggled and was a bit shaky on beam to finish, ending with just a 48.8625.
UCLA finished on top with a 197.6750, and LSU overcame mistakes to finish in second with a 197.5125. Ending its season with good scores was Michigan in third place with a 197.200 and Utah in fourth with a 196.7250.
The defending champs are back in the #NCAAGym finals. ?

Led by @kyla_ross96's all-around score of 39.6625, @uclagymnastics won its nail-biting semifinal with a score of 197.675.

For more #Pac12Gym coverage, watch Pac-12 Playlist tonight at 10 PT/ 11 MT on us. pic.twitter.com/AHeqlpjnC8

— Pac-12 Network (@Pac12Network) April 19, 2019
Big 12 Schools Oklahoma and Denver On Top In Semifinal II
The second semifinal was not a nail-biter like the first, but there was tight competition to see who would advance with Oklahoma.
Although the Sooners weren't perfect, they dominated throughout the meet. But rotation one had some hiccups from everyone. Oklahoma began on vault and had five hit vaults, including a stuck Yurchenko 1.5 from Nichols for a 9.9500. Luckily for OU, Jade Degouveia's fall did not have to count, so its event total was a 49.4000.
Georgia also hit five routines but had to count a relatively low bar score of 9.7625 from Rachael Lukacs as Marissa Oakley fell twice in her routine and earned just an 8.8000. The Georgia Bulldogs earned a 49.2750 on bars. Denver's Mia Sundstrom didn't fall but grabbed the beam during her routine and got a hefty deduction. Luckily, the Pioneers did not have to count her score and earned a 49.2875 on beam.
Oregon State was consistent and hit all six floor routines to begin its NCAA Championships, and Isis Lowery led the way with a 9.900 for a 49.300 total from the Beavers. After the first rotation, Oklahoma led, followed by Oregon State, Denver, and Georgia.
Rotation two saw excellent bar routines from Oklahoma with all counting scores in the high-9.8000 to low-9.9000 range for a 49.5625 event total and a 98.9625 team total. Denver moved into second behind Oklahoma following a great floor rotation, highlighted by Lynnzee Brown's 9.9500. It got a 49.2625 event total for a 98.5500 team total.
Oregon State was solid on vault but simply not as strong as its other events as it scored a 49.0875 with six hit vaults for a 98.3875 team total. Georgia struggled to be confident and precise on beam. The Bulldogs stayed on the apparatus but were simply a bit shaky, counting three scores in the 9.700 range and failing to reach 9.9000. Georgia earned a 48.8625 on beam and remained at the bottom of the scoreboard with a 98.1375.
The beam troubles continued in rotation three as Oklahoma's Anastasia Webb had a big balance check that gave her a low 9.5875. The Sooners didn't have to count Webb's score, but they weren't as sharp as they normally are and didn't stick many dismounts. Their beam total was 49.2875, which was still good enough to remain in first with a 148.0500.
After good rotations on bars and vault, respectively, Oregon State and Denver were tied. Oregon State counted five good scores above 9.8000 for a 49.2625 total while Denver was quite consistent and counted five vaults in the high-9.700 to mid 9.8000 range for a 49.1000 total. After rotation three, they were tied for second with a 147.6500. Georgia hit its floor routines but needed to be cleaner and sharper to contend for a spot in the final. Half of Georgia's floor scores were in the mid- to high-9.7000 range while the other half was in the low- to mid-9.8000 range. A floor total of 49.0875 kept UGA in fourth with a 147.225 team total.
Floor was a strong finish for the Sooners, as all five routines that counted scored in the 9.9000 range. Brenna Dowell led with a 9.9500, giving the Sooners a 49.6000 event total and a huge final meet total of 197.8500.
HALF of the championship field is from the @Big12Conference!

Congrats, @DU_Gymnastics on making your first finals appearance!

We can't wait to compete alongside you & show what the Big 12 is all about! https://t.co/xQfUjwPluc

— Oklahoma Women's Gym (@OU_WGymnastics) April 20, 2019
In the battle for the last Four on the Floor spot, Denver was on bars while Oregon State was on beam. The Denver Pioneers were fantastic on bars with their counting scores ranging from 9.8500 to 9.9125. The Oregon State Beavers did have a fall on beam but didn't have to count it. However, the Beavers' 49.2500 on beam wasn't enough to beat Denver's 49.3875 on bars. Denver finished in second with a 197.0375 while Oregon State just missed out but ended the season strong with a 196.9000.
Georgia ended on a good note with a 49.2375 on vault. Sydney Snead and Sabrina Vega both contributed 9.9000s to their team. The Bulldogs finished their season with a 196.4625.
Kyla Ross, Maggie Nichols Dominate Individual Awards
Though the big news of the day was which teams would advance to the first Four on the Floor, all-around and event winners were determined in the semifinals.
In her highly anticipated all-around return, Nichols won the all-around title with a big 39.7125. Minnesota's Lexy Ramler tied with Ross for second with a 39.7125. Another individual competitor, Auburn's Derrian Gobourne saw success as she tied with Ross, Edney, and Nichols for the vault title after they all earned a 9.9500.
That national championship feeling...?

Freshman Derrian Gobourne is your 2019 NCAA Vault Co-Champion!#WarEagle pic.twitter.com/z4kJjf1E9R

— Auburn Gymnastics (@AuburnGym) April 20, 2019
The uneven bar title went to a familiar face in Finnegan, who won a share of the 2017 title. Finnegan's 9.9500 topped Ramler and Nichols, who came in second on bars with a 9.9375. Only one gymnast conquered the balance beam better than anyone else as Wojcik earned her first career national event title with a 9.9500. 9.9500 was the score to beat of the day as it was also the top score on floor, where four gymnasts tied for the national championship. Ross, Florida's Alicia Boren, Denver's Lynzee Brown, and Dowell won the floor exercise title.