Senior Spotlight: West Virginia Gymnastics' Kirah Koshinski
Senior Spotlight: West Virginia Gymnastics' Kirah Koshinski
West Virginia senior gymnast Kirah Koshinski is set to be one of the best Mountaineer gymnasts in history, ranked in the top-25 on vault and floor.
Feb 15, 2019
by Amanda Wijangco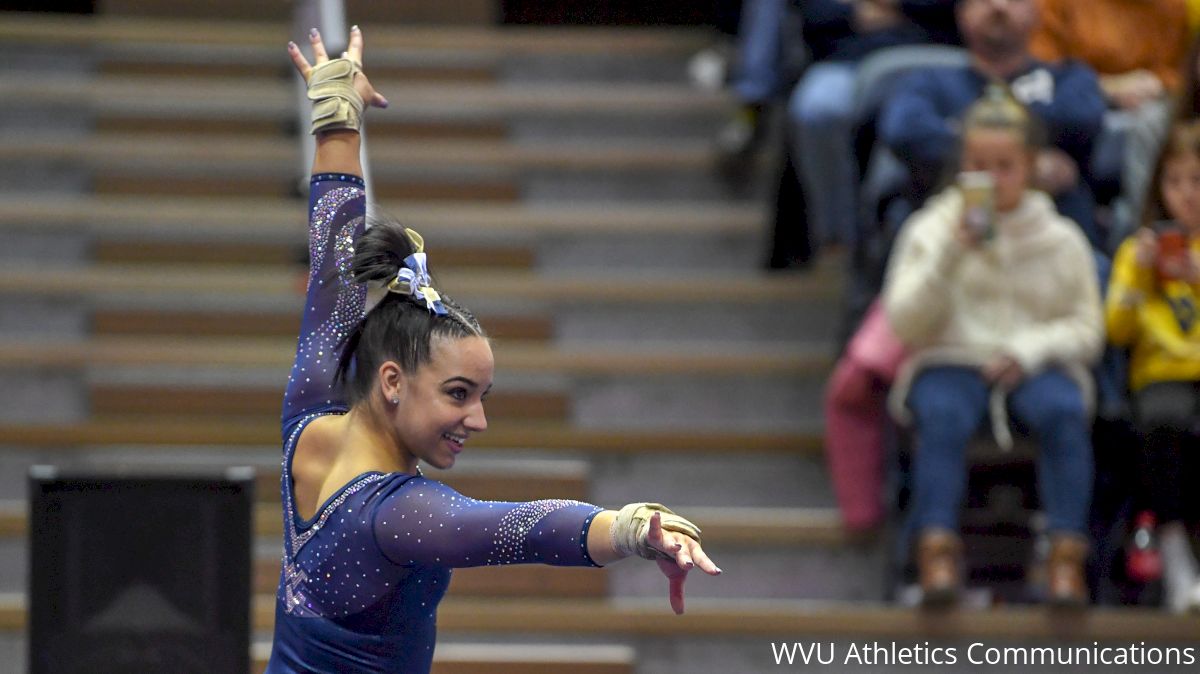 In the return of this ongoing series, FloGymnastics features collegiate gymnasts who are in their final season. Next up is West Virginia star Kirah Koshinski.
Koshinski has been a top Mountaineer gymnast since her first NCAA season in 2016. She was the first West Virginia gymnast to become an All American as she was named to the NACGC/W Regular Season All-America Vault Second Team. Her freshman season also included the honors of Big 12 Newcomer of the Year and five Big 12 Newcomer of the Week awards.
Fast forward three years to her senior year, and Koshinski's added two more second team All-America honors to her name, making her the first Mountaineer gymnast to be named an All-American in over 20 years. After six weeks of competition, Koshinski has been excellent for West Virginia, scoring no lower than 9.850 on floor and earning five scores above 9.800 on vault. She's also competed beam all six weeks and competed in the all-around for the first time in her 2019 season debut. The senior gymnast is wasting no time in her last season and is currently ranked No. 15 on vault and floor nationally, helping her leave her mark as one of the best gymnasts in Mountaineer history.
FloGymnastics: What is your major, and what do you hope to do with a degree in that?
Communication Studies with a minor in Spanish. I plan on using my degree in every aspect of life. Specifically, it will benefit me as a gymnastics coach in learning how to communicate better with people.
What has been your favorite NCAA gym memory so far?
My favorite NCAA memory so far was NCAA Regionals my sophomore year (2017) at home at the WVU Coliseum. We were so loose and having so much fun; we were all just completely lost in the moment.
What has being a WVU gymnast taught you?
Being a WVU gymnast has taught me who I am and who I want to be as a person. It has taught me how lead and follow.
What is your favorite WVU leotard you have gotten to wear?
My favorite leotard is the leotard from regionals my sophomore year. One of the reasons I like it is because my favorite color is black and this leo has the black, blue and gold. It is just simply so beautiful.
What skill that you haven't yet competed would you like to/would have liked to compete or learn?
I would have liked to compete a full-in on floor or a Yurchenko 2 ½ on vault.
You're best known for your excellence on floor and are one of the top floor workers in the country. What do you like best about competing floor, and what has helped you excel on the event?
I ABSOLUTELY LOVE FLOOR! It is so much fun. It is like putting on a show - The Mountaineer Show. I get to be so expressive. I love getting the crowd involved and seeing how they get involved in my routine. Floor has always been my favorite event! I am always dancing in the gym just playing around! My teammates hype me up so much, they are great.
Of all the floor routines you've done at West Virginia, which is your favorite, and why?
I think my favorite floor routine is my one this year. I love the combination of music and my coach. (Assistant coach) Kaylyn (Millick) has brought out her best moves this year. All the girls' routines are so on fire. This routine is one of the hardest routines I have done, as far as nonstop moving, but seriously just so fun! My absolute favorite part of my routine is when I get to say, "Let's Go Mountaineers!". The routine from February 2 against Denver and Iowa State really demonstrates that. It was awesome!
How do you plan on staying involved with the sport after this season?
I plan on staying involved with the sport completely. I love this sport so much that I am going to be a gymnastics coach. I have experienced a lot of coaching over the course of my career and I would love to combine all that I have learned, and what I continue to learn, to help little girls who have dreams in this sport.
What is your favorite thing about WVU?
My favorite thing about WVU is that I not only have a team, but I have a family.
Besides gymnastics, what are your interests/hobbies?
Beside gymnastics, I really like watching Netflix and just enjoying my downtime with my boyfriend, friends and family. Occasionally, I also like to knit and crochet, which is more of a pastime for me in the winter. I also love anything Disney, especially Stitch.
Related:
Senior Spotlight: Arizona State's Justine Callis
Senior Spotlight: Denver Gymnastics' Kaitlyn Schou