Senior Spotlight: Denver Gymnastics' Kaitlyn Schou
Senior Spotlight: Denver Gymnastics' Kaitlyn Schou
University of Denver gymnast Kaitlyn Schou has been a fantastic beam worker for the Pioneers and plans to make her last season count.
Jan 22, 2019
by Amanda Wijangco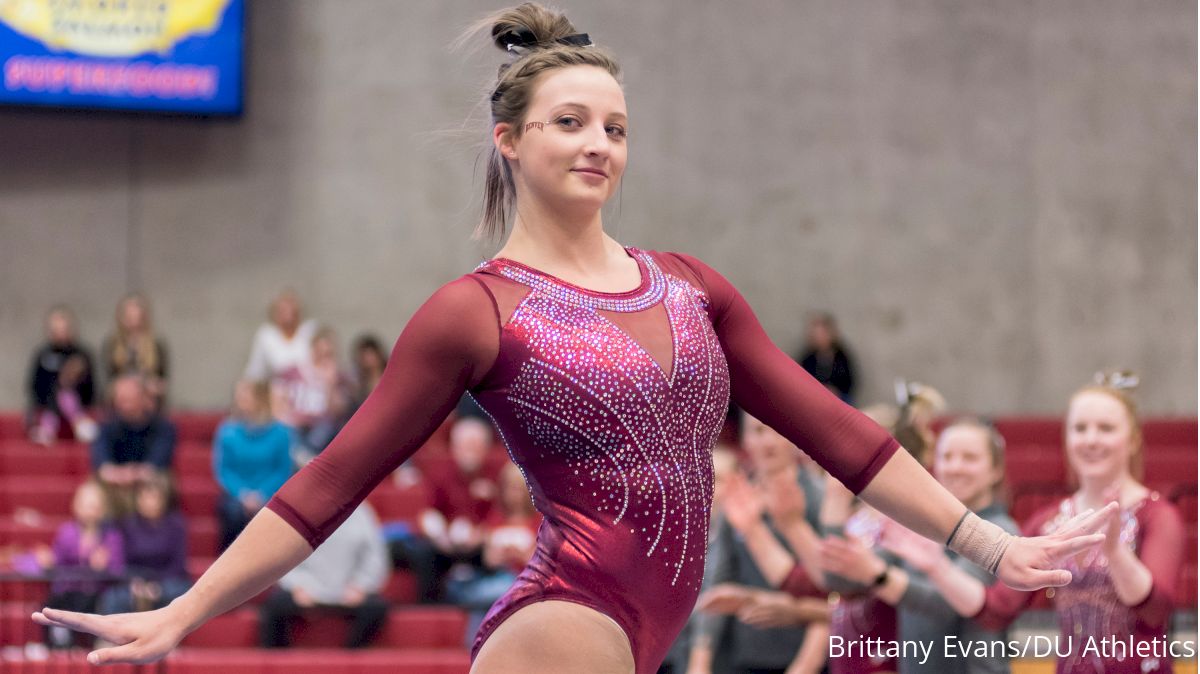 In the return of this ongoing series, FloGymnastics features collegiate gymnasts who are in their final season. Next for 2019 is Kaitlyn Schou of the University of Denver.
Schou is one of four seniors on the 2019 Pioneers squad and has been a reliable competitor for them for the past three seasons, especially on beam. Beam is where she made her NCAA debut and won her first collegiate event title. Last season, she was the Big 12 balance beam champion, and 100 percent of her beam scores counted toward the team total. Schou has also been a consistent competitor on floor since 2017 and has competed vault.
Her senior season began on a strong note when she earned a 9.800 on beam and a 9.825 on floor at the Alabama quad meet. Her senior home opener was even better as tied her career high on beam and floor; she was near perfect on beam with a 9.950 and scored a 9.900 on floor.
Plenty of highlights from last night's home opener! #PioneerTogether #NCAAGym pic.twitter.com/g13EjkBX4e

— Denver Gymnastics (@DU_Gymnastics) January 20, 2019
Next up for Schou and the Denver Pioneers is the Metroplex Challenge, Jan. 26. FloGymnastics will stream the NCAA meet, featuring Denver, Oklahoma, Missouri and Arkansas.
FloGymnastics: What is your major, and what do you hope to do with your degree?
I am majoring in psychology and minoring in marketing. I plan on focusing on the marketing aspect of things and hope to get into sports marketing in the near future.
What has been your favorite NCAA gym memory so far?
My favorite NCAA gym memory so far is making it to nationals in 2017. Even the process of getting there was extremely fun. I will always remember the exact moment when my team and I were in the corral by floor realizing our hard work paid off and we had made it. We were ecstatic, and we brought that enthusiasm with us to nationals. It was an amazing experience, and we plan on making this year one to remember also.
The Pioneers have started the season off strong with a first-place finish at the Alabama quad meet, resulting in a No. 8 ranking. How does it feel to start your final season on such a high note?
My team and I have worked so hard over the summer and throughout preseason, so coming out with the win in our first meet of the season gave us even more confidence. We are so prepared and so connected this year, and it is already showing. It is such an amazing feeling to be a part of a team where every person has the same goals, and every single one of us is locked in.
What has being a Denver gymnast taught you?
Our team philosophy focuses on teamwork, character and excellence. These characteristics are what we live by, and we are very proud of how our team upholds these standards. Being a Denver gymnast has taught me what it is like to be on a team, and how rewarding and amazing that can be when you are surrounded by likeminded and caring people.
What is your favorite Denver leotard you have gotten to wear?
One of my favorite leotards so far has been one we call "corset." It was new for us in the 2018 season, and I absolutely love it! It's classy and has plenty of sparkles to catch people's attention. I also really like our new leotards for the 2019 season, but everyone will have to wait to see those!
What skill that you haven't yet competed would you like to/would have liked to compete or learn?
When I was younger, I trained a back handspring layout layout on beam. I loved training this beam series but ended up moving toward the front aerial back handspring layout that I currently compete, which is just as fun for me.
How do you plan on staying involved with the sport after this season?
I will always be here supporting DU even after I graduate. I also really enjoy photography, so at some point you may see me working toward taking photos during competitions! There is also a possibility for me to focus my sports marketing on gymnastics, and that would keep me very connected to the sport.
What is your favorite thing about the University of Denver?
I absolutely love the location and campus in general. All of the buildings are so pretty, and you can almost always see the mountains in the distance. Before coming here, I was not sure if I would like how small the campus is, but the small class sizes have made a huge impact on my time and success here academically.
You've been a great beam worker for the Pioneers but also had success on the apparatus as a club gymnast. How have you developed such consistency, confidence, and success on an event that can be tough not only physically but mentally?
In club, I tended to struggle mentally on bars, and that was no secret to anyone. Beam was my oasis away from that chaos for me. I do not have an exact answer as to why, but beam has always been my happy place and where I have felt the most calm and confident. Coming to DU and having the resources we do has only increased my confidence and has helped me with the mental side of gymnastics in general.
Besides gymnastics, what are your interests/hobbies?
I am very outdoorsy and love going on adventures. During the summer, I enjoy taking advantage of everything Colorado has to offer and go on plenty of hikes with friends and teammates. I also really enjoy photography and hope to be able to pursue that on side of the career I end up choosing when I graduate.
Related:
Senior Spotlight: University of Illinois-Chicago's Mikailla Northern