Biles Completes Worlds Medal Haul, Mikulak Medals On Final Day In Qatar
Biles Completes Worlds Medal Haul, Mikulak Medals On Final Day In Qatar
On the final day of the 2018 World Championships, Simone Biles became the most decorated female gymnast in World Championships history.
Nov 3, 2018
by Amanda Wijangco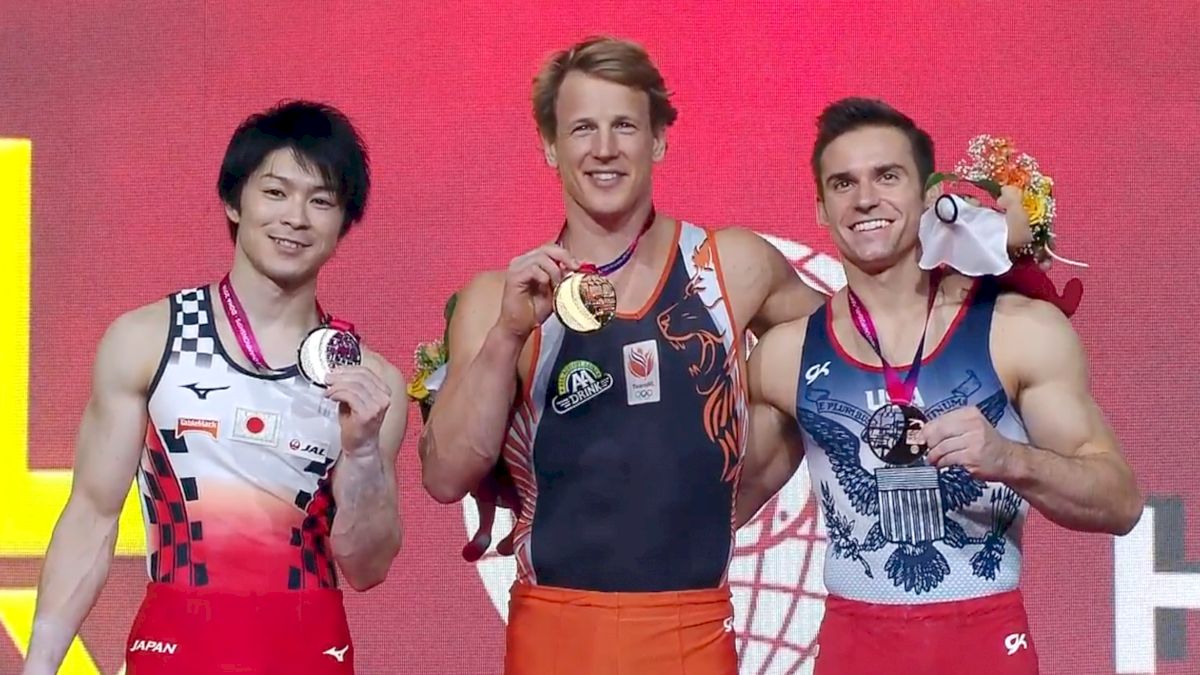 Though Saturday marked the conclusion of the 2018 Artistic Gymnastics World Championships, the final day of competition was nothing short of exciting. After winning bronze and gold medals on balance beam and floor exercise, respectively, Simone Biles increased her World medal count to 20, making her the most decorated female gymnast in World Championships history. She advanced to and medaled on every final possible, completing her Qatar medal haul with four golds, one silver, and one bronze.
On the men's side, Ri Se Gwang of North Korea won vault, Zou Jingyuan of China won parallel bars, and the Flying Dutchman Epke Zonderland of the Netherlands won his signature event of high bar. In addition, Oleg Verniaiev of Ukraine and Sam Mikulak of the USA won their first medals of the 2018 World Championships, on parallel bars and high bar, respectively.
The last day of competition began with men's vault. Great Britain's Dominick Cunningham began the competition well with a Biles vault (14.533) and a triple twisting Yurchenko (14.800) for an average of 14.666. Hong Kong's Shek Wai-Hung and Russia's Nikita Nagornyy followed with hit vaults of their own, including two solid Dragulescu vaults. Next was Se Gwang who earned big 14.933s for his front double pike 1/2 and tucked full-in vault, moving him up to first with his 14.933 average.
Olympic champion Ri Se Gwang ??won his world title number 3⃣ on Vault ???with these superb vaults #GoGymtastic #Gymnastics #DohaGym2018 ?? pic.twitter.com/acxkak3y9z

— FIG (@gymnastics) November 3, 2018
Artur Davtyan of Armenia and Caio Souza of Brazil were next but each had major mistakes on one of their vaults. Second to last was Kenzo Shirai of Japan, who was sure to be a contender. He had a low landing on his triple twisting Yurchenko but still scored fairly well with a 14.750. Shirai's next vault was stuck and got a 14.600 to give him an average of 14.675 for second place. Last was Artur Dalaloyan of Russia. Dalaloyan vaulted a nice triple twisting Yurchenko (14866) and a good front double pike (14.900) for an average of 14.883, putting him above Shirai and behind Se Gwang for the silver.
Cunningham, Nagornyy, Wai-Hung, Davtyan, and Souza rounded out the standings. Full results for the men's vault final can be found on the FIG's website.
The second event final of the day was balance beam, which ended up being very similar to Friday's pommel horse final: it began with some major mistakes from the first few gymnasts and pretty much came down to who hit a clean routine. First up was Biles, who did not fall off the apparatus but had major balance checks. The Barani and front pike proved to be troublesome for her again, as she put one leg up on the Barani and was shaky on the front pike. Her difficulty was high enough to give her a 13.600. Next was Ellie Black of Canada, who had a clean, hit routine, but it was very short and didn't meet all of the composition requirements. Her missing leap/dance series cost her. Black scored a 13.033. Up third was Zhang Jin of China, who fell on her triple series. Jin tried to save it by going into a handstand but couldn't hold on. Then she fell again on her switch split leap to sheep jump. She received only a 11.500.
Reigning uneven bars champion Nina Derwael of Belgium followed with a solid routine but had a few balance checks. Her difficulty was no match for Biles', though. Derwael earned a 13.466 to move into second behind Biles. Finally a good hit routine came when Anne-Marie Padurariu (better known as Ana Padurariu) of Canada followed with a wonderful set. She began with a candlestick mount, nailed a difficult aerial to layout step-out layout step-out acro series, and finished with a nice double pike dismount. Her 14.100 easily moved her into first.
Following the Canadian was American Kara Eaker, who had competed only balance beam the entire competition. Known for her excellent beam work, rhythm, and connections, she unfortunately began with a fall as she couldn't stay on the four-inch apparatus after her split leap mount. Eaker was a bit shaky after resuming her routine but was able to regain her rhythm and stay on the beam for the remainder of her routine. Reigning Olympic balance beam champion Sanne Wevers of the Netherlands was next but also fell victim to the apparatus on her side aerial to back handspring.
CHN's ?? Liu Tingting grabbed the Balance Beam ? @DohaGym2018 with this magical display
Competing last Liu scored 14.533 to win her 1st World Championship ?#DohaGym2018 #Gymnastics #GoGymtastic pic.twitter.com/oGEmeohpDo

— FIG (@gymnastics) November 3, 2018
Last up was Liu Tingting of China, who had an excellent routine to end the beam final. She was clean and had great combos like a roundoff layout acro series to earn a gold-medal-winning 14.533. Padurariu and Biles earned silver and bronze, respectively. Following the medalists were Derwael, Black, Eaker, Wevers, and Jin. Full beam results are on the FIG's official website.
The parallel bars proved to be the polar opposite of the beam final as each finalist hit his routine without major error, making it an exciting and close final. Mikulak began the competition with a strong 15.233, finishing with a stuck double front 1/2 dismount. Lin Chaopan of China followed, really taking time with his skills in his fantastic set for a 15.200. Jossimar Calvo Moreno of Colombia struggled a bit to hit a handstand on one bar but was able to put together a good routine, earning a 15.033. David Belyavskiy of Russia was next, hitting his routine, but he wasn't as clean as everyone else. Belyavskiy scored a 14.633.
Best is for last proved to be true during the parallel bars final with Verniaiev, Jingyuan, and Dalaloyan ending the final. Verniaiev made his final routine in Doha count and nailed his set for a big 15.591 to move him into first. Jingyuan was unmatched in difficulty and execution with a super clean routine full of hard skills. The Chinese gymnast received a huge 16.433 to easily move into first, making it difficult to beat him. Before Dalaloyan, though, was Germany's Lukas Dauser, who had the biggest mistake of the final despite it not being huge. Dauser had a break in the middle of his routine and only scored a 13.700. Last was Dalaloyan who hit his routine but tried to stick his double front 1/2 dismount and had to take a hop.
Zou Jingyuan is almost untouchable on Men's Parallel Bars
The man from CHN?? scored a vast 16.433 points - the highest score so far in any event @DohaGym2018 - with this routine to win World Championship ? #Gymnastics #DohaGym 2018 #GoGymtastic pic.twitter.com/K47GV7VrJJ

— FIG (@gymnastics) November 3, 2018
Dalaloyan earned a 15.366 to win bronze behind silver medalist Verniaiev and gold medalist Jingyuan. Mikulak narrowly missed out on the podium to finish in fourth, followed by Chaopan, Calvo Moreno, Belyavskiy, and Dauser. Full parallel bars final results are posted on the FIG's official website.
The women ended their competition with the floor exercise final, which went much better than the beam final earlier. France's Melanie de Jesus dos Santos got things started on floor and landed out-of-bounds on her full-twisting double layout. No other major mistakes occurred in her routine, and her tumbling was clean, so she earned a 13.433. Brazil's Flavia Saraiva was next, who also went out on her first pass. She was a bit short on her forward tumbling pass but otherwise solid to receive a 13.766. Third was a fan-favorite, Canada's Brooklyn Moors. Known for her beautiful floor presentation and choreography, she unfortunately didn't have great tumbling today. Moors was very low and deep when landing her front double tuck to start her routine. Then she ended with a 2.5 to punch front full that wasn't the cleanest. She received just a 13.066.
Scores began to rise after the first three competitors. All-around medalist Mai Murakami of Japan is known for her floor work and tumbled well but fell out of the turns at the start of her routine again, as she did the same in all-around finals. Murakami moved into first with a 13.866. Russia's Angelina Melnikova was ready to put up a fight to win an individual medal, sticking her full-twisting double layout to open her floor routine. She had great landings on all of her passes, including a stick on her front tuck through to double tuck. However, her wolf turns were wobbly and her Memmel turn wasn't the best, either, which hurt her score. Melnikova got a 13.833, just .033 behind Murakami.
It's been 31 years since someone medaled in every event at World Championships... But @Simone_Biles ends #DohaGym2018 with ??????! pic.twitter.com/5SQE2Hg6tn

— USA Gymnastics (@USAGym) November 3, 2018
The American all-around medalists were next with Biles going first. She had no problems staying in bound on her Moors but took a step out on her full through to full-in. With a huge double double to finish, Biles easily took the lead with a 14.933. Morgan Hurd tumbled well, starting with a good double double. Hurd earned a 13.933 to move into second behind her teammate and ahead of Murakami.
The final competitor was Russia's Lilia Akhaimova, who landed short and low on her first two passes, giving her a 13.366. The podium of Biles, Hurd, and Murakami remained. Melnikova finished very close behind in fourth, and Saraiva, de Jesus dos Santos, Akhaimova, and Moors rounded out the final standings. Complete women's floor results are on the FIG's official website.
To end the 2018 World Championships was the high bar final, where the men definitely put on a show. Chinese Taipei's Tang Chia-Hung started with a good routine that earned a 14.266. Second was the Flying Dutchman, and Zonderland did not disappoint. He hit his Cassina to Kovacs and Kolman to Gaylord to receive a big 15.100. Following the Flying Dutchman was Mikulak, who redeemed himself after mistakes on high bar in the all-around final. After hitting all of his releases and a great layout double double dismount, Mikulak moved into medal contention with a 14.533. China's Xiao Ruoteng was next and had great Tkatchev combos in his routine. He wasn't as clean as other gymnasts and got just a 13.900.
A 14.533 was enough to give @SamuelMikulak the bronze medal today at #DohaGym2018! pic.twitter.com/GnMgwzE505

— USA Gymnastics (@USAGym) November 3, 2018
Croatia's Tin Srbic had a fantastic high bar set to follow, connecting four releases in a row. Srbic moved into third with a 14.500. China's Deng Shudi was next and hit a solid routine with two release combos to earn a 14.066. Next to last was Japan's gymnastics king, Kohei Uchimura. With stellar form and an easily stuck layout double double dismount, Uchimura easily took second place with a 14.800. The final competitor of the 2018 World Championships was Dalaloyan, who had competed on every men's final day. Unfortunately for him, he fell on a layout Tkatchev, preventing him from winning another medal.
Making the high bar podium were Zonderland, Uchimura, and Mikulak. Following them were Srbic, Chia-Hung, Shudi, Ruoteng, and Dalaloyan. Full high bar final results can be found on the FIG's official website.