2018 Artistic Gymnastics World Championships
Simone Biles Makes History With 4th All-Around Gold At World Championships
Simone Biles Makes History With 4th All-Around Gold At World Championships
Despite mistakes on three of the four events, Simone Biles still reigned supreme and won the 2018 World Gymnastics Championships all-around title.
Nov 1, 2018
by Amanda Wijangco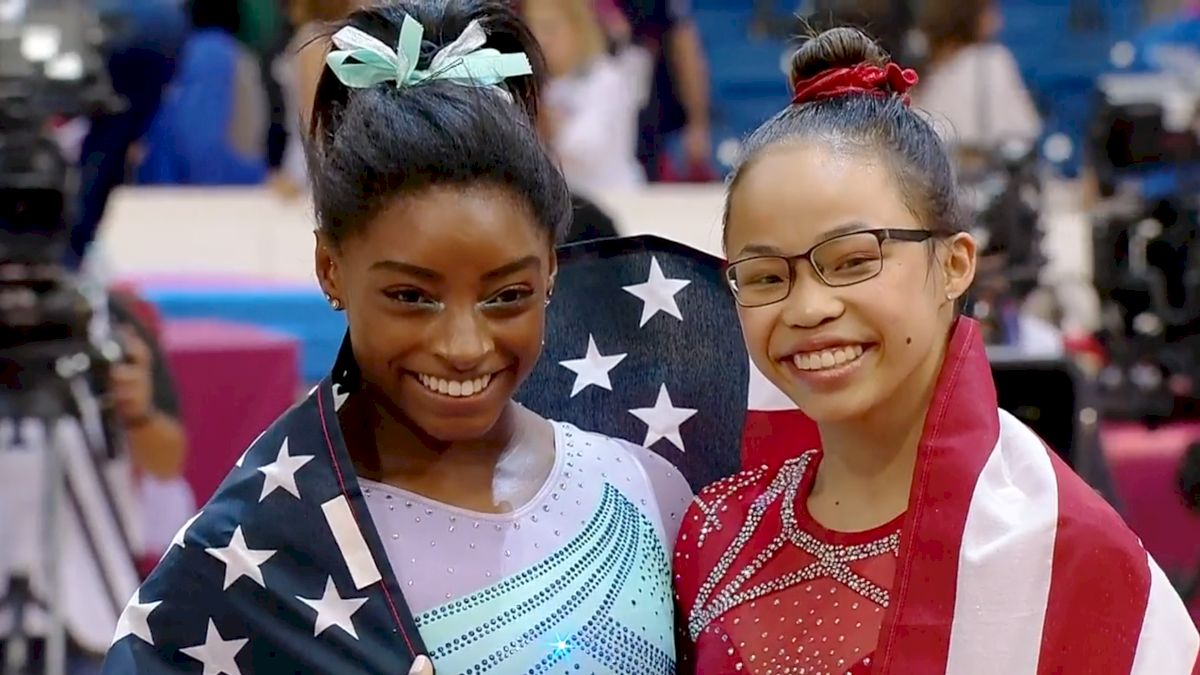 Simone Biles winning all-around titles isn't news. But Biles winning an all-around title at a major international competition with mistakes on three events is news. Although she fell on vault and beam and went out-of-bounds on floor, Biles was still triumphant and came out on top at the 2018 World Championships women's all-around final in Doha, Qatar, ahead of Japan's Mai Murakami, and U.S. teammate Morgan Hurd.
With this gold medal, Biles stands as the only woman in history to win four all-around gold medals at the world championships.
Historic podium! Biles ?? makes history as first female to win 4⃣ World All-around ???? Murakami ?? record result as first JPN woman to win AA ?Hurd ??wins ?!
Results ? https://t.co/Rj8MU7CgJO #GoGymtastic #Gymnastics #DohaGym2018 ?? pic.twitter.com/01lgJokIOc

— FIG (@gymnastics) November 1, 2018
Belgium's Nina Derwael,Russia's Angelina Melnikova, and France's Melanie de Jesus dos Santos weren't far behind in fourth, fifth and sixth, respectively. But the podium really came down to the final rotation on floor.
Heading into the fourth rotation, the fifth and first place gymnasts were separated by less than 0.0700, making for a tight race to the finish. Biles led after three, followed by Derwael, Melnikova, Hurd, and Murakami. Even with her mistakes on vault and beam, Biles' floor routine was strong enough to keep her in gold medal contention as long as she hit, so the other four gymnasts were in the fight for silver and gold.
Of the medal contenders, Melnikova was up first on floor and hit a good floor routine but went out of bounds on her double layout. Considering the top five were already so close, that mistake was important in determining the medal winners. Melnikova earned a 13.633 and maintained a contender. Following her was Derwael, who doesn't have the strongest floor routine. The Belgian hit an earned a 13.300, which was enough to move her ahead of Melnikova, putting her in medal contention and likely moving Melnikova out.
Next came Murakami, who's known for her floor work. Her tumbling was great, but she fell out of her turns at the start of her routine, which could be costly in a close meet like this. Fortunately for the Japanese gymnast, it wasn't costly, and she earned a 14.000 for her floor routine. This moved her into first place and, with only two gymnasts left, guaranteed her a medal.
Last year's all-around champion, Hurd, followed and had great tumbling. She redeemed her performance from team finals by ending with a stuck double pike and scored a 13.866. Hurd moved into second behind Murakami. Finally, it was time for Biles.
The reigning Olympic champion began with a huge Moors for her first pass and went out of bounds. It was another mistake, but her floor difficulty is so high, it was going to take more than that to cost her the gold. She had no problem with the rest of her routine, getting a meet-high 15.000 for her floor. Biles had won her fourth world all-around title despite two falls.
2017 All-around World ? Morgan Hurd is putting up a great defence of her title - check out this 14.600 vault
? live ? https://t.co/nrEheMCGzT
(Geo restrictions may apply)#DohaGym2018 #GoGymtastic #Gymnastics pic.twitter.com/uyWymqXz0P

— FIG (@gymnastics) November 1, 2018
One of those falls came early in the competition. After two great double-twisting Yurchenkos from Murakami and Hurd, it was Biles's turn to begin her quest for her fourth world all-around title. What happened next was unexpected. While vaulting the Biles, her left arm didn't get enough block off the table, affecting her vault's height. So she underrotated and fell back and sat her eponymous vault after barely landing on her feet. After the first rotation, she was third, but not far behind Hurd and Murakami.
The second rotation was great for Biles, as she competed her uneven bars routine with ease, getting lots of height on her double double dismount. Her bar routine earned a big 14.725. But the highlight of rotation two was Derwael's bar routine. With her high difficulty from the plethora of connections in her routine and her solid execution, the Belgian gymnast scored a meet-high 15.100.
BEL's 2017 Uneven Bars World Champ ? Nina Derwael is wowing the crowds @DohaGym2018
This routine scored her a huge 15.100 ?
? live ? https://t.co/nrEheMCGzT
(Geo restrictions may apply)#DohaGym2018 #GoGymtastic #Gymnastics pic.twitter.com/hua9Y7WiEu

— FIG (@gymnastics) November 1, 2018
Derwael's big score moved her into third behind Biles and Hurd. Melnikova, China's Chen Yile, and Murakami followed to round out the top five halfway through the meet.
It was then time for balance beam, and Biles was up first. She nailed her wolf turns and leap series but then came off on her Barani. She quickly got back on the apparatus and hit her triple series and leap to back pike combo. Next was her front pike, which troubled her in team finals. She did the front pike but wobbled. The next few skills in her routine were a little shaky and not connected like they normally are, but she stayed on and landed her full-in dismount no problem.
Melnikova and Derwael stayed in the fight with two hit routines, including a very solid and confident one from Melnikova. Murakami's was solid and earned a 13.666 to keep her in the running. Last up was Hurd, who had a balance check on her standing full at the start of her routine and put her hands down on her side aerial immediately after. She completed the rest of her set without problems and nailed a stuck double pike dismount.
Can Angelina Melnikova make it an All-around World Champ double for RUS?? @DohaGym2018?
Melnikova was 3rd after this Balance Beam routine with just Floor to go #DohaGym2018 #Gymnastics #GoGymtastic pic.twitter.com/7eLARzuU5u

— FIG (@gymnastics) November 1, 2018
After three rotations, Biles was still able to maintain her top spot with a 42.491, but Derwael and Melnikova were very close behind with a 42.399 and 42.065, respectively. Hurd and Murakami rounded out the top five with a 41.866 and 41.798, respectively. Like high bar in the men's all-around final, floor would be the deciding event for the women.
But even hit routines from Melnikova and Derwael were no match for Biles with an out-of-bounds penalty. And Murakami and Hurd just couldn't catch up to Biles' floor difficulty despite good floor routines of their own. Biles won her fourth World all-around title with a 57.491. Murakami won her first World medal with a 55.798 for silver, and Hurd won her second World all-around medal with a 55.732. Derwael had an excellent meet with a 55.699 to finish in fourth, and Melnikova finished very, very close behind with a 55.698 for fifth. Melnikova also won the Longines Prize for Elegance, along with her Russian teammate Artur Dalaloyan.
Full results can be found on the FIG's official website.