2018 Artistic Gymnastics World Championships
U.S. Women Win 2018 World Championships Team Gold Despite Mistakes
U.S. Women Win 2018 World Championships Team Gold Despite Mistakes
The U.S. women's gymnastics team won team gold at the 2018 World Gymnastics Championships, ahead of Russia and China.
Oct 30, 2018
by Amanda Wijangco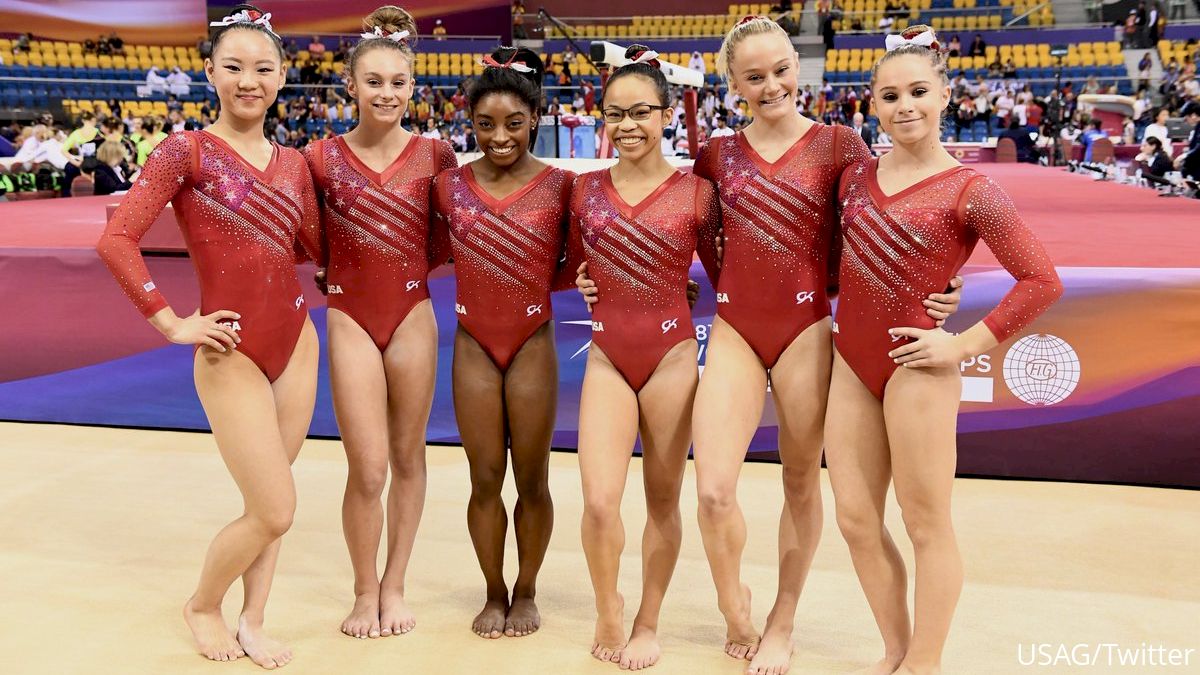 A less-than-perfect performance from Team USA didn't stop them from winning its sixth consecutive team title at the 2018 World Gymnastics Championships in Doha, Qatar. Russia and China had mistakes of their own but were still able to win the silver and bronze medals, respectively. By finishing in the top three at team finals, USA, Russia, and China have qualified full teams to the Tokyo 2020 Olympics.
Canada, France, Brazil, and Germany finished fourth to eighth, respectively. Like the men's team final yesterday, teams alternated gymnasts during each rotation.
The U.S. women led throughout the entire meet and kicked things off with three good vaults from Morgan Hurd, Grace McCallum, and Simone Biles. Biles did not do her eponymous vault but instead did an excellent Cheng for a big 15.500. Russia had two good vaults, a Yurchenko full from Irina Alexeeva and a double twisting Yurchenko from Olympian Aliya Mustafina, but Lilia Akhaimova didn't do well with her vault, nearly landing on her knees and falling afterward.
Simone Biles continues to produce the goods @DohaGym2018 - this Vault scored 15.500 and has helped the USA ?? into an early lead in the Women's Team Final#GoGymtastic #Gymnastics #DohaGym2018 pic.twitter.com/6ErxF47KwQ

— FIG (@gymnastics) October 30, 2018
China and Canada began on uneven bars, and both teams faltered a bit there. Chen Yile and Luo Huan of China hit excellent bar routines, an apparatus the Chinese often excel in, but Liu Tingting lost momentum while on the high bar and had to take extra swings. For Canada, Ellie Black and Brooklyn Moors put together solid sets to score in the 13.000 range, but Ana Padurariu unfortunately fell on her Pak salto.
On beam, Japan and Brazil each had two solid routines and one fall. Germany had a solid start on floor, but France, like a few other countries in the final, had to count a low score in the first rotation. After one rotation, USA led, followed by China, Russia, Canada, Japan, Germany, Brazil, and France.
Rotation was solid and consistent for USA and Russia. Each team hit three-for-three on uneven bars with all six scores in the 14.000 range. Biles led with a 14.866, but Mustafina led in execution with an 8.700.
Aliia Mustafina continues to wow the crowds on Uneven Bars, this routine scored Team ?? 14.500 @DohaGym2018
?? were 2nd behind ?? at the halfway point of Women's Team Final
Watch live ?https://t.co/S7u8nFxUyC
(Geo restrictions may apply)#DohaGym2018 #GoGymtastic pic.twitter.com/KJ7t2b1mc2

— FIG (@gymnastics) October 30, 2018
Beam was a bit of a struggle for China, who usually excels on the apparatus, and Canada. All three Chinese gymnasts had trouble on the four-inch apparatus, but Tingting was able to stay on while Yile and Zhang Jin both fell.
Floor and vault were solid events in the second rotation. Brazil did well on floor, hitting all of its routines, and while it wasn't able to earn the highest scores, Japan made it through floor without major mistakes. France put up three good vaults, and Germany was consistent with its vaults, all earning a score in the mid to high 13.000 range.
Halfway through the competition, USA, Russia, and China were top three with France, Germany, Japan, Brazil and Canada following behind.
The third rotation is where the meet got tighter, especially for that bronze medal. It's also where the U.S. women had their first mistake. The U.S. and Russian women moved to beam, and Alexeeva, Mustafina and Angelina Simakova each competed solid routines. Riley McCusker was up first for the U.S. and had a great routine that redeemed her performance from qualifications, where she fell. Kara Eaker delivered an excellent beam set that led the entire competition with a 14.333. Last up for the U.S. was Biles, who had a great routine except for her front pike, in which she had to touch the beam with one hand. But even that mistake didn't give the U.S. reason to worry as it was ahead nearly five points after two rotations.
BRA?? are on the verge of a historic 1st World Championship team medal - led by ? Flavia Saraiva - seen here scoring 14.433 on Vault - the Women's Team are 3rd with the final rotation happening now❗
Watch live ??https://t.co/S7u8nFxUyC#DohaGym2018 #GoGymtastic pic.twitter.com/2647fRU9dJ

— FIG (@gymnastics) October 30, 2018
China and Canada hit all of their floor routines and had no major mistakes. Brazil had a great vault rotation with three excellent vaults, each earning a score in the mid 14.000 range with a 9.000+ execution score, which would move them up the rankings heading into the final rotation. Japan had two nice vaults from Mai Murakami and Hitomi Hatakeda, but Asuka Teramoto nearly crashed her front handspring Rudi. Uneven bars went well in the third rotation as Germany and France had no falls and didn't score lower than a 13.366.
Heading into the final rotation, USA maintained its lead, Russia remained in second, but Brazil skyrocketed into third after a fantastic vault lineup. France, Germany, and Japan all moved ahead of China, who then sat in seventh just ahead of Canada. Luckily for China and Canada, they finished on vault, a generally higher scoring event. USA extended its lead to nearly seven points, but Brazil, France, and Germany were all close and could contend for the bronze with China, who was likely to get back into contention after vault.
This 14.366 Vault from Liu Jinru helped CHN?? jump up the leaderboard in the final rotation to grab ? in the Women's Team Final @DohaGym2018
The ? also secured ??'s spot @Tokyo2020 #Tokyo2020 #DohaGym2018 #Gymnastics#GoGymtastic pic.twitter.com/fMKESBOVtJ

— FIG (@gymnastics) October 30, 2018
The Chinese knew what they had to do to move back up, and they did it, producing three good vaults. Canada did the same, performing three vaults that earned scores in the mid 14.000 range. Japan and Brazil moved to bars, which proved to be the deciding event for bronze. Teramoto and Murakami competed solid bar sets, but Hatakeda earned only a 12.833. Brazil, on the other hand, seemed to have a breakdown on this apparatus. Jade Barbosa and Rebeca Andrade both fell over on handstands, ruining the rhythm of their routines. Flavia Saraiva hit her routine but scored only a 12.466. Brazil opened the door for other teams to overtake them.
On beam, France and Germany missed out on their opportunities to medal. France's Melanie de Jesus dos Santos and Germany's Sophie Scheder both fell. Germany's Leah Griesser had to fight to stay on the beam after a major break.
Floor was rather bouncy in the final rotation as multiple gymnasts went out-of-bounds and had too much power. Hurd went out on her double double to start and underrotated her double pike to end. Melnikova completely landed out-of-bounds on her full-twisting double layout to begin and also underrotated her final pass, a double pike. Biles was last, and USA was still dominating despite the mistakes already made, so the reigning Olympic all-around champion's routine was a victory lap. Biles began with her Moors and also landed totally out, like Melnikova, but was all smiles still because the gold was theirs.
The U.S. won team gold with a team score of 171.629, more than 8 points ahead of silver medalist Russia, who finished with a 162.863. China was close behind and earned bronze with a 162.396. Canada finished in fourth for its highest team finals finish ever, followed by France, Japan, Brazil, and Germany.
Full results can be found on the FIG's website.