2018 Artistic Gymnastics World Championships
USA, Biles Dominate Women's Worlds Qualifications
USA, Biles Dominate Women's Worlds Qualifications
Team USA and Simone Biles dominated the 2018 World Gymnastics Championships women's qualifications in Doha.
Oct 28, 2018
by Amanda Wijangco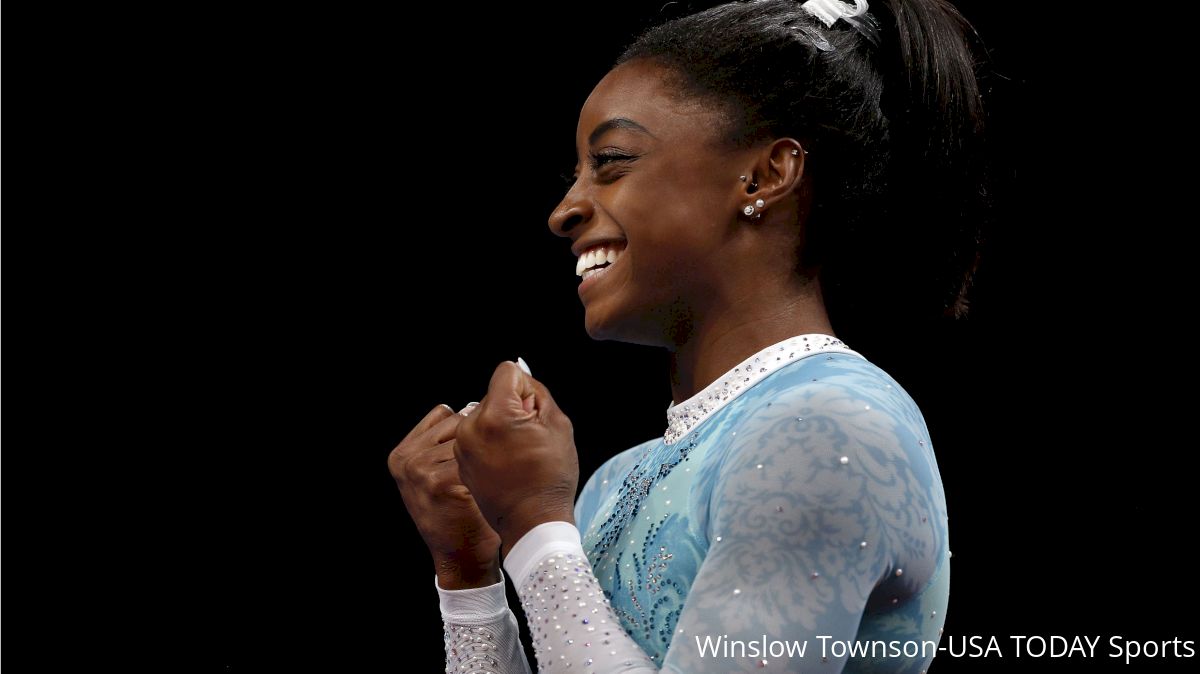 The field is set for the women's team, all-around and event finals at the 2018 World Championships in Doha, Qatar after 11 subdivisions competed in qualifications over the course of two days. The U.S. women and Simone Biles continued what they have have been doing for the past two quads and dominated the meet.
USA, Russia, China, Canada, Brazil, Japan, France and Germany have advanced to the team final. The U.S. women weren't perfect as Riley McCusker fell on beam and went out of bounds and floor, and a few gymnasts had balance checks on beam, but they performed well enough to remain in the top spot after 11 subdivisions and did not have to count any falls.
They began on bars with a beautiful routine from Morgan Hurd, who was an excellent lead-off on bars, beam and floor. Grace McCallum followed with a nice hit routine of her own, followed by McCusker, who still had a lovely routine despite a missed connection. Biles anchored the rotation, almost missing a handstand but saving it, hitting the rest of her routine and finishing with a stuck, skyrocketing double double dismount.
Hurd had a few balance checks to start beam but was otherwise solid. Then came McCusker, whose routine was stellar except for the fall on her acro series. Kara Eaker made her Worlds debut on her signature event with a gorgeous beam routine that earned a big 14.466. Biles topped her teammates' big score with a great beam set for a huge 14.800.
Kara Eaker is currently in 2️⃣nd place on beam after this 14.466❗#DohaGym2018 pic.twitter.com/dTnbXPKU8f

— USA Gymnastics (@USAGym) October 27, 2018
Then came floor, where the U.S. women were solid. Hurd began with great tumbling, and Biles finished with an amazing floor routine that earned a massive 15.333. Vault came after a bye, and USA hit all of its vaults. McCallum and Biles competed two vaults each to attempt to qualify for vault finals. The reigning Olympic all-around champion debuted the Yurchenko 1/2 on double off as her first vault, officially getting the Biles vault named after her.
"The Biles"#DohaGym2018 pic.twitter.com/OrqjLkAjtK

— USA Gymnastics (@USAGym) October 27, 2018
With four hit routines each, Biles and Hurd qualified to the all-around final. Due to the two-per-country rule, McCusker will not be in the all-around final. Biles also qualified to all four event finals.
Though its difficulty and execution don't compare to that of the Americans, the Russian squad did well enough to earn the second highest team score in qualifications. They began on floor with four solid routines, including a great set from Angelina Melnikova, who earned a 14.033. Aliya Mustafina also competed on floor, stepping in for Angelina Simakova. Mustafina doesn't have much difficulty on floor at the moment, as she wasn't originally set to compete the event, but executed it well.
RUS's ?? Angelina Melnikova produced this stunning Floor routine in sub division 9 of women's qualification @DohaGym2018
With her, Simone Biles ?? & Mai Murakami ?? currently in the top 3 spots the Floor final will be one to watch ? on 3 Nov#DohaGym2018 #Gymnastics pic.twitter.com/3VArc9LppJ

— FIG (@gymnastics) October 28, 2018
Russia needed the four-up three-count for its vault rotation as everyone hit her vault except for Simakova, who crashed and fell on her Rudi vault to earn a 0. Melnikova also did two vaults to qualify for the event final.
The trouble for Simakova didn't stop at vault as she also fell on bars during her Gienger. Thankfully for Team Russia, Melnikova and Irina Alexeeva had good routines while Mustafina was excellent on one of her best events, earning a 14.433.
Redemption finally came for Simakova on beam as all four gymnasts in the lineup hit their routines, though Melnikova had some minor mistakes that gave her a 12.866.
Melnikova and Alexeeva have advanced to all-around finals. Melnikova also qualified to the floor final.
China had uncharacteristic mistakes on their specialty events of bars and beam but still managed to do well enough to qualify to team finals in third. Canada had an excellent qualifications meet to qualify in fourth. Notably missing from team finals is Great Britain, whose beam rotation included too many balance checks, giving them too low of a score to make the final. Great Britain just missed out and was ninth in qualifications.
Other notable all-around final qualifiers include Japan's Mai Murakami, Canada's Ellie Black, France's Melanie de Jesus dos Santos, Belgium's Nina Derwael and Brazil's Flavia Saraiva.
"It says you still have possibilities, we are not just some extra country," says MEX's ?? Alexa Moreno after she jumped into the Vault final with a superb average of 14.466 during div 10 of women's qualification @DohaGym2018 #ThatsHowYouDoIt#GoGymtastic#DohaGym2018 pic.twitter.com/aZfgE4psmP

— FIG (@gymnastics) October 28, 2018
The gymnasts who have qualified to vault finals are Biles, Canada's Shallon Olsen, Korea's Seojeong Yeo, Mexico's Alexa Moreno, Uzbekistan's Oksana Chusovitina, North Korea's Yong Rye Pyon, Black, and China's Liu Jinru.
Uneven bars finalists are Derwael, Biles, Germany's Elisabeth Seitz, China's Luo Huan, Hurd, Mustafina, Sweden's Jonna Adlerteg and Great Britain's Becky Downie.
Advancing to the balance beam final are Biles, Eaker, Zhang Jin, Netherlands' Sanne Wevers, Canada's Anne-Marie Padarariu, Derwael, Black and China's Liu Tingting.
BRA's ?? Flavia Saraiva has had a special day?? @DohaGym2018 - this routine looks like being comfortably enough to send her to the Floor final ? + ?? are set for the Team final ?#DohaGym2018 #GoGymtastic pic.twitter.com/Gn2DzKOrgV

— FIG (@gymnastics) October 28, 2018
The gymnasts who have qualified to the floor final are Biles, Murakami, Melnikova, Hurd, Saraiva, de Jesus dos Santos, Akhaimova and Canada's Brooklyn Moors.
Complete results can be found on the FIG's website.