2018 Elite Season
Everything You Need To Know About The 2018 Pan American Championships
Everything You Need To Know About The 2018 Pan American Championships
Simone Biles is already a lock for the 2018 World Championships, but other top U.S. gymnasts are looking to round into form before selection camp.
Aug 28, 2018
by Justine Kelly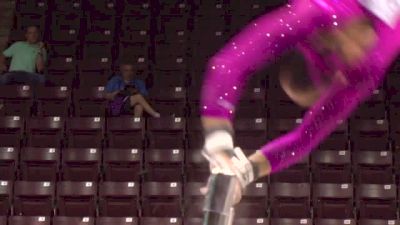 While Simone Biles is already a lock for the 2018 World Championships in Qatar at the end of October — and Riley McCusker and Morgan Hurd are feeling pretty good about their chances — other top American gymnasts will be competing internationally in just a couple weeks ahead of a Worlds selection camp.
The 2018 Senior Pan American Championships for artistic gymnastics will be taking place September 14-16 in Lima, Peru. This is a meet that only happens every four years, serving as a qualification for the Pan American Games next year.
Since it's not an annual event, we thought you could use a refresher on how this competition works, its significance in the quadrennium, and who is competing.
Check out our quick guide below.
Format
The competition for artistic gymnastics will include a team final in addition to individual finals. For the men, September 14 will be team qualification, as well as all-around and apparatus finals, while September 16 will be team finals. For the women, September 15 will be team qualification as well as all-around and apparatus finals, while September 16 will be team finals. The top eight teams from qualification for both the men's and women's competitions will compete in team finals.
The format for the team competition is five up with four scores counting.
Significance In The Quadrennium
The Pan American Championships only take place once in four years; the last meet was in 2014 in Mississauga, Ontario. You can sort of think of it as the halfway point between each Olympics. It also serves as a qualifying meet for the 2019 Pan American Games, which will also take place in Lima, Peru.
What Happened Last Time?
As mentioned, the last Pan Am Championships took place in 2014 in Canada. Both the United States women's and men's teams took home the team gold medals. You can check out hilights from the competition in the video above.
The women had a team of seven, made up of MyKayla Skinner, Maggie Nichols, Madison Desch, Amelia Hundley, Felicia Hano, Madison Kocian, and Ashton Locklear. Six gymnasts competed in the end. Skinner also won the all-around, vault, and floor titles, while Locklear won the bars title. Kocian took the silver on bars.
Out of those who competed, three gymnasts went on to be named to the 2014 Worlds team (Locklear, Kocian, and Skinner), while one was named to the five-person Olympic team (Kocian), and two were named Olympic alternates (Locklear and Skinner).
The men also had a team of seven, made up of Sean Melton, Jonathan Horton, Marvin Kimble, CJ Maestas, Eddie Penev, Brandon Wynn, and Akash Modi. Melton won the bronze medal in the all-around, Kimble won the silver medal on pommel horse, and Wynn won silver on still rings. Interestingly, none of the men who competed on the Pan Ams team went on to compete on the Worlds team later that year.
Who Is The U.S. Sending This Year?
The U.S.women's team is sending the gymnasts who ranked fourth through eighth at the recent U.S. Championships: Grace McCallum, Shilese Jones, Jade Carey, Kara Eaker, and Trinity Thomas. Alyona Shchennikova, who was ranked ninth at U.S. Championships, has been named the alternate. The international competition will provide a great opportunity for the gymnasts to showcase their abilities ahead of the Worlds team selection camp.
The competition will serve as the international debut for both Jones and Eaker. Jones can contribute on all four events, but especially on vault, where she is capable of scoring higher than most on her Yurchenko double. Eaker will be the team's key competitor on beam, where she has one of the highest possible D-scores (6.3) and beautiful execution. McCallum, who competed for the U.S. team at the Pacific Rim Championships earlier this year, has a solid shot at winning an all-around medal at Pan Ams.
Carey will almost certainly make it into the vault and floor event finals, and it will be a good opportunity for her to show her scoring capability on these events for potential Worlds consideration. Finally, Thomas can easily contribute on all four, but she has a shot at making event finals for a few events as well, especially bars, where she's capable of a 5.7 D-score.
On the men's side, the U.S. is sending Cameron Bock, Spencer Goodell, Riley Loos, Kanji Oyama, and Genki Suzuki. Melton and Curran Phillips will be alternates. Watch out for Oyama on floor — he's one of the U.S. men's top competitors on this event and is capable of big difficulty. On P-bars, Bock will contribute a lot for the team with his high D-score (capable of a 5.9, which he hit at Championships). Bock will also be hoping to take home an all-around medal — he was the highest all-around finisher at Championships out of the men on this team, followed closely by Suzuki.
Who Else Is Competing This Year?
Canada announced their teams a few weeks ago, with the women's team including Jade Chrobok, Ana Padurariu, Laurie Denommee, Haley de Jong, and Sophie Marois. Padurariu was one of Canada's top juniors last year — she turned senior this year and is working back from a foot injury sustained earlier in the season. On the international stage, many may remember her for her work on beam, and this will be an event to watch for her on, assuming she is fully healed. On the men's side, Canada will be sending Rene Cournoyer, Zachary Clay, Cory Paterson, Darren Wong and Samuel Zakutney.
Brazil is also expected to send a team, to be announced later this week. It will be interesting to see how the Brazil gymnasts compete given their recent work with Valeri Liukin. Other teams that typically send teams include Mexico, Cuba, Colombia, Venezuela, Argentina, Chile, Puerto Rico, and Peru.