2018 Elite Season
The Biggest All-Around Threats To Simone Biles At The 2018 GK U.S. Classic
The Biggest All-Around Threats To Simone Biles At The 2018 GK U.S. Classic
Simeone Biles is set to return to competition at the 2018 GK U.S. Classic, but who else could aim for gold in the all-around?
Jul 18, 2018
by Justine Kelly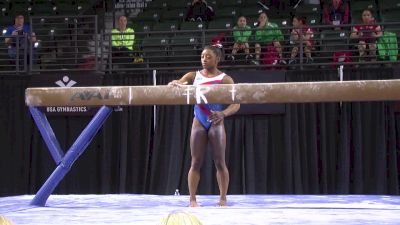 Simone Biles is back.
The scene is set for the 2018 GK U.S. Classic, which will take place on Saturday, July 28, in Columbus, Ohio. Top junior and senior elites will be competing in the hope of qualifying to the U.S. Championships in August. Many other athletes have qualified already and will be using the competition as another means of practicing on the big stage.
Some of them — like world champion Morgan Hurd — may even be thinking about challenging the world's greatest gymnast for all-around gold.
The U.S. Classic has historically been a competition where we're seeing many athletes for the first time in the season. Most are not yet at their 100 percent potential level, trying to time their peak just right to show their best work during Worlds selection. Because of this, we often see some of the top athletes competing on only one or two events, while others will show what they've got so far on all four.
This year's Classic will be an exciting one for many reasons. The return of Olympic all-around champion Biles is certainly the highlight, but she's not the only top athlete that will be in attendance. The reigning world all-around champion and 2018 American Cup champion, Hurd, is set to compete in her second year as a senior. Fellow world medalist Jade Carey will also be competing, as well as 2016 Olympic alternate Ragan Smith.
The junior session of the competition takes place at 1:30 PM ET and will be streamed on USA Gymnastics' YouTube channel. The senior session of the competition takes place at 7:30 PM ET and will be broadcast live on the Olympic Channel, as well as streamed on the Olympic Channel website and app, and the NBCSports website and app.
Who Will Win The Senior AA Title?
Though it was anticipated that Biles would compete only bars and beam at this competition, she recently announced via Twitter that she would be competing all-around.
I'm doing All-Around now actually !!!! https://t.co/IgGciE4oFM

— Simone Biles (@Simone_Biles) July 16, 2018
This will no doubt make the competition for the AA title fierce. Although we have not seen Biles in competition for two years, recent press she has done indicates she's got all her skills back and then some.
So who will Biles' competition be? This is where it gets tricky, because many of the current top all-arounders may not necessarily end up competing all four events, particularly those gymnasts who are already qualified to Championships. One decent guess is Carey, who has been training bars and showed off her routine at the recent American Classic. If she goes ahead with all four at Classic, it will be the first time she'll be competing all-around at the elite level. It would be interesting to see Biles and Carey face off for the AA title, given both have similar strengths (floor and vault) with some of the toughest tumbling in the field.
If they choose to compete all four, other contenders would be Hurd, who has emerged as the AA champion at several high-profile meets since turning senior, as well as Smith, who is the reigning national champion. Another major contender is Emma Malabuyo, who won the gold in the all-around at the City of Jesolo Trophy this year.
The Amanar Watch
The Amanar isn't necessarily a common vault to see competed, particularly not two years before the Olympics, but we might see as many as three at this year's Classic. Biles has already commented that her vault is back, so it's likely we'll see one from her. Carey competed the vault easily at Worlds last year to help her win the silver medal. Jordan Chiles is also capable of an Amanar, a vault she competed at last year's Classic, leading to the highest vault score of the competition.
Just for fun, let's take a trip down memory lane to Biles' Amanar at the 2012 Classic, when she was still a junior. The vault scored a 16.05.
Video via USA Gymnastics
Top Difficulty On Bars: Junior Or Senior?
Although we've only noted the senior competitors so far, there are a ton of talented juniors as well, some of whom might even top the seniors when it comes to scoring. Bars will be an exciting event to watch from this standpoint, with top senior elite Alyona Shchennikova competing with a 6.2 D-score that she hit at the American Classic. There are a couple gymnasts who could potentially match her in difficulty, depending on any potential upgrades that have been in the works. One is Hurd, who has hit a 6.1 D-score this year.
Check out her routine from this year's Pac Rims:
Video via USA Gymnastics
Another gymnast who is right up there with Shchennikova and Hurd in terms of difficulty is junior Sunisa Lee, who is also capable of hitting a 6.1 routine. The most exciting combination in her routine is a Nabieva to Pak to Maloney to Gienger. She had some struggles hitting this combination at Pac Rims, so it will be interesting to see how she performs at Classic.
Can Anyone Surpass Kara Eaker On Beam?
New senior Kara Eaker is undoubtedly one of the best balance beam workers in the U.S. at the moment. She has incredible difficulty, hitting a 6.6 D-score at the American Classic, and her execution is spot on. Eaker's capabilities on this event are huge for her, given that the U.S. is arguably a little bit weak overall on beam at the moment. She not only has the highest scoring potential in the U.S., but she has one of the highest scoring potentials in the world at the moment.
Can any of the U.S. gymnasts come close? There are few who have D-scores into the 6.0s, such as Riley McCusker, who is capable of going 6.0+, as she did at the Brestyan's qualifier meet. The other senior who might come close is Biles, though it's unclear where her D-score might be at.
On the junior side, look out once again for Lee, who hit a 6.3 D-score on beam at Pac Rims. Check out her routine below, including that incredible save on her first series:
Video via USA Gymnastics
Reaching A Qualifying Score For Championships
Although many gymnasts have already qualified to Championships, there are still many that are using this meet as a means to qualify. One of those gymnasts is Biles, given this will be her first meet back. Other top seniors who will need to obtain a qualifying score include Olivia Dunne from ENA Paramus, who competed at Jesolo this year as an individual and finished 16th in the all-around, as well as Sloane Blakely from WOGA, who was the highest AA finisher at American Classic who did not qualify (or was not already pre-qualified).
On the junior side, there are even more athletes gunning for a qualifying score. Of note is Claire Dean from Head Over Heels, who just missed the qualifying AA score at American Classic by 0.15. Sophia Butler from Discover is another gymnast who should be able to hit that qualifying score, assuming she does not encounter any major mistakes as she did at American Classic.
---
Related:
World, Olympic, U.S. Champions To Compete At 2018 GK U.S. Classic