2018 Pacific Rim Championships
World Champions Centre To Host Pacific Rim Verification April 7-8
World Champions Centre To Host Pacific Rim Verification April 7-8
The 2018 Pacific Rims Championships verification event will take place April 7-8 at the World Champions Centre in Texas.
Apr 5, 2018
by Sarah Lorish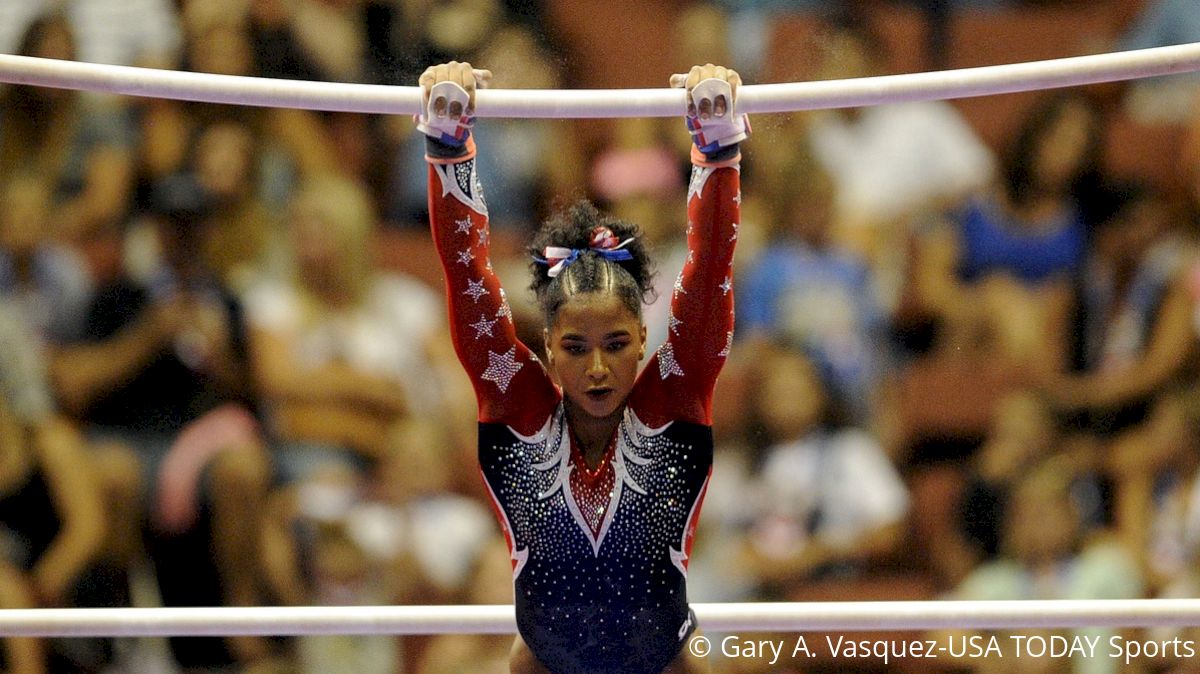 USA Gymnastics announced they will host a two-day verification event April 7-8 in order to name the team that will travel to Medellin, Colombia, and compete in the 2018 Pacific Rims Championships April 27-29.
The verification event will take place at the World Champions Centre in Spring, Texas, and live-streaming will be provided by USAG on April 7 at 6:30 PM ET and April 8 at 11 AM ET.
The team will be announced after verification around 2 PM ET.
Participating Gymnasts
Shania Adams, Plain City, Ohio/Buckeye Gymnastics, senior
Sydney Barros, Woodstock, Ga./Texas Dreams, junior
Jordan Bowers, Lincoln, Nev./Solid Rock Gymnastics, junior
Jordan Chiles, Vancouver, Wash./Naydenov Gymnastics, senior
Kayla DiCello, Boyds, Md./Hill's Gymnastics, junior
Olivia Dunne, Hillsdale, N.J./ENA Paramus, senior
Kara Eaker, Grain Valley, Mo./GAGE, senior
Margzetta Frazier, Erial, N.J./Parkettes, senior
Morgan Hurd, Middletown, Del./First State Gymnastics, senior
Shilese Jones, Westerville, Ohio/Future Gymnastics Academy, senior
Adeline Kenlin, Coraville, Iowa/Iowa Gym-Nest, senior
Sunisa Lee, St. Paul, Minn./Midwest Gym Center, junior
Lilly Lippeatt, Mason, Ohio/Cincinnati Gymnastics, junior
Grace McCallum, Isanti, Minn./Twin City Twisters, senior
Konnor McClain, Cross Lanes, W.Va./Revolution Gymnastics, junior
Maile O'Keefe, Las Vegas, Nev./Salcianu Elite Academy, senior
Gabby Perea, Geneva, Ill./Legacy Elite Gymnastics, senior
Anya Pilgrim, Germantown, Md./Hill's Gymnastics, junior
JaFree Scott, Independence, Mo./GAGE, junior
Alyona Shchennikova, Evergreen, Colo./5280 Gymnastics, senior
Tori Tatum, Chanhassen, Minn./Twin City Twisters, junior
Leanne Wong, Overland Park, Kansas/GAGE, junior
The final team will consist of six athletes (no more than three seniors). In the team final, all six gymnasts are allowed to compete with five designated to count toward the team score, and the top four scores will be added together as the team total. There will also be awards for individual all-around and event finals for both juniors and seniors.