The Remarkable Rise Of British Gymnastics
The Remarkable Rise Of British Gymnastics
Great Britain's performance at the 2017 Gymnastics World Championships in Montreal showed, once again, that its national teams are among the best in the world. On the men's side, Max Whitlock won a gold medal on the pommel horse, and for the women, Claudi
Oct 18, 2017
by Rebecca Johnson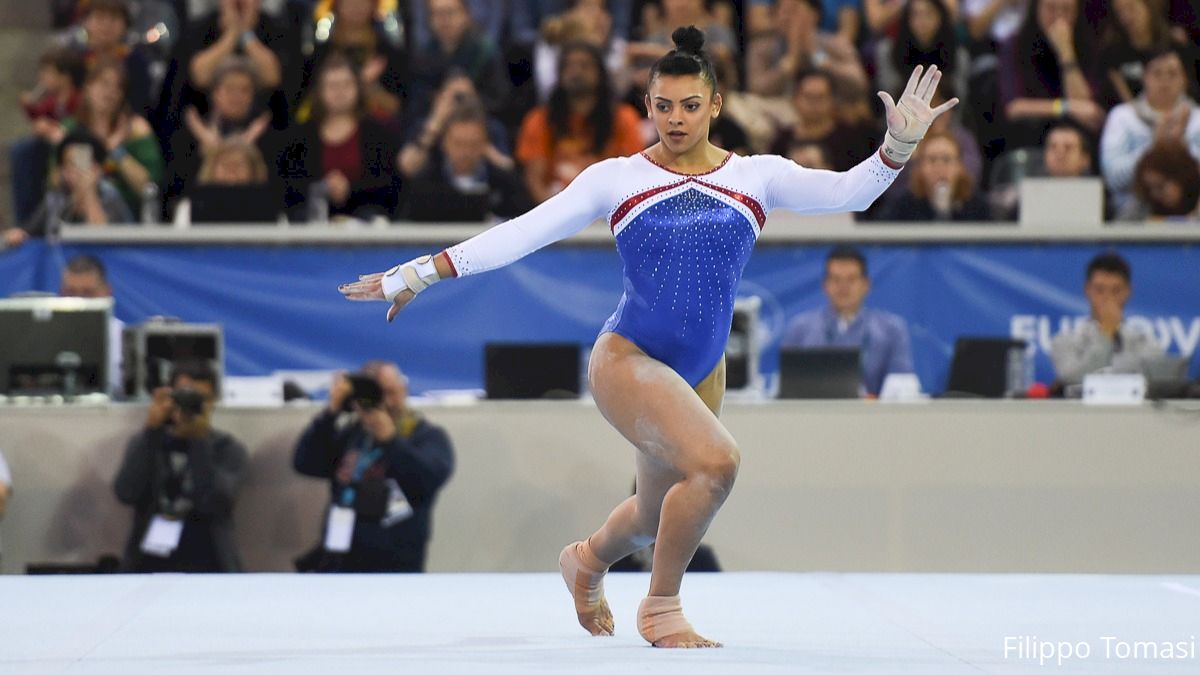 By Storms Reback
To field competitive gymnasts at the top competitions in the world, British Gymnastics focused neither on gymnasts nor on Great Britain; instead, they went to Eastern Europe and found some coaches. And years later, we can see the proof that it has worked -- really, really well.
Great Britain's performance at the 2017 Gymnastics World Championships in Montreal earlier this month showed, once again, that its national teams are among the best in the world.
On the men's side,
Max Whitlock
won a gold medal on the pommel horse; for the women,
Claudia Fragapane
won bronze in the floor exercise and
Amy Tinkler
finished 17th in the all-around. Thanks to these two medals, Team GB finished in fifth place in the medal count, tied with Germany and just behind traditional powerhouses China, Japan, Russia, and the USA.
British national teams have performed so well on the international stage in recent years it's easy to forget that less than two decades ago they were routinely ranked in the 20s in the world standings. What explains their rise to prominence? As with many complex issues, there is no single reason that accounts for the recent surge of success British Gymnastics has enjoyed, but there are a handful of factors that, when combined, offer a reasonable explanation.
The Soviet System
Those taking a macro view would probably credit the systemic change British Gymnastics adopted in the 1990s, when it implemented a Soviet-style system that emphasized grueling training sessions and teaching and learning over fixing and correcting.
When Adrian Stan quit his job as a national coach for Romania to accept a similar position in Britain in 1992, British Gymnastics was ranked 22nd in the world. It took a while for the changes he implemented to be felt. After an abysmal performance at the 2003 World Championships, the men's team failed to qualify a single gymnast for the 2004 Olympics in Athens. Responding to the situation, British Gymnastics made Andrei Popov, a former Soviet gymnast, the head coach of the men's national team that same year.
As coaches like Stan and Popov fled the Eastern Bloc to work in countries like Great Britain, the migration not only made British Gymnastics intrinsically stronger but it also caused other international programs to grow weaker, as countries that were traditionally adept in gymnastics such as Bulgaria, Belarus, Ukraine, and Romania faltered in the wake of the coaching exodus. Romania, the home of Nadia Comăneci, didn't even qualify for either of the team events at the 2016 Olympics in Rio.
Meanwhile, the influence of elite coaches like Stan and Popov succeeded in changing the entire gymnastics culture in Great Britain.
Coaching Coaches First, Not Gymnasts
Employed at training camps and coaching clinics, the Soviet system found its way into every facet of British Gymnastics, but perhaps its greatest impact came from the appointment of Barry Collie as the junior national coach.
Initially, Collie's main tasks were to train individual gymnasts and ensure that the proper methodology was being used at training camps. As a coach, he led Britain to four junior European championship titles. But the realization that he could wield more influence teaching young coaches rather than athletes had a greater long-term impact on British Gymnastics. By teaching other coaches how to properly train gymnasts, he helped create a deep pool of talented young coaches, who in turn produced an entire generation of talented young gymnasts.
For example, Lee Woolls, a boys coach from Birmingham, coached
Kristian Thomas
, who went on to become a member of the men's national team at the 2012 Olympics in London. Pete Etherington of Europa Gymnastics Centre helped Giarnni Regini-Moran win a gold medal at the 2014 Summer Youth Olympics. Scott Hann, the director of coaching for the South Essex Gymnastics Club, was the first coach for Whitlock. And Paul Hall of Huntingdon Olympic Gymnastics Club was responsible for grooming
Louis Smith
, who medaled at the 2008, 2012, and 2016 Olympic Games.
British Grit
The current national teams also benefit from having a core group of gymnasts who are unquestionably tough. According to an oft-cited tidbit about Smith, the 28-year-old learned to use the pommel horse by putting his feet in a bucket that was hanging from the ceiling by a rope, and then swinging his legs around in order to familiarize himself with the motion. His teammate Whitlock endured a battle with glandular fever in 2015 but bounced back in time to become the first British man ever to win a gold medal at the world championships on the pommel later that year, and the following year he became the first Brit to medal in the all-around at the Olympics in 108 years.
As tough as the men are, the women may very well possess even more grit, as illustrated by the Downie sisters,
Becky
and
Ellie
, who seem to make everyone on the women's team better with their mere presence.
The greatest challenge of Becky's career came in 2012 after she ruptured her Achilles tendon in training and failed to make that year's Olympic team. After contemplating (but ultimately rejecting) the idea of giving up the sport, she went on to win a gold medal in the uneven bars at the 2014 European Championships, becoming just the second British woman to do so. In 2016, she repeated the feat and also helped the British women's national team finish fifth in Rio, its best Olympic result since 1928.
Ellie shares her older sister's tenacity. Ellie fell off the uneven bars during the first event of the 2015 World Championships in Glasgow, a mistake that seemed to doom her team, but the Brits refused to give up. They kept fighting, and the competition ultimately came down to Ellie's final vault. When she nailed it, she helped her team earn bronze, the first medal the British women's team had ever won at the worlds competition.
"Whenever we're in training and we find it really hard, we pump each other up," said Fragapane, a member of Britain's 2016 Olympic team who, in 2014, became the first English woman to win four gold medals at the Commonwealth Games since 1930. "If we're really struggling, we still fight for that routine. If something goes wrong -- for example, you miss a move on bars -- you're still fighting the whole way."
I feel like that's what Great Britain does. They always fight for that extra tenth.
Breakthrough At London Games
Another factor that can't be overlooked is the boost Team GB received from the announcement in 2005 that London would be hosting the Olympics in 2012. From that moment forward, every junior gymnast in the country was fueled by the same objective: to represent Great Britain before a raucous home crowd on the grandest stage of all.
The "home-field advantage" British Gymnastics enjoyed in 2012 can't be dismissed, as recent history suggests that it offers a large boost to gymnasts from the host country. At the 2004 Olympics in Athens, Dimosthenis Tampakos, a member of the Greek men's team, succeeded in overcoming long odds and winning gold in the rings event; at the 2008 Olympics in Beijing, China went from being incredibly strong to nearly unbeatable, winning every gold medal in the men's events except one.
As expected, the 2012 Olympics in London saw Team GB rake in an impressive medal haul:
Beth Tweddle
won a bronze in the uneven bars, Smith a silver on pommel, and Whitlock a bronze on pommel, and the men's team won a bronze, its first Olympic team medal in a century.
Seeing London host the Olympics also inspired legions of kids to join local gymnastics clubs, a surge of interest that will pay dividends for the national teams for years to come.
"Having the Olympic Games in our home country was a definite catalyst," said
Ruby Harrold
, who represented Great Britain at the 2016 Olympics.
London was a huge step in the right direction.
Follow The Money
And, of course, when you're trying to solve a mystery, it's always smart to follow the money. In this case, the way UK Sport distributes funds raised from taxes and the national lottery to its Olympic-level national teams has played a very large role.
British Gymnastics only received £5.9m to prepare for the Sydney Olympics in 2000, and actually lost its funding after its disastrous effort at the 2003 World Championships in Anaheim, California, but after beating its medal target at the 2012 Olympics, the program's funding increased to £14.6m. This financial reward helped the gymnasts reap their best Olympic medal haul to date in 2016: Whitlock won gold in the floor exercise and pommel, and bronze in the all-around; Smith won a silver on pommel;
Nile Wilson
won a bronze on the horizontal bars; and Tinkler won a bronze in the floor exercise.
Thanks to this infusion of cash, many local gymnastics clubs went from being places where the coaches and athletes had to share space with other sports to sleek modern structures focused solely on gymnastics. Prior to the London Olympics, the British gymnastics championships were held at the Guildford Spectrum, a "leisure complex" that offers ice skating, ten pin bowling, and swimming. The event typically attracted just a few hundred fans. After 2012, the championships were moved to the Echo Arena, a state-of-the-art facility in Liverpool which holds 11,000 people.
How did this money help the gymnasts on the national teams succeed? It was used to hire more national coaches, further develop the junior program, fly in elite coaches such as
Mihai Brestyan
to conduct clinics, and hire new choreographers.
Harrold explained what the money meant to athletes like her on a day-to-day basis.
"Gymnastics wasn't a sport you would do as a full-time job," she said. "Gymnastics was always a part-time job you would do on the side, but thanks to UK Sport, they were able to provide the funding needed to make it a full-time job."
She went on to describe the ways in which it made her life outside the gym infinitely easier.
"For me, it was always a good motivational tool," she said. "It was like, 'Okay, this is the goal I need to get to receive the next level of funding, and this is how I'm going to do it.' It helps with all types of things. It helps with paying for groceries for the week. It helps with petrol money. And because of that, we're able to progress so much more."
Team GB "Sticks Together"
If the British national teams continue to improve at the current rate, they will be constant fixtures on the podium at international events for years to come, and given how well its current members get along that notion seems more likely than not.
"We're all such good friends, and I think that really helps when you're with those people for a long time," said Fragapane. "So when you compete, you know what they like. I like to be told certain things before I go on, but some people don't like to be spoken to. It's an amazing group of people. We get each other. Everyone agrees with each other and sticks together. I think that helps when you go to internationals."
Harrold, who retired from international competition after the Rio Olympics, expressed a similar opinion.
"The way teams gel together is always going to be a deciding factor on whether the team does well or not," she said.
It makes success even more special when you've done it with your best friends.
"After training with them so hard for so long, it motivates you to work harder, to add the extra point, and to get that extra skill in. Being able to share a moment of success with those people makes it even more special."
Related:
Claudia Fragapane Takes Us Inside Her Year: Rio, Strictly, Return To Gym
Amy Tinkler (GBR) Proud Of AA Performance Considering Rocky Lead-Up
Max Whitlock Gives Britain 1st Gold Medals in Gymnastics
Nine Original Women's Elements Submitted At 2017 World Championships