Five Event Finals Close Out 2017 Gymnastics World Championships With A Bang
Five Event Finals Close Out 2017 Gymnastics World Championships With A Bang
The 2017 World Championships in Montreal, Canada closed out this afternoon with day two of event finals. In one last talent-packed competition day, five more World champions were crowned.
Oct 9, 2017
by Rebecca Johnson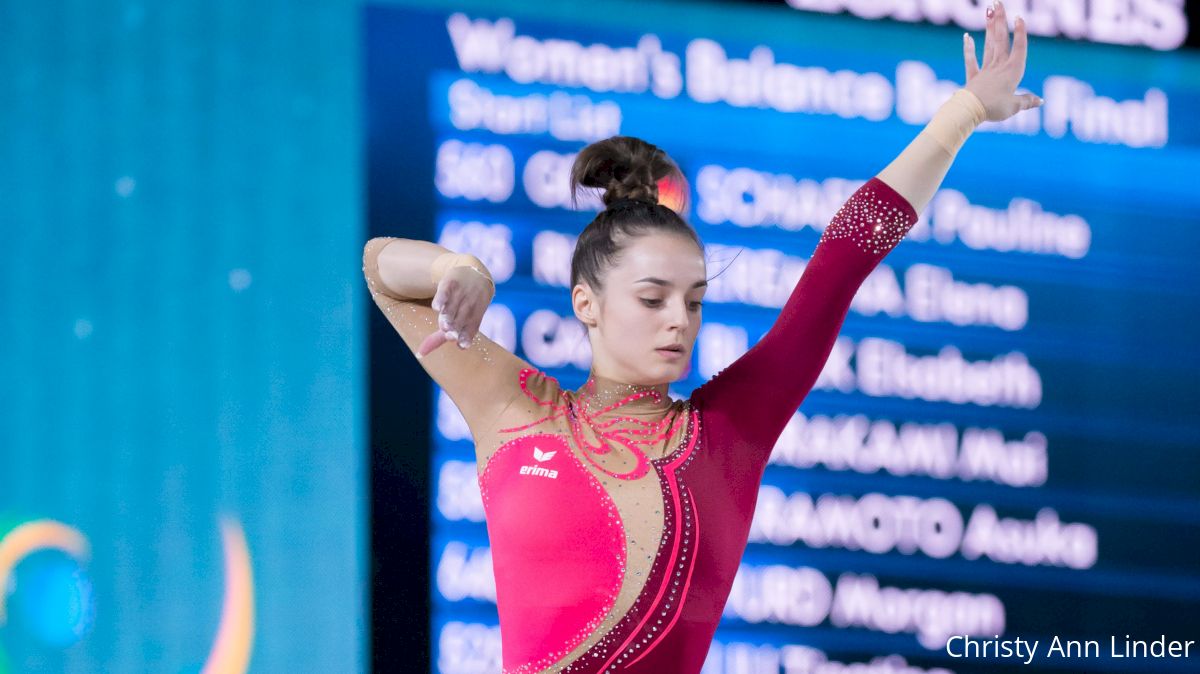 Meet Recap
The 2017 World Championships in Montreal closed out this afternoon with day two of event finals. In one last talent-packed competition day, five more world champions were crowned.
Pauline Schaefer of Germany won beam, Zou Jingyuan of China won parallel bars, Mai Murakami of Japan won floor, Tin Srbic of Croatia won high bar, and Kenzo Shirai of Japan secured another gold on vault. Shirai is the only competitor who is leaving Montreal with multiple golds.
MEN'S RESULTS
|
WOMEN'S RESULTS
|
INTERVIEWS

The vault final was the opening act of the day, featuring vaulting royalty from all over the world. Shirai came in with a gold medal under his belt from yesterday's floor final and he performed two stunningly clean vaults today to score a 14.9. He topped Ukraine's Igor Radivilov, who took the silver, by just one thousandth of a point. Radivilov performed a flawless Dragulescu vault, even kicking his legs out at the end and sticking the landing just perfectly. He took a large step on his Tsuk double pike to score a 14.899. Kim Hansol of Korea was the last competitior and he took the bronze with a 14.766, just slipping past Romaina's Marian Dragulescu who had a 14.716.
In the women's beam final, Scheafer performed a remarkably well-executed beam routine, including her original skill of a side somi half, and scored a 13.533 for gold. After
receiving a congratulatory tweet from J.K. Rowling
, Morgan Hurd was in prime form and scored a 13.4 for silver. Tabea Alt of Germany was just one tenth behind Hurd with a 13.3 and secured another medal for Germany with the bronze.
China's Zou Jingyuan was the very first competitor on parallel bars and scored a huge 15.9 to open the event final. While Oleg Verniaiev of Ukraine got within an inch, no one could match Zou's score and he came out victorious. As the 2016 parallel bars Olympic champion and the top qualifier on the event, Verniaiev was the favorite for gold. He showed an impeccable routine but came up just short of Zou's score with a 15.833. After redeeming himself from the
all-around competition
with a silver on pommel horse yesterday, David Belyavskiy of Russia grabbed the bronze with a 15.266.
The women wrapped up their portion of the competition with an exhilarating floor final. Mai Murakami competed her highly difficult routine with impressive precision on the landings to score a 14.233. Her score was just enough for first place -- Japan's first-ever women's world gold on floor. USA's Jade Carey banked her second world silver medal when she earned a 14.2 for her sky-high tumbling. Great Britain's Claudia Fragapane's of Great Britain dialed in a spectacular and entertaining routine to nab bronze with a 13.933. Vanessa Ferrari was the last competitor on floor and wasn't able to finish her routine due to a
torn Achilles tendon
she suffered on her second tumbling pass.
The competition ended on a high note with a thrilling high bar final. Tin Srbic earned Croatia's first world gold medal ever when he flew to a 14.433. Epke Zonderland of the Netherlands provided the most stunning moment of the final with a release move that he
caught with one hand
. Once known as the "Flying Dutchman," he now sees himself garnering a new nickname. The word "zonder" in Dutch means "without," and Epke joked in a
post-meet interview
that he will likely now be known as Epke "Zonderhand." His unbelievable catch and impressive finish earned him a standing ovation from the crowd and a 14.233 for silver. Teammate Bart Deurloo also went all out on his routine to score a 14.2 and take bronze.
Check out the winning routines:


Routine of the Day
Radivilov's ridiculously amazing Dragulescu on vault:
THE KICK OUT pic.twitter.com/lrh153OGjG

— Daniel (@Daniel_san2013) October 8, 2017
Interviews of the Day
Brooklyn Moors of Canada on her extraordinary first worlds experience, winning the Longines Award for Elegance, and Ellie Black's leadership:
Valeri Liukin talks about Morgan and Jade handling big-time pressure and potential upgrades for Jade in the future:
Photo of the Day
Morgan Hurd being announced before the beam final with flames shooting out of the stage: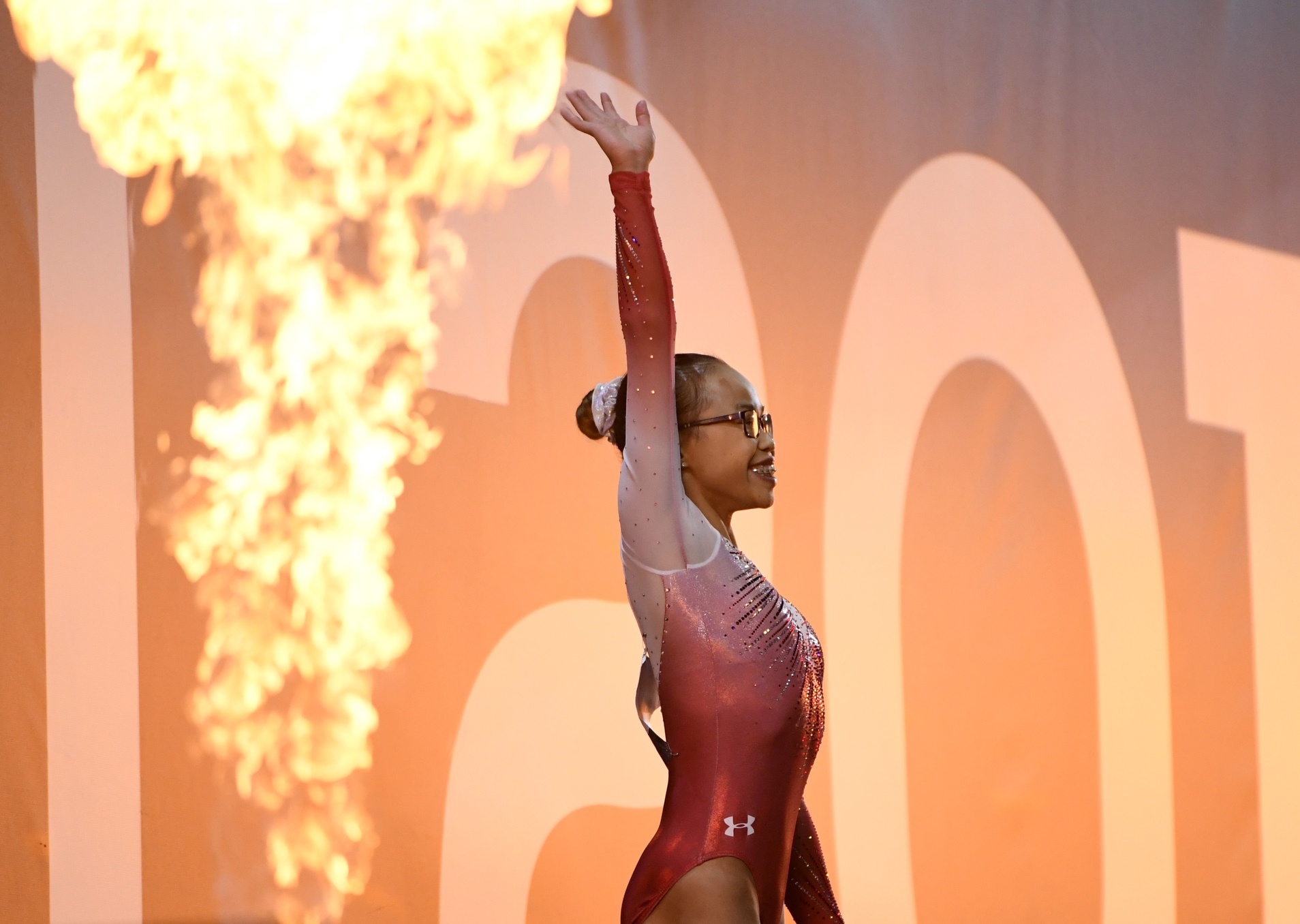 Tweets of the Day
October 9, 2017
Epke Zonderhand! Wie had dat gedacht echt super blij dat ik toch nog zilver heb kunnen winnen! pic.twitter.com/5B63d8tppB

— Epke Zonderland (@epkez) October 8, 2017
Instagram of the Day
Related:
Epke Zonderland Makes Epic One-Arm Save At Gymnastics World Championships
Vanessa Ferrari Injured, Tears Achilles In Floor Final At Gymnastics Worlds
World AA Champ Morgan Hurd Receives Congratulatory Tweet From J.K. Rowling
RECAP: Heartbreaks & Triumphs Of Women's Quals At 2017 World Championships
RECAP: A Dramatic Men's Qualification Round At 2017 World Championships
Brazil's Rebeca Andrade Out Of 2017 World Championships With ACL Injury
Larisa Iordache Injured, Out Of 2017 Gymnastics World Championships
Women's Finals Qualifiers At The 2017 Gymnastics World Championships
Kohei Uchimura's Reign Ends: New World All-Around Champion Will Be Crowned