RECAP: Morgan Hurd Captures 2017 World All-Around Title In Close Battle
RECAP: Morgan Hurd Captures 2017 World All-Around Title In Close Battle
The women's all-around final was held tonight at the 2017 World Gymnastics Championships in Montreal, Canada. In a tight battle all the way until the very last routine, USA's Morgan Hurd came out on top as the 2017 World All-Around Champion.
Oct 7, 2017
by Justine Kelly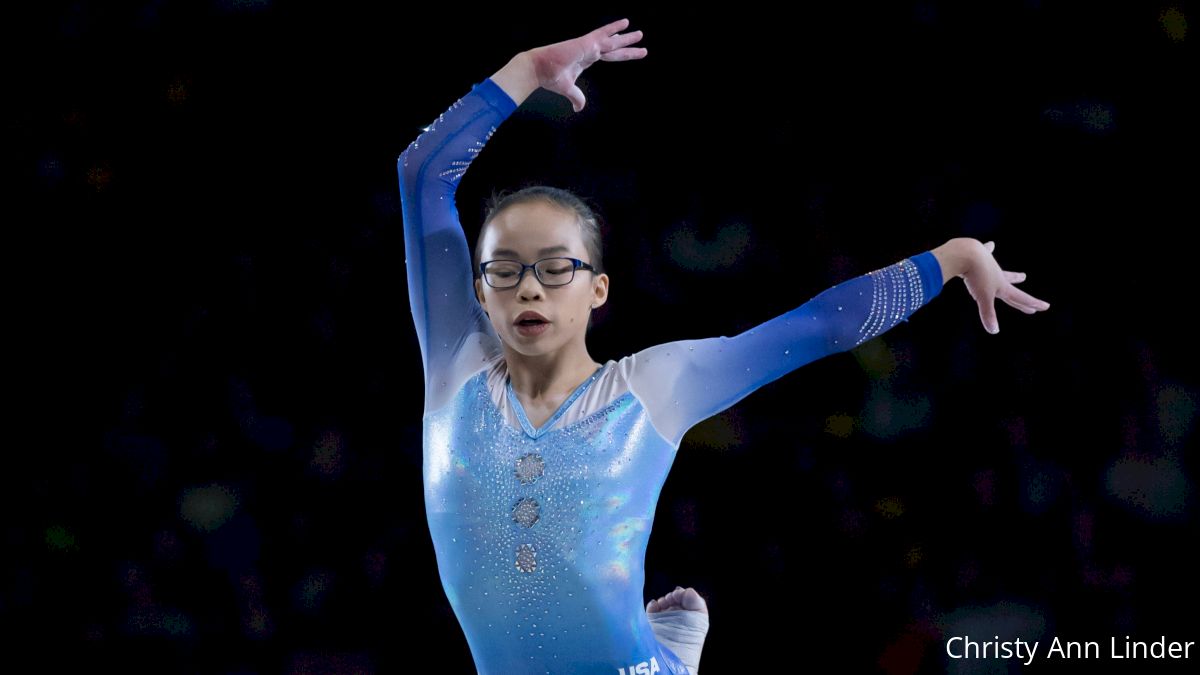 Meet Recap
The women's all-around final was held tonight at the 2017 World Gymnastics Championships in Montreal. In a tight battle all the way until the very last routine, USA's
Morgan Hurd
came out on top as the 2017 world all-around champion.
The competition had a rough start even as early as warmups, when USA's
Ragan Smith
suffered an
ankle injury
during vault warmups. Unfortunately, Smith was forced to pull out of the competition, which opened up a spot for Romania's
Ioana Crisan
. The withdrawal of the Smith -- a favorite for gold -- left the all-around title open for the taking.
In the first rotation, several of the gymnasts competed on their best events, establishing an early lead for some. Belgium's
Nina Derwael
hit an incredible bar routine, putting up the highest score of the day with a 14.966. The vault rotation included Canada's
Ellie Black
, USA's
Morgan Hurd
, Japan's
Mai Murakami
, France's
Melanie De Jesus Dos Santos
, and Russia's
Elena Eremina
, all of whom were fighting for the top spots throughout the competition. The first rotation concluded with Derwael in first, followed by Murakami, Black, and Hurd.
Things started to go wrong on balance beam right from the start, with
Wang Yan
, China's only all-around competitor, falling off twice during her routine. She was not the only one who fell --
Thais Fidelis
of Brazil had a similar issue with two falls, and Derwael fell on her series in the second rotation, causing her to slide back from her early lead.
Hurd and Black continued to stay neck and neck into the second rotation after competing bars. Both gymnasts hit their routines and came away tied for first place. De Jesus Dos Santos had a slight error on a pirouette, but covered it well and hit her routine otherwise. She and Murakami came away from the second rotation tied for third, followed by Eremina in fifth, who had a slight error on her bar routine after her Pak salto.
The third rotation was a nail biter, with all of the top gymnasts heading to balance beam. With so many falls already having occurred earlier in the competition, it was clear that many of the gymnasts were being extra cautious on the event. Murakami had an unfortunate fall on a turn, which dropped her back to fifth place. Hurd had no falls but performed an uncharacteristically nervy routine with several wobbles throughout. Black was second to last, and almost made it through the routine unscathed, but had a big wobble on her front tuck and ended up touching the beam for a 0.50 deduction. Still, she came away in first place after the third rotation, followed by Hurd in second, Eremina in third, De Jesus Dos Santos in fourth, and Murakami in fifth. Eremina was able to recover quite well from her earlier mistake on bars, hitting a solid beam routine.
The scores were tight going into the final rotation, with all of the medal contenders heading to floor. Black was ahead of Hurd by .20, but Hurd was going to floor with a higher D-score (5.4 versus Black's 5.0). It would be close for the bronze medal spot on the podium as well -- Eremina was currently sitting at a 41.199, while De Jesus Dos Santos had a 40.899, followed by Murakami with a 40.466.
Hurd was first up and competed her routine with explosive tumbling and had only one significant mistake, which was an out-of-bounds on her front double full. Hurd was rewarded with a 13.733. She was followed by Eremina, who hit a solid and clean routine to score a 13.6. De Jesus Dos Santos was up next with incredible tumbling, but also had an out of bounds on her last pass, a double back. The crowd went absolutely wild for Black's routine, and she put up a solid performance to end her competition. In the end, Black needed over a 13.533 to overtake Hurd, and she missed by only a tenth of a point.
Hurd came away with the gold medal, totaling a 55.232, followed by Black with the silver with a 55.132, and Eremina with the bronze with a 54.799. Murakami finished in fourth, putting up a strong final performance on floor, followed by De Jesus Dos Santos in fifth.
Routine of the Day
Morgan Hurd clinched the all-around title after a high-flying floor routine including her double double tuck and a big piked full in. She went out of bounds on her third pass and came back with a beautiful double pike to close. She scored a 13.733 to total a 55.232 -- enough for gold over Ellie Black. Watch all of Hurd's routines
here
.
Interviews of the Day
Morgan Hurd over the moon with delight after winning gold at her first world championships:
Ellie Black on competing in front of an adoring crowd and the future of Canadian gymnastics.
Valeri Liukin shares about Ragan's injury and how he feels about Morgan's amazing night:
Photo of the Day
The moment Morgan found out the gold was hers: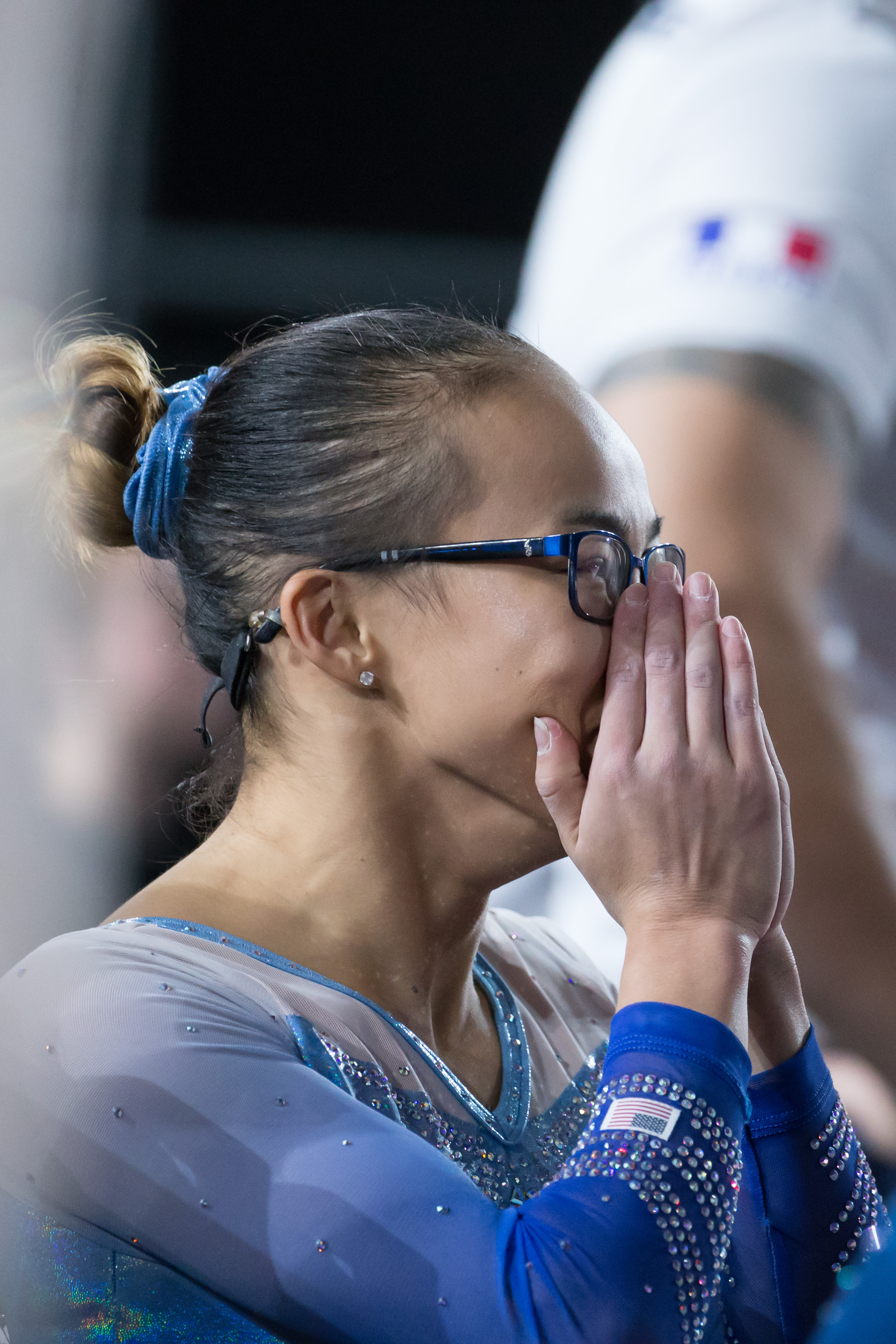 Tweets of the Day
Thank you all for the love & support. Tonight was incredible. Thankful for this opportunity. Congratulations to all the girls

— Ellie Black (@EllieBlack_) October 7, 2017
6!! pic.twitter.com/cYbrq3GuUR

— /AIKO SUGIHARA (@loveco_smile) October 7, 2017
Be strong little girl @raganesmith2000. Wishing you a fast recovery. We'll get through this.

— Larisa Iordache (@Larisa_Iordache) October 7, 2017
REPLAY:
Related:
Ragan Smith Injured, Out Of AA Final At 2017 Gymnastics World Championships
RECAP: Heartbreaks & Triumphs Of Women's Quals At 2017 World Championships
RECAP: A Dramatic Men's Qualification Round At 2017 World Championships

Larisa Iordache Injured, Out Of 2017 Gymnastics World Championships
Women's Finals Qualifiers At The 2017 Gymnastics World Championships
Kohei Uchimura's Reign Ends: New World All-Around Champion Will Be Crowned