Meet The 2017 U.S. Women's World Championships Team
Meet The 2017 U.S. Women's World Championships Team
Get to know the women who have been selected to represent the USA at the 2017 World Championships in Montreal.
Sep 20, 2017
by Lauren Green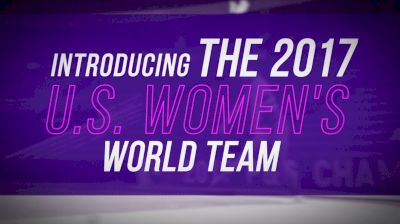 The four gymnasts who will represent the U.S. at the 2017 World Championship in Montreal have been selected.
Ragan Smith
Ashton Locklear
Jade Carey
Morgan Hurd
Non-traveling alternate: Jordan Chiles
RAGAN SMITH
In 2016, Smith was the new kid on the block. The fresh-faced first-year senior was one of two just-turned seniors to make a run at the Olympic team.
While she wasn't named to the Rio team, she still traveled to Brazil as one of the alternates; she trained with fellow alternates
MyKayla Skinner
and Locklear.
With the "Final Five" taking the 2017 season off and Skinner heading to college at Utah, Smith was the top all-arounder at the start of the year. She opened her competitive season at the American Cup in early March, which she won despite a fall on her usually steady beam routine.
So by the time the P&G championships rolled around in August, Smith was considered the heavy favorite. It was quite a difference from a year earlier.
"It's definitely a different atmosphere," she said. "It's kind of cool having different girls around and starting the new generation of the next four years. It's funny. I always was the baby last year [and] I'm kind of the most experienced one here [now]."
She upgraded her uneven bars routine at the U.S. Classic and placed first on what was considered her weakest event.
"I'm happy that I went out and hit my routine like I've been doing in practice," Smith said after the U.S. Classic. On bars, I upgraded with a Downie and I connected [my] Ricna to pak [salto] and that's pretty good for me because before I came to Texas Dreams I wasn't that good of a bars swinger. The time that I've been here has paid off."
After having one of the most crowd-pleasing floor routines during the 2016 season -- an Addams Family-themed routine -- Smith unveiled her new floor routine at nationals.
"It was really fun. I had a blast. I love smiling to the crowd and they were cheering for me," she said after the first night of competition. "It's kind of like my last routine, but not. It's more mature and sassier."
Smith will look to take the improvement on bars, the steadiness on balance beam, and the sassy new floor routine to challenge for a world championship medal in Montreal.
Medal contender
: All-around, balance beam, floor exercise
ASHTON LOCKLEAR
Locklear found herself locked in a battle during the road to Rio. Martha Karolyi and the selection committee were more than likely only going to select one uneven bars specialist to take to the Olympics. Locklear and
Madison Kocian
were back-and-forth all season with Kocian snagging the Olympic team berth. Locklear, like Smith, was named an alternate.
Locklear's routine didn't have the highest difficulty score; that went to Kocian. Where she made up a lot of ground was in the execution of her skills. She has gorgeous lines and great toe point throughout her routine.
Locklear is the only member of the squad with world championship experience; she was a member of the gold medal squad in 2014. She also qualified into the uneven bars final where she finished fourth.
The uneven bars field, like 2016, is stacked. Olympic champion
Aliya Mustafina
won't be competing in Montreal and Kocian, who earned silver in Rio, is recovering from shoulder surgery.
Locklear hasn't shown her full difficulty yet this season; she has shown her inbars in training and at the Ranch, but not in competition. She took some time off after the post-Olympic tour and was back on the competition floor in March when she traveled to Italy to compete at the City of Jesolo Trophy competition. Despite not having her full level difficulty, Locklear finished second on bars to earn bronze behind Elena Eremina of Russia and teammate
Riley McCusker
.
"I'm really proud of myself," Locklear said after the competition. "I came back about two months ago and am still just getting back into the swing of things. I'm kind of doing watered down routines right now so I'm happy with my performance."
The inbars will add an extra five tenths of difficulty to her routine, bumping her D-score from a 5.5 to a 6.0. That 6.0 puts her among the top bar workers in the United States.
"It's pretty good," she said. "I know inbars are really hard especially when you take some time off like I did after tour. So they're coming along. I'm still working really hard to get back to where I was. I have been training them."
At 19, Locklear is the oldest gymnast in camp. And with two-time Olympian
Aly Raisman
taking the year off, Locklear has taken on another role: team grandma.
"It's so different. I used to look up to Aly [Raisman] because she was the grandma of the team," Locklear said. "I feel like I've developed some of her habits like going to sleep early and when the kids next door are loud at the Ranch you knock on the wall like, 'Hey can you quiet down, I'm going to sleep,' and they're all just like, 'Come on, why do you go to sleep so early?' I'm like, 'Your grandma needs her sleep, right.'"
Medal contender
: Uneven bars
JADE CAREY
Carey
burst onto the elite scene earlier this year. She competed at the J.O. national championships where she had a vault -- a Kaz full -- named after her in the J.O. code of points.
Carey fills a major need for the U.S. women on vault and on floor exercise. She was the only woman to compete two vaults at the P&G championships last month where she competed her Kaz full and an Amanar.
She struggled with the Amanar, during which she fell on during night one and nearly sat down on night two. But she fought for the landing on that vault and put together an impressive performance on floor exercise as well.
"I feel really good right now," she said after the P&G championships. "Day one was a little rough, but I came back stronger on day two and I'm proud of how I did overall."
Carey, who has a chance to contend for a medal on floor exercise as well, showcases some huge tumbling on floor with a double-double and a full-twisting double layout. Carey's plan headed into worlds selection camp was very simple.
"Just to continue to make small improvements and try to put some new things in on floor."
Chiles wasn't the only one announcing planned upgrades after nationals. Carey told reporters after the P&G championships that she might have some upgrades on floor, including a double-twisting double layout.
Carey does need to work on her form in the air on her vaults to improve her execution scores, but her combination of vaults ranks her among the top in the world in terms of difficulty.
Medal contender
: Vault and floor exercise
MORGAN HURD
Hurd made her mark as a serious contender for an all-around spot at worlds after competing in the spring. She had some issues with inconsistencies, but she is lovely to watch, particularly on floor.
She battled an elbow injury after the spring competitions, where she competed at Jesolo in Italy and at the Stuttgart World Cup competition. She earned a bronze medal in the all-around Germany in her first international assignment.
Hurd reflected on those competitions fondly.
"It was a great experience in Germany," she said before the U.S. Classic in July. "It was my first international assignment and it was just a wonderful experience and then Italy was even better because I got to go as a team."
Hurd had some difficulties on beam in Germany and struggled a bit on beam during the U.S. Classic when she grabbed the beam on her full-twisting back tuck. She got some redemption at nationals when she hit that skill on both nights of competition.
She didn't have a great night one of competition, struggling with an out of bounds on her second pass and a fall on her third pass. Floor is where Hurd shines, though, and her night two performance was solid. She excels on both the acrobatic elements as well as the artistry and dance. She has improved on her consistency and will be a solid all-around contender in Montreal along with Smith.
Medal contender:
All-around
Alternate: JORDAN CHILES
Chiles showed a tremendous amount of potential as a junior. She was injured at the 2016 P&G championships, tweaking her knee on a rough landing on vault. So when she turned senior at the start of 2017, there were plenty of eyes on Chiles.
But some coaching issues outside of her control prevented her from competing internationally at any spring assignments. But she bounced back at nationals, putting together a mostly-clean meet and earning second in the all-around.
She also had arguably the most memorable moment of the entire meet weekend when she stumbled on her opening wolf turn on beam and just kept turning during her night two performance.
"I didn't realize I was still turning and I told myself, 'Wait, why am I still turning,' so I opened up," Chiles said after the meet. "I sometimes do that at home so I know what to do. Other than that it was very crazy."
She had a fall on her Amanar on vault during night two, but that didn't stop her from having a solid rest of the meet and landing herself in medal contention.
"I am very excited to see that even with a few little mistakes here and there that I can still come out with a really high number," she said. "If I just keep doing what I'm doing, I'm very confident in that."
Chiles also announced after P&Gs that she was indeed training a second vault -- a Lopez -- which upped her chances considerably in contending for a worlds team spot. Riley McCusker's injury and subsequent withdrawal from camp opened the door for Chiles as the second all-arounder for the U.S. As the alternate, she will train as if she is competing but she won't be traveling to Montreal unless needed.
Related:
Videos: Inside 2017 World Selection Camp Day One
WORLD CHAMPIONSHIPS CENTRAL