2017 U.S. Classic
Ten Standouts From The Junior Session At The 2017 U.S. Classic
Ten Standouts From The Junior Session At The 2017 U.S. Classic
Check out 10 of the standouts in the junior division at the 2017 U.S. Classic in Hoffman Estates, Illinois. The list includes WOGA's Audrey Davis and GAGE's Leanne Wong.
Aug 4, 2017
by Lauren Green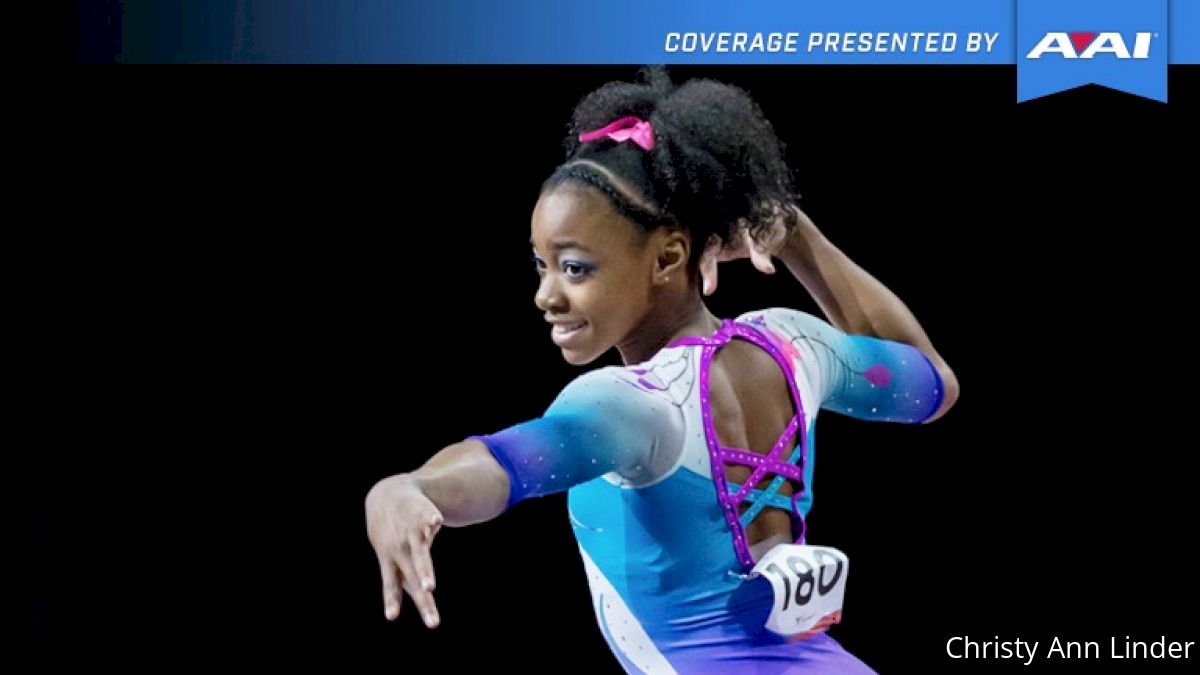 The U.S. Classic was the first look in 2017 at the talented juniors coming up the ranks. The six members of the junior national team -- Olivia Dunne, Maile O'Keefe, Emma Malabuyo, Gabby Perea, Sunisa Lee, and Adeline Kenlin -- competed in the senior session. Here are ten standouts from the afternoon session of junior competition from last Saturday's event in Hoffman Estates, Illinois.
Audrey Davis | 15 years old | WOGA
Davis finished fourth in the all-around and was the leader after her first three rotations -- vault, uneven bars, and balance beam. Her performance on balance beam in particular was fantastic. She was solid on all of her skills and showcased beautiful lines throughout the routine. She posted the session's second-highest score on beam with a 14.100. She competed a solid double twisting Yurchenko and had one of the top uneven bars routines of the afternoon. Her struggle came on her final event, floor exercise. She had good difficulty on her tumbling passes, including a piked full-in and a double tuck. Davis struggled on her wolf turn and actually put her hand down, which factored into her lower execution score. She finished fifth on both uneven bars and balance beam.


Leanne Wong | 13 | GAGE
Wong finished ninth in the all-around and sixth on vault where she competed a great double twisting Yurchenko. Wong's presentation on floor exercise was a definite highlight of the meet. She had good landings on her tumbling, which included a pretty triple twist. Her performance on uneven bars was another highlight. She had great lines on bars and floated on her Pak salto and double layout dismount. Wong did struggle a little bit on balance beam where she unfortunately put her hand down on her side somi. She was the
all-around champion
at the American Classic at the Ranch just a few weeks ago.


Annie Beard | 13 | Texas Dreams
Beard finished third on floor and seventh on balance beam at the event. Her performance on floor was one of the highlights of the entire afternoon of competition. She combined great tumbling and landings with fun choreography and artistry for an excellent routine. Beard's presentation is lovely and she really got into performing the choreography. She will be one to watch going forward. Beard was also pretty solid on beam as well and held one of the top marks in the afternoon session. She had a couple of little wobbles but her form overall was really clean. She is a first-year junior but was a J.O. national all-around and floor champion in 2016 in the Junior A division.


Anya Pilgrim |12 | Hills
Pilgrim is one of the young ones in the junior ranks this season at 12 years old. Her best finishes at Classics came on vault (10th) and floor exercise (14th). She had great difficulty on both uneven bars and balance beam though and has plenty of potential to just keep getting better. Her uneven bars D-score was a 5.8 -- the highest among all the juniors (including the junior national team members) -- and while she did have a fall on her Maloney early in the routine, she rebounded well and gets great amplitude on her Tkachev. She also showed great potential on beam where she has two acro series -- a back handspring, back handspring, layout to two feet as well as a gainer back handspring to two layout stepouts. That second series is where she took a fall after her left foot landed halfway off the back of the beam. She also had a Patterson dismount that she performed extremely well with just a small step forward.


Lilly Lippeatt | 12 | Cincinnati Gymnastics Academy
Lippeatt is also 12 and has plenty of time to continue improving and adding difficulty. She had some great combinations on beam -- a back handspring to two layout stepouts as her series and a side aerial to split leap series. She also showed great promise on floor where she has a 5.1 D-score with a piked full-in, a 1.5 through to a double tuck and a double pike. Her routine had some fun choreography that she performs well. Lippeatt finished 10th in the all-around and was tied for seventh on floor.
Addison Fatta | 12 | Prestige Gymnastics
Fatta made her impression on floor exercise with how she performed her routine. She had four solid passes -- a full-in, a front double full, a double pike, and a two and a half twist -- though she needs to better control on some of her landings. She had good difficulty on balance beam with a 5.2 D-score and had a solid performance in her final rotation though some of her leaps and jumps didn't quite hit 180 degrees. She has plenty of time to increase her difficulty on bars and floor in particular and already has a clean Yurchenko double full.
JaFree Scott | 13 | GAGE
Scott showcased some powerful tumbling on floor with a huge, high full-in with a nearly-stuck landing right off the top of the routine. Her performance quality was lovely as well and she did a great job incorporating her dance and tumbling. She has a ton of potential on all four events, but especially on floor. Her beam was pretty fantastic as well with a standing arabian, a standing front tuck, and an excellent double tuck dismount. Her amplitude on her leaps and jumps is great and she gets plenty of lift on her dismount as well.
Jay Jay Marshall |14 | TIGAR
Marshall had huge difficulty on both balance beam and floor exercise with a 5.7 D-score on each event. Her floor exercise was the toughest in the junior competition and would likely be right up there with some of the seniors. She opened with a huge full-twisting double layout and an almost-stuck piked double arabian. She had a double layout as a third pass and closes with a 1.5 through to a triple twist. She bounced out of the double layout and put her hands down and didn't quite get the triple twist all the way around in this routine. Her leaps and jumps get great amplitude as well. The biggest question is whether this level of difficulty is too much, too soon. She isn't eligible to be a senior until 2019 and that's a long way to go and stay healthy. If she does, though, watch out because she will be one to be reckoned with.
Sienna Robinson | 11 | Brown's Gymnastics
Robinson was one of the youngest competitors on the junior side and tied for seventh on floor exercise. Like Marshall, she also has a 5.7 D-score on balance beam. She competed a triple series -- two back handsprings into a layout to two feet -- and a side aerial to back tuck series. She did come off the beam on a punch front, but has a ton of potential on this event. Robinson shined on floor, especially in the level of performance. She has great flexibility and showcased it on her leaps and turns. The cartwheel to Onodi before her final pass was gorgeous.
Grace McCallum | 14 | Twin City Twisters
McCallum showed a double twisting Yurchenko that was beautiful in the air and had just a step on the landing to earn the vault title with a 14.650 and a 9.150 E-score. She earned bronze in the all-around. McCallum finished in the top 10 on balance beam (ninth) and floor exercise (fifth). She has lovely twisting form that she showcased on floor exercise with a front layout to front double full and a triple twist in her middle passes. Her biggest difficulties came on uneven bars where she had a lot of little form breaks that added up, like flexed feet throughout her exercise.
​All videos courtesy of USA Gymnastics



Related:
Five Surprises From The 2017 U.S. Classic
Poll: Lovely Leos From The 2017 U.S. Classic
U.S. Classic Event Hub