2017 U.S. Classic
Alyona Shchennikova Secures Senior All-Around Title At 2017 U.S. Classic
Alyona Shchennikova Secures Senior All-Around Title At 2017 U.S. Classic
Alyona Shchennikova from 5280 has emerged as the leader in the senior competition of the 2017 U.S. Classic, totaling a 54.95 in the all-around.
Jul 29, 2017
by Justine Kelly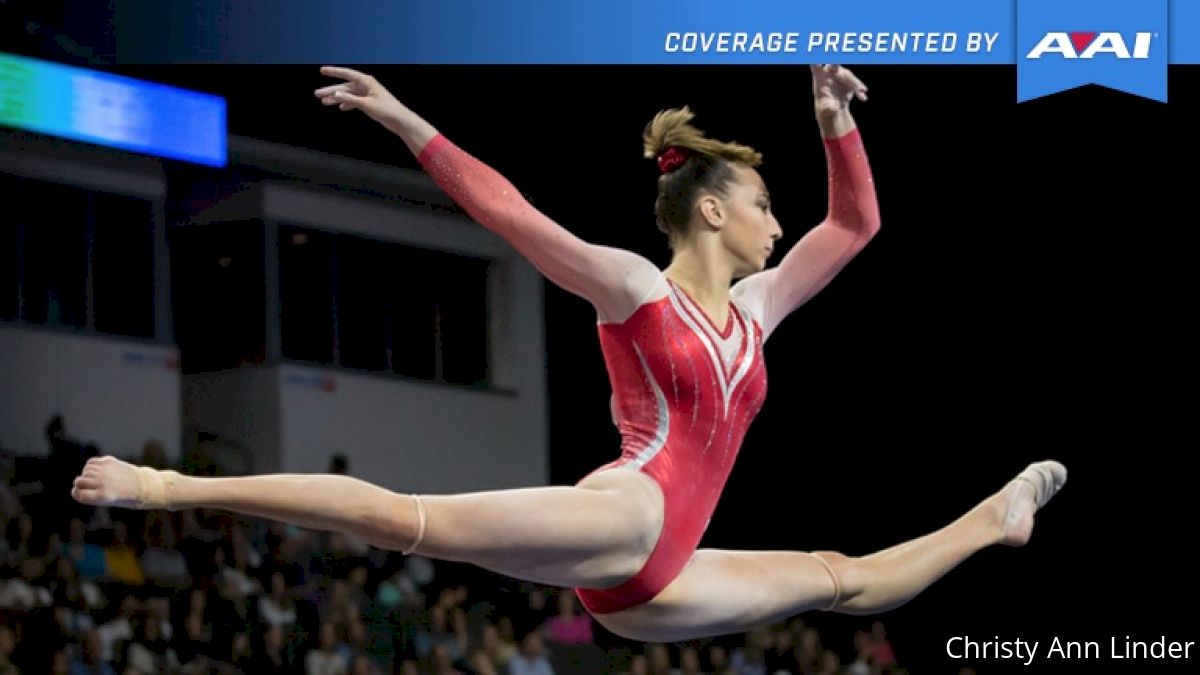 Alyona Shchennikova
from 5280 won the senior competition of the 2017 U.S. Classic after totaling a 54.95 in the all-around on Saturday in Hoffman Estates, Illinois. She was joined on the podium by
Abby Paulson
from Twin City Twisters, who finished with a 53.1, and
Kalyany Steele
(CO Aerials) and
Luisa Blanco
(WOGA), who tied for third with matching scores of 52.9.
Senior event champions include
Jade Carey
(Oasis), who won vault and floor, and
Ragan Smith
(Texas Dreams), who won bars and beam.
SENIOR SESSION RESULTS
The U.S. Classic is an important qualifying competition for juniors and seniors to earn a spot to compete at the P&G National Championships. Some gymnasts competing have already qualified through other means (such as being a member of the 2016 Olympic team or achieving the score at another international competition or at a domestic meet like the American Classic), but others are relying on this meet to qualify to Nationals. For those looking to qualify in the senior competition, all-around competitors will need a 52.0 to qualify, three-event gymnasts need a 39.75, and two-event gymnasts need a 27.0.
Check out our full recap of the competition below.
JADE CAREY SHINES ON VAULT IN ROTATION 1
One of the most anticipated performances was Carey on vault, and we got to see her right off the bat in the first rotation. She competed her signature Kasamatsu vault as her first vault, scoring a 14.35, followed by a strong Amanar that tallied the high score across all four rotations -- a 14.6. We saw a few struggles on uneven bars, including from juniors
Maile O'Keefe
and
Sunisa Lee
, typically strong competitors on this event, as well as from
Riley McCusker
, who is coming back from an injury and is not at 100 percent just yet.
Jordan Chiles
also put up a strong routine on bars for her first event of four.
Margzetta Frazier
from Parkette's put up the highest score of the rotation on bars, scoring a 13.75 for her packed routine, which included a Church to Pak salto that she almost missed her hand on. The highest score on beam went to Steele, scoring a 13.6. Her routine included a huge standing Arabian and back handspring to two layout step-outs. The highest score on floor was a tie between Paulson (who won the floor title at Jesolo) and Buckeye's
Shania Adams
.
AFTER TWO, SHCHENNIKOVA LEADS ALL-AROUND STANDINGS
The highlights in the second rotation came on uneven bars, where we saw super difficult and beautifully executed routines from Shchennikova and Smith. Smith took the highest score on bars so far in the competition with a 14.55. She competed an upgraded routine with lots of stalder work and nice connections, including a Ricna to Pak salto. Shchennikova also competed with lots of connections in her routine -- an in-bar full to in-bar shaposh to Tkatchev and a Ricna to Pak salto to stalder shaposh half.
We also saw a beautiful beam routine from junior
Adeline Kenlin
, who scored a massive 14.85 for a hit set. Her routine included a solid tumbling series of two back handsprings to layout to two feet as well as some great connections like her opening switch leap to switch half to back tuck. On the senior side,
Morgan Hurd
from First State hit a solid routine, despite a few wobbles here and there. She scored a 13.65 with a 5.5 D-score. She is capable of including even more difficulty with a full-in dismount, but she competed a double pike on Saturday. Chiles, who also competed beam in the second rotation, unfortunately had a fall that set her back in the all-around standings.
At the end of rotation two, the all-around leaders were Shchennikova in first with a 28.85,
Deanne Soza
with a 27.05, and
Emily Gaskins
with a 26.8.
SMITH WOWS ON BEAM IN ROTATION 3
Smith stole the show in the third rotation with her incredible beam routine. She was super confident on the apparatus and competed some difficult skills, including a solid standing full and back handspring to layout to two feet. She also included a few new difficult jumps -- a straddle half sideways and split half sideways. Her 6.2 D-score routine scored a 15.35 for the highest score we've seen all day by a mile. Hurd also had a strong performance on floor exercise, where her tumbling included a tucked double-double and piked full-in. Finished her evening on floor, McCusker was slightly off on one tumbling pass but pulled out a solid routine.
Shchennikova had an unfortunate fall on her dismount on beam, while Soza, who was previously in second, hit her beam routine to score a 13.65. The rankings after three rotations remained unchanged from rotation two: Shchennikova (41.7), Soza (40.7), and Gaskins (40.3).
SHCHENNIKOVA TAKES THE TITLE
In the fourth and final rotation, Shchennikova competed on floor and put up a hit routine to take the all-around title. Another strong floor routine came from Carey, who ended up taking the floor title with a 13.95 and a 5.7 D-score. Her routine included a tucked double-double to open, following by full-twisting double layout, front double full, and full-in. She showed huge difficulty on both vault and floor today and will be one to watch on those events going forward. Also on floor, we saw junior competitor
Emma Malabuyo
from Texas Dreams post a stellar routine that included a new double-layout opening pass. She scored a 14.3, which was enough to put her in first place in the all-around standings in the junior competition (totaling a 54.7), surpassing O'Keefe.
There was a shake-up in the rankings by the end of the fourth rotation, with Soza performing a watered-down floor routine and Gaskins scoring fairly low on bars, which allowed Paulson, Steele, and Blanco to advance to the podium.
Related:
2017 U.S. Classic Seniors Start List
Archived Updates: 2017 U.S. Classic Senior Competition