2017 U.S. Classic
Emma Malabuyo Takes Junior All-Around Title At 2017 U.S. Classic
Emma Malabuyo Takes Junior All-Around Title At 2017 U.S. Classic
Following two sessions of competition, Emma Malabuyo from Texas Dreams has emerged as the all-around winner in the junior competition of the 2017 U.S. Classic, scoring a 56.75.
Jul 29, 2017
by Justine Kelly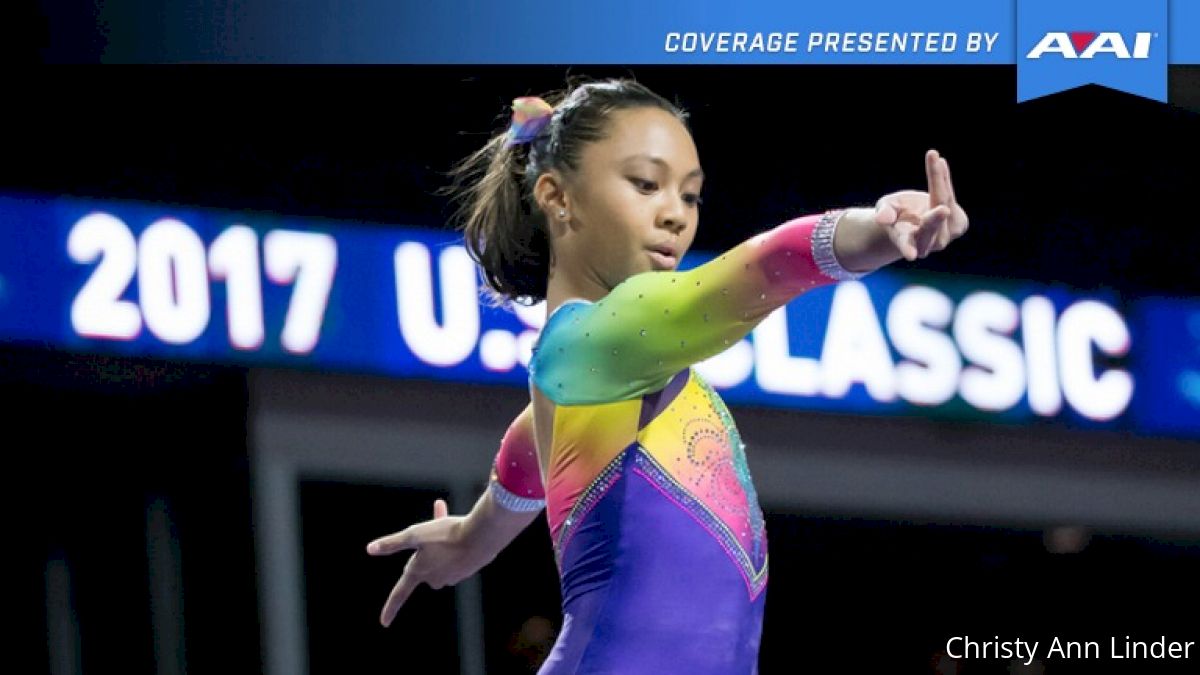 Following two sessions of competition,
Emma Malabuyo
from Texas Dreams emerged as the all-around winner in the junior competition of the 2017 U.S. Classic after scoring a 56.75 on Saturday in Hoffman Estates, Illinois. Malabuyo's score actually beat all of the senior competitors for the highest of the day. Maile O'Keefe finished as runner-up with a 54.7, and
Grace McCallum
totaled a 54.15 in third place.
The U.S. Classic is an important qualifying competition for juniors and seniors to earn a spot to compete at the P&G National Championships. Some gymnasts competing have already qualified through other means -- such as being a member of the 2016 Olympic team or achieving the score at another international competition or at a domestic meet like the American Classic -- but others are relying on this meet to qualify to nationals. Juniors looking to qualify need to attain an all-around score of 50.5 at the U.S. Classic in order to advance.
The junior competition at the U.S. Classic gave us a glance at some of the up-and-coming gymnasts in this quad, with lots of impressive gymnastics from across the country. Check out our full recap below.
LOTS OF DIFFICULTY IN ROTATION 1
In Rotation 1,
Carina Jordan
from Prattville YMCA (Alabama) led the standings with her big Yurchenko double on vault, scoring a 14.2 for the highest score on the event in the first rotation. On bars, McCallum performed a huge routine which included a Weiler kip and stuck full-twisting double-tuck dismount to score a 12.85.
Jordan Bowers
from Solid Rock (Nebraska) scored the highest in the rotation on bars with a 13.3 and showed some high difficulty on the event, competing a toe-on full to Maloney to Pak, in addition to a Van Leeuwen and piked Jaeger. Lillian Lippeatt from Cincinnati Gym achieved the highest beam score with a 13.15, and Eaker notched the highest score on floor with the same number.


AFTER TWO -- DAVIS, LITTLE, WONG TOP THE STANDINGS

At the end of the second rotation, Davis led the all-around standings with a 27.7, followed by Lauren Little with a 27.55 and GAGE's Leanne Wong with a 27.3. Wong showed off a big Yurchenko double to score the highest on vault so far in the competition with a 14.4. On bars, Little hit a solid bar routine with lots of great stalder work to score a 13.4 with a 5.4 D-score. The highest score of the rotation on bars went to Davis, who scored a 13.65 for a beautifully executed routine. McCallum continued to do well in the second rotation, putting up a strong beam routine for a 13.35. Jay Jay Marshall also competed an impressive beam routine, despite a fall on her side aerial. She demonstrated huge difficulty, totaling a 5.7 D-score, and will be one to watch going forward. Buckeye's Shilese Jones hit a powerful floor routine with a big double-double, double Arabian, double pike, and double tuck to take the highest score of the competition so far on floor -- a 13.35.


STANDINGS SHAKE UP FOLLOWING 3RD ROTATION

Davis continued her lead with a strong performance on balance beam in the third rotation. She scored a 14.1, the highest score on the event so far in the competition and had several impressive connections, including an Onodi to split jump and front aerial to ring jump. Jones moved into second place following her performance on vault, scoring a big 14.3 on her Yurchenko double. Madelyn Williams from San Mateo moved into third place after putting up a high score of 14.3 on bars, with lots of in-bar stalder work and nice connections. She connected her in-bar blind to piked Jaeger and in-bar full to Pak salto to Van Leeuwen. We also saw a fun and upbeat routine on floor from Texas Dreams' Annie Beard, who had some nice difficulty and scored a 13.4 for the highest floor score in the third rotation. Marshall was also a highlight on floor and showed some huge difficulty in her tumbling, including a full-twisting double layout, a huge piked double Arabian, a double layout (which she unfortunately rebounded on to her hands), and a 1 1/2 twist through to triple full.


MCCALLUM COMES OUT ON TOP

In the fourth and final rotation, McCallum inched her way into the rankings with an incredibly strong Yurchenko double to score a 14.65. This score moved her ahead of Davis, who performed a solid floor routine with a piked full in, double tuck, 1 1/2 twist to front layout, and back 2 1/2 twist. Eaker also put up a solid final performance for the day on balance beam, cementing her in third place with a 14.25 score. Eaker competed a beautiful switch leap mount and a great side aerial to two layouts for her series.

The highest scores on the events for the day were from McCallum on vault (14.65), Williams on bars (14.3), Eaker on beam (14.25), and Beard on floor (13.4).


JUNIORS SHINE IN SENIOR SESSION & TAKE BARS, BEAM & FLOOR TITLES

Six juniors competed in the senior session of the U.S. Classic, and Malabuyo and O'Keefe put up strong performances to finish above McCallum and claim the 1-2 spots on the podium. Malabuyo also took the floor title with a 14.3, while Gabby Perea from Legacy Elite took the bars title with a 14.5. Adeline Kenlin of IGN took the beam title with a huge 14.85.


Related:
2017 U.S. Classic Juniors Start List
Archived Updates: 2017 U.S. Classic Junior Competition
Alyona Shchennikova takes Senior All-Around Title at 2017 U.S. Classic
Archived Updates: 2017 U.S. Classic Senior Competition