Tony Gehman began his legendary coaching career back in 1979 after attending and competing at East Stroudsburg University. Since 1985, he and his wife, Paula, have been the owners of North Stars Gymnastics, located in Boonton, New Jersey.

Under Gehman and his cohesive staff, North Stars has long been one of the most dominant clubs in the nation, churning out top-level 10s and college-bound gymnasts year after year.

But after 38 years, Gehman has announced his pending plans for retirement. He told FloGymnastics that 2018 will be his final year at North Stars, and he and his wife will begin the process of selling the gym in August 2017.

Gehman will continue to coach there for one more year to see through an outstanding group of gymnasts in the 2018 season. He intends to continue coaching, doing consulting, camps, etc., but is looking forward to scaling things back.

As always, it will be a bittersweet ending for Gehman:

I will miss the preparation for and competing at the big meets as well as seeing a child turn into a young adult using gymnastics as a vessel to prosper in the world. I feel like we help a lot of children grow up in a positive yet real environment. That is truly rewarding.
FloGymnastics recently ranked the club gyms with
2017 J.O. Nationals qualifiers
and then also ranked the ones with
J.O. qualifiers committed to top 25-ranked NCAA teams
. North Stars topped both sets of rankings with an astounded group of 16 gymnasts at J.O. Nationals this year, and nine of them are committed to top 25-ranked teams.
We caught up with Gehman to get an inside look at the environment and training style that creates such ongoing success.
FloGymnastics: How did training go for the team leading up to the 2017 season and throughout the year?
Tony Gehman: This year we had quite a few "older girls" (22 juniors and seniors) along with a good crop of younger ones. The training in the preseason was excellent. There was a good dynamic and vibe during this portion of the year. During the season, we were quite healthy. We have a tremendous coaching staff and support group of therapists, choreographers, chiropractors, nutritionists, and a sports psychologist. We are all communicating to keep the girls moving forward. Keeping this many gymnasts progressing was definitely a challenge. One of the positives is that we had a lot of depth, so even if all the girls weren't in each meet, we had enough strength to usually come out on top.
Talk a little bit about the team's training style and the work ethic of the athletes:
We are all about the work and attitude. Our workouts keep moving. I don't want them standing around and talking because that is when accidents happen as well as a lack of productivity. [The gymnasts] set goals immediately after the season, and we make every effort to keep them moving in a forward direction. The summer is a very important time of the year to repeat and perfect the skills. So, even though we aren't competing, after healing, we work hard to get ready for next year.
In a nutshell, we are disciplined with a fun edge
What was it like for you to see the season end so strongly with 16 qualifiers to J.O.s -- were you expecting that?
It was very rewarding. However, I can't wait till next year, as we have some "unfinished business." I knew we had a good chance to put quite a few into J.O. Nationals this year. We were mostly busy staying focused on the preparation and trying not to look ahead. There were girls who had to do everything right to get there as well as a few others who I expected to go that didn't.
What are you most proud of when it comes to this season?
The number of girls that we positioned for college scholarships.
What do you think has been one of the keys to having so many gymnasts at your gym achieve such big success over the years?
No. 1: we have a lot of talent. Our homeschool program allows for even more girls who wouldn't normally fit in the gym. No. 2: we have a hard working knowledgeable staff that is very cohesive.
Is there something special you do that sets apart your training plan for your athletes? What makes them so impressive?
I don't think it's one thing. It's the whole package. We start with a very thought-out plan that is time-tested. Then when stuff happens--and it always does--we have a process to get them back on track.
Everyone must be on board: kids, parents coaches, support staff. We have a time-tested conditioning program that is tweaked as needed. There are requirements to make it to the level as well as make it to the season. The goal is to help each child achieve her physical and mental potential with enjoyment!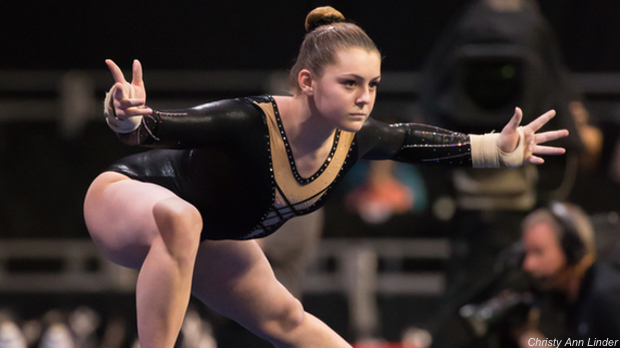 North Stars Level 10
Rachael Lukacs
tied for fourth all-around at JO Nationals in the senior D age division. She also tied for fifth on both beam and floor and came in seventh on vault. At this year's Nastia Liukin Cup, she secured the silver in the all-around in her fourth appearance at the prestigious meet. Lukacs has had a phenomenal club career under Gehman and will be entering her final year at North Stars before joining the Georgia Gym Dogs.
Lukacs told us a bit about this last season:
FloGymnastics: What is it like to have so many teammates training at such a high level?
Lukacs: It's so amazing! We are very supported of each other, and we push each other to be the best we can. It's an awesome atmosphere to be training in.
What is the energy like in the gym and at competitions with so many gymnasts from North Stars?
Leading up to meets we have pressure sets which is when we present routines at the gym. Everyone is cheering for each other and making a meet like atmosphere. At competitions, it is the same.
We cheer each other on whether we are competing in the same session or sitting in the crowd.
What was the most rewarding part about this season?
The most rewarding part of this whole season is probably spending so many great moments with my team, which is basically family. We all work so hard towards our goals not only as individuals but as a team. We have gone through a lot of injuries this season as a whole, and we just kept pushing through and getting the job done.
What are you looking forward to most about next year?
With this being my senior year, I'm excited to leave everything out on the floor this season with my team. We want to be able to leave the little gymnasts with motivation and to keep working hard as a team. Especially with Tony retiring, we want to continue his legacy.
2018 is going to be our year. The legacy never ends...
Related:
Rankings: Club Gyms With J.O. Qualifiers Committed To Top-25 NCAA Teams
Rankings: Club Gyms With The Most 2017 J.O. Nationals Qualifiers