2017 Women's NCAA Championships
Most Difficulty In The 2017 NCAA Super Six: Vault Edition
Most Difficulty In The 2017 NCAA Super Six: Vault Edition
In our fourth and final installment on the most difficulty in the 2017 NCAA Super Six, we are taking a look at vault.
May 23, 2017
by Justine Kelly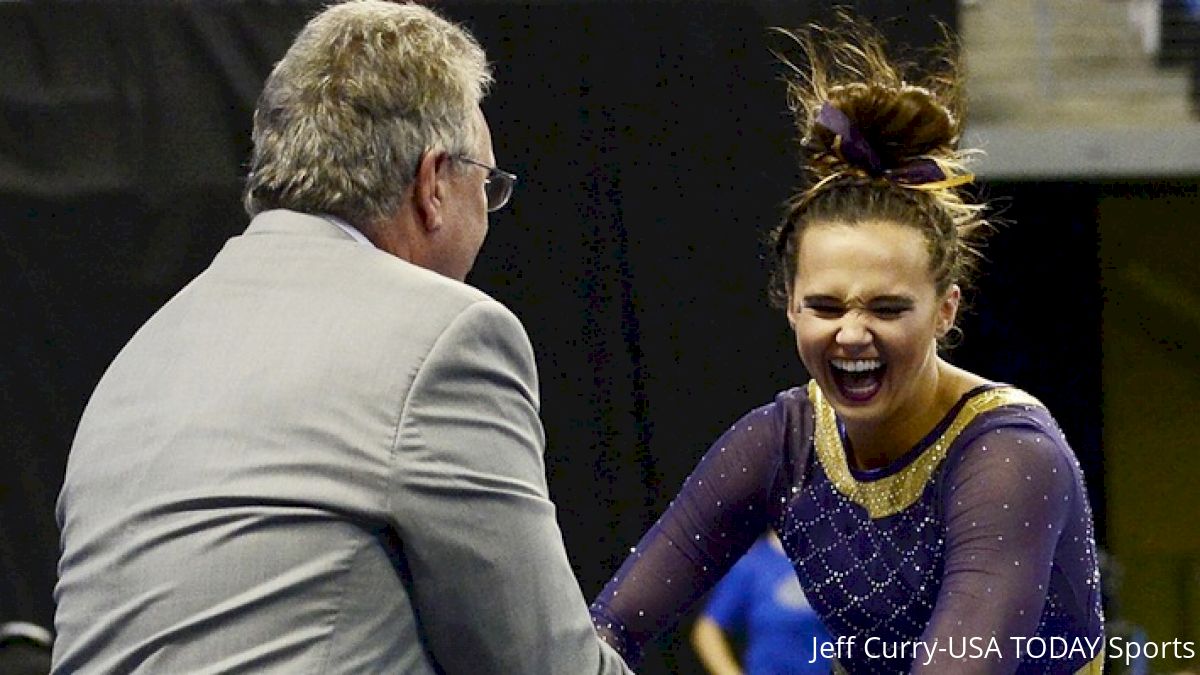 In our fourth and final installment on the most difficulty in the 2017 NCAA Super Six, we are taking a look at vault. Specifically, we're analyzing which teams had the most 10.0 start value vaults. In 2016, the Yurchenko full was devalued to a 9.95 start value, and many teams have reacted by upping the difficulty of the vaults their gymnasts compete. We have seen more Yurchenko 1 1/2s and even Yurchenko doubles. Some teams have gymnasts training more unique vaults, such as a front handspring pike-front half or Omelianchik (round-off, half turn to front pike). It's likely that, as the years goes on, we'll see less and less Yurchenko fulls as statistics show that upping the difficulty pays off in the scoring.
Check out our analysis below which ranks the difficulty on vault of the six teams that competed at the NCAA Championship Finals:
1. LSU
Five 10.0 SV Vaults

LSU takes the No. 1 spot with a total of five 10.0 SV (start value) vaults in its lineup. It's not surprising that the team was ranked No. 1 in the country on this event during the season. Senior
Ashleigh Gnat
, who was also ranked No. 1 individually on vault for the season, competed the toughest skill with a Yurchenko double full. She scored three perfect 10.0s on that vault this season.
Kennedi Edney
,
Sydney Ewing
,
Myia Hambrick
​,
and
Ruby Harrold
all competed Yurchenko 1 1/2s, while
Sarah Finnegan
competed a Yurchenko full. Out of the vaults competed at Super Six, Gnat and Harrold had the highest scores out of the lineup, both scoring a 9.8875 in competition. Check out one of Gnat's perfect 10.0 vaults from earlier in the season:
Video via LSU Tiger TV
2T. Oklahoma
Four 10.0 SV Vaults

Oklahoma is tied for second place with four 10.0 vaults in its lineup.
Jade Degouveia
,
Brenna Dowell
,
AJ Jackson
​,
and
Maggie Nichols
all competed Yurchenko 1 1/2s, while
Chayse Capps
and
Alex Marks
competed Yurchenko fulls. Nichols had the highest score out of the lineup during competition, scoring a 9.9625, followed by Jackson who scored a 9.95. Nichols placed just behind Gnat in the vault national rankings at the No. 2 spot, while her teammate Dowell placed fifth nationally. Check out Nichols' 10.0 vault from the Big 12 Championship:
2T. Florida
Four 10.0 SV Vaults

Florida tied with Oklahoma for the No. 2 spot, also having four 10.0 vaults in its lineup. Out of all the teams, the Gators certainly had the most variety in their vault lineup.
Kennedy Baker
and
Alicia Boren
both competed Yurchenko 1 1/2s.
Rachel Slocum
competed a front handspring, front-pike half off, and
Alex McMurtry
competed a Yurchenko double. McMurtry put up the highest score for her team at the competition with a 9.9375, followed by Baker with a 9.9. McMurtry and Slocum were also in the top five in the national rankings -- McMutry was No. 3 and Slocum was No. 4 in the country. Check out McMurtry's huge vault from the semifinals, where she scored a 9.975:
4. Utah
Two 10.0 SV Vaults

Utah is ranked No. 4 in our list with two 10.0 vaults --
McKayla Skinner
's Yurchenko double and
MaKenna Merrell
's Yurchenko 1 1/2. The remainder of the lineup competed Yurchenko fulls. Sophomore
Sabrina Schwab
had been competing a 10.0 vault as well -- a tucked Yurchenko 1 1/2 -- but she unfortunately got injured early in the season. Unsurprisingly, Skinner's vault received the highest score at Super Six with a 9.8875, followed by
Tiffani Lewis
​,
who scored an impressive 9.8375 on her Yurchenko full.

5T. UCLA
One 10.0 SV Vault

UCLA and Alabama tie once again for the final spot in the ranking, both having just one 10.0 vault in their lineups. In preseason, UCLA had shown many of its gymnasts training upgraded vaults, including several working on the Omelianchik; however, we did not see any of these in competition.
Pua Hall
was the only gymnast to compete a 10.0 vault at Super Six -- a Yurchenko 1 1/2, although her score was actually the second highest of the lineup.
Kyla Ross
, who competed a Yurchenko full, scored a 9.875. Ross was also the strongest performer on vault for the team all season and was ranked highest in the vault lineups at No. 19. Check out Ross nail her Yurchenko full in training for NCAA Championships:
5T. Alabama
One 10.0 SV Vault

Alabama's lineup also had only one 10.0 vault, which came from
Nickie Guerrero
, who competed a Yurchenko 1 1/2. At Super Six, Guerrero actually tied with
Abby Armbrecht
and
Katie Bailey
for the highest score in the lineup -- a 9.85. Armbrecht competes a Yurchenko full, while Bailey competes a Yurchenko half. Bailey is also ranked highest for the team on vault nationally at No. 23. Her high score of the season was a 9.925 -- almost perfect.
Related:
Most Difficulty in the 2017 NCAA Super Six: Floor Exercise Edition
Most Difficulty In The 2017 NCAA Super Six: Balance Beam Edition
Most Difficulty In The 2017 NCAA Super Six: Uneven Bars Edition