Morgan Hurd On The Rise With 2020 Olympics In Sight
Morgan Hurd On The Rise With 2020 Olympics In Sight
When Morgan Hurd steps onto the mat for the first time at the 2020 Olympics in Japan, you can rest assured the moment won't be too big for her.
May 10, 2017
by FloGymnastics Admin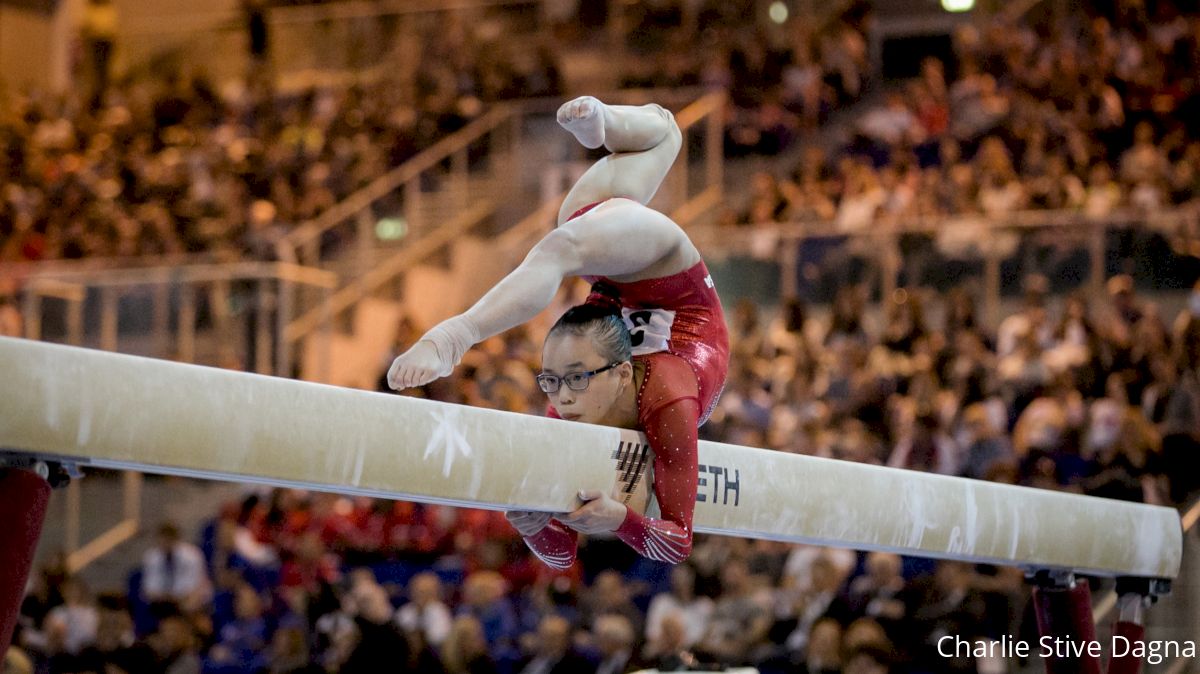 BY STORMS REBACK
When Morgan Hurd steps onto the mat for the first time at the 2020 Olympics in Japan, you can rest assured the moment won't be too big for her.
What's that you say? The members of the U.S. women's gymnastics team won't be picked for three more years, and out of the thousands of talented girls competing for the six open positions (four team members plus two individual gymnasts) Morgan is hardly a lock?
While that's all true, the rapidly ascending trajectory of Morgan's gymnastics career has already placed her on the short list of Olympic hopefuls, and if you doubt for even a second that she doesn't have the talent and dedication needed to make the team, you obviously don't know Morgan Hurd.
Morgan Comes in Every Day Ready to Work
Like many elite gymnasts, Morgan was introduced to the sport at an early age. Her mom Sherri, who adopted Morgan from Wuzhou, China, when Morgan was a toddler, enrolled her in recreational classes when she was 3.
"I was just trying to get her involved in things to see what she liked," Sherri said. "We tried ice skating, T-ball, soccer, but she kept coming back to gymnastics. Because Morgan was small in comparison to other kids her age, I found that she could do well at it. When she played soccer, she tried her best, but the kids were all bigger than she was, so she had a hard time getting her foot on the ball."
Morgan's always been tiny. Even now at the age of 15, she's only 4-foot-5, maybe 4-6 with shoes on. "I have friends who are three years younger than me," she said, "and they're taller than me."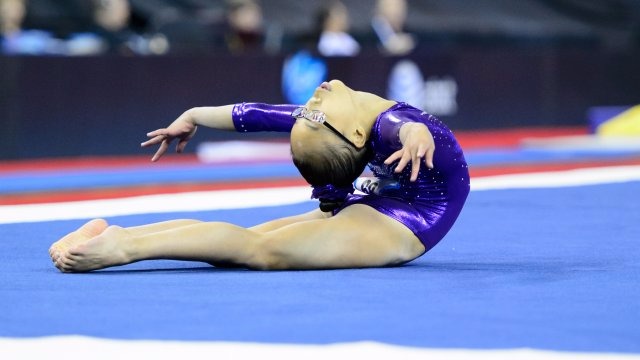 But, in accord with her personality -- determined, efficient, positive -- Morgan has never seen her size as any sort of obstacle to be overcome. In fact, she's always considered it an advantage because, when combined with her extreme flexibility, she can accomplish things in the gym that taller, less talented girls simply can't imagine doing.
When Sherri transferred Morgan to First State Gymnastics in Newark, Delaware when Morgan was 6, her new coaches Slava Glazounov and Cleo Washington were of the same mind. "She was tiny and very competitive," Slava said. "She was also extremely flexible. Morgan is very quick. This makes learning and performing certain skills easier. It also makes it a bit easier to maintain the level of fitness required at this level."
Slava invited Morgan to join the pre-team at First State Gymnastics, and it was here that she began to separate herself from her peers, thanks to her famed work ethic.
"From a young age, Morgan has been such a hard worker, taking at least twice as many turns as her teammates," Slava said. "You can tell she wants it. Morgan comes in every day ready to work."
When asked about Morgan's rapid rise in the gymnastics world, Sherri pointed to her daughter's tenacity. "She's determined," Sherri said. "She always learned things kind of easily. Then as the skills got more difficult and it took more time to learn them, that was frustrating to her at first. She can get frustrated, but she gets back up and does it again. I don't know where that determination comes from. I think it's one of those things that comes from inside. She has a vision about what she wants to do and she knows she has to put in the work to do it. She sacrifices a lot."
The Morganizer
In many ways, Morgan is just like any other 15-year-old. "She likes to hang out with her friends," Sherri said. "She likes to go to the mall. She likes to go shopping. She loves to read. She likes to watch Netflix and relax."

Those looking to gain a little more insight into Morgan's personality should take a closer look at the decisions she made when she was a Level 5 gymnast in 2011. To put in the work necessary to advance as a gymnast, Morgan streamlined nearly every aspect of her life. Efficiency and organization became paramount.

To that end, she started homeschooling in sixth grade. She also committed to wearing her glasses even while she was training or competing in meets. "I tried contacts," she explained, "but they made my eyeballs dry, and when I got stuff in my eyes, I had to take them out and put them back in." Rather than waste a couple minutes of practice time fiddling with contacts, Morgan chose to attach her glasses to the back of her head with a neoprene strap and move on.

This sort of hyper-efficiency carried over to every aspect of her life. "When she was first on a team, some of the practices were from 6 to 9 at night," Sherri said. "She learned to budget her time after school to get her homework done so she wouldn't have to do it after she got home from practice."

Morgan's streamlined existence paid dividends in 2011, when she earned gold medals on vault, uneven bars, floor exercise, and in the all-around at the Delaware State Championships and finished second on vault, third on uneven bars, and fifth in the all-around at the USA Open Championships.

"I always knew when I was younger that I wanted to get somewhere big," Morgan said when talking about that pivotal juncture in her life, "but I really started to think about it around Level 5."
Developmental Leaps
As part of USA Gymnastics' TOPs program, Morgan started training one weekend every two months at the Karolyi Ranch in Huntsville, Texas, which kick-started a developmental leap for her. After participating in a move-up meet in 2012, she skipped Levels 6 and 7 and started competing as a Level 8 gymnast. Continuing to rapidly progress through the ranks, Morgan became a Level 10 gymnast just two years later.
Earning gold medals on uneven bars, balance beam, floor exercise, and in the all-around at the 2014 Magical Classic, Morgan qualified for the Nastia Liukin Cup, which at that point was the biggest meet of her career. "It made me a little nervous because it was my first time [on television]," she said, "but I was able to block it out pretty well. I take really deep breaths and remember to focus on what's going on." Competing against some of the top junior gymnasts in the country, Morgan placed 14th in the all-around.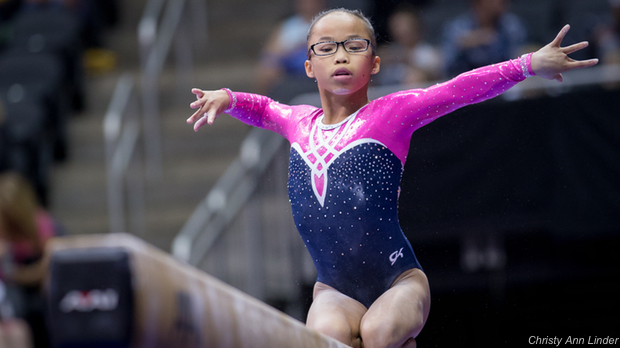 That same year, she qualified to compete at all of the most important national meets, finishing eighth in the all-around at the American Classic, 18th in the all-around at the Secret Classic, and 29th in the all-around at the P&G Championships.
As impressive as Morgan's progress up to this point was, the developmental leap she enjoyed from 2014 to 2015 was especially notable. At the 2015 American Classic, she finished fifth on floor exercise, second on balance beam, first on uneven bars, and third in the all-around. At the Secret Classic, she finished second on uneven bars and ninth in the all-around. And at the P&G Championships, she finished fourth on uneven bars, seventh on floor exercise, and eighth in the all-around.
"I came into the gym every day with goals I wanted to achieve," Morgan said, "and my coaches always push me to do my best. They always know exactly what I need because we've been working together for so long."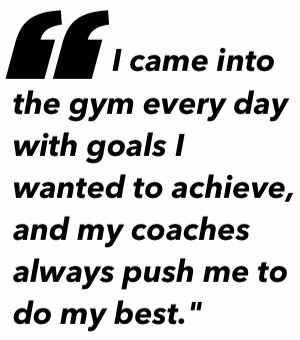 Patient Approach
One of the keys to Morgan's rapid advancement is that her coaches not only know when to push her but also when
not
to push her. They've been very patient with Morgan, working on her form and execution instead of pressing her to perform every difficult skill in her repertoire at competitions as soon as she can do them in practice. Such an approach values long-term success over short-term results and bodes well for her future.
"In a way, Morgan dictates her progression," Slava said. "On the days she is feeling good, we push a little harder. On days where she's feeling off, we back off. We have a general vision of where we would like to be, but it is our goal to get there with proper technique and safety in mind."
Case in point: First State Gymnastics will occasionally post on its Facebook page footage of Morgan nailing a routine in practice long before she ever attempts to do it at a meet. Morgan is upgrading all the time, but, following her coaches' advice, she prefers to hone her new routines in practice until she's ready to show them off in competition.
"Some of the skills can take a few months up to a year to perfect," Sherri said. "She works on skills way before she'll ever use them. Certain things she's learning this year, she may not use in competition for another year or so. The hardest move she ever learned was the Tkatchev on the bars. That took about eight months."
Some of the upgrades Morgan has spent so much time perfecting helped her deliver a masterful performance at the 2016 American Classic. Unveiling a full-in dismount off the balance beam and a double twisting double back off the uneven bars, she finished fifth on the balance beam and second on the uneven bars (as well as fourth on vault and floor exercise) to win the all-around title in the junior division.
At that year's Secret Classic, she finished ninth on vault, second on uneven bars, first on floor exercise, and fifth in the all-around and arrived at the P&G Championships with all the confidence in the world. There she displayed an unusual amount of grit and poise for someone her age after she fell once on the first day and once again the second day. "She recovers from adversity pretty quickly," Slava said. "It motivates her to work even harder."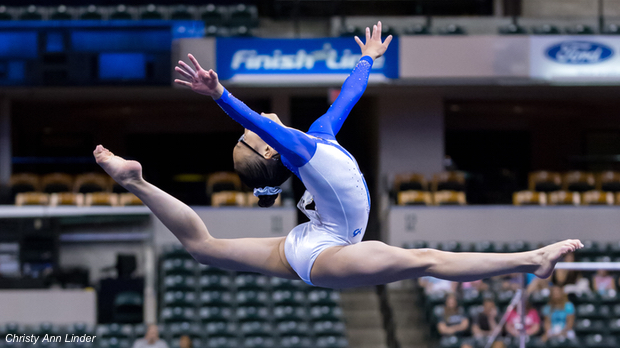 By finishing third on uneven bars and fifth in the all-around at the P&G Championships, Morgan made the U.S. women's junior national team. After achieving one of the biggest goals of her gymnastics career, she immediately set her sights on several others: earning a spot on the senior national team and acquiring some international experience.
Tokyo or Bust
Like every young gymnast who's ever done a tumbling pass, Morgan began dreaming about competing in the Olympics when she was just a little girl. "I started to think about it at a really young age," she said, "but it didn't become serious until a few years ago. I definitely thought about being there last year, but I'm glad I was too young because it gave me more time to develop my gymnastics."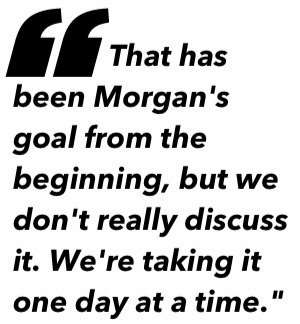 Just as he's done with Morgan's fundamentals, Slava has taken the long view when it comes to her Olympic dreams. "That has been Morgan's goal from the beginning," he said, "but we don't really discuss it. We're taking it one day at a time."
At the start of 2016, Morgan verbally committed to attend the University of Florida after she graduates from high school in the spring of 2019, but she'll likely be deferring her first year of college to continue training elite and keep her Olympic dream alive.
Heading into 2017, the next step along the road to Tokyo for Morgan was getting an international assignment. It happened sooner than anyone could have imagined when she was selected at the national team training camp in February to compete at the Stuttgart World Cup in March.
As if making her international debut wasn't intense enough, Morgan also competed solo instead of with a team, but that didn't seem to bother her. "It wasn't too strange because I was used to competing alone," she said. "I've competed alone at many competitions since I was little."
After finishing third in the all-around at Stuttgart, Morgan was invited to compete at the City of Jesolo Trophy, where she helped the U.S. team win gold. "It was very exciting for her to be on the podium with the team," Sherri said. "That's the first time she's had that kind of experience."
Morgan's trip to Jesolo was only slightly tarnished by the fact that, somewhat shockingly, she fell off the bars, which has always been her strongest event. As you would expect, she's been working hard ever since to lessen the chances of it ever happening again. "Since they came back from Italy, they've had two practices a day for the last two weeks," Sherri said, "and she hasn't fallen off the bars once. You get back up and you get to the gym and you work it out. The more she does something, the more confident she gets."
With a little break between now and the American Classic, Morgan has time to hone her routines and perhaps work on a few upgrades. Earlier this month, First State Gymnastics posted a video of Morgan performing a double twisting double layout in practice, an upgrade from the double twisting double back she's previously done, and at the most recent national team training camp at the Karolyi Ranch she finished second in the all-around.
Having already attained the objectives she made for herself at the beginning of the year, Morgan is now free to create more. "My goals are to have a really good showing at P&Gs, like top three, and to potentially make the worlds team," she said.
Given her laser-like focus, Morgan has perfected the art of thinking about what's most important to her and shunting everything else to the side. When asked to look even further down the road at what life after gymnastics might look like, she fairly laughed at the idea. "I'm just focused on gymnastics right now," she said.
With that sort of attitude, 2020 must seem like a lifetime away. But while she might not be thinking about securing hotel reservations in Tokyo for her mom just yet, we feel confident she'll be doing so soon enough.