2017 City of Jesolo Trophy
USA Gymnastics Announces Final Roster For 2017 City Of Jesolo Trophy
USA Gymnastics Announces Final Roster For 2017 City Of Jesolo Trophy
USA Gymnastics has confirmed the athletes who will be headed to Jesolo, Italy for the 2017 City of Jesolo Trophy. FloGymnastics will be LIVE-streaming the event April 1-2.
Mar 26, 2017
by Rebecca Johnson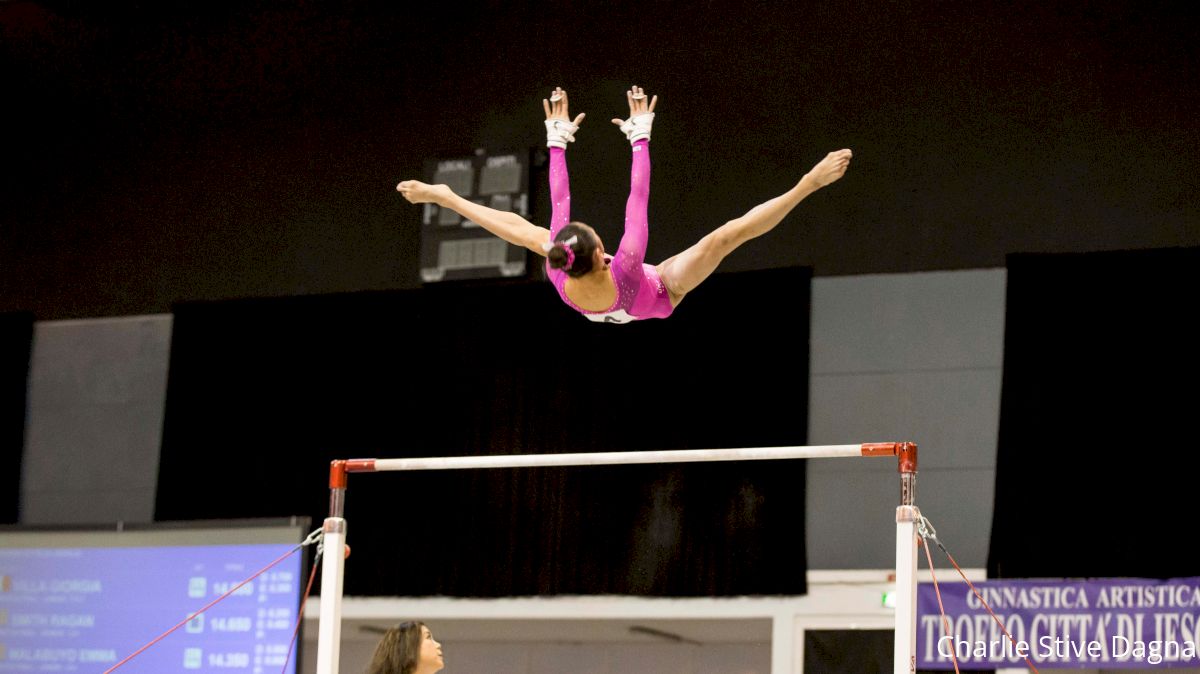 USA Gymnastics has confirmed the athletes who will be headed to Jesolo, Italy, for the 2017 City of Jesolo Trophy on April 1-2. FloGymnastics will be
LIVE-streaming
the event as well as providing archived coverage of training prior to the meet, beginning March 29.
The final roster includes 12 athletes who were selected at the March National Team Training Camp at the Karolyi Ranch, which began on March 22 and will wrap up March 26.
The
nominative roster
listed 14 athletes and included
Jordan Chiles
,
Jade Carey
, and
Sunisa Lee
,
​
who are no longer on the roster.
Victoria Nguyen
has been added to the final roster.
See the complete roster below:


Seniors
Riley McCusker, MG Elite
Morgan Hurd, First State
Trinity Thomas, Prestige
Ashton Locklear, Everest
Alyona Shchennikova, 5280 Gymnastics
Abby Paulson, Twin City Twisters
Victoria Nguyen
,
Chow's Gymnastics
Juniors
Maile O'Keefe, Salcianu'sEmma Malabuyo, Texas DreamsGabby Perea, Legacy EliteAdeline Kenlin, Iowa Gym-NestOlivia Dunne, ENA Paramus
Following verifications at camp, Nguyen, Paulson, and Shchennikova have been added to the senior national team while Kenlin and Dunne were added to the junior team.
The City of Jesolo Trophy will serve as the international debuts for Shchennikova, Paulson, Kenlin, and Dunne. Out of the seven seniors, Locklear is the only athlete with international experience at the senior elite level prior to 2017. There are five first-year seniors on the list, with only Locklear and Paulson competing at the senior level last year.
On the juniors side, O'Keefe, Malabuyo, and Perea are coming off of a gold medal-winning team performance at the 2017 International Gymnix. O'Keefe took the all-around title, Malabuyo won vault, and Perea won bars, beam, and floor at this competition.
Watch our exclusive video coverage from Gymnix here
.
[instagram url="https://www.instagram.com/p/BSFQdYHhga2/?taken-by=kimzb" hide_caption="0"]
Ragan Smith
is notably missing from the roster and just recently won gold all-around at the American Cup. Coach
Kim Zmeskal Burdette stated in an interview
with us at Gymnix that they would be looking to give Smith a rest after going nonstop since the spring of 2016. She participated in the Jesolo selection camp but did not verify full routines for selection.
Related:
FloGymnastics To Provide Exclusive Coverage Of 2017 City Of Jesolo Trophy
USA Names 14 To Roster For 2017 City Of Jesolo Trophy

Complete Roster: March Women's National Team Training Camp
---
How To Watch
Video coverage from the 2017 City of Jesolo Trophy will be available to all FloPRO members. FloPRO members also have access to our other live events and archived videos, original FloFilm documentaries, and technique and training videos.
ON TV:
Now available on Roku and Apple TV 4
STREAMING:
Available on FloGymnastics.com
Must be a FloPRO subscriber:
$19.97 monthly or $147 yearly. A yearly FloPRO subscription provides access to ALL FloSports sites.
SIGN UP HERE
.
Archived Competition Footage
During the week and weekend, archived videos will be stored in a video library for FloPRO subscribers to watch for the duration of their subscription. Note: archived videos of floor routines will not have audio due to music rights.
Join The Conversation On Social

• Follow us on
Facebook
• Follow us on
Instagram
• Follow us on
Twitter
Stay up-to-date in the gymnastics world!
Sign up below for the FloGymnastics Newsletter and get updates on news, videos, results, rankings, live events, and more.