2017 City of Jesolo Trophy
New Stars Looking To Make A Mark At Jesolo 2017
New Stars Looking To Make A Mark At Jesolo 2017
The City of Jesolo Trophy is perhaps the most significant international team competition of the early elite season.
Mar 24, 2017
by Justine Kelly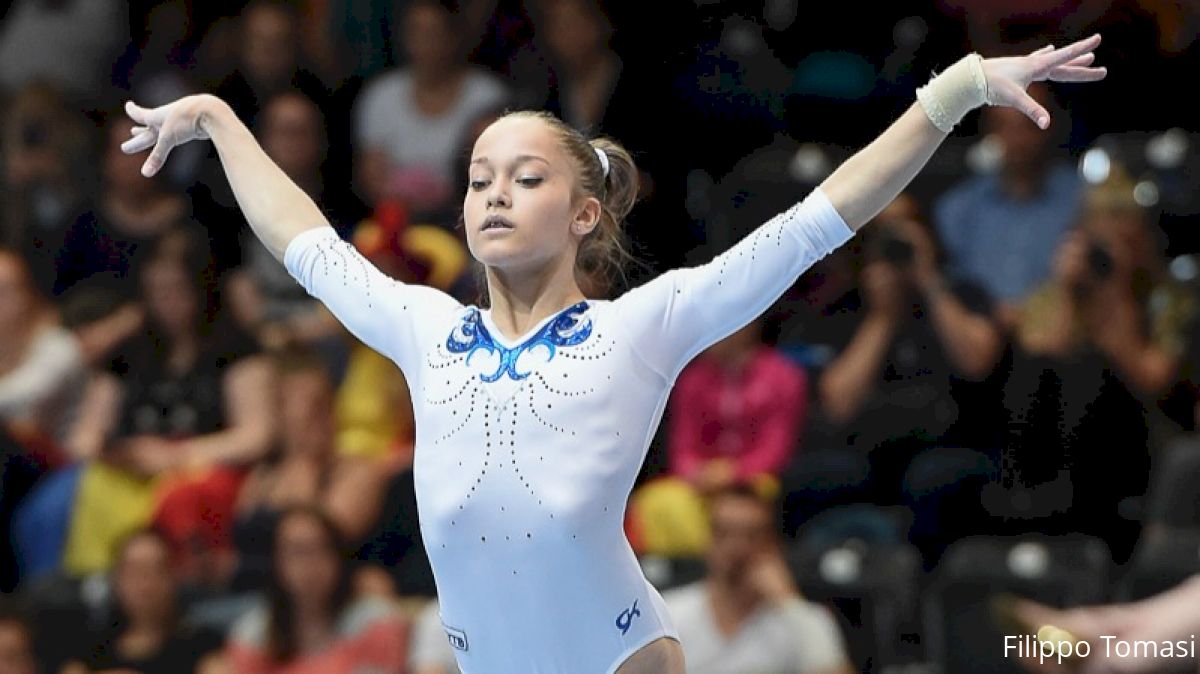 Some of the world's top elite gymnasts are set to begin their journeys to Tokyo 2020 at the
City of Jesolo Trophy
on April 1-2 in Jesolo, Italy. It is particularly interesting to see this competition in the year after an Olympic Games, because it showcases some of the new faces on the block -- the up-and-coming stars who we can look forward to watching progress for the next four years.

Watch the 2017 City of Jesolo Trophy LIVE on FloGymnastics on April 1-2Simone Biles
was a first-year senior in 2013 and won the all-around title in Jesolo. Interestingly, none of the remaining members of the Final Five were at this competition. By comparison, Italy had four gymnasts who competed at Jesolo 2013 and went on to compete in Rio as well --
Vanessa Ferrari
,
Erica Fasana
, ​
Martina Rizzelli​
, and
Elisa Meneghini​.
In addition to many Olympians and seasoned competitors who will be in Jesolo this year, we'll also get a look at some of the rising stars in this quad. From Team Canada,
Jade Chrobok
will be one to watch. Chrobok is a first-year senior and made a splash at Elite Canada this year when she won the all-around with a 52.917, over a point ahead of the second-place competitor. Chrobok was also a member of the gold medal-winning team at International Gymnix, taking second all-around and second in the beam final for this lovely set:
Another gymnast we can look forward to seeing is
Axelle Klinckaert
of Belgium. Klinckaert was actually due to compete for the team in Rio but had to withdraw due to an injury. She is a promising gymnast, especially on floor, where she has difficult tumbling and incredibly expressive choreography. Check out her routine below from the Rio test event last year:
Video via FIG Channel
Elena Eremina
from the Russian team will also be a top competitor. She is a first-year senior and previously won the junior European all-around championship in 2016. Of particular note is her uneven bars routine, where she competes a Nabieva connected directly into a Pak salto as well as a laid-out Jaeger later in her routine.
As a first-year senior,
Thais Fidelis
was not a member of Brazil's 2016 Rio team but showed some impressive skills at the Brazilian Championships in November. On beam, she competes a back-handspring to Arabian -- in addition to a back-handspring, layout step-out, layout step-out -- and she has difficult tumbling on floor.
More confirmed rosters are still to come from the USA, Japan, France, and Australia, but so far it seems we're in store for some impressive gymnastics this year.
Related:
Top Canadian Elites Head To 2017 City Of Jesolo Trophy
USA Names 14 To Roster For 2017 City Of Jesolo Trophy
Russia Names Top Elites To 2017 City of Jesolo Trophy Team
FloGymnastics to Provide Exclusive Coverage of 2017 City of Jesolo Trophy
How To Watch
Video coverage from the 2017 City of Jesolo Trophy will be available to all FloPRO members. FloPRO members also have access to our other live events and archived videos, original FloFilm documentaries, and technique and training videos.
ON TV:
Now available on Roku and Apple TV 4
STREAMING:
Available on FloGymnastics.com
Must be a FloPRO subscriber:
$19.97 monthly or $147 yearly. A yearly FloPRO subscription provides access to ALL FloSports sites.
SIGN UP HERE
.
Archived Competition Footage
During the week and weekend, archived videos will be stored in a video library for FloPRO subscribers to watch for the duration of their subscription. Note: archived videos of floor routines will not have audio due to music rights.
Join The Conversation On Social

• Follow us on
Facebook
• Follow us on
Instagram
• Follow us on
Twitter
Stay up-to-date in the gymnastics world!
Sign up below for the FloGymnastics Newsletter and get updates on news, videos, results, rankings, live events, and more.