2016 Rio de Janeiro Olympic Games
Preview: Rio 2016 Women's Floor Final
Preview: Rio 2016 Women's Floor Final
The women's floor exercise final will take place on Tuesday, August 16, at 1:00PM EST, along with the men's parallel bars final and men's high bar final. Si
Aug 16, 2016
by Justine Kelly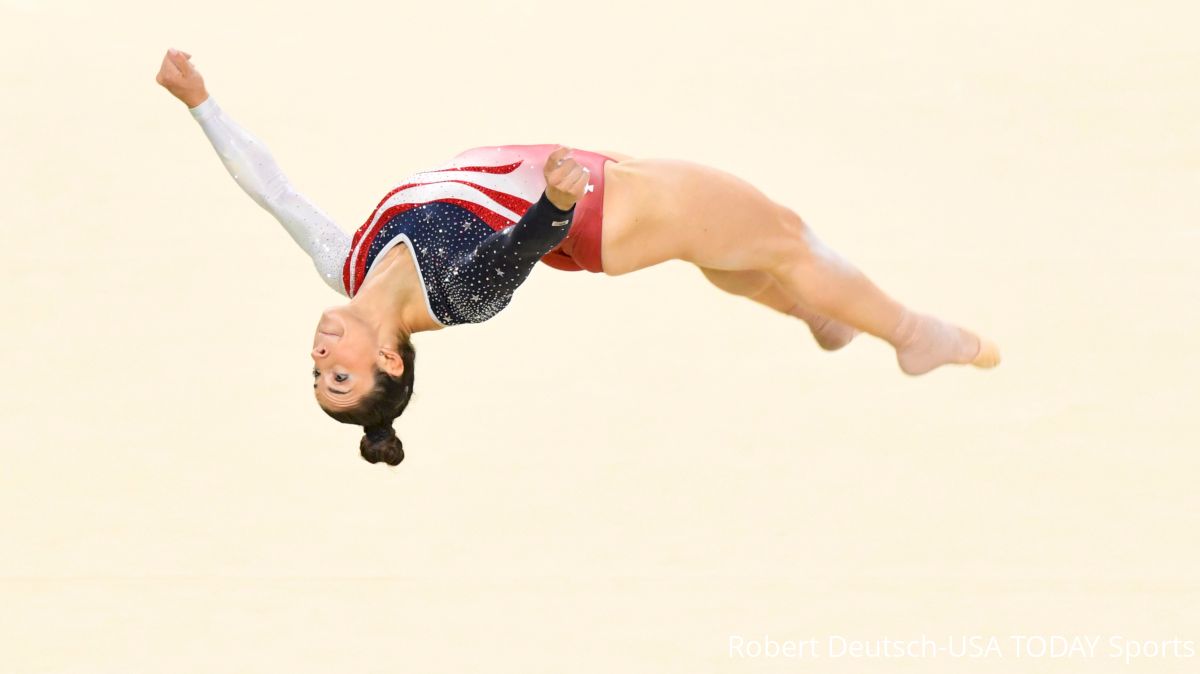 The women's floor exercise final will take place on Tuesday, August 16, at 1:00PM EST, along with the men's parallel bars final and men's high bar final. Six countries will be represented in the floor final with the top eight qualifiers competing.
The floor exercise podium at the Olympics has been dominated by a small number of countries, including Romania. But this year is different—for the first time since 1972, and after having medaled at the last 10 Olympics, Romania has not qualified a gymnast into the floor final.
Although it's unfortunate, it opened up the field for some newcomers. Great Britain has never qualified a gymnast to a floor final, and
Amy Tinkler
qualified in sixth with a 14.6. Tinkler is the reigning British champion on the floor exercise, and she also helped her country to a bronze medal finish at the 2015 World Championships.
Another newcomer is Switzerland's
Giulia Steingruber
, who competed at the 2012 Olympics, but did not qualify to any finals. The last time a Swiss gymnast made it into the floor final was in 1984, and Steingruber just became the first Swiss female gymnast to win an Olympic medal in any event when she won the bronze on vault this year. She qualified into fourth place in the floor final with a 14.666, and is the reigning European champion on the event, so she has a good shot at a medal this year.
Two countries qualified two gymnasts into the final. Team USA's
Simone Biles
and
Aly Raisman
are favorites to go 1-2 in this final, and they qualified into the top two spots. Biles scored a 15.733 in qualifications and has the highest difficulty on floor, and Raisman qualified just behind her with a 15.275. Both gymnasts have enjoyed international success on floor. Biles is a three-time world champion on the event, and Raisman is a world bronze medalist and Olympic gold medalist.
Italy is the other country that qualified two gymnasts into the final:
Vanessa Ferrari
and
Erika Fasana
. Ferrari qualified into third place with an impressive 14.866. Ten years ago, she won the bronze medal at the World Championships in Aarhus on this event, and also won the silver medal at Worlds in Antwerp in 2013. In addition to her success on the world stage, Ferrari won four medals at the European Championships on floor: two golds from 2007 and 2014, and two silvers from 2006 and 2009. Her teammate, Fasana, qualified into eighth place, and also competed for Italy at the 2012 Olympics alongside Ferrari.
Other gymnasts to look out for in this final are China's
Wang Yan
, who qualified in fifth place with a 14.666, and Japan's
Mai Murakami
, who qualified in seventh place with a 14.566.
To see how the gymnasts compare on difficulty and execution, check out our ranking below of their scores from qualifications.
Highest Difficulty Scores:
1. Simone Biles (USA): 6.8
2. Aly Raisman (USA): 6.6
3. (T) Wang Yan (CHN): 6.3
3. (T) Amy Tinkler (GBR): 6.3
4. (T) Vanessa Ferrari (ITA): 6.2
4. (T) Giulia Steingruber (SUI): 6.2
4. (T) Mai Murakami (JPN): 6.2
5. Erika Fasana (ITA): 6.1
Highest Execution Scores:
1. Simone Biles (USA): 8.933
2. Aly Raisman (USA): 8.675
3. Vanessa Ferrari (ITA): 8.666
4. Giulia Steingruber (SUI): 8.466
5. (T) Wang Yan (CHN): 8.366
5. (T) Mai Murakami (JPN): 8.366
6. Amy Tinkler (GBR): 8.3
7. Erika Fasana (ITA): 8.233
Related:
Women's Finalists at the 2016 Rio Olympics
Results: Women's Event Finals - 2016 Rio Olympics