2016 Rio de Janeiro Olympic Games
Preview: Rio 2016 Women's Uneven Bars Final
Preview: Rio 2016 Women's Uneven Bars Final
The Women's Uneven Bars Final will be one of the tightest races at the top, with the top eight qualifiers making a run for the gold, silver and bronze medal
Aug 14, 2016
by Justine Kelly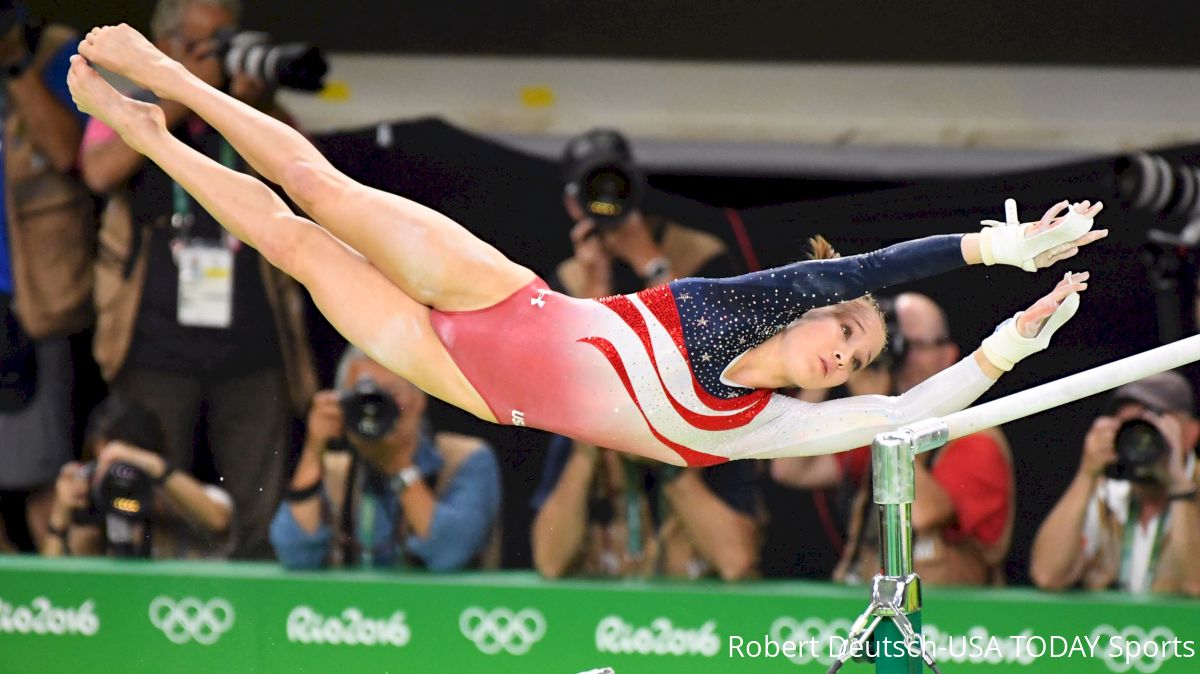 The Women's Uneven Bars Final will be one of the tightest races at the top, with the top eight qualifiers making a run for the gold, silver and bronze medals. To give you an idea of just how close this race will be, the qualifying round ended with the top four gymnasts finishing only 0.183 apart. Unlike every other event final, all top eight gymnasts finished with scores above 15.0, demonstrating just how strong this field is.
Qualifying in top place was USA's
Madison Kocian
, one of the four reigning World Champions on the event. Kocian has high difficulty and is known for almost always hitting all her connections and sticking her dismount. Her challenge going into the final is going to be on execution, and making sure her routine is as clean as it can possibly be to compete with the other top gymnasts, particularly those from Russia. Russian gymnasts
Aliya Mustafina
and
Daria Spiridonova
also finished in the top four in qualifications, and both already have a lot of previous success on this event. Mustafina is the reigning Olympic Champion from 2012, and she also has a World silver medal on the event from 2010 and a World bronze medal from 2013 in her collection. On the European stage, she has four medals from European Championships: a gold from 2013, two silvers from 2010 and 2014, and a bronze from 2016.
Mustafina's teammate, Spiridonova, has also enjoyed international success on bars. She is another one of the World gold medalists from 2015, and she won a World bronze on the event in 2014. At European Championships this year, she actually beat Mustafina to win the silver medal. She won the gold in 2015, and a bronze in 2014.
USA's
Gabby Douglas
is also in the mix, qualifying in 3rd place, thanks mostly to her incredible execution. Douglas had the top execution score on bars in qualifications at a 9.266, which helped make up for her slightly lower D-score as compared to her competitors. Despite Douglas's many successes over the years, she has never won a major medal on the uneven bars, so she will be working hard to get in medal contention.
Germany's
Elisabeth Seitz
and
Sophie Scheder
qualified into 5th and 6th place, respectively. Both gymnasts have very impressive and high difficulty routines. Seitz is a 5x German National Champion on uneven bars and even has a skill named after her on the event. Scheder enjoyed some recent success at the 2015 European Games in Baku, when she won the silver medal on bars. Both women will be looking to make history by going for a medal in this final, since no gymnast has won an Olympic medal on the event from Germany in its current form.
Dagmar Kersten
was the last to win from East Germany when she won a silver in 1988.
Qualifying into 7th is veteran
Jessica Lopez
from Venezuela, the sole competitor from her country. Lopez competed at both the 2008 and 2012 Olympics, in addition to competing for the University of Denver in NCAA. Lastly, China's
Shang Chunsong
qualified into 8th place. Shang has been a top competitor for the Chinese team during this quadrennium and competed for the silver-medal winning teams at the 2014 and 2015 World Championships.
Check out our breakdown below of these competitors and how they compared on difficulty and execution in qualifications.
Highest Difficulty:
1. Aliya Mustafina (RUS): 6.8
2. (T) Madison Kocian (USA): 6.7
2. (T) Daria Spiridonova (RUS): 6.7
2. (T) Shang Chunsong (CHN): 6.7
3. (T) Elisabeth Seitz (GER): 6.6
3. (T) Sophie Scheder (GER): 6.6
4. Gabby Douglas (USA): 6.5
5. Jessica Lopez (VEN): 6.4
Highest Execution:
1. Gabby Douglas (USA): 9.266
2. Madison Kocian (USA): 9.166
3. Aliya Mustafina (RUS): 9.033
4. Daria Spiridonova (RUS): 8.983
5. Jessica Lopez (VEN): 8.933
6. Elisabeth Seitz (GER): 8.866
7. Sophie Scheder (GER): 8.833
8. Shang Chunsong (CHN): 8.6
Related:
Preview: Rio 2016 Women's Vault Final
Women's Finals Qualifiers