The Gymnastics Kitchen - Betsy's Favorite Summer Recipes
The Gymnastics Kitchen - Betsy's Favorite Summer Recipes
By Betsy McNally-LaouarSummer is here and there is no better time than now to take advantage of the fresh fruit and vegetables in our grocery stores. Gymnas
Jul 29, 2016
by Rebecca Johnson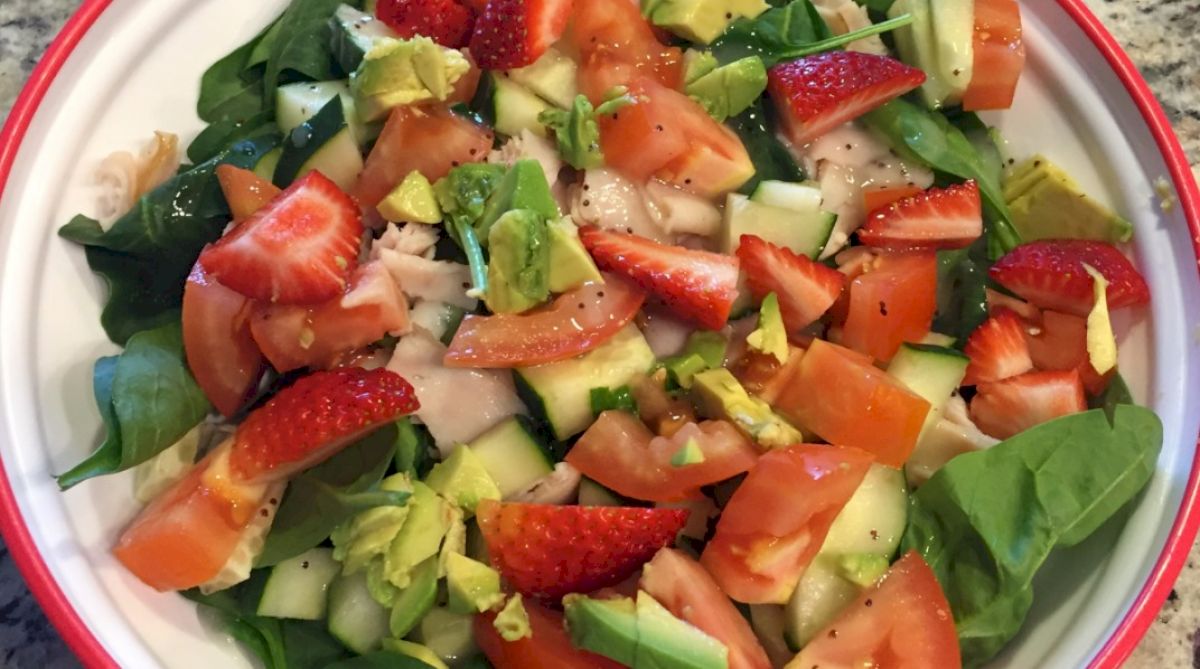 By Betsy McNally-Laouar
Summer is here and there is no better time than now to take advantage of the fresh fruit and vegetables in our grocery stores. Gymnasts need adequate lean protein and lots of vitamin-rich fruits, veggies and complex carbohydrates to get them through their workouts. Here are some of my own summer favorite recipes for healthy families to enjoy.
Note: The following are individual portions, you will need to double or triple the recipes to feed multiple people.

Power Protein and Fruit Parfait
1 cup honeydew or cantaloupe cut into small cubes. Add 1/2 cup kiwi slices. Mix into ½ cup low fat plain Greek yogurt. Sprinkle with 2 tbs crushed pecans and 2 tbs coconut shreds.
Summer Turkey Salad
3 cups of mixed green salad, Add 4 ounces of low-sodium turkey, chop up 1 cup red, yellow and green peppers. 2 tbs feta cheese or goat cheese and 1 tbs apple cider vinegar and 1 tbs olive oil. Toss well.
Fruit and Veggie Kabobs On The Grill
Pre-soak 6-8 skewers in water for 10 minutes. Slice red bell peppers, a purple onion, mushrooms, zucchini, and pineapple chunks and alternate on the skewer. Make a marinade with ¼ cup olive oil, 1 teaspoon fresh basil, 1 teaspoon of salt, 1 teaspoon of pepper, and 1 clove of fresh garlic chopped. 1 teaspoon of oregano and 2 tablespoons of fresh lemon juice. Coat onto the kabobs. Cook on the grill and enjoy. Eat 1-2 kabobs with ½ cup brown rice and 3 ounces of your favorite lean protein, fish, tofu or chicken.
Tuna Nicoise Salad
Place 3 ounces of low-sodium albacore tuna over 3 cups of spinach and kale mix. Add 4 fresh, raw asparagus spears, 1/2 cup fresh green beans, 1 hard boiled egg white sliced, 4 cherry tomatoes, 2 tbs black olives, and purple onion to taste. 1 tbs red wine vinegar and 1 tbs olive oil for dressing.
Grilled Mango Fish Tacos
6 ounces of tilapia, grill with a dash of salt and pepper. Break up the fish and place in a large lettuce or Romaine lettuce leaf with the following mix of ingredients: 1/4 cup chopped cilantro, 1/4 cup purple onion, 1/4 cup chopped mango and 1/4 cup chopped tomato. Mix all of these with 1/8 cup of olive oil and use as a "salsa" for the fish in the lettuce wrap. Serve with a cup of fresh melon or more mango!
Fiesta Grilled Salmon
4 ounces of grilled salmon. Marinate with olive oil, garlic and lemon juice, dash of salt and pepper before placing on the grill. Serve with ½ cup of the following mix: 1/4 cup corn, 1/4 cup brown rice, ½ cup chopped tomatoes, 1/4 cup black beans, ¼ cup chopped purple onion, blend all together with fresh garlic and 2 tbs olive oil
Grilled Turkey Burger and Corn on the Cob
Grill 4 ounces of organic ground turkey. Serve with a pinch of feta cheese and fresh salsa. 1 corn on the cob. Serve with 2 cups of spinach salad with 4 sliced strawberries, 2 tbs walnuts and 2 tbs olive oil and balsamic vinegar as salad dressing
Side Cucumber Salad
4 plum tomatoes chopped, ¼ cup chopped purple onion, ½ cup finely chopped cucumbers blend all together with 2 tbs red wine vinegar, 2 tbs olive oil and dash of salt and pepper. Serve as a side dish with fresh fish or grilled chicken.
Summer Oriental Salad
3 cups of spring mix salad, 3 ounces of chicken, 6-8 tangerine or mandarine orange slices, ½ cup chopped green or bell peppers, 2 tbs light Asian sesame dressing and a sprinkle of almond slices
Mahi Mahi and Sweet Potatoes on the Grill
4 ounces of grilled mahi mahi--marinate with 1tbs olive oil, lemon juice, black pepper and garlic before grilling. Grill 1 corn on the cob with 1 teaspoon of coconut oil and dash of salt. Eat with 4 ounces of sweet potato on grill. Take a 4-ounce sweet potato (you can make a larger amount if cooking for more) clean and slice well. Take a large piece of foil that you can wrap and make an envelope around the potatoes. Coat the foil with 1 tbs olive oil, then add a layer of sweet potatoes and a dash of brown sugar then a dash of cinnamon. Add 1 more tbs of olive oil. Cover and make a foil envelope, then poke holes in it and place it on the grill. Grill until potatoes are soft and carmelized.
If you would like an individualized meal plan contact Betsy McNally-Laouar at coach@betsymcnally.com
Betsy is a personal fitness and gymnastics trainer certified in Sports Nutrition. She currently works with the elite and upper level gymnasts at Cincinnati Gymnastics creating training and meal plans. She also works with gymnasts all around the country through online seminars and through camps. If you need more help with gymnastics recipes, meal plans and fitness, check out her website,
www.betsymcnally.com
and email her at coach@betsymcnally.comRelated:
The Gymnastics Kitchen with Betsy: Energy Bars and Sports Drinks
The Gymnastics Kitchen with Betsy: Protein Power
The Gymnastics Kitchen with Betsy: Breaking the Diet Mentality