It was an August morning in 2014 when
Deanne Soza
woke up to an unconventional sense of discomfort.
This wasn't a gymnast's customary sore muscles from hours spent in the gym the day before, but rather a strong burning in her right eye. A trip to the doctor ended in prescribed eye drops for a small scratch that would seemingly do the trick.
However, Soza's pain only worsened in the following days that were intended to heal.
A second opinion led to the diagnosis of allergies and a second set of eyedrops that was supposed to clear up the pain within days. Days passed...and now Soza could barely open her eye. Just stepping outside into the sunlight was too much to bear, and left her cowering in the dark.
After two weeks of agony, it was apparent that Souza was in need of serious help.
It was only after a third trip to the eye doctor, this one a specialist, that the true gravity of the situation was revealed. The 12-year-old was diagnosed with an eye infection that not only threatened to rob her of her sight—and by extension her promising gymnastics career—but also her life.
I was told that I could not only lose my vision, but if the bacteria went to my brain, it could kill me. I worried and I was scared.
Souza's ordeal started during the 2014 P&G Championships, when she began suffering from the pain in her right eye. "It just started burning and was really sensitive to the light," Soza said. The prescribed eye drops from the local doctor were supposed to cure all symptoms in a few days.
Soza followed the doctor's instructions and took a break from wearing her contacts, but her pain persisted and began to intensify.
As an elite gymnast, aches and pains were nothing foreign to Soza. But this was different. More specialists and more eyedrops with antibiotics became the new hope for relief.
Unfortunately, the state of Soza's eye still continued to worsen, becoming crimson red and causing blurred vision.
I could barely open my eye.
After many failed attempts to remedy the pain, Soza was finally directed to a specialist who discovered the real prognosis. He said, "This is an infection. This is something serious," Soza recalled.
At this point, "I was super sensitive to light. I had to stay in my room with the lights off and stuff. I couldn't stand the light at all," Soza said. She was diagnosed with an acanthamoeba corneal infection in both eyes, but with bacteria on the right eye which magnified the discomfort. She later found out that a few more days without proper treatment could have ended her life.
The specialist determined that the infection, which was deemed to be caused by swimming with contacts in areas of high bacteria, must have originated when Soza was in Pittsburgh at P&G Championships. She was prescribed seven different sets of eye drops to put in every hour on the hour, day and night, for four days. One of Soza's coaches at Arete, Dan Coleman, recalled being on the cusp of losing an athlete dear to his heart.
We didn't know if she was even going to come back at all.
After treating the infection, the pain began to subside. Soza had lost almost three months of time doing the sport she loves, but she hadn't lost any of her unparalleled drive. She was more than ready to get back in the gym, but the road ahead would prove long and hard.
Soza recalled her first day returning to the gym in December—feeling so excited to be with her teammates and coaches again—but realizing that patience was not her strong suit. She started with simple skills such as full turns on beam, but even those were a challenge. "My eyesight wasn't all the way back yet and I had glasses on. I kept falling on it and I was getting so frustrated, like 'oh my gosh, how am I going to do this?'" Soza said. Her coach Jana Coleman assured her that this journey back would be a process—one that needed to be taken one step at a time.
Soza had the full support of her coaches, along with family friends and people from all over the world who sent messages, letters, videos, and gifts to encourage her in the journey.
When I realized how much everybody cared for me, that gave me so much strength.
Through it all, it became more evident than ever before that Deanne Soza is the ultimate fighter. She had battled injuries of a broken foot and a cyst on her wrist in the years prior and then survived a near fatal infection. In fact, she didn't just survive—she grew from the experience in a way that cultivated a stronger faith.
This experience helped me to get closer to God as I prayed and read the scriptures for comfort. It helped me to understand that there is a reason for everything that happens to us, and that God loves us and listens and answers our prayers.
Soza battled back, even with scar tissue continuing to plague her vision. She decided to forego the opportunity for a corneal transplant to remove it, as that would pose a large amount of risk to her returning to her old form. "She had to learn to compensate for the vision loss," Dan Coleman said.
Coleman stressed how big of a rush it was to get Soza back into top form to be able to compete at the highest level. In her first competition back—the American Classic held in May 2015—she took an impressive 2nd place in the all-around. The second meet was the Secret U.S. Classic where she came in fifth. "I was definitely excited to be out there and compete again," Soza said.
I just wanted to show everyone that I was back and fully training, and I just wanted to give my best.
Coleman knew Soza was capable of that phenomenal comeback, but it wasn't the main goal after enduring a heart-wrenching couple months. "Last year, we were just happy she was competing," Coleman said.
With pain and suffering behind her, and the strength she gained from overcoming it all, Soza is now focused on achieving a big dream: the 2020 Olympics.
Coleman sees a very hopeful future.
You set those lofty goals for kids, but she actually has the ability to do it.
First, Soza must qualify as a member of the U.S. National Team—a short-term goal that she thinks about daily. "I'm definitely working towards that. So whenever I'm having hard days, I just try to keep that goal in my mind to keep me going," Soza said. She is surely moving towards those goals, adding big upgrades on every event and showing a work ethic unmatched by many.
Coleman is ultimately proud of his young prodigy and he knows that the whole process only made them a stronger team. "It's been good for both of us, for all of us—the whole gym," Coleman said.
The whole gym has been through it with her.


Dan On Deanne's huge progress this year:

At the recent Jan 2016 National Training Camp at the Ranch, Soza placed first place in the all-around among the junior field with an outstanding
58.30: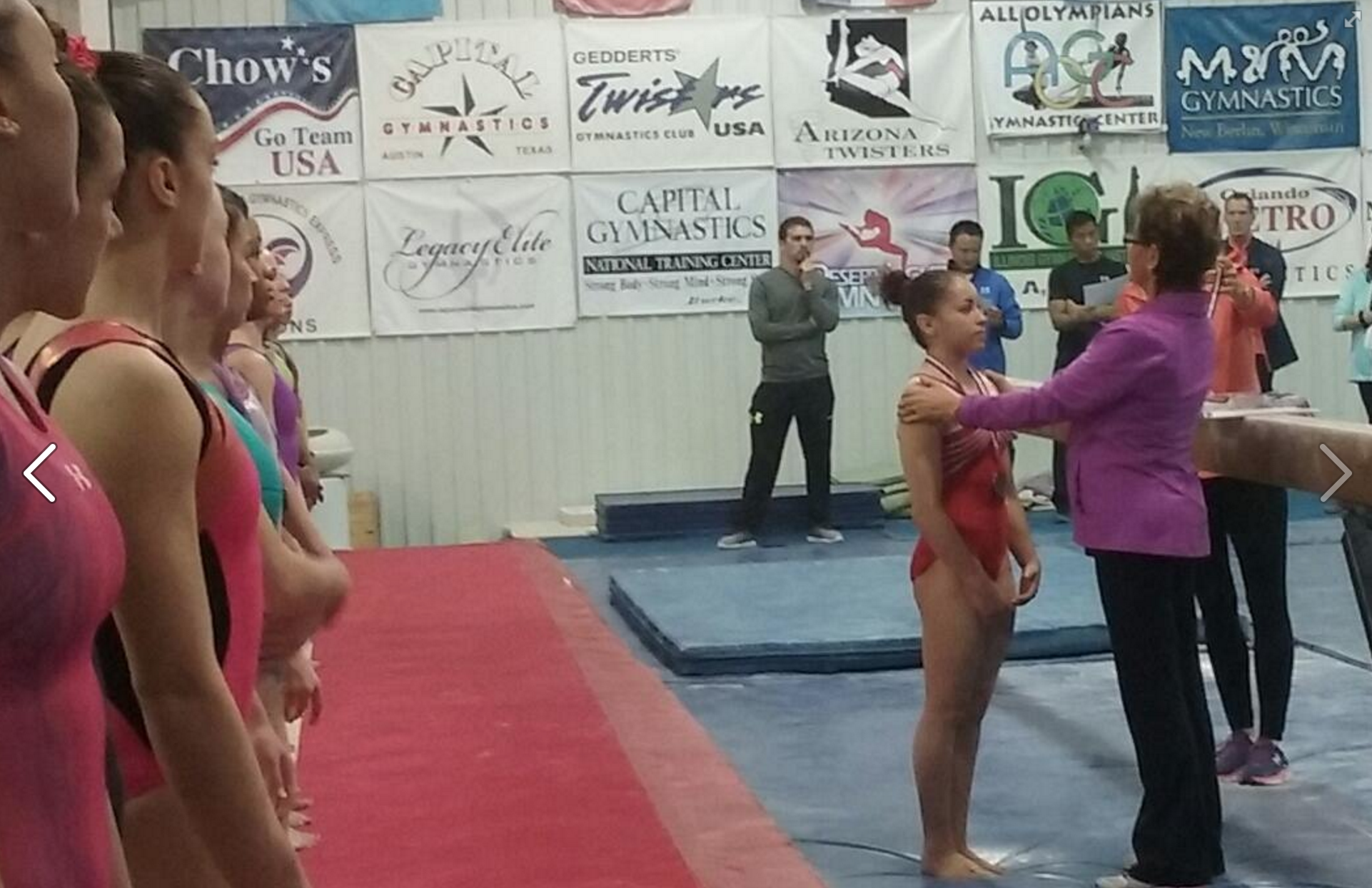 See Deanne in action in a full workout with Arete Gymnastics coming this week.
Watch the preview below:
Related:
Arete Gymnastics Preview
Dan Coleman On Deanne Fighting Through Injuries & Eye Infection
Top 10 Photos From 2015 P&G Championships