Top 10 Artistic Floor Routines Of 2015
Top 10 Artistic Floor Routines Of 2015
By Lucy CameronAs we look ahead to what is sure to be an incredible 2016 elite season (with Rio just around the corner!), I have compiled my annual top ten
Dec 13, 2015
by Becca Reed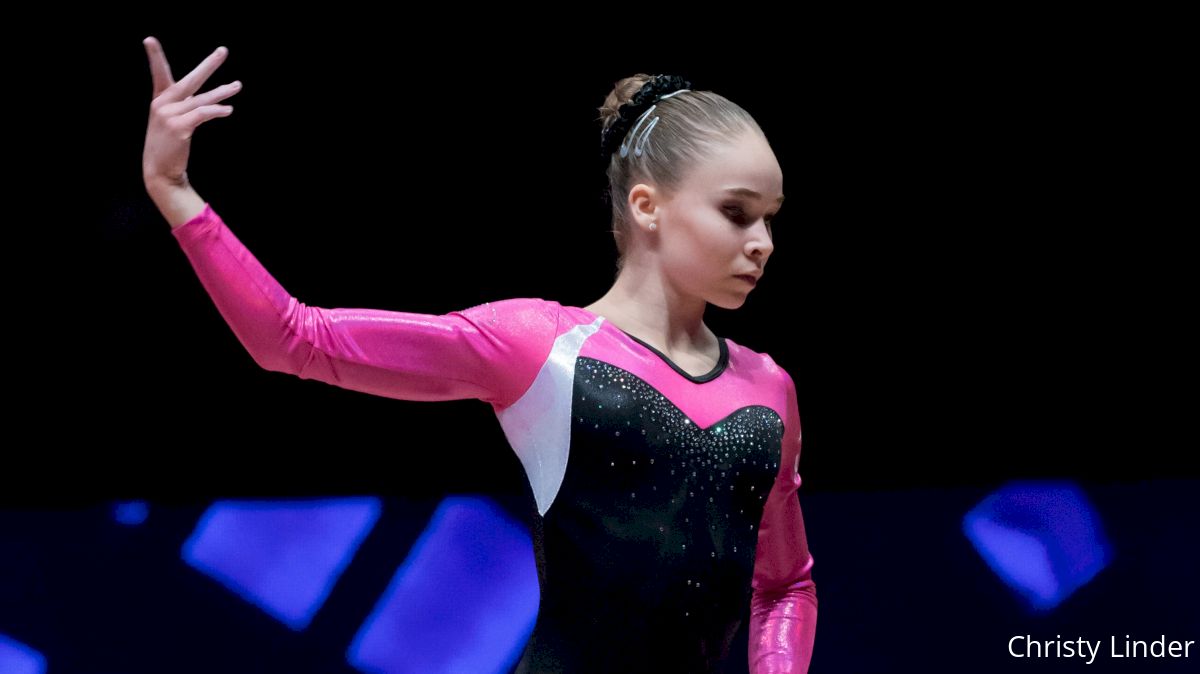 By Lucy Cameron
As we look ahead to what is sure to be an incredible 2016 elite season (with Rio just around the corner!), I have compiled my annual top ten list of artistic floor routines for 2015. Although they may not all have the highest difficulty, these routines impress with their choreography and refinement of detail. Check them out! Let us know which of these you think deserve their spot and if you have any other personal favorites!
10. Shang Chunsong (China)
I love this music so much. It lends itself to a striking and dramatic floor routine and Chunsong matches its intensity and uniqueness perfectly.

9. Eva Mickova (Czech Republic)
It's awesome to sift through qualification routines and find great performances that audiences at finals missed out on. I feel this Czech gymnast's polished floor routine is one of those.
8. Ksenia Afanasyeva (Russia)
This gymnast is known for her mature floor routines and unique choreography which have secured her medals in several international floor finals. (She won gold on floor in Tokyo in 2011). I feel she brings a certain nonchalance to the floor; I especially love the choreography after her second pass and her bright red lipstick.
7. Emma Larsson (Sweden)
A very energetic and dynamic approach to her floor routine is evident. Larsson seems almost business-like as she moves efficiently through her leaps and dance. Her style of performance reminds me a lot of Romania's
Larisa Iordache
.
6. Claire Martin (France)
Martin topped my list last year for the truly artistic quality of her floor performance at the 2014 world championships in Nanning. 2015 saw the French gymnast debut a new routine, with more exquisite dance. I feel she is an excellent performer; she really knows how to engage with both her choreography and her audience and I just love the way she carries herself with such poise on the floor.
5. Flavia Saraiva (Brazil)
Saraiva's grace during worlds qualifications was a pleasure to watch. She executes her balletic choreography confidently and really sells her routine to the crowd. Her joy is infectious. An up and coming talent for Brazil, the 16 year old took gold on floor at the 2014 Youth Olympic Games in Nanning. I particularly like the section of dance and leaps after her second tumbling pass - gorgeous!
4. Lieke Wevers (Netherlands)
Wevers truly had the audience at the Glasgow's SSE Hydro in the palm of her hand during her moving floor routine. Quite often there is a difference between dance choreography and gymnastics choreography but Wevers defies this distinction. Her expressive, contemporary movements are breath taking; beautiful music choice, too. I watched her live at team finals and couldn't take my eyes off her.
3. Catherine Lyons (Great Britain)

When talking about artistry in gymnastics, you can't not mention this young lady; junior British gymnast Catherine Lyons. This is the third year that I've included her in this list and of all her floor routines this year's was my absolute favourite.
2. Lauren Hernandez (USA)
Reigning USA Junior Champ Laurie Hernandez certainly isn't afraid to give it her all when it comes to choreography. The energy she brings to the floor is outstanding. In an interview at the P&G championships she told FloGymnastics "I'm like a little firecracker" and this certainly shines through during her exuberant floor routine. I adore her new floor music - it's really modern and unique. Her dynamic movements and use of facial expressions make her exercise a real crowd pleaser. You can't help but smile!
1. Eythora Thorsdottir (Netherlands)
In my opinion, this is everything that an artistic floor routine should be. This year's top spot goes to Eythora Thorsdottir from the Netherlands; the Dutch gymnast's huge smile says it all. She clearly loves performing the dance sections of her exercise and interpreting the music through her movements. Her theatrical routine caught my eye as I sat in the audience at team finals in Glasgow; each and every pose was unique and unpredictable. She really makes use of all the floor space during her choreography which is something that we don't always see, and attention to detail is evident from head to toe. In an interview with Inside Gymnastics, Eythora shared that the Dutch team do "presentation training" to keep the artistry element of their routines alive. I love how much time and effort this team have clearly devoted to their floor choreography.
Lucy is 17 year old former gymnast from the UK. She is now coaching her own pre-team and is an avid gymnastics fan. She loves to travel, meet new people, and learn about the world.
Related:
Top 10 Artistic Floor Routines of 2014
Top 10 Artistic Floor Routines of 2013