Meet the Elite: Adeline Kenlin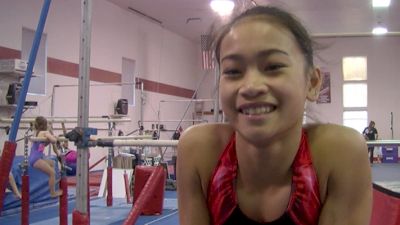 One of Adeline Kenlin's big goals for 2017 was to be added to the junior U.S. national team. Following the March National Team Training Camp, she not only achieved that goal, but also has been selected to represent the U.S. at the City of Jesolo Trophy.

Watch for Kenlin to make an outstanding international debut this week and follow all the action HERE!

Original Post
Adeline Kenlin is a junior elite at Iowa Gym-Nest in Coralville, Iowa. She started gymnastics when she was two years old and fell in love with 'flying.'

Kenlin recently endured a hip injury during the 2016 season, but she still was able to compete at the P&G Championships, taking 4th place on bars. She shares about her current training and big bar upgrades she has in the works.

The dream of competing at the Olympics one day is always on her mind, but her short-term goals are to be invited to National Team training camp, have a solid 2017 season, and qualify for the U.S. National Team.

See a full workout with Adeline and Iowa Gym-Nest in our Workout Insider.

Also, get to know the young rising stars of Iowa Gym-Nest.