The 2015 City of Jesolo Trophy brings together some of the top gymnasts around the world in one of the first international elite competitions of the 2015 year.



After two days of intense training and preparation, the first test of the 2015 Jesolo Trophy wrapped up just moments ago. The Junior Qualifications round proved victorious for Canada as they took first place honors with a 165.200. Canada topped Italy's Young Dream and Speranze Azzurre teams who received a 154.300 and 151.550 respectively. Landing in fourth place were the Australian juniors with a 148.700. Canada and Australia previously qualified to Saturday's team finals. However, tonight's meet provided a strong foundation for when the squads move forward to take on the Italian and American competition on Satuday.

In the individual competition, Giorgia Villa (52.60), Alice D'amato (49.9) and Asia D'amato (49.85) landed on the podium advancing them to the Junior All Around Final also taking place on Saturday, March 28, 2015.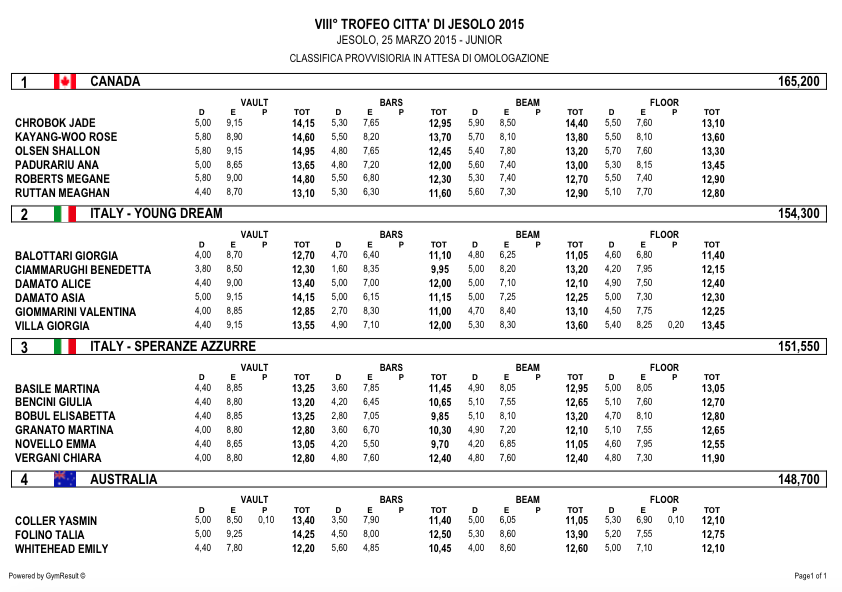 While it's a drizzly day in Jesolo, Italy, the competition is just heating up in the Pala Arrex. Stick with Gymnastike for the latest from the competition floor.

Watch videos from the Junior Qualifications here.

Related:
Watch training videos here.