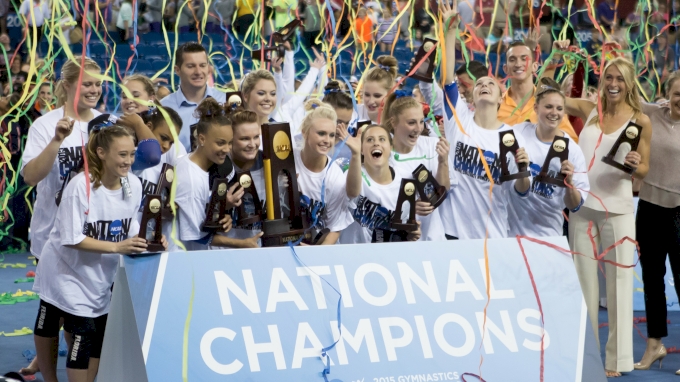 Follow along here for coverage from the 2016 NCAA Championships! The competition will be held April 15-16 in Fort Worth, Texas. The top 12 teams in the country along with individual all-around and event specialists qualified from the 2016 Regional Championships.
Results
---
2016 NCAA Women's Championships - TEAM - Semi Final 1
-
Back to Top
Florida, LSU, and Georgia all punched their tickets to Super Six in the first semi final competition at the 2016 NCAA Championships. Individual results will come in the second session of competition. Florida senior Bridget Sloan leads the all around race with a huge 39.70.

To see the Individual Results, click here.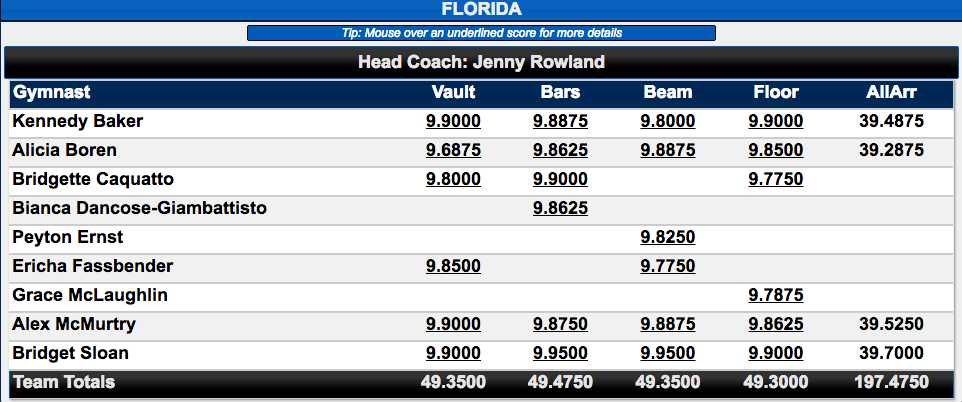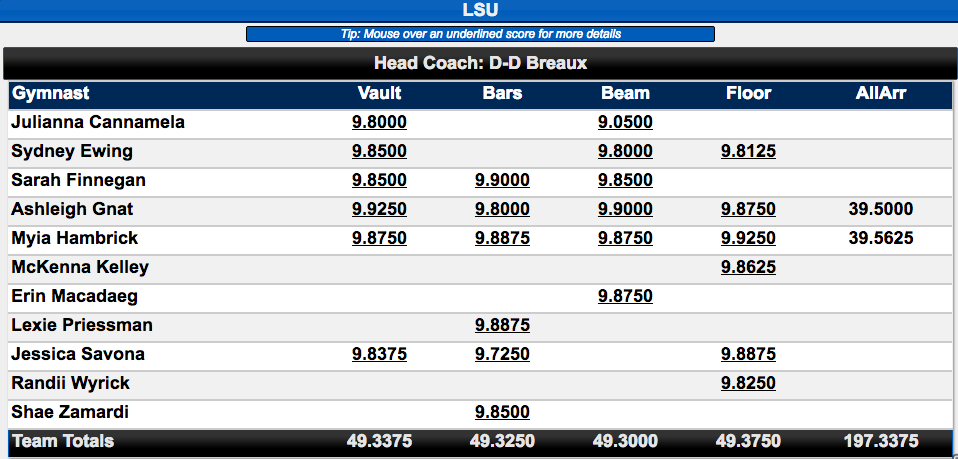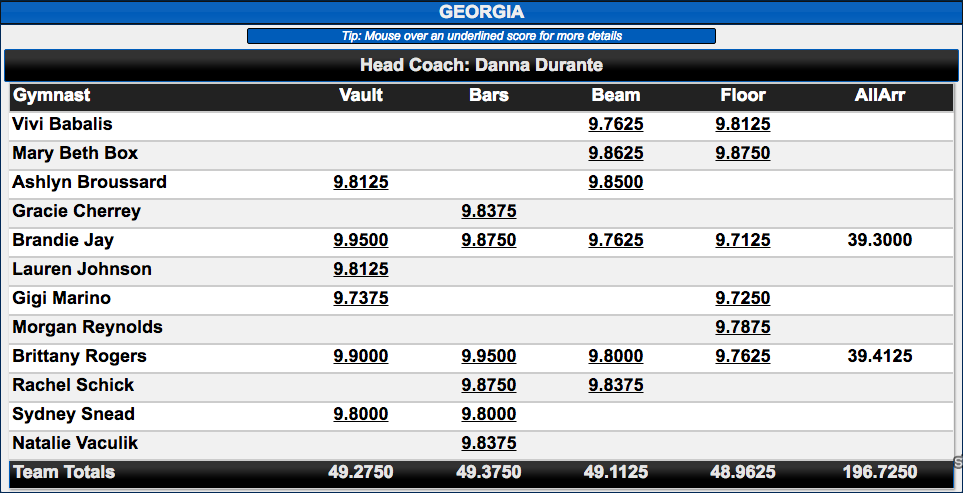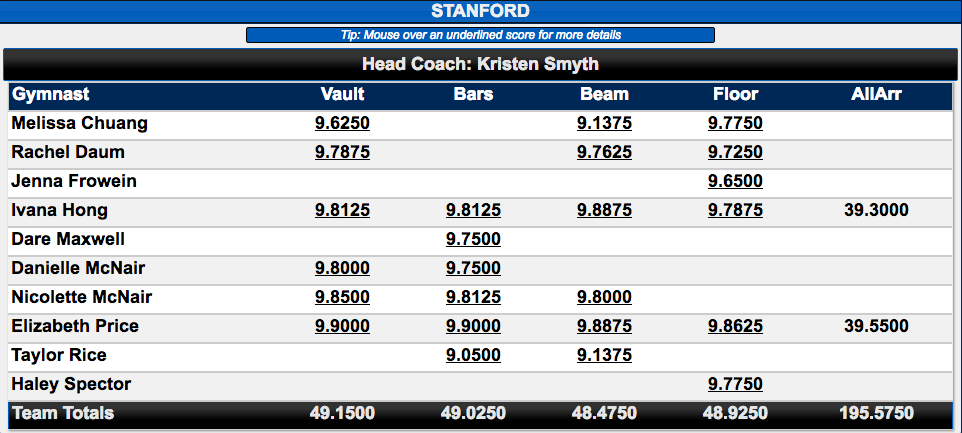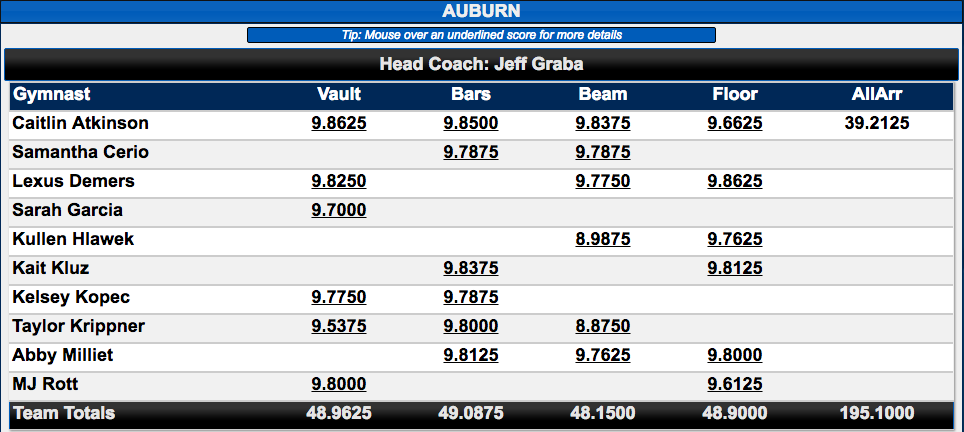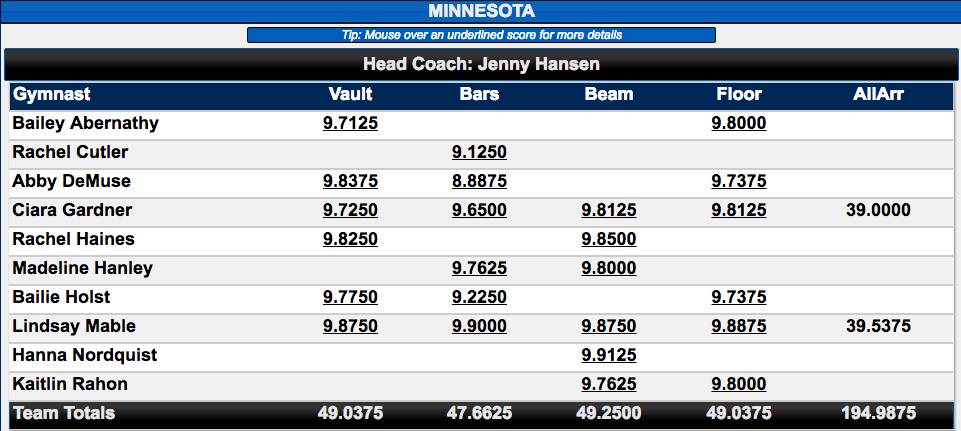 ---
2016 NCAA Women's Championships - INDIVIDUAL
-
Back to Top
In the first year of the non-event final format at NCAA Championships, individual titles were awarded during today's semi final sessions. Florida Senior Bridget Sloan posted a huge 39.70 all-around score during session 1 and maintained her place at the top of the leaderboard through session 2 to win her second NCAA All-Around crown. The first came her freshman year. Sloan also grabbed a share of the Bars and Beam titles.

Georgia senior Brittany Rogers shared the bars title with Sloan while UCLA senior Danusia Francis tied for the beam title.

Vault also saw a tie between Georgia senior Brandie Jay for her yurchenko 1.5 and Alabama's Katie Bailey for her perfectly executed yurchenko half.

Finally, crowd favorite Nina McGee of Denver won floor outright with a stuck double layout to bring down the house.

More 2016 NCAA Championships Results:
Team - Semi Final Session 1
Team - Semi Final Session 2

Meet: NCAA National Championship Semi Finals - Combined Individual Results
Date: 4/15/2016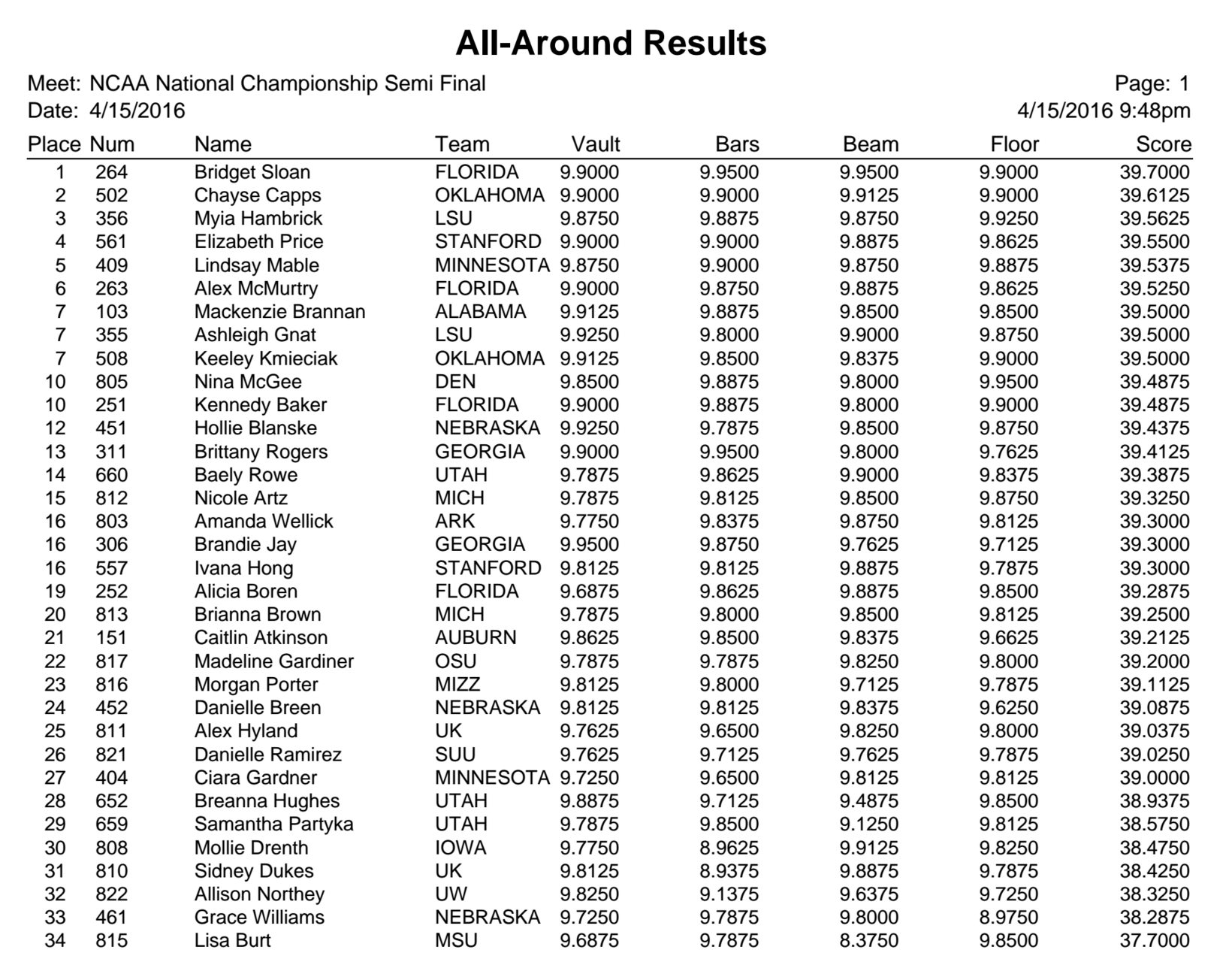 Individual Results on Vault
Place Number Name Team Name Score
1 101 Katie Bailey Alabama 9.9500
1 306 Brandie Jay Georgia 9.9500
3 355 Ashleigh Gnat LSU 9.9250
3 451 Hollie Blanske Nebraska 9.9250
5 103 Mackenzie Brannan Alabama 9.9125
5 512 Hunter Price Oklahoma 9.9125
5 508 Keeley Kmieciak Oklahoma 9.9125
5 513 Haley Scaman Oklahoma 9.9125
9 102 Lauren Beers Alabama 9.9000
9 264 Bridget Sloan Florida 9.9000
9 251 Kennedy Baker Florida 9.9000
9 263 Alex McMurtry Florida 9.9000
9 311 Brittany Rogers Georgia 9.9000
9 502 Chayse Capps Oklahoma 9.9000
9 561 Elizabeth Price Stanford 9.9000
16 652 Breanna Hughes Utah 9.8875
17 107 Nickie Guerrero Alabama 9.8750
17 356 Myia Hambrick LSU 9.8750
17 409 Lindsay Mable Minnesota 9.8750
20 151 Caitlin Atkinson Auburn 9.8625
20 606 Napualani Hall UCLA 9.8625
22 805 Nina McGee Denver 9.8500
22 109 Keely McNeer Alabama 9.8500
22 259 Ericha Fassbender Florida 9.8500
22 353 Sarah Finnegan LSU 9.8500
22 352 Sydney Ewing LSU 9.8500
22 560 Nicolette McNair Stanford 9.8500
28 209 Sylvie Seilnacht California 9.8375
28 361 Jessica Savona LSU 9.8375
28 403 Abby DeMuse Minnesota 9.8375
28 607 JaNay Honest UCLA 9.8375
28 651 Kailah Delaney Utah 9.8375
33 822 Allison Northey Washington 9.8250
33 154 Lexus Demers Auburn 9.8250
33 205 Desiree Palomares California 9.8250
33 405 Rachel Haines Minnesota 9.8250
37 810 Sidney Dukes Kentucky 9.8125
37 816 Morgan Porter Missouri 9.8125
37 202 Alicia Gallarzo California 9.8125
37 207 Arianna Robinson California 9.8125
37 206 Emily Richardson California 9.8125
37 304 Ashlyn Broussard Georgia 9.8125
37 307 Lauren Johnson Georgia 9.8125
37 452 Danielle Breen Nebraska 9.8125
37 456 Jennie Laeng Nebraska 9.8125
37 557 Ivana Hong Stanford 9.8125
47 112 Carley Sims Alabama 9.8000
47 162 MJ Rott Auburn 9.8000
47 254 Bridgette Caquatto Florida 9.8000
47 314 Sydney Snead Georgia 9.8000
47 351 Julianna Cannamela LSU 9.8000
47 559 Danielle McNair Stanford 9.8000
47 601 Sadiqua Bynum UCLA 9.8000
47 654 Tiffani Lewis Utah 9.8000
55 812 Nicole Artz Michigan 9.7875
55 813 Brianna Brown Michigan 9.7875
55 817 Madeline Gardiner Oregon St. 9.7875
55 552 Rachel Daum Stanford 9.7875
55 660 Baely Rowe Utah 9.7875
55 659 Samantha Partyka Utah 9.7875
61 803 Amanda Wellick Arkansas 9.7750
61 808 Mollie Drenth Iowa 9.7750
61 809 Meaghan Sievers Iowa St. 9.7750
61 159 Kelsey Kopec Auburn 9.7750
61 408 Bailie Holst Minnesota 9.7750
66 811 Alex Hyland Kentucky 9.7625
66 821 Danielle Ramirez Southern Utah 9.7625
66 459 Megan Schweihofer Nebraska 9.7625
66 507 Charity Jones Oklahoma 9.7625
70 613 Madison Preston UCLA 9.7500
71 308 Gigi Marino Georgia 9.7375
71 454 Sienna Crouse Nebraska 9.7375
71 609 Sonya Meraz UCLA 9.7375
74 204 Charlie Owens California 9.7250
74 404 Ciara Gardner Minnesota 9.7250
74 461 Grace Williams Nebraska 9.7250
77 401 Bailey Abernathy Minnesota 9.7125
77 655 Kassandra Lopez Utah 9.7125
79 155 Sarah Garcia Auburn 9.7000
79 602 Angi Cipra UCLA 9.7000
81 815 Lisa Burt Michigan St. 9.6875
81 252 Alicia Boren Florida 9.6875
83 551 Melissa Chuang Stanford 9.6250
84 802 Taylor Allex Arizona St. 9.5625
85 160 Taylor Krippner Auburn 9.5375
86 506 AJ Jackson Oklahoma 9.3375


Individual Results on Uneven Bars
Place Number Name Team Name Score
1 264 Bridget Sloan Florida 9.9500
1 311 Brittany Rogers Georgia 9.9500
3 515 McKenzie Wofford Oklahoma 9.9375
4 101 Katie Bailey Alabama 9.9000
4 254 Bridgette Caquatto Florida 9.9000
4 353 Sarah Finnegan LSU 9.9000
4 409 Lindsay Mable Minnesota 9.9000
4 509 Nicole Lehrmann Oklahoma 9.9000
4 502 Chayse Capps Oklahoma 9.9000
4 561 Elizabeth Price Stanford 9.9000
4 655 Kassandra Lopez Utah 9.9000
12 805 Nina McGee Denver 9.8875
12 103 Mackenzie Brannan Alabama 9.8875
12 251 Kennedy Baker Florida 9.8875
12 356 Myia Hambrick LSU 9.8875
12 360 Lexie Priessman LSU 9.8875
17 263 Alex McMurtry Florida 9.8750
17 306 Brandie Jay Georgia 9.8750
17 313 Rachel Schick Georgia 9.8750
17 506 AJ Jackson Oklahoma 9.8750
17 603 Sophina DeJesus UCLA 9.8750
17 661 Sabrina Schwab Utah 9.8750
23 102 Lauren Beers Alabama 9.8625
23 252 Alicia Boren Florida 9.8625
23 257 Bianca Dancose-Giambattisto Florida 9.8625
23 607 JaNay Honest UCLA 9.8625
23 660 Baely Rowe Utah 9.8625
28 108 Amanda Jetter Alabama 9.8500
28 151 Caitlin Atkinson Auburn 9.8500
28 206 Emily Richardson California 9.8500
28 364 Shae Zamardi LSU 9.8500
28 513 Haley Scaman Oklahoma 9.8500
28 508 Keeley Kmieciak Oklahoma 9.8500
28 604 Danusia Francis UCLA 9.8500
28 659 Samantha Partyka Utah 9.8500
36 803 Amanda Wellick Arkansas 9.8375
36 158 Kait Kluz Auburn 9.8375
36 305 Gracie Cherrey Georgia 9.8375
36 315 Natalie Vaculik Georgia 9.8375
36 458 Catelyn Orel Nebraska 9.8375
41 612 Katelyn Ohashi UCLA 9.8250
41 608 Christine Peng Lee UCLA 9.8250
43 812 Nicole Artz Michigan 9.8125
43 109 Keely McNeer Alabama 9.8125
43 114 Kiana Winston Alabama 9.8125
43 161 Abby Milliet Auburn 9.8125
43 202 Alicia Gallarzo California 9.8125
43 452 Danielle Breen Nebraska 9.8125
43 557 Ivana Hong Stanford 9.8125
43 560 Nicolette McNair Stanford 9.8125
51 813 Brianna Brown Michigan 9.8000
51 816 Morgan Porter Missouri 9.8000
51 160 Taylor Krippner Auburn 9.8000
51 208 Sofie Seilnacht California 9.8000
51 314 Sydney Snead Georgia 9.8000
51 355 Ashleigh Gnat LSU 9.8000
51 654 Tiffani Lewis Utah 9.8000
58 815 Lisa Burt Michigan St. 9.7875
58 817 Madeline Gardiner Oregon St. 9.7875
58 159 Kelsey Kopec Auburn 9.7875
58 153 Samantha Cerio Auburn 9.7875
58 451 Hollie Blanske Nebraska 9.7875
58 461 Grace Williams Nebraska 9.7875
64 212 Amber Takara California 9.7750
65 211 Yuleen Sternberg California 9.7625
65 406 Madeline Hanley Minnesota 9.7625
65 609 Sonya Meraz UCLA 9.7625
68 558 Dare Maxwell Stanford 9.7500
68 559 Danielle McNair Stanford 9.7500
70 361 Jessica Savona LSU 9.7250
71 821 Danielle Ramirez Southern Utah 9.7125
71 652 Breanna Hughes Utah 9.7125
73 811 Alex Hyland Kentucky 9.6500
73 404 Ciara Gardner Minnesota 9.6500
75 454 Sienna Crouse Nebraska 9.5625
76 408 Bailie Holst Minnesota 9.2250
77 822 Allison Northey Washington 9.1375
78 402 Rachel Cutler Minnesota 9.1250
79 203 Jessica Howe California 9.0625
80 562 Taylor Rice Stanford 9.0500
81 808 Mollie Drenth Iowa 8.9625
82 810 Sidney Dukes Kentucky 8.9375
83 403 Abby DeMuse Minnesota 8.8875
84 456 Jennie Laeng Nebraska 1.0000


Individual Results on Balance Beam
Place Number Name Team Name Score
1 264 Bridget Sloan Florida 9.9500
1 604 Danusia Francis UCLA 9.9500
3 501 Natalie Brown Oklahoma 9.9250
4 808 Mollie Drenth Iowa 9.9125
4 410 Hanna Nordquist Minnesota 9.9125
4 502 Chayse Capps Oklahoma 9.9125
7 114 Kiana Winston Alabama 9.9000
7 355 Ashleigh Gnat LSU 9.9000
7 509 Nicole Lehrmann Oklahoma 9.9000
7 507 Charity Jones Oklahoma 9.9000
7 660 Baely Rowe Utah 9.9000
12 810 Sidney Dukes Kentucky 9.8875
12 111 Aja Sims Alabama 9.8875
12 208 Sofie Seilnacht California 9.8875
12 252 Alicia Boren Florida 9.8875
12 263 Alex McMurtry Florida 9.8875
12 557 Ivana Hong Stanford 9.8875
12 561 Elizabeth Price Stanford 9.8875
19 803 Amanda Wellick Arkansas 9.8750
19 107 Nickie Guerrero Alabama 9.8750
19 356 Myia Hambrick LSU 9.8750
19 359 Erin Macadaeg LSU 9.8750
19 409 Lindsay Mable Minnesota 9.8750
24 818 Risa Perez Oregon St. 9.8625
24 303 Mary Beth Box Georgia 9.8625
24 609 Sonya Meraz UCLA 9.8625
24 603 Sophina DeJesus UCLA 9.8625
28 812 Nicole Artz Michigan 9.8500
28 813 Brianna Brown Michigan 9.8500
28 103 Mackenzie Brannan Alabama 9.8500
28 304 Ashlyn Broussard Georgia 9.8500
28 353 Sarah Finnegan LSU 9.8500
28 405 Rachel Haines Minnesota 9.8500
28 451 Hollie Blanske Nebraska 9.8500
28 612 Katelyn Ohashi UCLA 9.8500
36 151 Caitlin Atkinson Auburn 9.8375
36 204 Charlie Owens California 9.8375
36 205 Desiree Palomares California 9.8375
36 313 Rachel Schick Georgia 9.8375
36 452 Danielle Breen Nebraska 9.8375
36 508 Keeley Kmieciak Oklahoma 9.8375
36 503 Stefani Catour Oklahoma 9.8375
36 605 Mikaela Gerber UCLA 9.8375
36 615 Nicki Shapiro UCLA 9.8375
45 811 Alex Hyland Kentucky 9.8250
45 817 Madeline Gardiner Oregon St. 9.8250
45 258 Peyton Ernst Florida 9.8250
48 404 Ciara Gardner Minnesota 9.8125
48 662 Maddy Stover Utah 9.8125
50 804 Shani Remme Boise State 9.8000
50 805 Nina McGee Denver 9.8000
50 251 Kennedy Baker Florida 9.8000
50 311 Brittany Rogers Georgia 9.8000
50 352 Sydney Ewing LSU 9.8000
50 406 Madeline Hanley Minnesota 9.8000
50 461 Grace Williams Nebraska 9.8000
50 560 Nicolette McNair Stanford 9.8000
50 655 Kassandra Lopez Utah 9.8000
59 801 Lexie Mills Arizona 9.7875
59 109 Keely McNeer Alabama 9.7875
59 153 Samantha Cerio Auburn 9.7875
62 110 Mary Lillian Sanders Alabama 9.7750
62 154 Lexus Demers Auburn 9.7750
62 259 Ericha Fassbender Florida 9.7750
62 459 Megan Schweihofer Nebraska 9.7750
66 821 Danielle Ramirez Southern Utah 9.7625
66 161 Abby Milliet Auburn 9.7625
66 203 Jessica Howe California 9.7625
66 302 Vivi Babalis Georgia 9.7625
66 306 Brandie Jay Georgia 9.7625
66 411 Kaitlin Rahon Minnesota 9.7625
66 552 Rachel Daum Stanford 9.7625
73 201 Zoe Draghi California 9.7500
73 206 Emily Richardson California 9.7500
75 816 Morgan Porter Missouri 9.7125
75 457 Madison McConkey Nebraska 9.7125
77 822 Allison Northey Washington 9.6375
78 652 Breanna Hughes Utah 9.4875
79 458 Catelyn Orel Nebraska 9.1625
80 551 Melissa Chuang Stanford 9.1375
80 562 Taylor Rice Stanford 9.1375
80 651 Kailah Delaney Utah 9.1375
83 659 Samantha Partyka Utah 9.1250
84 351 Julianna Cannamela LSU 9.0500
85 156 Kullen Hlawek Auburn 8.9875
86 160 Taylor Krippner Auburn 8.8750
87 815 Lisa Burt Michigan St. 8.3750


Individual Results on Floor Exercise
Place Number Name Team Name Score
1 805 Nina McGee Denver 9.9500
2 356 Myia Hambrick LSU 9.9250
3 506 AJ Jackson Oklahoma 9.9125
4 114 Kiana Winston Alabama 9.9000
4 251 Kennedy Baker Florida 9.9000
4 264 Bridget Sloan Florida 9.9000
4 502 Chayse Capps Oklahoma 9.9000
4 508 Keeley Kmieciak Oklahoma 9.9000
9 361 Jessica Savona LSU 9.8875
9 409 Lindsay Mable Minnesota 9.8875
9 513 Haley Scaman Oklahoma 9.8875
12 812 Nicole Artz Michigan 9.8750
12 303 Mary Beth Box Georgia 9.8750
12 355 Ashleigh Gnat LSU 9.8750
12 451 Hollie Blanske Nebraska 9.8750
12 601 Sadiqua Bynum UCLA 9.8750
17 101 Katie Bailey Alabama 9.8625
17 112 Carley Sims Alabama 9.8625
17 154 Lexus Demers Auburn 9.8625
17 263 Alex McMurtry Florida 9.8625
17 357 McKenna Kelley LSU 9.8625
17 454 Sienna Crouse Nebraska 9.8625
17 561 Elizabeth Price Stanford 9.8625
17 654 Tiffani Lewis Utah 9.8625
25 815 Lisa Burt Michigan St. 9.8500
25 820 Lindsay Offutt Pittsburgh 9.8500
25 103 Mackenzie Brannan Alabama 9.8500
25 252 Alicia Boren Florida 9.8500
25 507 Charity Jones Oklahoma 9.8500
25 661 Sabrina Schwab Utah 9.8500
25 652 Breanna Hughes Utah 9.8500
32 660 Baely Rowe Utah 9.8375
32 657 MaKenna Merrell Utah 9.8375
34 808 Mollie Drenth Iowa 9.8250
34 363 Randii Wyrick LSU 9.8250
34 604 Danusia Francis UCLA 9.8250
34 602 Angi Cipra UCLA 9.8250
38 803 Amanda Wellick Arkansas 9.8125
38 813 Brianna Brown Michigan 9.8125
38 819 Briannah Tsang Penn St. 9.8125
38 108 Amanda Jetter Alabama 9.8125
38 158 Kait Kluz Auburn 9.8125
38 302 Vivi Babalis Georgia 9.8125
38 352 Sydney Ewing LSU 9.8125
38 404 Ciara Gardner Minnesota 9.8125
38 659 Samantha Partyka Utah 9.8125
47 806 Rachel Slocum Eastern Michigan 9.8000
47 811 Alex Hyland Kentucky 9.8000
47 817 Madeline Gardiner Oregon St. 9.8000
47 161 Abby Milliet Auburn 9.8000
47 203 Jessica Howe California 9.8000
47 201 Zoe Draghi California 9.8000
47 401 Bailey Abernathy Minnesota 9.8000
47 411 Kaitlin Rahon Minnesota 9.8000
47 458 Catelyn Orel Nebraska 9.8000
47 456 Jennie Laeng Nebraska 9.8000
47 607 JaNay Honest UCLA 9.8000
58 810 Sidney Dukes Kentucky 9.7875
58 816 Morgan Porter Missouri 9.7875
58 821 Danielle Ramirez Southern Utah 9.7875
58 262 Grace McLaughlin Florida 9.7875
58 309 Morgan Reynolds Georgia 9.7875
58 557 Ivana Hong Stanford 9.7875
58 611 Hallie Mossett UCLA 9.7875
65 204 Charlie Owens California 9.7750
65 205 Desiree Palomares California 9.7750
65 254 Bridgette Caquatto Florida 9.7750
65 563 Haley Spector Stanford 9.7750
65 551 Melissa Chuang Stanford 9.7750
70 156 Kullen Hlawek Auburn 9.7625
70 311 Brittany Rogers Georgia 9.7625
72 102 Lauren Beers Alabama 9.7500
73 403 Abby DeMuse Minnesota 9.7375
73 408 Bailie Holst Minnesota 9.7375
73 501 Natalie Brown Oklahoma 9.7375
76 822 Allison Northey Washington 9.7250
76 207 Arianna Robinson California 9.7250
76 308 Gigi Marino Georgia 9.7250
76 552 Rachel Daum Stanford 9.7250
80 814 Talia Chiarelli Michigan 9.7125
80 306 Brandie Jay Georgia 9.7125
80 612 Katelyn Ohashi UCLA 9.7125
83 151 Caitlin Atkinson Auburn 9.6625
84 554 Jenna Frowein Stanford 9.6500
85 807 Lizzy LeDuc Illinois 9.6375
86 209 Sylvie Seilnacht California 9.6250
86 452 Danielle Breen Nebraska 9.6250
88 162 MJ Rott Auburn 9.6125
89 461 Grace Williams Nebraska 8.9750

---
2016 NCAA Women's Championships - TEAM - Semi Final 2
-
Back to Top
Oklahoma, Alabama, and UCLA will advance from the second semi final to the Super Six competition at the 2016 NCAA Championships. Oklahoma dominated the second session and qualified first overall to team finals. Utah, who many believed would qualify, had several mistakes on beam that knocked them out of contention. Full results below: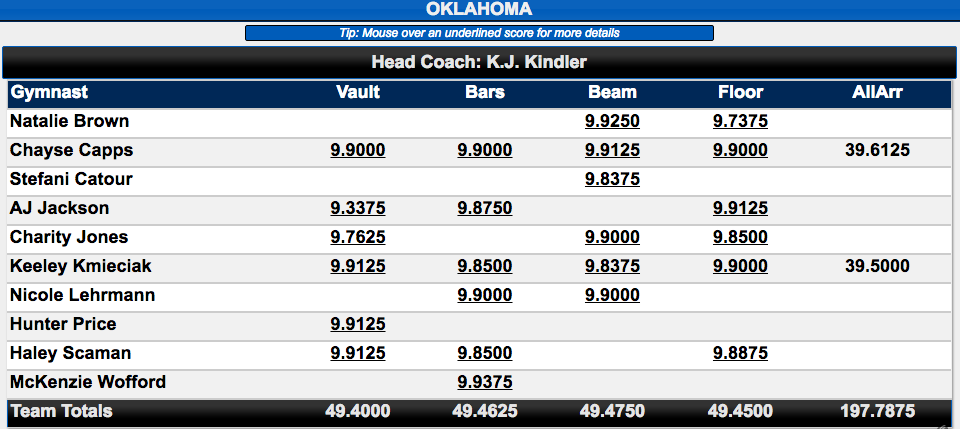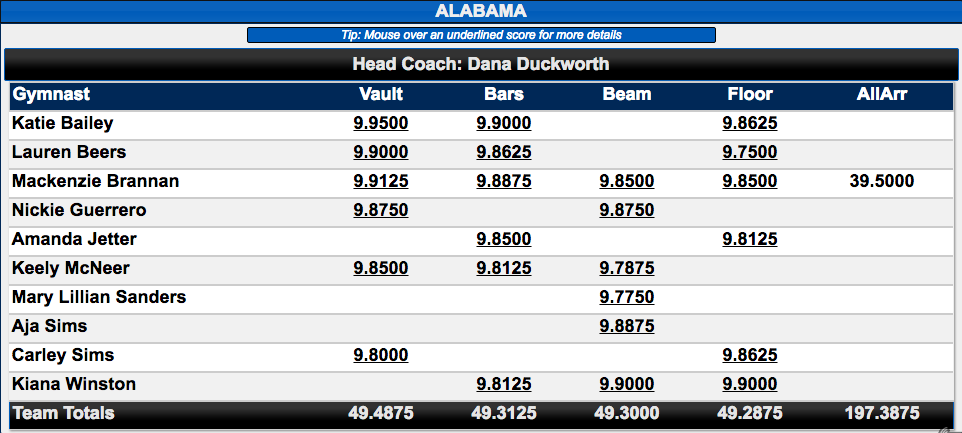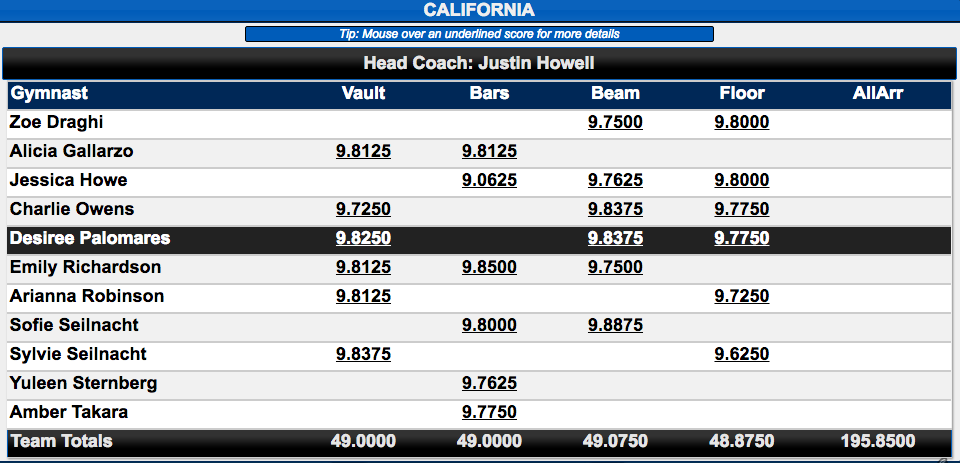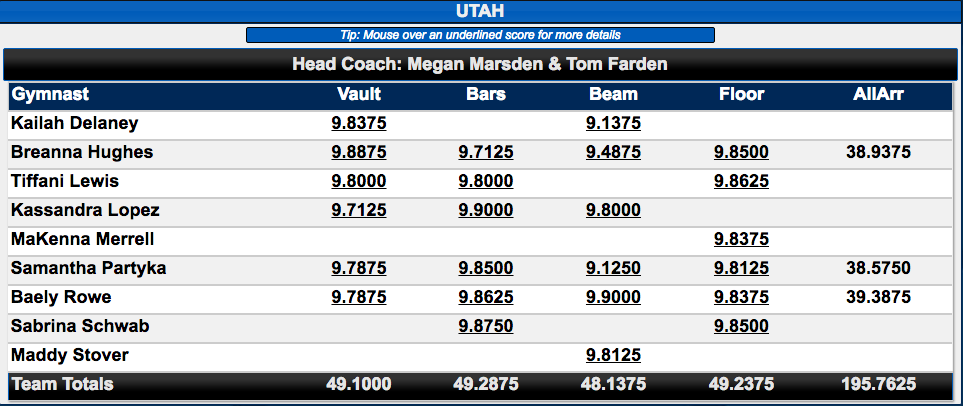 ---
| Place | Team | Total Team Score | Vault Total | Bars Total | Beam Total | Floor Total | Session |
| --- | --- | --- | --- | --- | --- | --- | --- |
| 1 | Oklahoma | 197.7875 | 49.4 | 49.4625 | 49.475 | 49.45 | 2 |
| 2 | Florida | 197.475 | 49.35 | 49.475 | 49.35 | 49.3 | 1 |
| 3 | Alabama | 197.3875 | 49.4875 | 49.3125 | 49.3 | 49.2875 | 2 |
| 4 | LSU | 197.3375 | 49.3375 | 49.325 | 49.3 | 49.375 | 1 |
| 5 | Georgia | 196.725 | 49.275 | 49.375 | 49.1125 | 48.9625 | 1 |
| 6 | UCLA | 196.7 | 49.4875 | 49.2375 | 49.3625 | 49.1125 | 2 |
| 7 | California | 195.85 | 49 | 49 | 49.075 | 48.875 | 2 |
| 8 | Nebraska | 195.775 | 49.05 | 48.7875 | 48.975 | 48.9625 | 2 |
| 9 | Utah | 195.7625 | 49.1 | 49.2875 | 48.1375 | 49.2375 | 2 |
| 10 | Stanford | 195.575 | 49.15 | 49.025 | 48.475 | 48.925 | 1 |
| 11 | Auburn | 195.1 | 48.9625 | 49.0875 | 48.15 | 48.9 | 1 |
| 12 | Minnesota | 194.9875 | 49.0375 | 47.6625 | 49.25 | 49.0375 | 1 |
---
2016 NCAA Women's Championships - Super Six
-
Back to Top
The Oklahoma Sooners took home the title at the 2016 NCAA Championships with a 197.675. It was an incredibly close Super Six competition, coming down to the last couple routines between Oklahoma, LSU, Alabama, and Florida, who all finished within just one tenth of one another.

This is the Sooners first sole finish at the top and second National Championship, after tying for the title with Florida in 2014.

Full results below.

More from NCAAs:
Get meet recap
Watch video interviews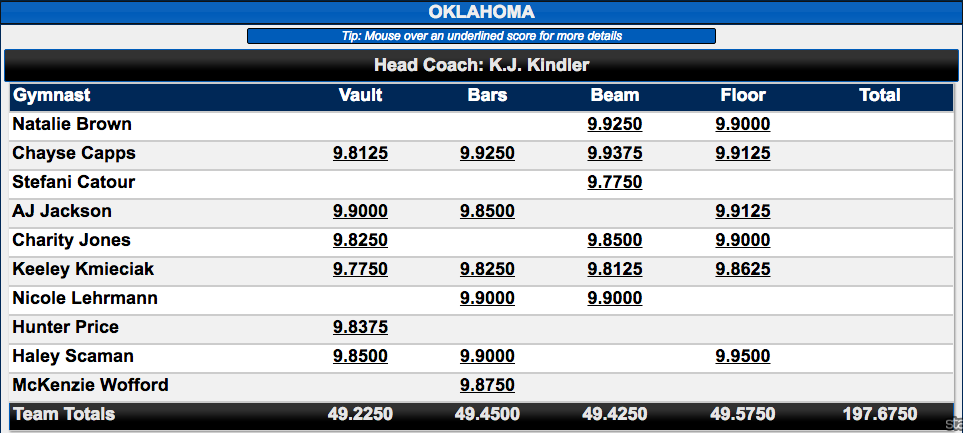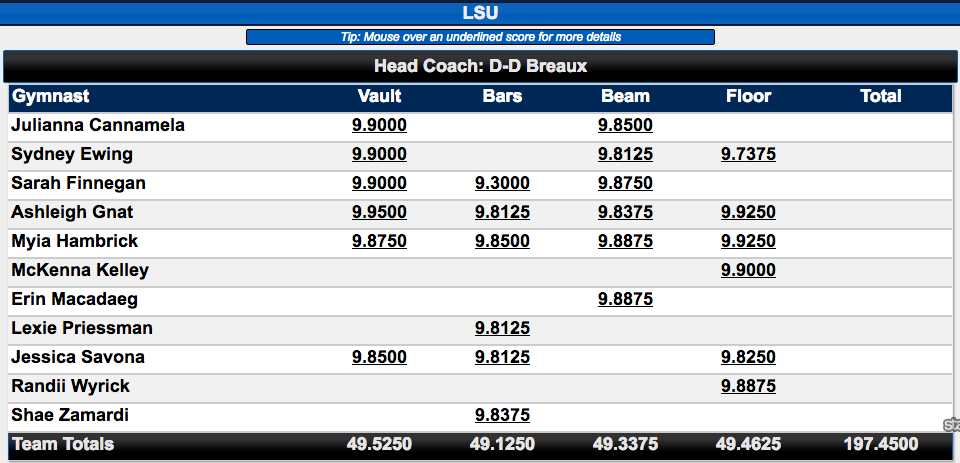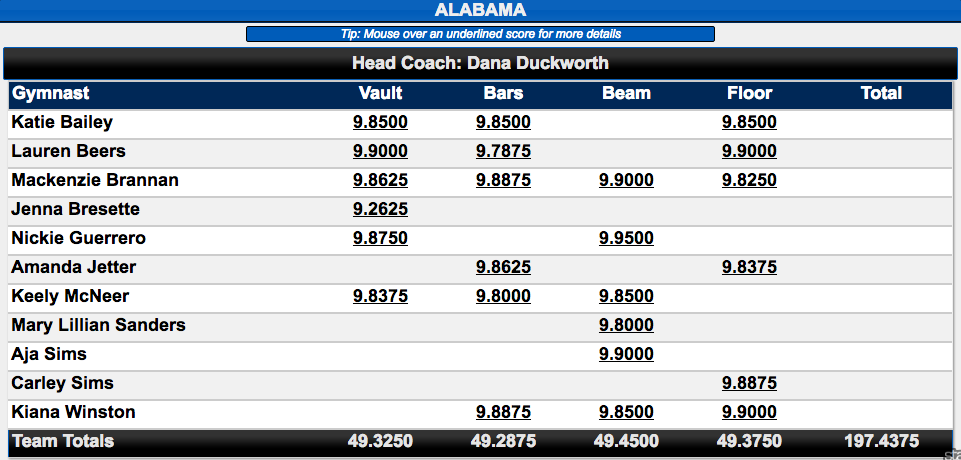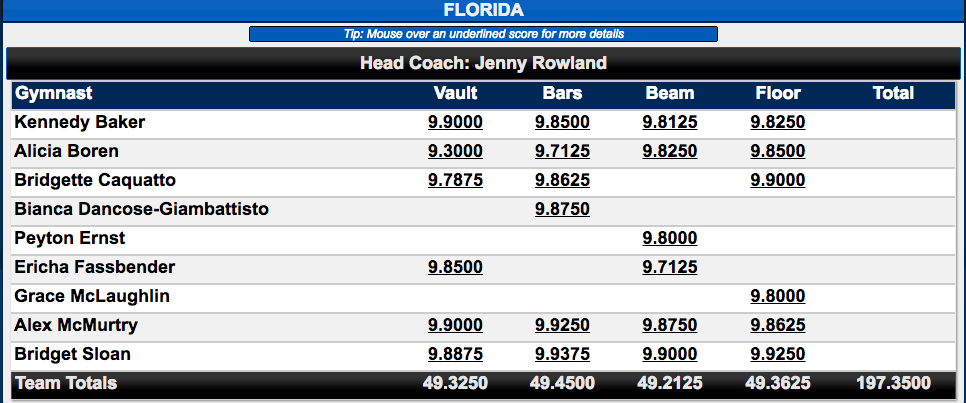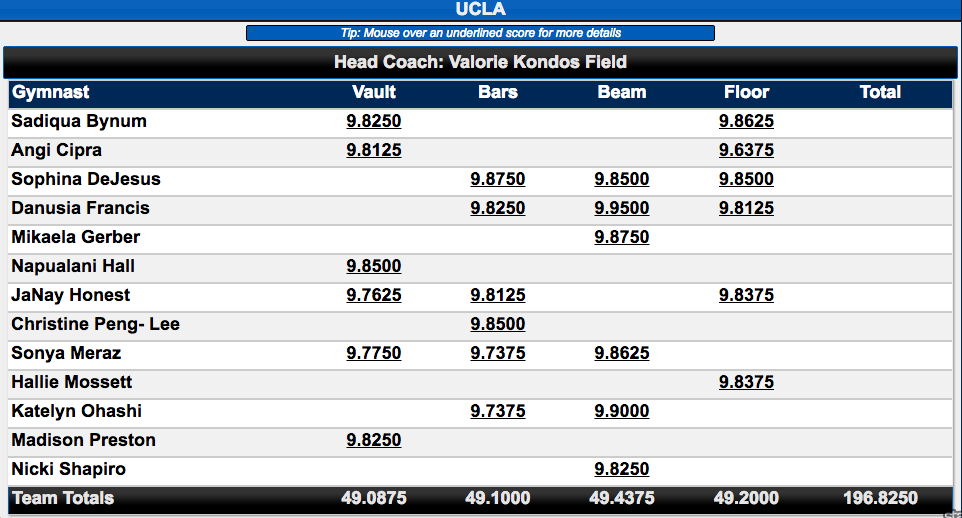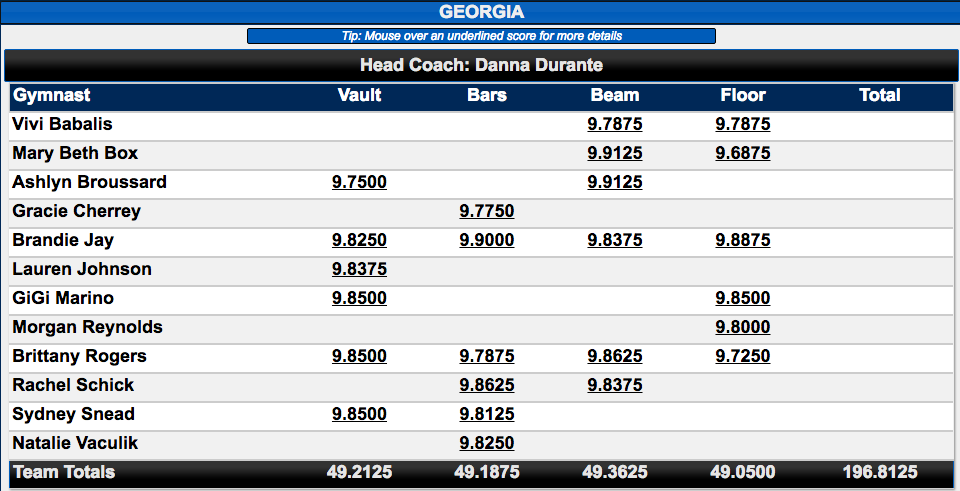 ---