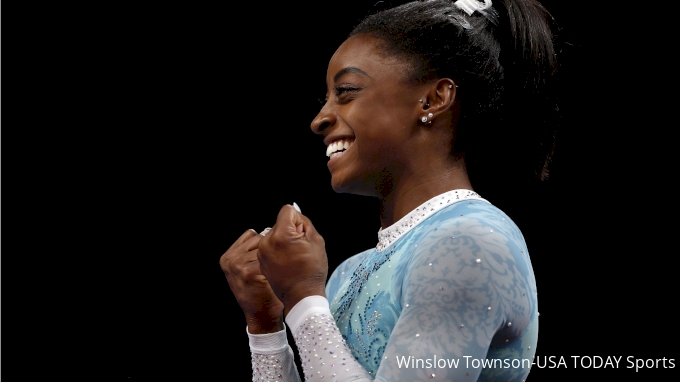 Exclusive interviews with Simone Biles.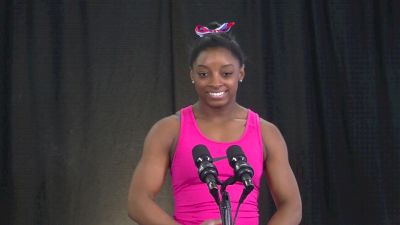 Simone Biles after Making the 2016 Olympic Team - Full Press Conference
Jul 16, 2016
Simone Biles talked to media a few days after the Olympic Trials where she was named to the 2016 U.S. Olympic Team. Watch the full press conference above or skip through to these topics:

1:15 - on Aly Raisman likely being the team captain again
4:19 - on fans, fame, and social media messages
5:08 - on people putting limits on athletes because of body types
6:08 - on the first junk food she will eat after the Olympics
7:13 - on describing the moment after the team was announced, "our brains fell out of our heads for a second"
9:22 - on the expectations for Team USA heading into Rio
10:06 - on watching Gabby Douglas win in 2012 "never did I think that I would be heading out to an Olympic Games myself"
11:31 - on looking back at the beginning of her gymnastics journey
12:03 - on support from her parents Ron and Nellie and coach Aimee Boorman
13:55 - on what she's given up for gymnastics
16:26 - on being nominated for an ESPY in the Best Female Athlete category
18:38 - on Martha Karolyi being choked up after picking the team
20:35 - on enjoying gymnastics even through the tears and what she loves about the sport
21:45 - on the Team aspect in Team USA
23:13 - on the Tweet from her celebrity crush Zac Efron, "I literally thought I was going to die"
24:00 - on staying in the moment and not looking too far ahead
26:23 - on the gymnasts coming up with a team name
27:35 - on getting advice from Aly and Gabby about the Olympics
28:37 - on remembering the crowd is on their side

And don't miss her adorable closing statement!