2022 Elevate the Stage Toledo presented by Promedica
High Expectations For Elevate The Stage Toledo
High Expectations For Elevate The Stage Toledo
Top collegiate gymnastics programs like Michigan and Iowa will compete at the 2022 Elevate The Stage Toledo.
Jan 27, 2022
by Kelly Feng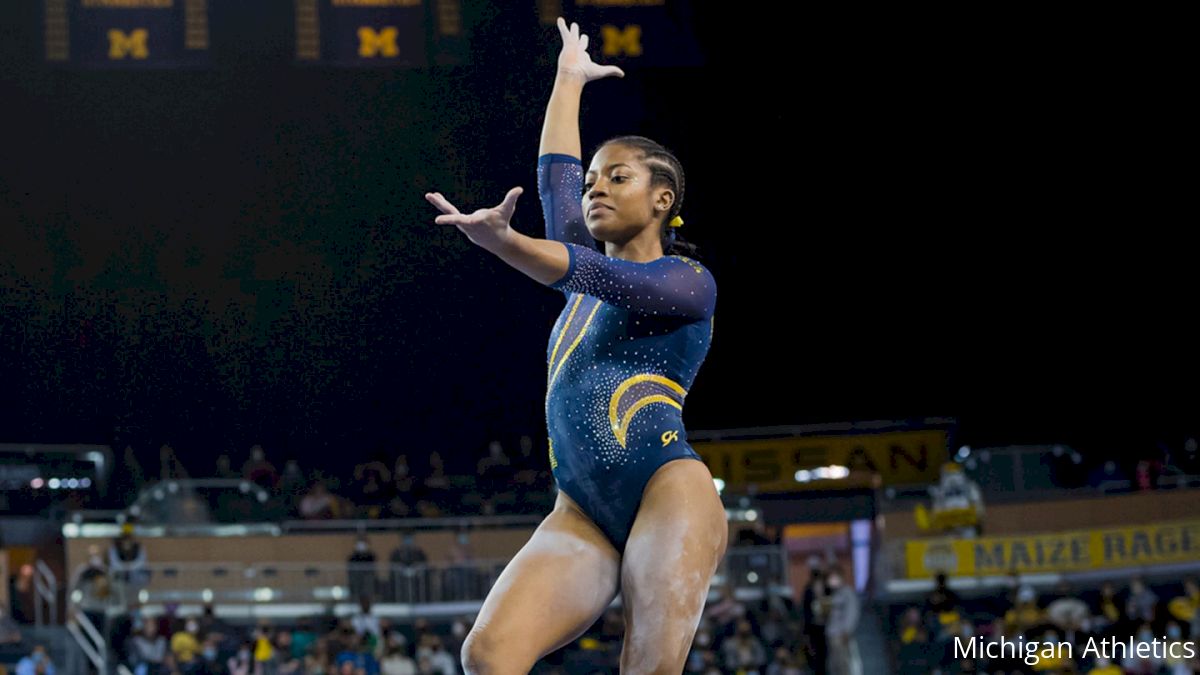 From Feb. 18-21, FloGymnastics is streaming 2022 Elevate the Stage - Toledo, a premier women's artistic gymnastics event.
The collegiate challenge is held Friday and Saturday evening, featuring five Big Ten NCAA teams each night.
On Friday, Feb. 18, the multi-team will play host to several close battles between highly ranked teams, including Illinois (40), Iowa (17), Maryland (46), Michigan (1) and Ohio State (22).
On Saturday, it will host Michigan State (15), Minnesota (7), Nebraska (43), Penn State (27) and Rutgers (45)
Friday, Feb. 18
Illinois
While Illinois, ranked No. 40, started its season smoothly with a win over Central Michigan, it has run into speed bumps since. The Illini withdrew from their Jan. 16 meet against Kent State due to recommendations from their sports medicine team. Their Friday, Jan. 21 meet was also postponed due to health and safety protocols within the Illinois program.
In the Central Michigan meet, Illinois finished in their strongest event with a lineup that featured experience. Mallory Mizuki and Mia Townes were competing on the floor, showcasing their expertise. Amelia Knight joined them, scoring a 9.80 in the event after an Illini best of 9.825 on floor.
Balance and attitude from @miaaat3 on beam as always #Illini pic.twitter.com/X9FN1N6OTf

— Illinois W Gym (@IlliniWGym) January 9, 2022
Freshman Ruthuja Nataraj debuted on the vault and scored 9.80 in the event, the highest score on the apparatus for Illinois.
After missing last season with an injury, Sophomore Ashley Resch competed on vault and a beam exhibition routine. On vault, Lexi Powe stepped up to anchor the event for Illinois after injuries forced changes.
Despite a lack of meets in January, Illinois is still a factor.
Iowa
Iowa, ranked No. 17, opened its season with a 195.950-194.100 victory over Eastern Michigan.
Like many programs, they have also undergone at least one COVID-19 postponement. Their scheduled meet at Georgia was postponed following COVID protocols within the Bulldogs' program.
On Jan. 14, Iowa set a season-high team score in a 196.125-189.300 victory over Texas Woman's University.
In the same meet, standouts included junior JerQuavia Henderson, who shared the vault title (with sophomore Adeline Kenlin) and won floor for the second straight meet.
While Kenlin won the all-around for the first time this season, senior Clair Kaji took the top honors on beam and senior Allyson Steffensmeier won on bars.
Jarissa Rojas captured her first career event title with a career-high 9.925 on beam and was awarded Big 10 Freshman of the Week honors.
𝐍𝐨. 𝟏𝟕 after Week 3🔥 #Hawkeyes pic.twitter.com/SIl9TDm5Oa

— Iowa Gymnastics (@IowaGymnastics) January 24, 2022
Maryland
Ranked No. 46, the Terps had a breakout year last season, finishing 30th in the nation.
The 2022 season kicked off with a win against Pittsburgh, followed by a win at LIU. In the season home opener, they fell to Rutgers.
Top Terps to watch are Audrey Barber on floor and vault, Lizzy DeBarberie and Aleka Tsiknias on bars and Emma Silberman on beam.
𝑀𝒶𝓀𝒾𝓃𝑔 𝐻𝒾𝓈𝓉𝑜𝓇𝓎... ✨

With her performance this past Saturday, @Audrey_Barb17 is now the 5️⃣th All-Time leading scorer of the Maryland Gymnastics program.#GymTerps pic.twitter.com/n0KxsHth0F

— Maryland Gymnastics (@TerpsGymnastics) January 25, 2022
Michigan
After winning the program's first national title, the Wolverines were ready to start the season racing out the gate. But the history-breaking numbers Michigan is earning have shown they are not suffering from any letdown from their fabulous championship win.
The reigning NCAA Champions have come out the gates strong, topping the NCAA rankings after two weeks of competition.
Michigan had a huge breakout year on vault, averaging 49.525 as the No. 1 vault team.
They also have all-around standouts No. 3-ranked Natalie Wojcik, No.4. Abby Heiskell and No. 12 Sierra Brooks.
🚨 Weekly Awards Alert 🚨

Natalie Wojcik of @UMichWGym is the #B1GWGYM Tri-Event Specialist of the Week!

🤸 Averaged 9.90 score in three events (beam, floor and vault) to help top-ranked Michigan to a road win at No. 7 Minnesota Monday night

🗞 https://t.co/AEFpXIlEZF pic.twitter.com/R05LkNU0sC

— Big Ten Conference (@bigten) January 25, 2022
Ohio State
Ohio State, ranked No. 22, earned its first win of the season over Penn State last Saturday afternoon. Ohio State defeated the Nittany Lions by a score of 196.450-196.425. Two of their freshmen also generated some buzz.
Making her Buckeye debut was freshman Tory Vetter, scoring a 9.800 in the bars rotation. Vetter took first on beam with a score of 9.900 to help set the Buckeyes up for a season-high score of 49.150.
Freshman Jenna Hlavach won the floor event with a career-high of 9.925. Alexis Hankins tied for second with a score of 9.900, also tying her career-high. The Buckeyes finished the meet with a season-high of 196.450
The Ohio State bars lineup is one of the gems of the season, with lovely form and massive releases.
Nicole Riccardi scored a 9.90 in the same meet.
Take another look at this beautiful bars routine from Nicole Riccardi 😍#GoBucks pic.twitter.com/RzJ6udW1le

— Ohio State WGYM (@OhioStateWGYM) January 22, 2022
Saturday, Feb. 19
Michigan State
Michigan State gymnastics, ranked No. 15, earned its sixth-best team score in history, capturing a team score of 196.472 and cruising past Illinois State and Bowling Green in its home opener in late January.
Illinois State finished second with a score of 192.625, while Bowling Green was third with 192.400.
Standouts included Gabi Stephen on vault. Ashley Hofelich and Sydney Ewing both had career highs of 9.90 on the same event.
Still daydreaming about this perfect 9.95 from Gabi Stephen on vault last night 😍🔥 pic.twitter.com/fqLUF4Ms7O

— MSU Gymnastics (@MSU_Gymnastics) January 23, 2022
Minnesota
Minnesota is currently ranked No. 7. The Gopher's have Lexi Ramler, Mya Hooten and Ona Loper and it's hard to go wrong with that trio.
Earlier in January, Ramler was awarded her first Big Ten Gymnast of the Week award of the season after a stratospheric performance in Minnesota's win over Iowa and UCLA. It was the 19th time Ramler has earned the award in her career while extending her conference record in that category.
A week later, Hooten and Loper were also spectacular.
While they landed behind Michigan in the meet earlier this week, the Gophers' recorded the third-best team score in program history of 197.650, led by two perfect scores.
First, Loper on vault.
THIS IS WHAT A PERFECT TEN LOOKS LIKE. @honestlyona pic.twitter.com/vYrrmfiAyp

— Minnesota Women's Gym (@GopherWGym) January 25, 2022
And another perfect 10 by Hooten on floor.
🚨 Weekly Awards Alert 🚨

Mya Hooten of @GopherWGym is the #B1GWGYM Tri-Event Specialist of the Week!

🤸 Earned 2nd career perfect 10 on the floor and helped #Gophers to program-record floor score (49.725) in Monday's meet vs. No. 1 Michigan

🗞 https://t.co/AEFpXIlEZF pic.twitter.com/qCLfcLnxfs

— Big Ten Conference (@bigten) January 25, 2022
They recently competed against and lost to Michigan, but Minnesota had plenty of bragging rights.
.@LexyRamler's 39.825 all-around score from last night is the second highest in program history 😱

Vault: 9️⃣.9️⃣7️⃣5️⃣
Bars: 9️⃣.9️⃣5️⃣0️⃣
Beam: 9️⃣.9️⃣2️⃣5️⃣
Floor: 9️⃣.9️⃣7️⃣5️⃣

Do yourself a favor and watch her performance below! pic.twitter.com/xyxEEOhjwL

— Minnesota Women's Gym (@GopherWGym) January 25, 2022
Nebraska
The Huskers, ranked No. 43, opened the season by meeting Iowa State, upsetting the No. 20 Cyclones 194.425-194.350.
Notable Husker standouts include freshman Emma Spence who had an exceptional collegiate debut, winning the all-around title with 38.875. Senior Kynsee Roby matched her career-high on vault (9.800), earning herself the event title in the season opener.
Sophomore Kinsey Davis added the third event title of the night, claiming the high score on uneven bars with a 9.825.
YES @Emma_spence13! 🤩 pic.twitter.com/EKvd7ZxiIR

— Nebraska Women's Gym (@HuskersWGym) January 16, 2022
Penn State
On Saturday, the Nittany Lions, ranked No. 27, opened their Big Ten competition, meeting Ohio State and ultimately falling to the Buckeyes 196.450-196.425.
Although they were edged out, it was still a huge win for Penn State as it was the Nittany Lions' highest team score since Feb. 29, 2020. Penn State recorded season-best scores in all four events, posting scores of 49+ on floor (49.300), bars (49.225), and vault (49.075).
Standouts to watch include freshmen Isabella Salcedo and Elina Vihrova, who recorded career-highs. Salcedo led Penn State with a 9.900 and Vihrova recorded a 9.875.
It's been quite the start to Isabella Salcedo's Penn State career #WeAre pic.twitter.com/f34bsO63yU

— Penn State Women's Gymnastics (@PennStateWGYM) January 21, 2022
Rutgers
Rutgers is ranked No. 45 and has a 3-4 overall record. They lost their opener to No. 2 Florida, but have won their last three meets.
In the Big 10 opener, Belle Huang recorded a career-best 9.950 on floor and a 9.9 on beam to highlight the conference win over Maryland.
Congratulations to 𝗕𝗲𝗹𝗹𝗲 𝗛𝘂𝗮𝗻𝗴 on being named a #B1G 𝓔𝓿𝓮𝓷𝓽 𝓢𝓹𝓮𝓬𝓲𝓪𝓵𝓲𝓼𝓽 of the Week!!

Huang recorded a career-best 9.950 on floor and a 9.9 on beam to highlight #RUGYM's conference win over Maryland! https://t.co/v5gs5TnyqS

— Rutgers Gymnastics (@RUGymnastics) January 25, 2022
Other gymnasts to keep an eye on, including Hannah Joyner with an outstanding career-high 9.925 on floor, and a first-place finish in the all-around.
The Scarlet Knights also have Emily Leese on vault, who last weekend scored 9.825 for the third straight week.