FIG
Wong, DiCello AA Medalists At 2021 Artistic Gymnastics World Championships
Wong, DiCello AA Medalists At 2021 Artistic Gymnastics World Championships
Leanne Wong delivered a 56.340 en route to the silver medal, while Kayla DiCello's 54.566 secured her the bronze at the 2021 World Championships.
Oct 21, 2021
by FloGymnastics Staff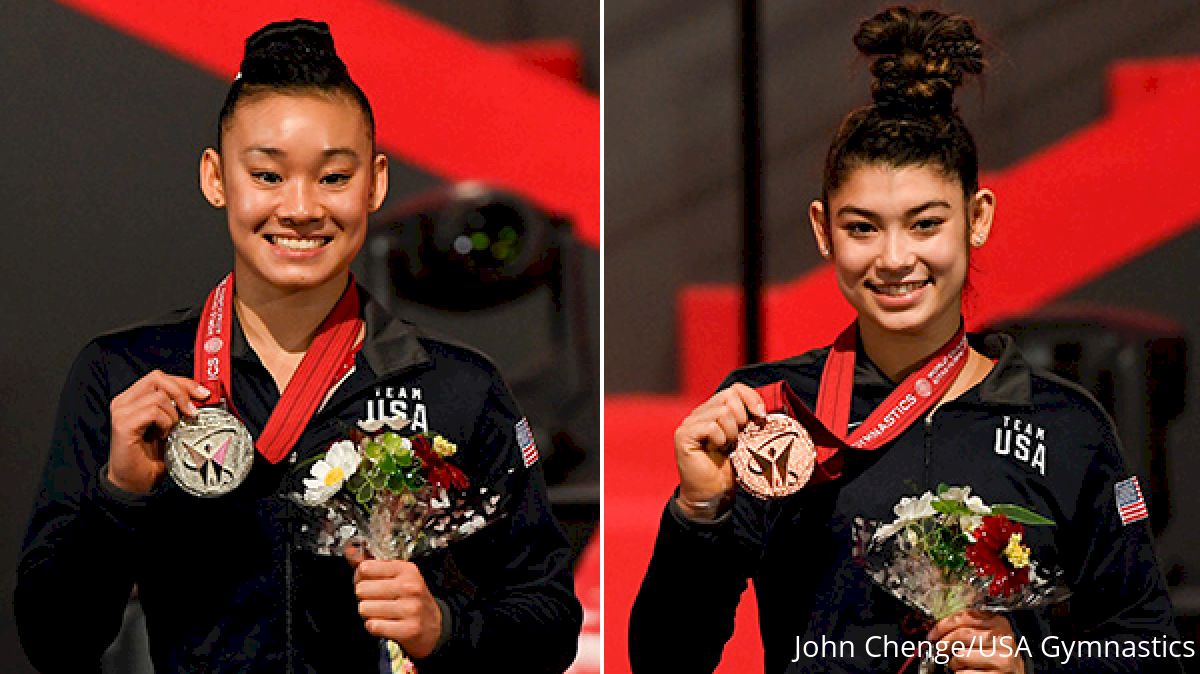 KITAKYUSHU, Japan, October 21, 2021 – Leanne Wong of Overland Park, Kan., and Kayla DiCello of Boyds, Md., finished in the second and third positions during Thursday's women's all-around final at the 2021 Artistic Gymnastics World Championships in Kitakyushu, Japan. The U.S. gymnasts were edged only by Olympic bronze medalist Angelina Melnikova of Russia who claimed the top spot.
Wong delivered a 56.340 en route to the silver medal, while DiCello's 54.566 secured her the bronze. Melnikova led the way with a 56.632, while Russia's Vladislava Urazova (53.598) and Netherlands' Naomi Visser (52.832) rounded out the top five.
Both DiCello and Wong are competing in their first senior World Championships and have also qualified to the balance beam and floor exercise finals slated for Sunday, starting at 4:25 p.m. local time (3:25 a.m. ET).
Yul Moldauer of Wellington, Colo., is set to represent the U.S. in Friday's men's all-around final. The competition kicks off at 6 p.m. (5 a.m. ET) and will air live on Olympic Channel: Home of Team USA.
USA Gymnastics. Based in Indianapolis, USA Gymnastics is the national governing body for gymnastics in the United States, encompassing seven disciplines: women's gymnastics, men's gymnastics, trampoline and tumbling, rhythmic gymnastics, acrobatic gymnastics, gymnastics for all (a.k.a. group gymnastics) and, most recently, parkour. USA Gymnastics sets the rules and policies that govern the sport of gymnastics, including supporting the U.S. Gymnastics Teams for the Olympics and World Championships; promoting and developing gymnastics on the grassroots and national levels, as well as a safe, empowered and positive training environment; and serving as a resource and educational center for the more than 200,000 members, clubs, fans and gymnasts throughout the United States. The organization is deeply committed to creating a culture that encourages and supports its athletes and focuses on its highest priority: the safety and well-being of athletes and our community.