NCAA
Behind The Decision: Why NCAA Gymnasts Are Taking The COVID Year
Behind The Decision: Why NCAA Gymnasts Are Taking The COVID Year
NCAA Gymnasts Alyssa Baumann, Lynnzee Brown, Christina Desiderio, Clair Kaji and Ona Loper share why they're taking the extra COVID year.
Oct 27, 2021
by Amanda Wijangco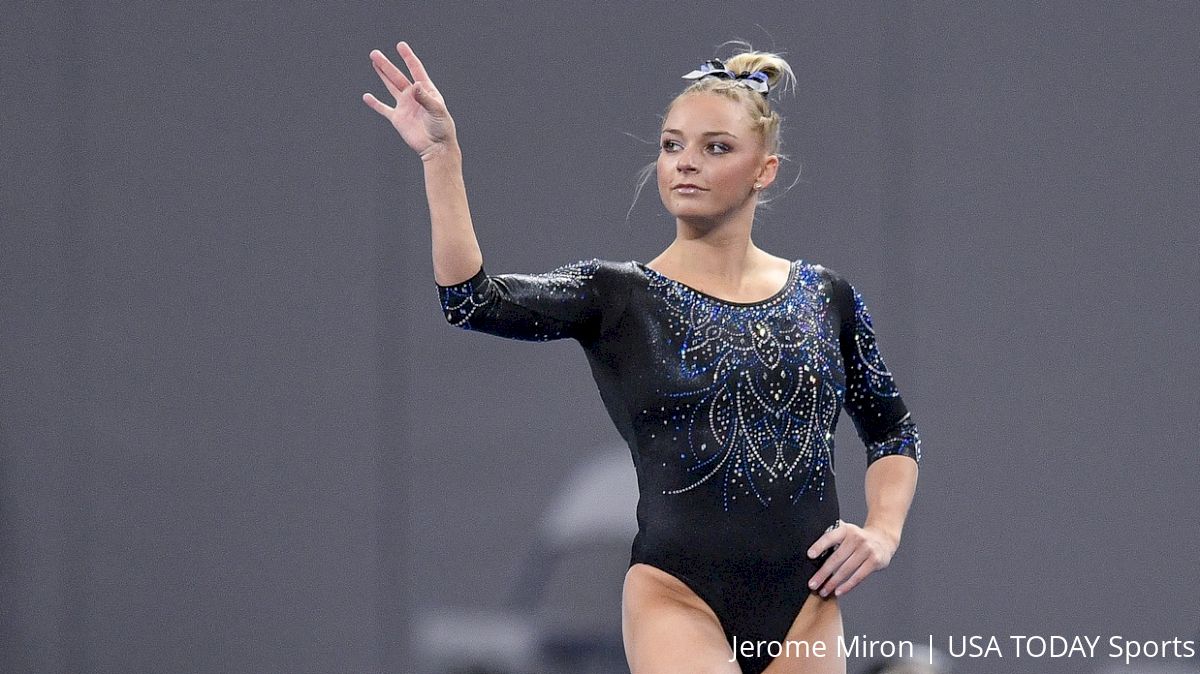 In June 2016, Alyssa Baumann's dream of competing at the Olympics was torn apart — literally. While training on uneven bars, Baumann injured her elbow, tearing ligaments and muscles. The injury caused her to withdraw from Olympic Trials.
Baumann would miss the Rio 2016 Olympics but was set to compete at the University of Florida that fall. However, she decided to defer an entire year because of her elbow injury.
Nearly six years later, that same elbow still affects her gymnastics. But she isn't done with the sport. Not yet.
Baumann joined the Florida Gators gymnastics team upon her enrollment at Florida for the 2017-2018 school year. Competing every season since the 2021 season was her final one. At least it was supposed to be.
Because of the COVID-19 pandemic, the NCAA granted winter sport Division I student-athletes an extra year of eligibility. The news came as a surprise.
"I was shocked because they hadn't given the 2020 seniors an extra year," Lynnzee Brown of Denver said. "So I wasn't expecting to get one."
With the rather unexpected news, gymnasts like Baumann and Christina Desiderio of LSU are cherishing this extra chance.
"I was very grateful for the opportunity because I knew the seniors before me didn't get that," Baumann said. "I was very close with that class, and I basically told them that I was going to do everything that I could with whatever time in gymnastics I have left for them. And if I have another year to try to make them proud, I want to do it."
Desiderio was equally shocked and excited when she first heard the news.
"I definitely did not see the opportunity coming, but I remember feeling so grateful and blessed," the LSU senior said. "I knew I would 100% regret my decision if I did not take this once-in-a-lifetime opportunity for one more year with (my team)!"
Brown and Desiderio knew right away that they wanted to use the extra year, along with Ona Loper of Minnesota, who called it "the easiest decision." But this wasn't the case for all collegiate gymnasts. Others took their time while some even changed their minds.
After hearing the news, Baumann didn't make a decision right away. She was aware of the option and kept it in the back of her mind, focusing on the 2020 season.
"I put a lot of pressure onto myself to make my (initial) senior year perfect," the Florida gymnast said. "So I kind of used that as 'If everything doesn't go exactly the way I want it, if I really wanted to, I could come back.' But at the same time, I tried not to really think about another year during season. I just kind of put that off, and I was going to decide afterwards."
Clair Kaji of Iowa was a fifth-year senior preparing to hang up her leotards when the NCAA announced the extra year of eligibility.
"My initial reaction was actually to not take the COVID year," Kaji said. "I knew there was a lot of talk about girls immediately going to take a COVID year. But for me, especially after taking an extra year already previously with my Achilles — I took a redshirt year — I thought in my mind and body that I was done, that I had given all I had and all I wanted. I was really looking forward to life after gymnastics. I had imagined a different direction for the future."
In June, a few months after the 2021 season had concluded, Kaji started to change her mind. She began reconsidering that extra year — even if her body had been feeling the effects of doing collegiate gymnastics for five years.
"As much as my body had started to hurt in my senior year and my fifth year, I felt that — taking the summer to kind of think about it — I was still able to contribute physically," Kaji said. "And I wanted to do that."
In addition, Kaji had already planned to be on campus for graduate school. So she thought, "Why not just compete for the last time?"
Injury Inquiries and Pondering Practices
Other top returning gymnasts were in the same boat as Kaji — both when it came to considering past injuries and planning to stay on campus for grad school anyway.
Even if she had torn her Achilles at the start of her NCAA career, Minnesota gymnast Ona Loper's immediate reaction to the extra year was "Yes, absolutely! I'm sold." She was already going to be at Minnesota for graduate school to complete her degree in — surprisingly enough — epidemiology. So "it just made sense."
"I definitely wasn't ready to be done last year," Loper said. "My body still feels pretty good, so I feel like I have another year in me. That may not have been the case for other people, but I've been healthy enough that I could continue to do it for one more year.
Denver's Lynnzee Brown echoed similar thoughts when discussing her decision-making process. Brown ruptured her Achilles just weeks before the 2020 season abruptly ended because of the pandemic. But she said her injury played no role in her decision.
"I just knew that my body could handle it," she said. "I believe that I still would've made the same choice if I hadn't been injured. I consider myself healthy for this point in my career, so I'll do more of the same."
On the other hand, Baumann's said her injuries and the toll elite gymnastics had on her body are why she took so long to decide to return.
"Every year, it gets a little bit harder, and I have had a few surgeries," Baumann said. "I don't want to come back this year and then get hurt. I mean last year, I had a great year, and I was able to do all four events. And so this year, I wanted to do the same thing. I want to be able to live up to that standard again and even to a little bit more."
And that's exactly what Baumann hopes and plans to do. She expressed her desire to upgrade her vault to a Yurchenko 1.5, add an Onodi on beam, and compete bars again.
The Onodi — a back handspring with a half twist — is automatically harder on the Gator gymnast's arms. Add that on top of an upgraded vault and training bars, and it's a greater toll on her elbow. So she's applying a valuable lesson that she and many other returning gymnasts have learned over the years.
"I'm definitely going to take what I learned from last year and be really smart about my numbers in the gym," Baumann said. "Especially when it gets to season."
Unlike Baumann, Loper and Kaji aren't planning upgrades or major training changes. But they did emphasize the importance of quality over quantity, especially as they extend and reach the end of their gymnastics careers.
"As you get older, you kind of start to do less turns just to maintain your body, so I think the Minnesota coaches have been really good about making sure that we maintain throughout," Loper said. "I did tear my Achilles my freshman year, so ever since that, I have had to step back a bit and not push myself as much. So I think that's actually really helped me, just being able to keep every other body part healthy. This year it will be kind of the same thing, just focusing on really quality turns versus quantity and being able to hit in pressure situations."
Kaji agreed and said, "It's more maintenance at this point. Definitely, definitely quality over quantity. Today, I did a couple of skills on beam — it wasn't much — but I hit them all and made sure they were very pristine and quality, and I felt my body was done for the day. This is a quality over quantity thing, and I felt confident in my practice today."
The Last Chance Versus A New Chapter
Speaking of practices, these gymnasts have spent much of their collegiate careers (and lives) in the gym. But they still found themselves wanting more.
When thinking about the COVID year, Desiderio was "still excited to go in the gym every day."
"I think the biggest factor to my decision was where I would be the happiest," the LSU gymnast said. "Gymnastics has been such a huge part of my life for about 14 years now, so I have always wondered what more of a 'normal' life would look like. My decision-making process was based on 'Do I take one more year to do what I love, or am I ready to start that next chapter in my life?' In the end, it made the most sense to take the opportunity that I was never going to get again."
"I also thought (about) whether I was prepared to enter the real world yet. To not have gymnastics in my life, I think I need another year to prepare for that," Loper said.
Another year to prepare is also another year for many things for these gymnasts: another year to compete, to learn, to train. But what each of these gymnasts emphasized is that it's another year to be with their teams.
For Friends and Family
The virus limited or eliminated in-person classes and resources on campus and spectators attending meets. Baumann, Brown, Desiderio, Kaji, and Loper each felt the effect those restrictions had, especially on their underclassmen teammates.
"We have two classes, our freshmen and sophomores haven't experienced crowds," Loper said. "So depending on how everything goes with COVID, it will be exciting to have them experience that."
Competing in a packed arena is an especially different experience in the SEC, where thousands of fans are in attendance at every meet, adding to the energy and atmosphere of competition. Baumann knows this feeling well.
"Last year was a great year, but it's just a little bit different when you have 9,000 fans versus 2,000 and you're wearing your mask in between," she said. "You want to run and jump on your teammates and hug them, and that's a little bit restricted. So hopefully that's not as restricted this year, and I've been really looking forward to seeing that."
The Iowa Hawkeyes may not compete in the biggest or most crowded arena, but there are special fans Kaji hopes can be in attendance this year.
A native of Vancouver, Canada, Kaji has been far from home throughout the entire pandemic and her collegiate career. Her family hadn't been to a meet in Carver-Hawkeye Arena yet but planned to for Kaji's senior meet last year. Unfortunately, COVID restrictions made that impossible.
"Giving myself one more year, I would love for my parents to come down and watch the team compete in person," she said. "They've always had the Big Ten Network and live streams, but it's just not the same. I think it would be really special to share that moment with my parents."