2021 USA Gymnastics Championships
Zeng Wins Two Event Titles On Second Night At The 2021 USA Championships
Zeng Wins Two Event Titles On Second Night At The 2021 USA Championships
Laura Zeng wins two event titles on the second night of elite competition at the 2021 USA Gymnastics Championships.
Jun 28, 2021
by FloGymnastics Staff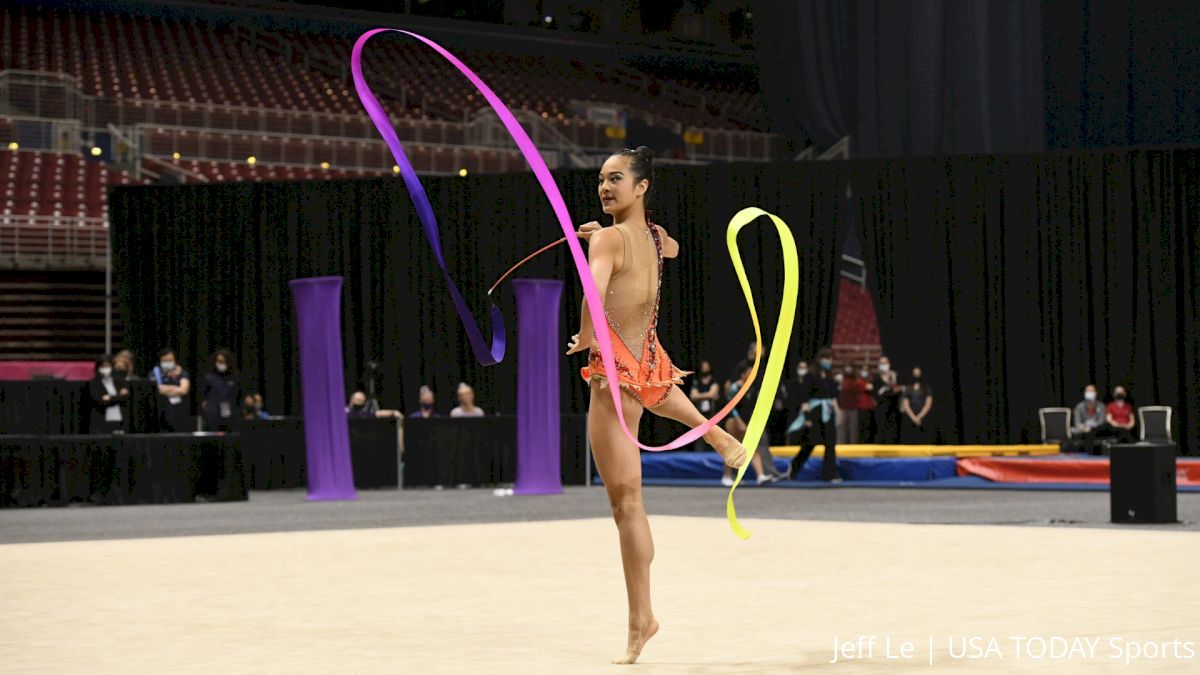 ST. LOUIS, June 26, 2021 - The 2021 USA Gymnastics Championships continued Saturday at The Dome at America's Center in St. Louis. Laura Zeng of Libertyville, Ill./North Shore Rhythmic Gymnastics Center swept the clubs and ribbon titles, posting a 25.450 in clubs and 20.850 in ribbon to close out the night. Evita Griskenas of Orland Park, Ill./North Shore Rhythmic Gymnastics Center finished second in clubs (23.350) and ribbon (20.100). In the junior division, Nayenne Pollini Ashenaffi of San Diego, Calif./Rhythmic Academy of Los Angeles topped the all-around competition and clubs field, and Milana Abayeva of Brooklyn, N.Y./Isadora took top honors in the ribbon competition.
Saturday also featured the qualification rounds for senior men's trampoline, senior men's tumbling, and senior women's double mini-trampoline, while elite acrobatic gymnasts performed the second of three routines. FloGymnastics is live streaming all USA Gymnastics Championships junior and senior elite sessions.
Zeng led the all-around qualification with a combined score of 98.550. Griskenas' pair of second-place finishes on the second day gave her an 89.500 overall to finish second in all-around qualification. Lennox Hopkins-Wilkins of Puyallup, Wash./Evergreen Rhythmics sits third with an 80.400. In the junior division, Pollini Ashenaffi won the all-around with a score of 76.200, while Lauren Kramer of San Diego, Calif./Emerald City Academy of Rhythmic Gymnastics took second with a score of 71.450. Gemma Gow of Newton, Mass./Nely's School of Rhythmic Gymnastics finished third (70.650).
The competition continues Sunday with the all-around finals. Twelve gymnasts advanced, and a three-day score total will decide the all-around champion. On Saturday, the U.S. Senior National Group took the all-around title with a score of 136.150. The group, based out of North Shore Rhythmic Gymnastics Center, includes Isabelle Connor of Manhattan Beach, Calif., Yelyzaveta Merenzon of Buffalo Grove, Ill., Camilla Feeley of Wheeling, Ill., Lili Mizuno of Northbrook, Ill., Elizaveta Pletneva of Wheeling, Ill., and Nicole Sladkov of Vernon Hills, Ill.
During trampoline qualifications, Jeffrey Gluckstein of Atlantic Highlands, N.J./ETA posted the day's top score in the men's division with a 111.685. Kaden Brown of Bluffdale, Utah/Wasatch led the men's tumbling field with a 73.600. Trinity Van Natta of Hilliard, Ohio/Integrity Athletics led the women's double-mini competition with a 69.000. Trampoline & tumbling finals feature the top eight gymnasts in each division in Sunday's final.
In acrobatic gymnastics, Reagan Grigsby, Makayla Anderson, and Taylor Smith of Riverside, Calif./Empire Acrogymnastics lead the women's group (12-18) after two events. The trio posted a 26.600 in dynamic. Cierra McKowan and Katie Borcherding of Moreno, Calif./Realis Gymnastics Academy were the lone competitors in the women's pair (13-19), scoring a 27.600 in balance.
The top-three placements in the rhythmic junior and senior hoop and ball and senior group competitions are listed below.
Juniors
Clubs: 1. Nayenne Pollini Ashenaffi, San Diego, Calif./Rhythmic Academy of Los Angeles, 20.000; 2. Katrine Sakhnov, Sammamish, Wash./La Luna, 19.350; 3. Deanna Georgieva, Redmond, Wash./La Luna, 19.150
Ribbon: 1. Milana Abayeva, Brooklyn, N.Y./Isadora, 17.900; 2. Nayenne Pollini Ashenaffi, San Diego, Calif./Rhythmic Academy of Los Angeles, 17.700; 3. Jaelyn Chin, Aventura, Fla./Anna Bessonova's School, 17.100
All-Around: 1. Nayenne Pollini Ashenaffi, San Diego, Calif./Rhythmic Academy of Los Angeles, 76.200; 2. Lauren Kramer, San Diego, Calif./Emerald City Academy of Rhythmic Gymnastics, 71.450; 3. Gemma Gow, Newton, Mass./Nely's School of Rhythmic Gymnastics, 70.650
Seniors
Clubs: 1. Laura Zeng, Libertyville, Ill./North Shore Rhythmic Gymnastics Center, 25.450; 2. Evita Griskenas, Orland Park, Ill./North Shore Rhythmic Gymnastics Center, 23.350; 3. Erica Foster, Chanhassen, Minn./NorthWest Rhythmic, 22.200
Ribbon: 1. Laura Zeng, Libertyville, Ill./North Shore Rhythmic Gymnastics Center, 20.850; 2. Evita Griskenas, Orland Park, Ill./North Shore Rhythmic Gymnastics Center, 20.100; 3. Nerea Francis, North Miami Beach, Fla. Anna Bessonova's School, 17.300
Group
5 Balls: 1. Senior National Group, 36.550; 2. National Prep Group A, 23.500; 3. National Prep Group B, 22.500
3 Hoops and 2 Pairs of Clubs: 1. Senior National Group, 30.400; 2. National Prep Group A, 23.350; 3. National Prep Group B, 19.650